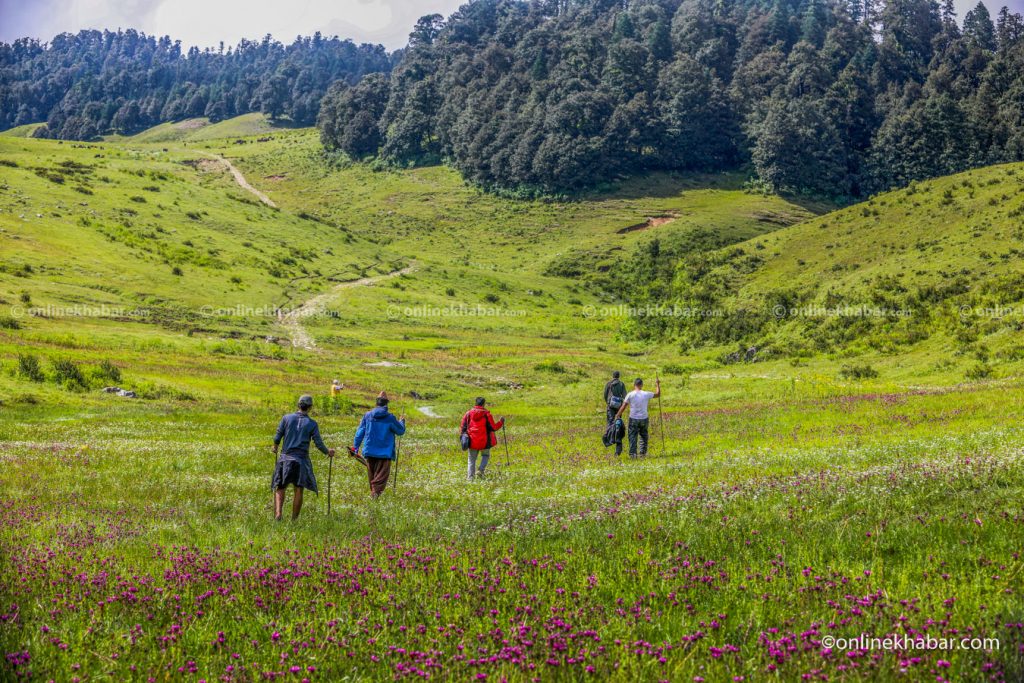 I was at a coffee shop in Kathmandu when Deepak Khadka called me from Khaptad valley telling me how the green meadows in the area were full of multicoloured wildflowers.
That instantly pulled me as Khaptad has always drawn me. Every time I visit here, I feel I experience something new. This time, I was there for the wildflowers and it did not disappoint.
Magic in the monsoon
It was the last week of July, and the monsoon was in full swing. But, as it was then when the wildflowers blossom, I could not resist as I and a friend boarded a flight to Dhangadhi.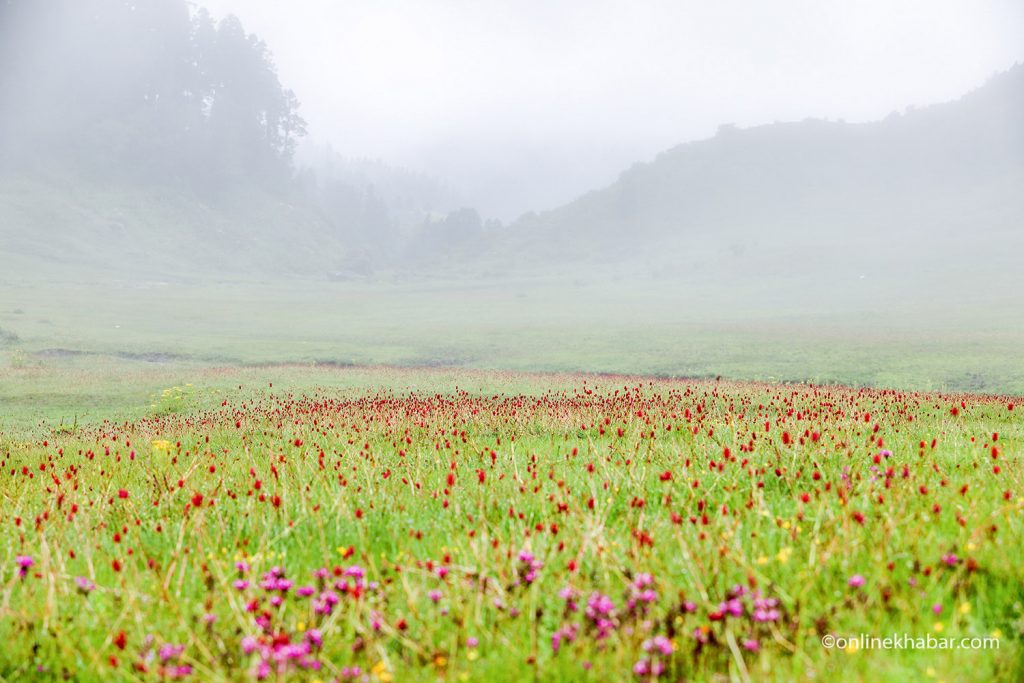 After a few hours there, we left for Jhigarna. As both of us are religious, we stopped at multiple temples en route to Jhigrana. The journey from Silgadhi to Jhigrana takes an hour on an SUV; if you are waking, it will take around three hours. This was where we spent our first night before we headed towards Khaptad.
The next day, our trek started. The trail was mostly uphill and we had to walk for around five hours. Getting past some steep terrain and walking in the rain we got to Bichpani where he rested and ate some warm food before we headed towards Khaptad.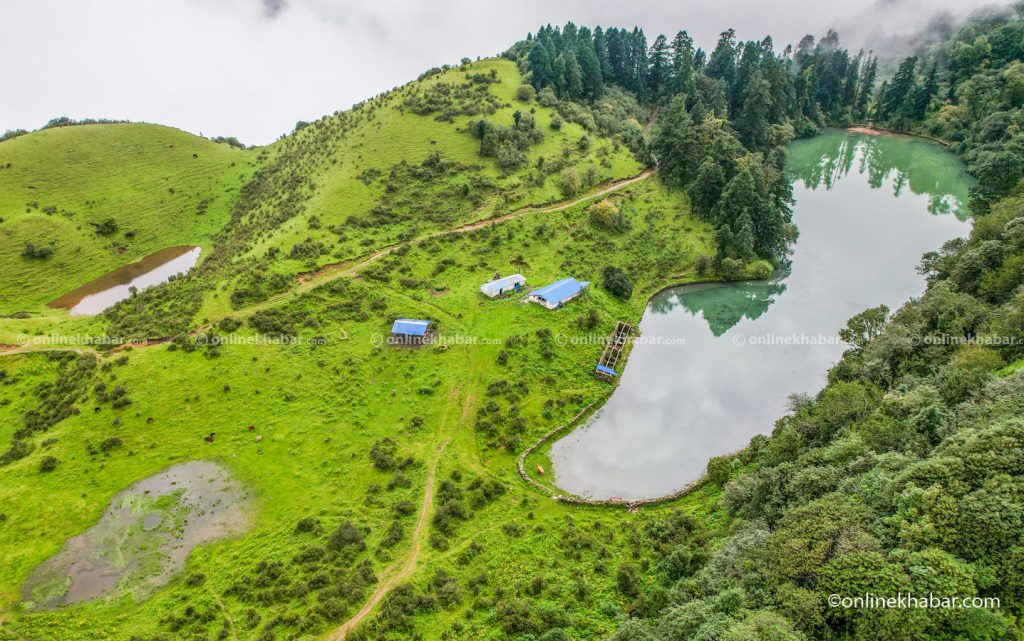 The rain and the jungle were a dangerous combination. It felt like I was in a thriller film. The rain was constant and the loud bang of thunderstorms was constant. The trail was muddy and misty which made it extremely difficult.
But, what made the trek worthwhile was our first view of the meadows of Khaptad. I had seen the meadows before this time also, but what I loved about it this time were the wildflowers on them. It was magical. The green fields were full of blue, red, yellow and white wildflowers. It was so captivating that I forgot everything in the world. All the pain from walking was gone. I was at one with nature and had so glad that I had come.
Khaptad as a tourism destination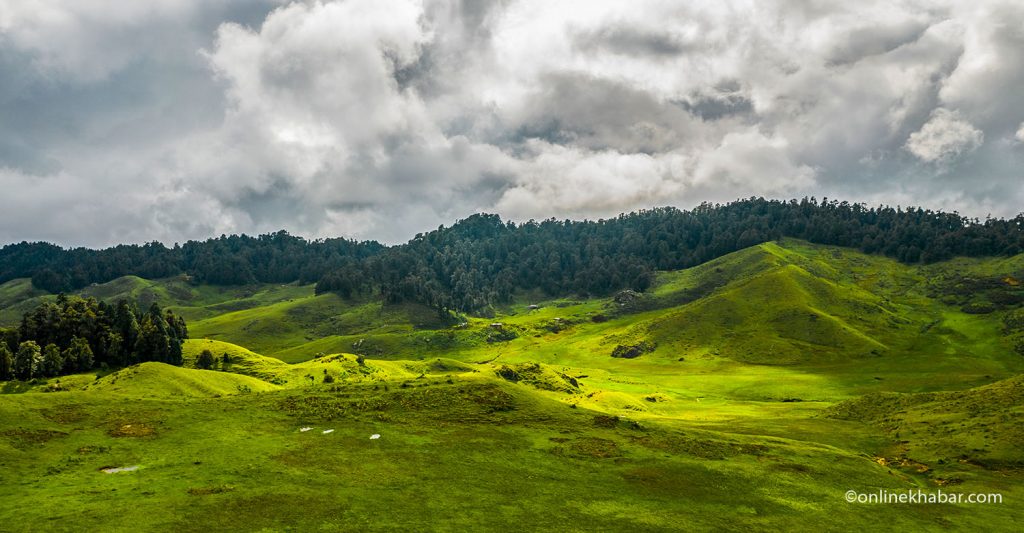 Let's talk about Khaptad for a bit. It is a haven for people who love nature. A meeting point of four districts – Bajhang, Doti, Bajura and Achham, Khaptad is one of the prettiest places not just in Nepal but maybe the world. The place is full of meadows and hillocks which makes the place's topography very unique. 
The place also gives its name to Khaptad Baba, also known as Swami Sachchidananda, who was a spiritual saint who settled here in the 1940s and lived there for 50 years.
So, this place is not just a natural paradise; it is also a spiritual abode where saints and sages have taken refuge since time as it is even mentioned in the holy books.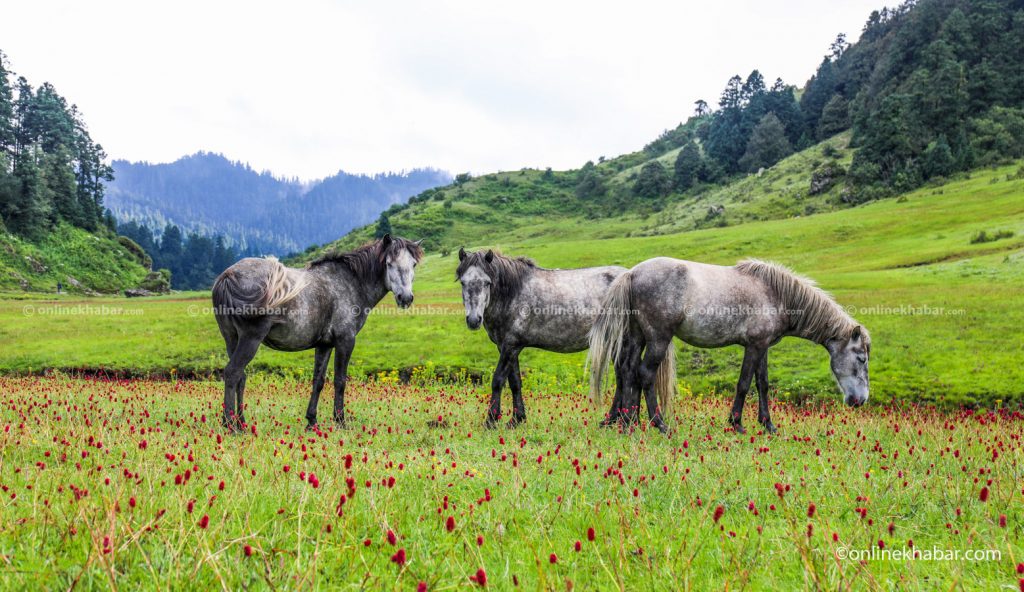 The place is also a national park which goes up to 3,200 metres and spreads over 225 square kilometres.
There's no particular season to get here. During the monsoon, the place is lush green with lots of wildflowers. In the winter months, these meadows are full of snow. And during the spring, these fields glow like gold.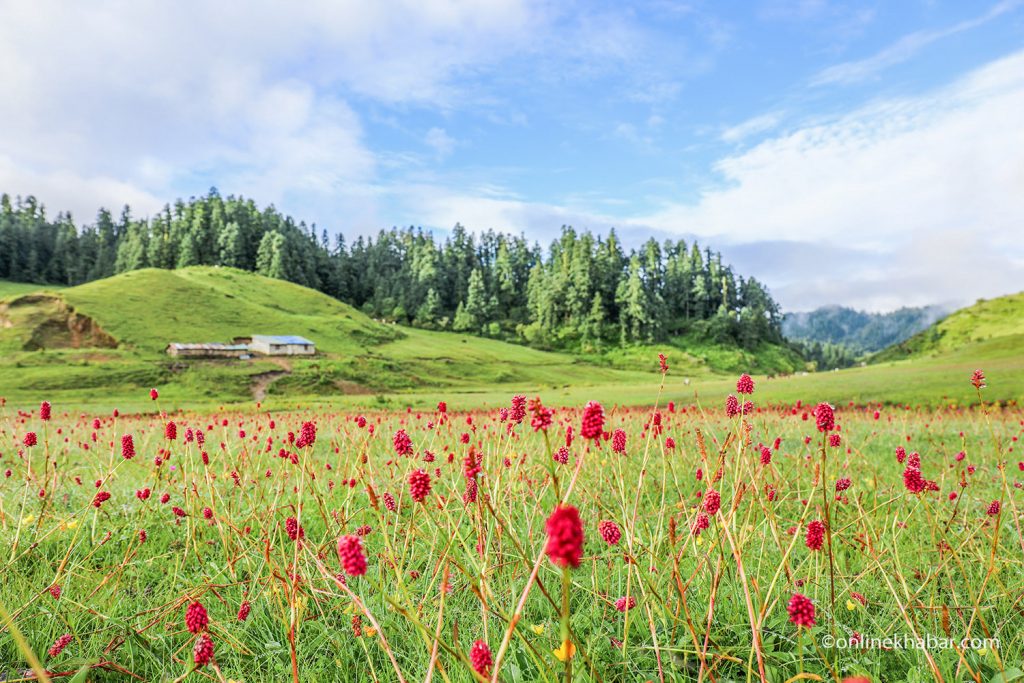 The valley has a different aura in all seasons and has quite a few places to visit too. It has Khaptad Baba's ashram, the Triveni river, Khaptad Daha, Shiva temple, Sahashra linga, Ganesh temple, Nagdhunga and Kedardhunga. During the full moon of March, the area also hosts the Ganga Dashahara fair, which is also a great time to be here.
How to get there?
As I have mentioned, the valley connects four districts and one can get here from any one of them. But, the easiest route to get there is through Doti. Even though this route is used by everyone, it is recommended that you take a guide as there are many areas where you can get lost.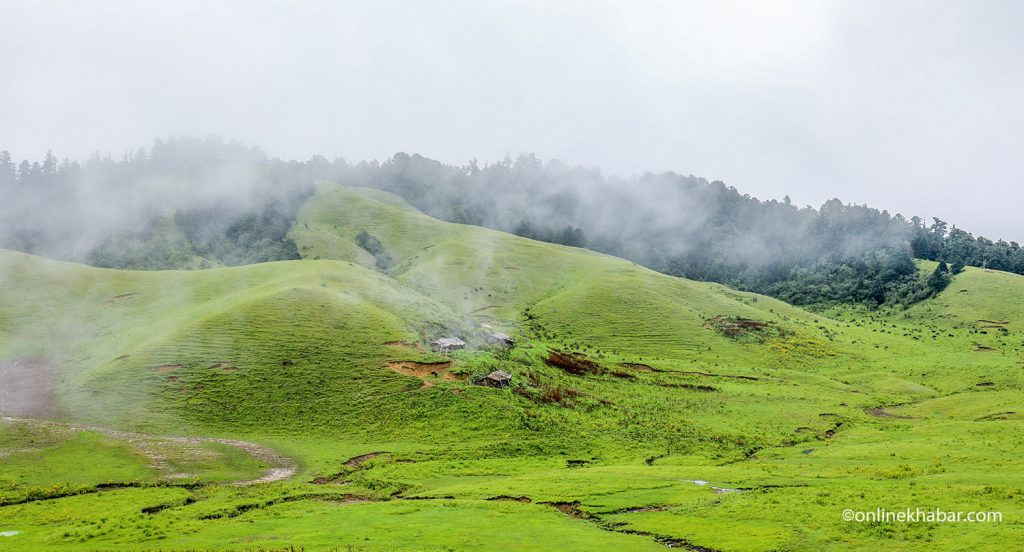 Another thing to keep in mind when travelling to Khaptad is to decide where to stay. The place does not have many hotels. After Jhigrana, the only stop point before getting to your final destination is Bichpani, where you have to inform beforehand if you want a warm meal. As the distance between Jhirgrana to Khaptad is around eight hours, this is the only place to stop for tea or food.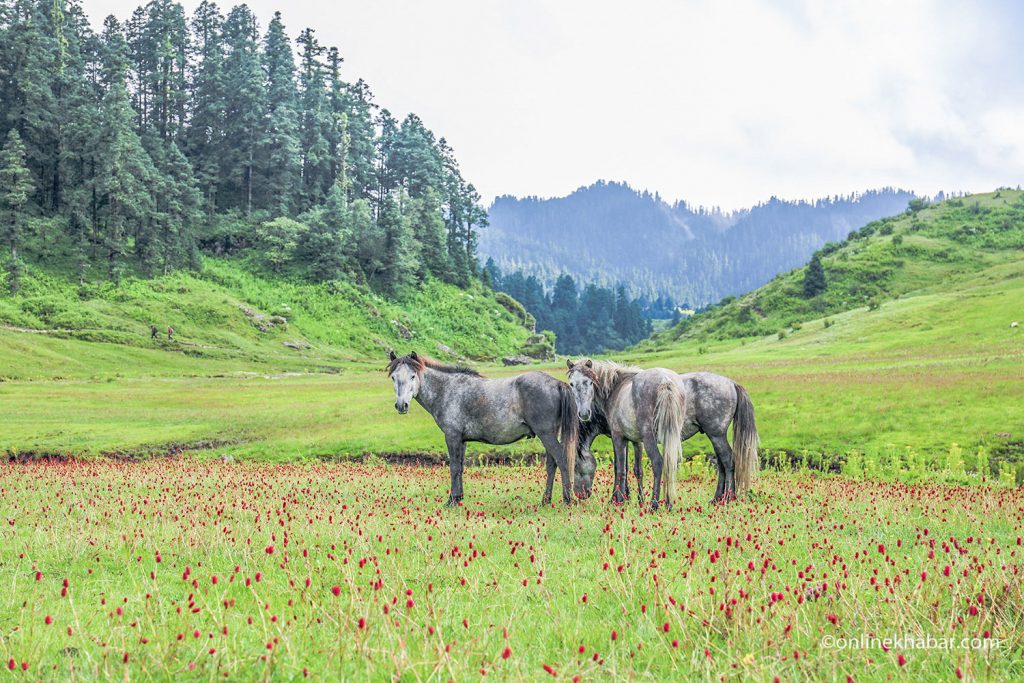 Facility-wise, the place is pretty average. There are no hotels beyond Jhigrana but there will not be issues as people happily give people a place to stay at their homes. But as I said earlier, you need to tell people beforehand that you are coming. For that, please ask the hotel in Jhigrana to connect you with someone higher up.
Also, there is no electricity in the area.