Nepal's U-19 cricket team are back home after crashing out of the ACC Youth Asia Cup. However, the first match of the tournament, especially the display put on by vice-captain Dipendra Singh Airee (inset), will be remembered by Nepali fans for a long time.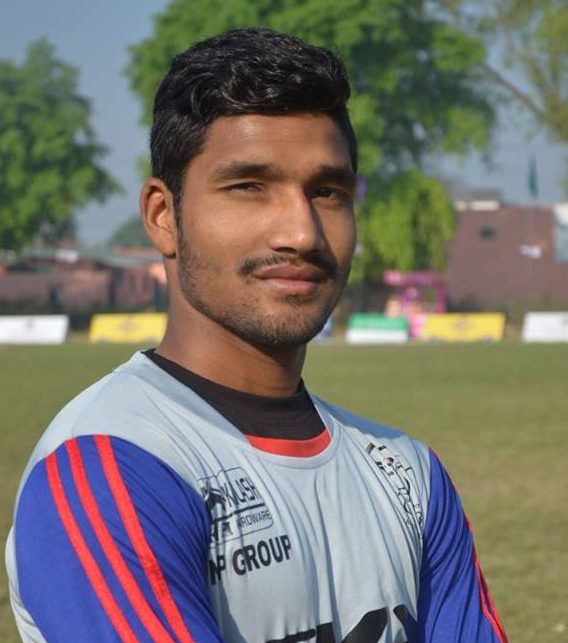 During the match against Sri Lanka, Airee led from the front, both with the bat and the ball. He was especially effective during the dying moments of the match when Sri Lanka was looking for boundaries. Thanks to his tight bowling, not a single six was scored in the Sri Lankan inning.
He bowled 10 overs conceding just 35 runs. His yorkers and slower balls were too difficult to handle for the Lankan team.
When Nepal batted, Airee first put on a 45-run partnership with Aadil Khan at a time when the side's openers were already back in the pavilion. He was quick between the wickets and anchored the innings to give Nepal a shot at chasing the target.
He took the match to the wire with some sensible batting, but ran out of luck.
Here's how he describes the final over of the match: (Click on the video link to watch each ball)
 1.
"During the last over of the match, Nepal needed eight runs from six balls. Nandan (Yadav) was at the other end. The Sri Lankan left-arm orthodox spinner Praveen Jayawickrama came into the attack. I hit the ball towards mid-off. I could have easily ran a single, but I thought a boundary was more important, and decided not to take take the single."
2.
"The second ball was on good length. I stepped outside the crease and tried to play a stroke. The ball connected with the bat and it went straight over the fielders for six. We now needed two runs in four balls."
3.
"The third ball was also on good length. But I wanted to defend it to take two runs. So instead of hitting it cleanly, I went for a sweep. Unfortunately, I was caught leg-before. At hindsight, I know I could have gone for a boundary; most fielders were inside the 30-yard circle, trying to stop a single. But I played defence, and got out."
"I felt bad that even after getting so close to victory, we lost the game. I could not hold myself after the match. But the manager and the coach came to me and told me that win and loss happen. They told me not to worry."
"I was awarded man of the match. But that cannot substitute a win for my team."