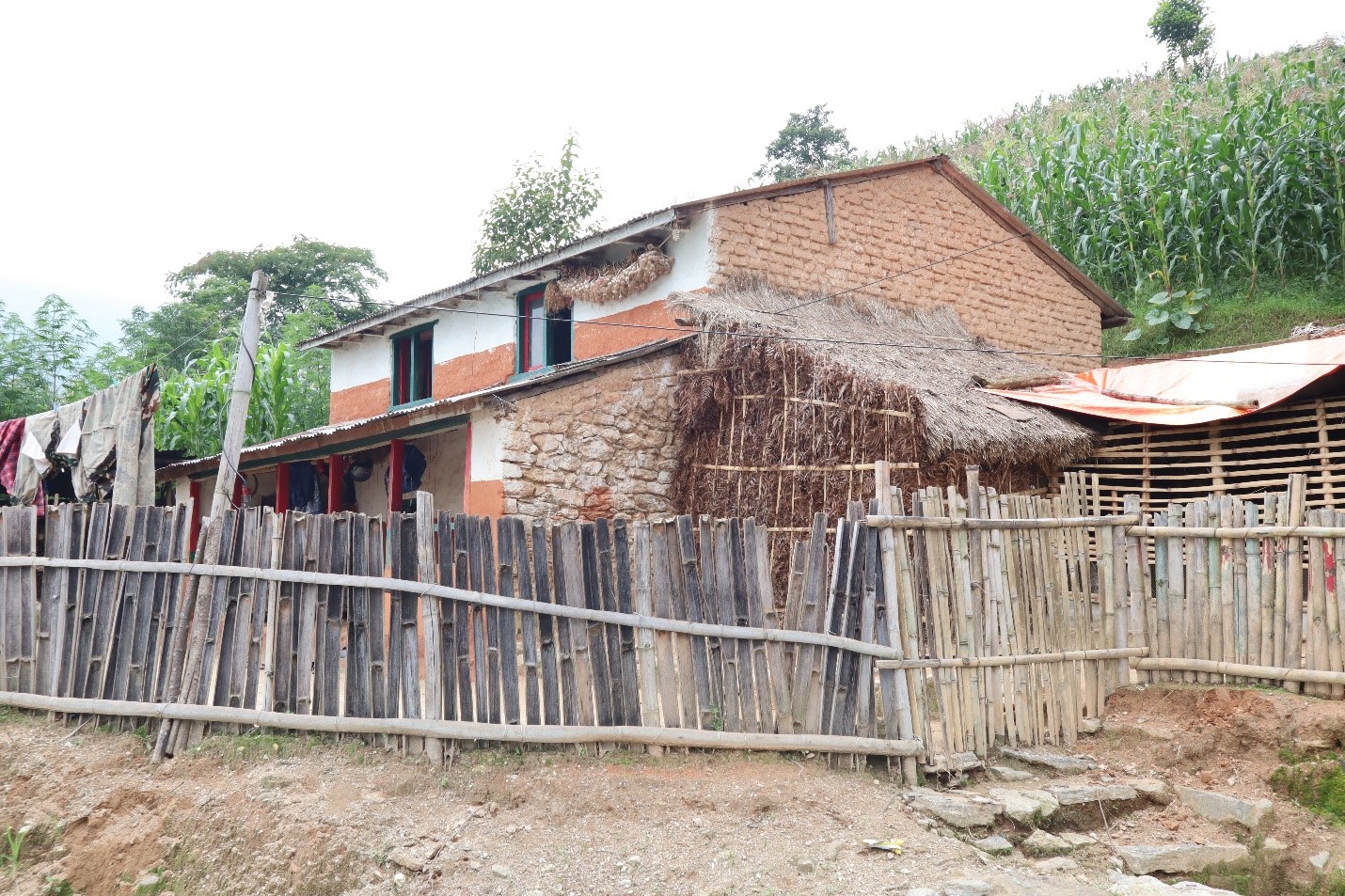 (Read Part I)
At the Mahankal shrine, I stopped to ask around how far the Jaleshwor Mahadev was. Only a couple of houses appeared on the hillside but not a soul around. One house, in particular, took my fancy. Built with stone and brick, painted part white, the rest ochre with bunches of garlic hung to dry under the overhanging eaves of the roof, the compound was fenced in with a split bamboo screen—a typical rustic household that's a rare sight in Kathmandu these days.
Just then, I spotted a young fellow coming up the incline our way; the locale seemed quiet and deserted, otherwise. "Close, maybe 20 minutes," he said and, to our surprise, offered to show us to the place. Great, I said! We decided to visit Jaleswhor Mahadev first.
His name was Bikram Tamang, only 16 years old and studying in the 9th grade. As all schools remained closed following the lockdown, he stayed home and helped his parents tend their little land and hung around, at other times, with village friends.
He told us the ethnic Tamangs dominated the entire village and threw light on them. "They include the Bomjan, Sangtyang, Tu, Bhaiju, and Lo, to name a few."
Shivapuri forest
As we got closer to the forested hill riding past a handful of settlements, my eyes caught sight of a wall way down, which seemed to skirt the wooded foothill. We learned from Bikram it served as the boundary wall dividing the buffer zone and the Shivapuri Nagarjun National Park. "The Jaleshwor Mahadev lies within the park," he explained.
The dense Shivapuri forest boasts both a temperate and a subtropical forest with different species of pine, alder, wild Himalayan cherry, and rhododendron, to name some. The fauna includes barking deer, pine marten, Kalij pheasant, clouded leopard, Himalayan black bears, and, besides, the native wild boars, their hefty Russian cousins (introduced in the 1970s as gifts to the then King Mahendra).
Released only in a pair in the Nagarjun forest, with time, those wild swine outnumbered their native counterparts to become a scourge of the villages surrounding the park walls (mostly where the walls have fallen apart, especially in Nagarjun) from Shivapuri to the Nagarjun areas. Almost three times the size of the native boars, they are more notorious for wreaking havoc on maize crops each harvest season.
With more than 300 species of birds, the forest is home to rare species like the hoary-throated barwing, white-throated tit, and the pride of the Shivapuri forest–the elusive spiny babbler (Kande Bhyakur in Nepali)—endemic species found only in Nepal.
The dirt road a little up the hill met a single track that led north, closer to the Shivapuri forest. After a short spin on the single track, we dismounted and walked our bikes; Bikram fell into stride with us.  Just then, my eyes fell upon wild fruiting shrubs with stems holding some berries. The trail seemed lined up with them.
At a closer look, I figured they were wild golden raspberries (ainselu). Shayeet also spotted them and cried out, "Wow, ainselu," and hastened to launch himself upon them. "Ouch, darned thorns got me," he yelled out. Bikram and I had a good laugh.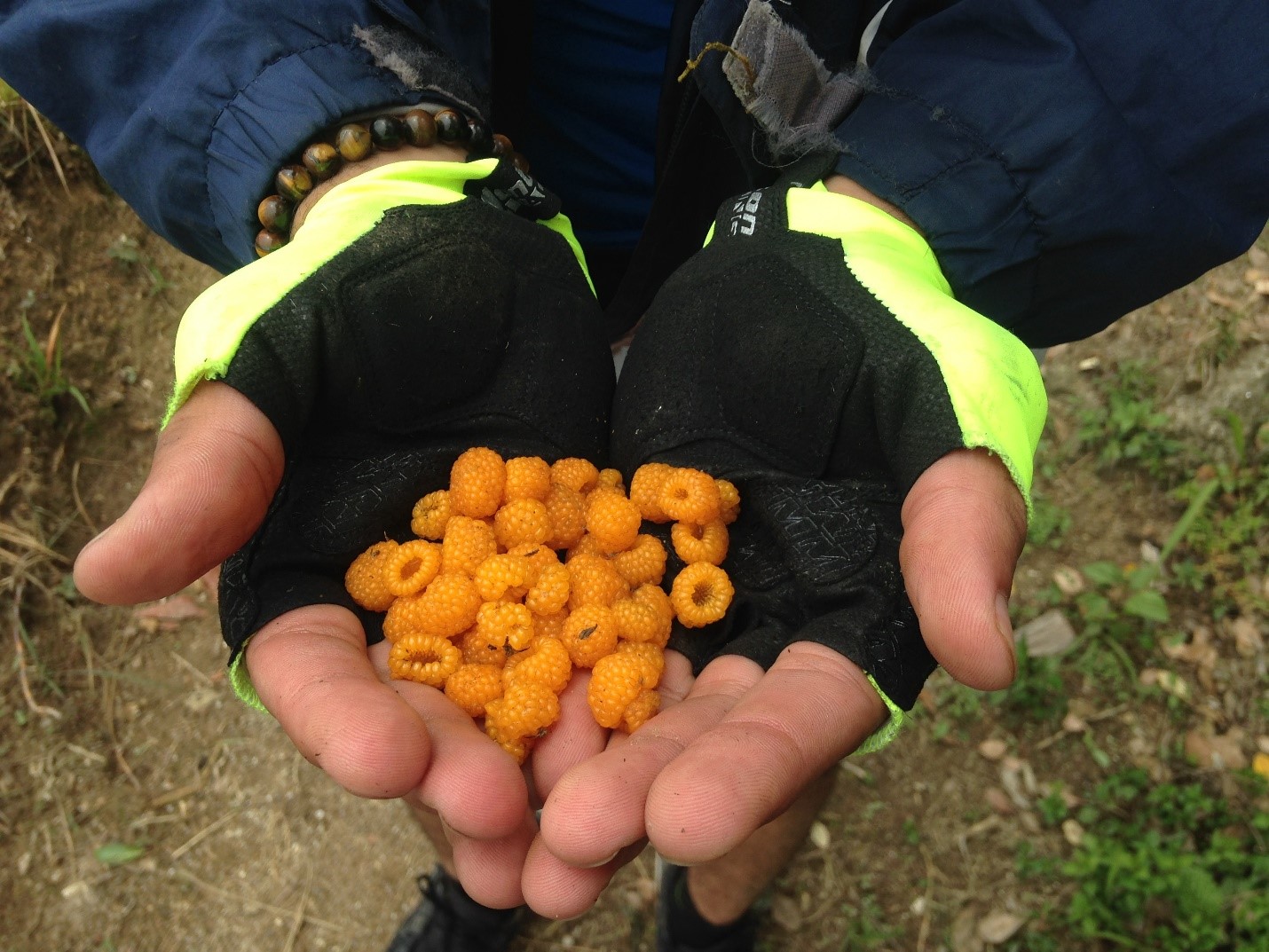 Next, we got busy picking them up.  Bikram, an old hand, was quick on the uptake. He picked by the handfuls and offered us. I did not remember how much I gorged on them; never had I so much all my life. So did Shayeet—a grand treat from nature. I also spotted chutro or Indian barberry (Berberis aristata) shrubs along the trail.
"We are almost there," Bikram said, after something like 20 minutes. There was a steep drop with uneven steps, so we left our bikes on the track and walked. The pre-monsoon had invited lush foliage—vines, ferns, lichen, and dense undergrowth. The damp rocks all around, encrusted with olive-green moss, reminded of velvety carpets.
"Nothing to fret over the bikes stolen," assured Bikram. The computer (cyclometer) on my bike's handlebar logged in the distance at 8.9 km from Milan Tole, Grande Hospital. "Only! I thought we'd done well over 15 km," Shayeet sounded disappointed. It also felt at first to me we had done a great distance. Maybe it had to do with the hardy track, I mused.
The shrine looked scarcely visited even by the local folks, let alone the outsiders. The depression held a tiny cascade in a dark fern-covered cave-like hollow. A trident stood at the mouth as the crashing frothy water fed a narrow brook that dropped to a darkened ravine downhill.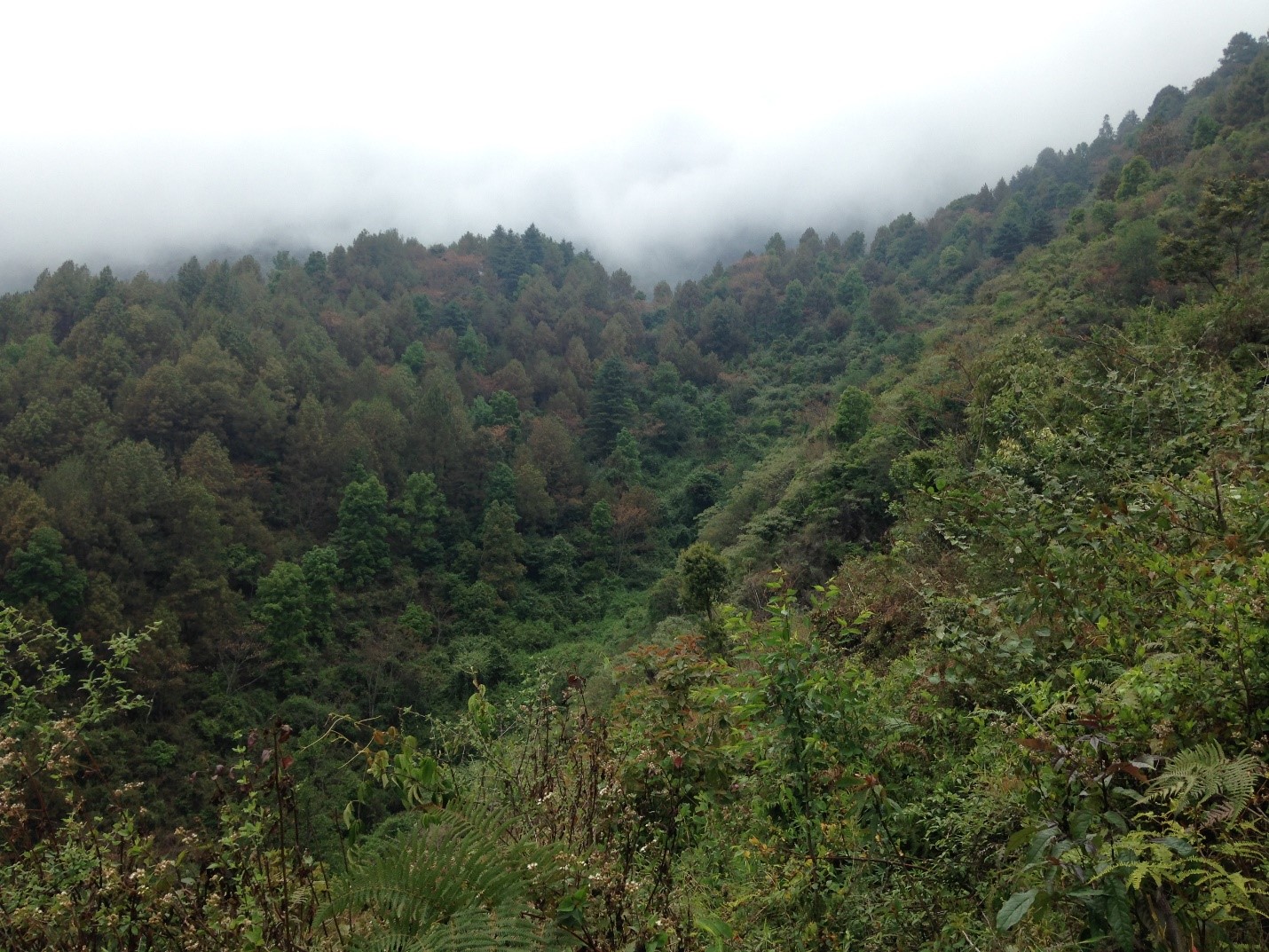 The hill above held the dense Shivapuri forest in all its grandeur, shooting way up into the clouds. Sheer bliss! The surroundings seemed to await us—beckoning, reminding us of a stark contrast between civilisation and nature, pristine and unsullied–almost unbelievable in such close vicinity of the maddening metropolis.
Jaleshwor Mahadev
It barely took us five minutes to the Mahadev. My altimeter showed the elevation at 1,750m, a little higher than Kathmandu (1,400 m). As we got closer, I found it to be a concrete structure, almost like six feet tall. "It was placed only three years ago," Bikram said. As I looked on, my eyes caught sight of, besides a crescent moon, the head of a female deity on Lord Shiva's thick locks. Bikram had no clue about the she-god.
I figured that to be Goddess Parwati's sister, Ganga, as Hindu epics like Mahabharata and Ramayan recount how Ganga came to occupy Shiva's head. Going by the tantric tradition, it is also believed to be Goddess Tripura Sundari or Sati Devi. Both Ganga and Tripura Sundari happen to be Shiva's consorts.
Small stone statues flanked Mahadev—Ganesh on the left and, to the best of my knowledge, his brother, Kartikeya on the right, but I could not be sure about the second as it appeared a little disfigured; a frilled silk canopy hung above. Bikram told us the shrine did not have an incumbent pujari. The entire locale looked hushed and deserted.
As a tall customary trident that held a damaru (a small two-headed drum closely associated with Lord Shiva) stood next to the statue, the ubiquitous Vasuki Nag (Hindu serpent-king), a Rudraksha (Elaeocarpus ganitrus) garland and others wound around his neck. And, as always, a little before Shiva, his devoted Vahan (vehicle), bull Nandi, squatted on its haunches, facing him. A large mirror, again very commonly found in Nepali temples, hung behind the Mahadev.
Folklore
Built on the local folklore, the Jaleshwor Mahadev's discovery was a pure accident when some women who had gone into the woods to collect fodder for their cattle stumbled upon a set of three stones that resembled Shiva linga. Words soon travelled around the village. But before the villagers could further investigate, a local woodcutter happened to spot those stones.
He had heard the rumour regarding the stones. Gossips ran, he swung his axe on one of the stone scoffing at the villagers' blind and foolhardy faith. That act of his proved fatal for the woodcutter who died a week later.
"Over and above, his entire family perished in a short period.  As the site had a waterfall and a pool, it came to be called the Jaleshwor Mahadev. The holy stones were shifted to the present spot for ease of access to the devotees and later, replaced by a statue," Kanchha Tamang summed up.
It was past noon, and I was starving. "If you feel like it, there is a waterfall, a cave, and a small pool down there well worth seeing," Bikram said and pointed down to a ravine. That sure looked scary to me. "Does a track lead down there?" asked Shayeet. Bikram nodded.
Shayeet followed Bikram down the steep grassy gradient, both hands grasping the long grasses, and whatever brush came his way. The track was barely visible, so all he did was tread on Bikram's heels. Honestly, I wanted no part of it and chickened out—just watched from above. Before long, they got lost from my sight.
Whoa! Just then, thunder sounded, and grey clouds loomed overhead, completely shrouding the crest of the forested hill. And within seconds, to my worst fear, the raindrops began to fall. I worried about Shayeet as the steep drop might turn as slippery as an eel. One false step or a slip could spell disaster.
Long-grained
I counted my lucky stars, as Shayeet appeared with Bikram. He barely had time to take a couple of shots of the cascade, but instead of venturing further into the cave and to the ancient pool, made for a hasty retreat as he felt the droplets of rain. No sooner he came than the rain fell and within minutes started pouring. We looked around for some shelter and found the only shed that stood close by. Luckily, the door was not locked, and we barged in.
Lo behold, the small space inside the shack looked lived-in. As a bed lay in a corner, unmade and total disarray, the front had a traditional chulo (mud-stove) with pots and pans strewn around with some steel plates. Simply put, everything was in a complete mess.
We learned from Bikram a Babaji or sadhu was holed up there but most times wandered around. My eyes then fell on a plate, which held a little coarsely pounded dried grass. It turned out to be marijuana. No wonder, I saw quite a few wild hemp underbrushes on our way up.   "Shayeet, what say you? Want to try?" I just kidded around and chuckled. I knew he did not even smoke cigarettes. "Nah, no way," he retorted.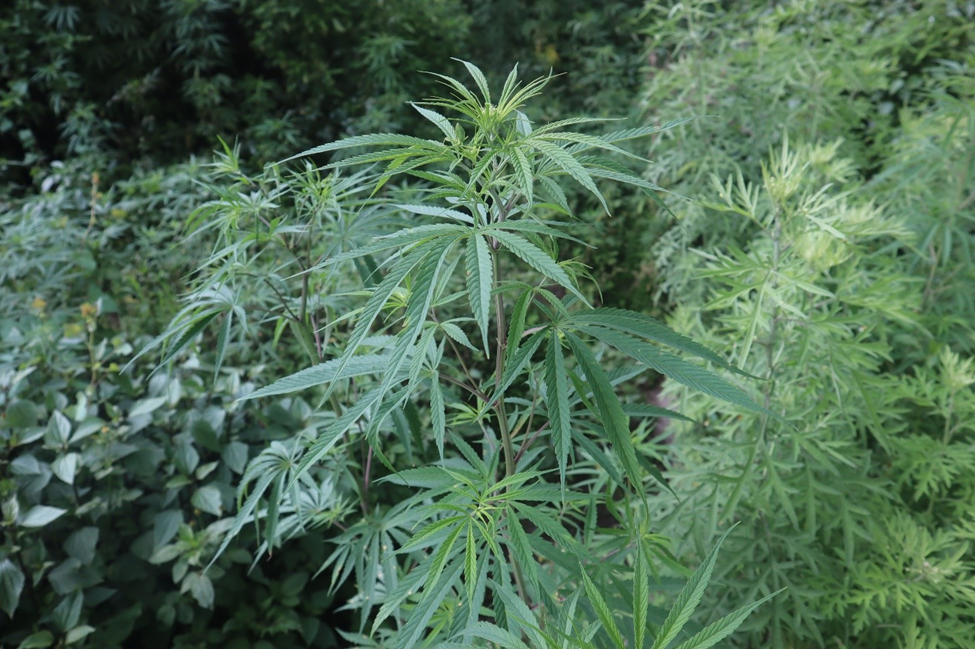 "Time to eat, man. My stomach is screaming murder," I lamented.  Our packed lunch included egg-fried rice, courtesy of Shayeet. He had brought the food for two, but we had to consider Bikram, too. It turned out, Shayeet, still a newbie when it came to cooking, had knocked up enough for three.
I could not believe the fried rice would taste so good. Shayeet had done a wonderful job. Bikram, too, seemed to relish it. He seemed a little baffled as he ate, though. "How come the rice is so long, lastai lamo chha (is extremely long; the word lastai has become viral in recent years in Nepal)?  I've never eaten this kind before," he said to no one in particular and looked in all his sincerity. "It's very common in town and is called the long-grain rice easily available in grocery stores," I explained and truly felt sorry for him.
The downpour stopped suddenly, but dark clouds still hovered above, blanketing the hills. "Time to leave," I called out, and we hit the trail back to Mahankal Devi. It turned out a couple of leeches had got Bikram on his bare feet since he wore slippers. Shayeet and I thought the leeches would not stand a chance as we had our shoes on. Wrong! My eyes suddenly fell on my right ankle and found my white sock bloody-red. Shayeet was unscathed, though.
Mahankal Devi
The premises at the local folks' most revered shrine looked spacious and well-planned with concrete blocks for the floor. As a stone-spout stood at one corner, the entire area seemed to rest under the canopy of several trees. The main deity under the small temple's tiled-roof gave the impression of a gaping mouth of a cave with a depth of some four feet.
At a closer look, it turned out a boulder no less the size of a car. I could not figure out if the orifice was a natural formation or hewed, and Bikram turned out none the wiser. Contrary to my expectation, the shrine did not hold any idol; only different stones occupied the cavity. As a string of bells hung from the roof, a trishul (trident) stood on one side.
"I seem to remember my grandfather say, the Mahankal Devi appeared in a mysterious manner," explained the 77-year-old elderly gentleman, Kanchha Tamang. The story went like this. In something like 1,017 BS (before the end of the first millennium after Christ), sudden deaths in the village caused a rural uproar. The villagers were at their wit's end when the deaths did not seem to let up.
A village assembly was summoned by, and tantric Dhami-jhãkris (shamans) sought. One of the shamans called Changé following the tantric ritual happened to communicate with the Mahankal Devi, who revealed to him the villagers had committed a sacrilege by littering her abode (present site) and failed to uncover her holy presence. That was the reason she had incurred her wrath upon the villagers.
"Thus, to appease the Mahankal Devi, villagers offered the sacrifice of goats, and chickens, and performed an illustrious puja pleading the Goddess for her mercy. Following that, the deaths in the village stopped as mysteriously as it began," explained Kanchha Tamang. Every year, on the occasion of Saptami and Ashtami (7th/8th day) of Dashain, puja is held at the shrine with great religious fervour.
After the revered shrine of Jhor Mahankal, we bid Bikram good-bye and hit back home. I felt like saving Bikram's number on my cell-phone just so to remember him by but was dumbstruck he did not own one.  As I spun down the hill, I debated in my mind even my grocer's eight-year-old son fiddled around with his cell-phone. That was the second time I felt for him. Maybe, it was good for him, after all, I mused.
Pics by Shayeet Sharma and the author