"I don't ride a bike to add days to my life. I ride a bike to add life to my days"—Mannar Parmar
By the time he was 13 years old, his passion transformed into an obsession. He ate, slept, and breathed mountain biking. He wanted to become a mountain biker more than anything in the world.
(Read the first chapter of the story.)
For Samir Tamang, mountain biking was nothing but a fantasy since he grew into his boyhood. He was thrilled to bits when he watched young riders on their mountain bikes hurtle past in their snazzy helmets and flashy gears. And, even before he was 10, he set his sight high on becoming a mountain biker—come hell or high water.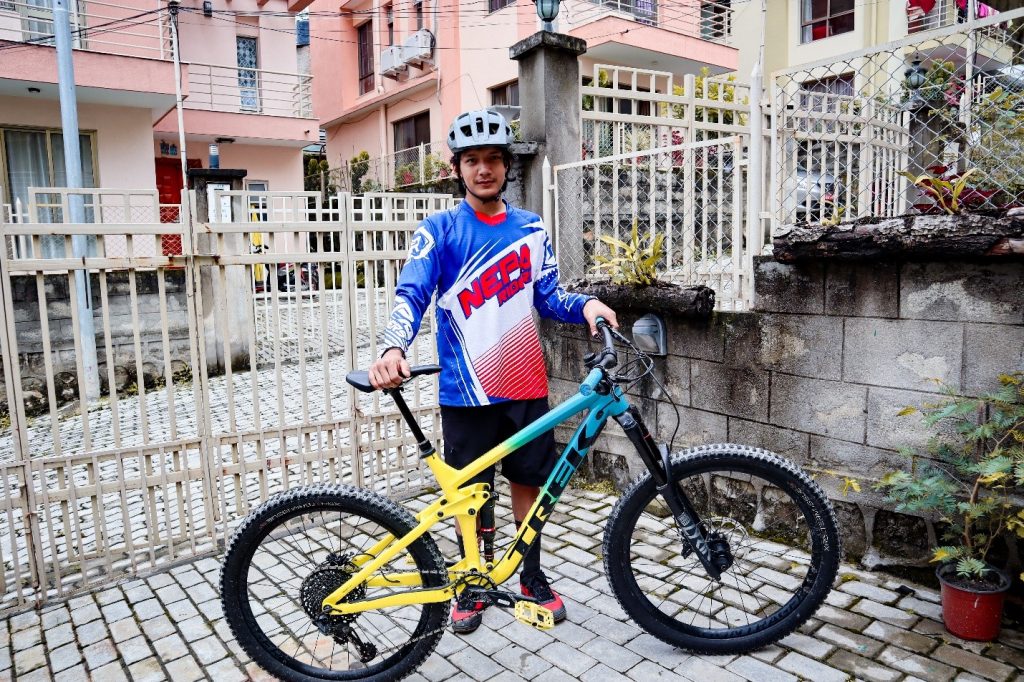 When he was nine years old, he had his first crack at cycling. He would save a little from the pocket money he got from his mom and rush to Kamlachhi, hire an ordinary junior bicycle for an hour or two, and ride like a maniac.
That brought back fresh memories of my boyhood days, too. The only difference between Samir and I was I often stole from my mom's cupboard to have a go at cycling and traded it with a good bashing from her.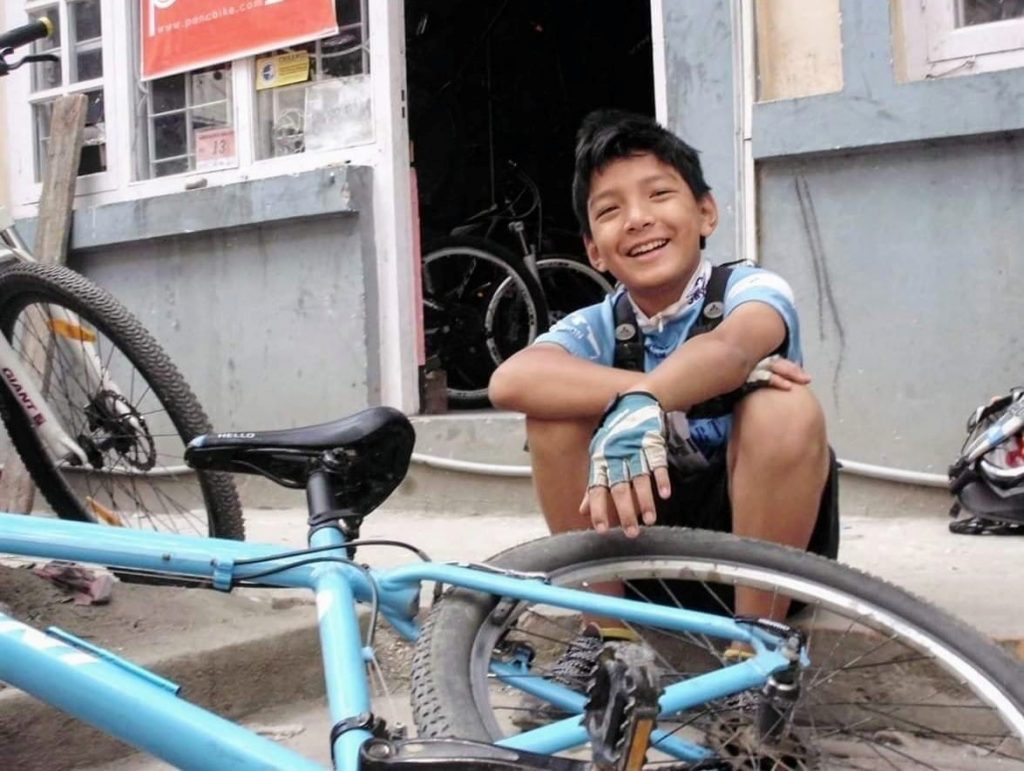 Consuming passion, drive and motivation
With early adolescence, his passion for mountain biking too snowballed. After school hours, his penchant was to drop by a local bicycle shop at Kamlachhi on his way back home to Asan Twāh (Asan Tole Street in Newari) and watch for hours the mechanics do the repairs.
By the time he was 13 years old, his passion transformed into an obsession. He ate, slept, and breathed mountain biking. He was hung-up on becoming a mountain biker more than anything in the world.
Motivation and drive
Samir happened to have an uncle, Suman Lama, who had made his mark among the elite DH riders in Kathmandu. Prayash Tamang, CEO, Kathmandu Bike Station, too, was a distant uncle, the husband of the elder sister of his mom. And it looked, the impetus or trigger turned out to be his two uncles. He often watched them ride in awe and fascination and daydreamed about becoming one like them someday.
To Samir, things did not, however, seem to look on the bright side. He underwent a depressing spell when he was in the 10th grade and quit for almost six months his cycling escapades with hired or borrowed bikes as he could not afford to buy one.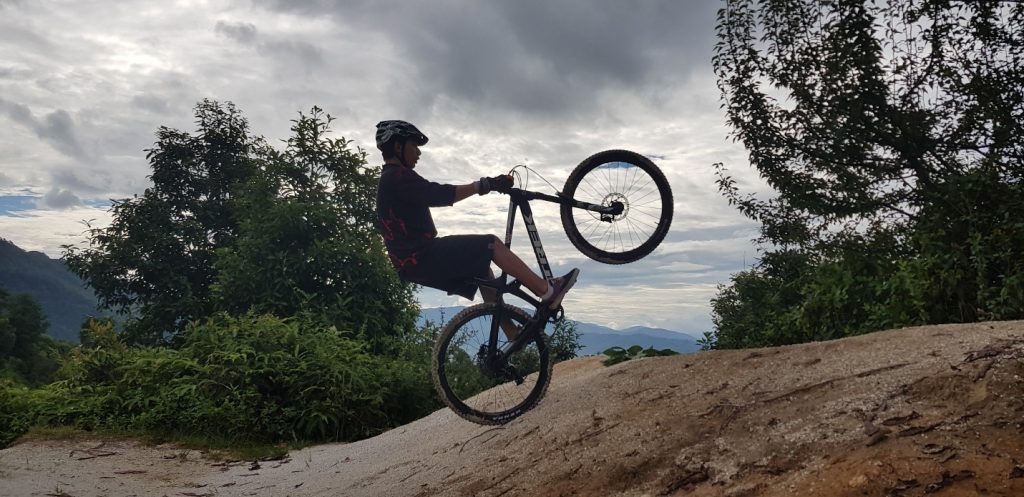 But, his consuming passion got the better of him when uncle Suman gave him his old Scott downhill bike to ride. A brand-new Scott DH bike cost almost USD 2,500.00 then. The bike was in bad shape, though—the front forks did not work, the rear shock none the better, and the body-frame screeched and groaned with faults in every conceivable part, but for Samir, it proved a new lease on life.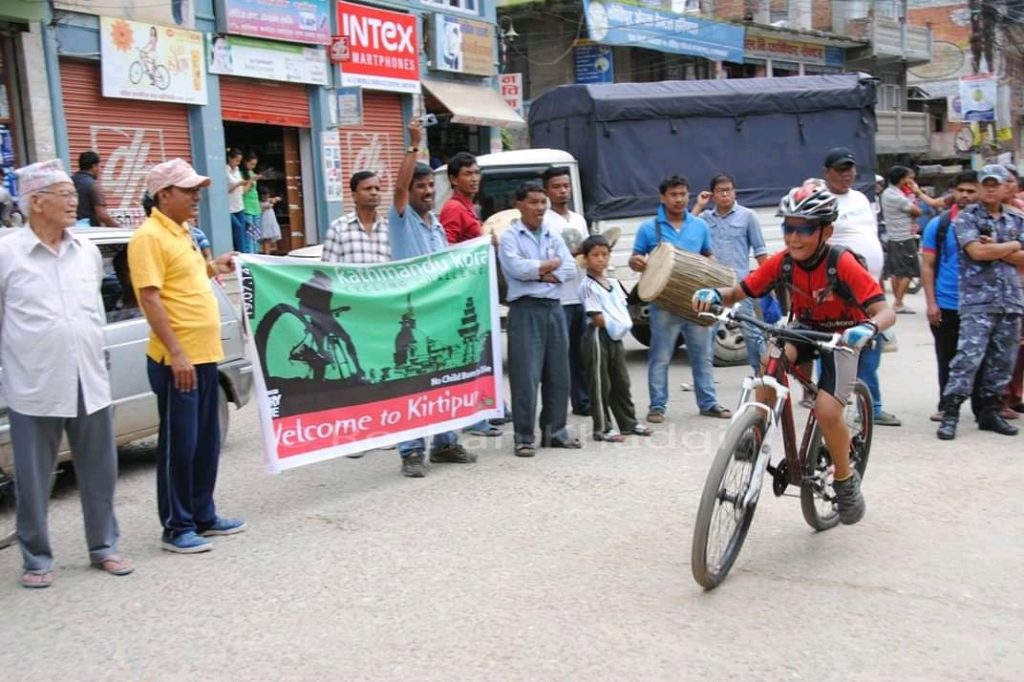 A lucky breakthrough
He was beside himself when one day, his uncle Suman (mom's brother) bought him a Trek 3900 XC mountain bike. He was then 13 years old. For him, it was a little short of a lucky strike. He thought it was his karma that brought him the stroke of luck.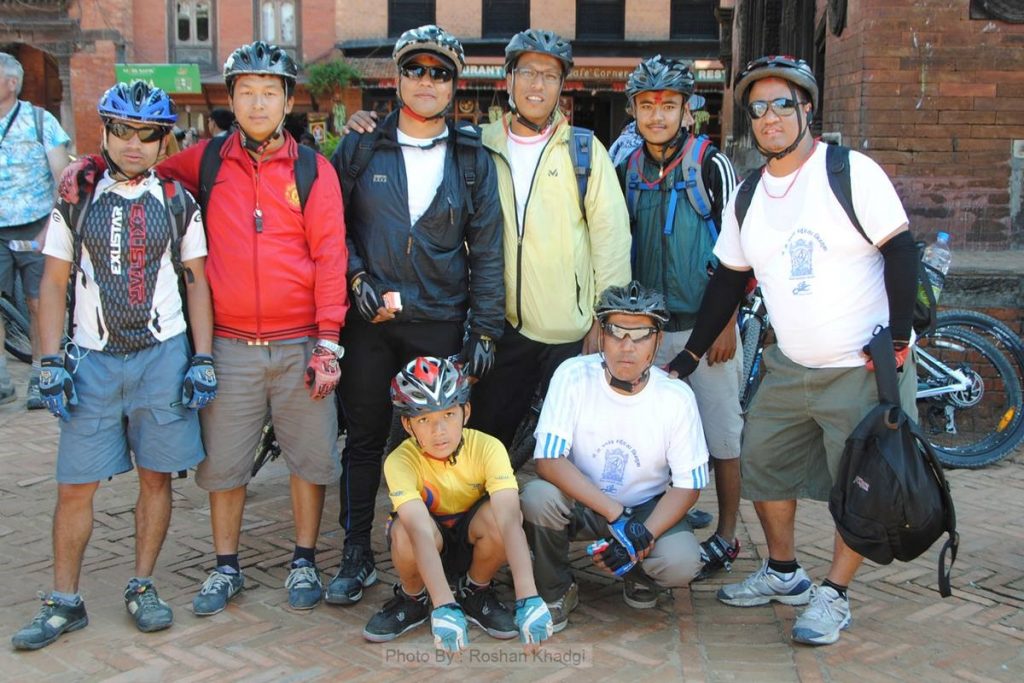 And, from thereupon, there was no looking back for the 13-year-old kid. It appeared a dyke wall had crashed, and the leaping sea waves flooded in a torrential deluge. Even at the tender age, the challenges of riding along with adults never daunted him. Instead, he took such escapades in his stride. He completed the 50-km Kora Challenge 2014 when he was only 12 years old. And, the adults boggled at the kid's vigour and stamina.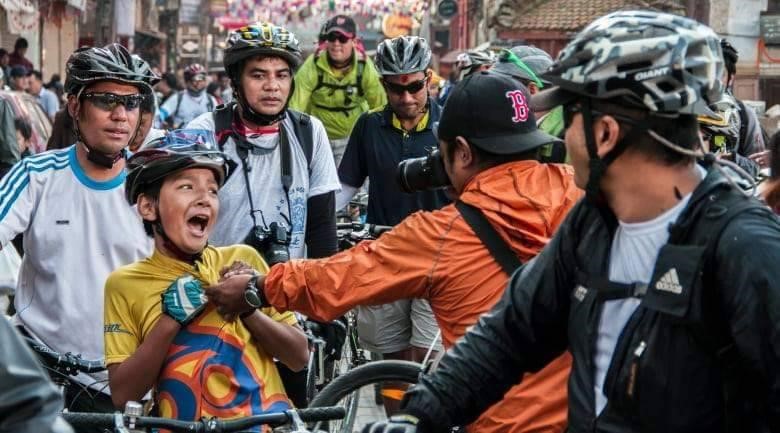 Work came first
Childhood fantasies can be delusive —and a time comes when you got to face the bitter facts of life. So did Samir. When he was in the 10th grade, he caught on to the bare facts he had to work right after his SLC exams (final 10th-grade examinations) to earn his pocket money and support her mom a little to meet household expenses. His dad had left him and his mom when he was still a toddler. "I hardly remember his face," he told me.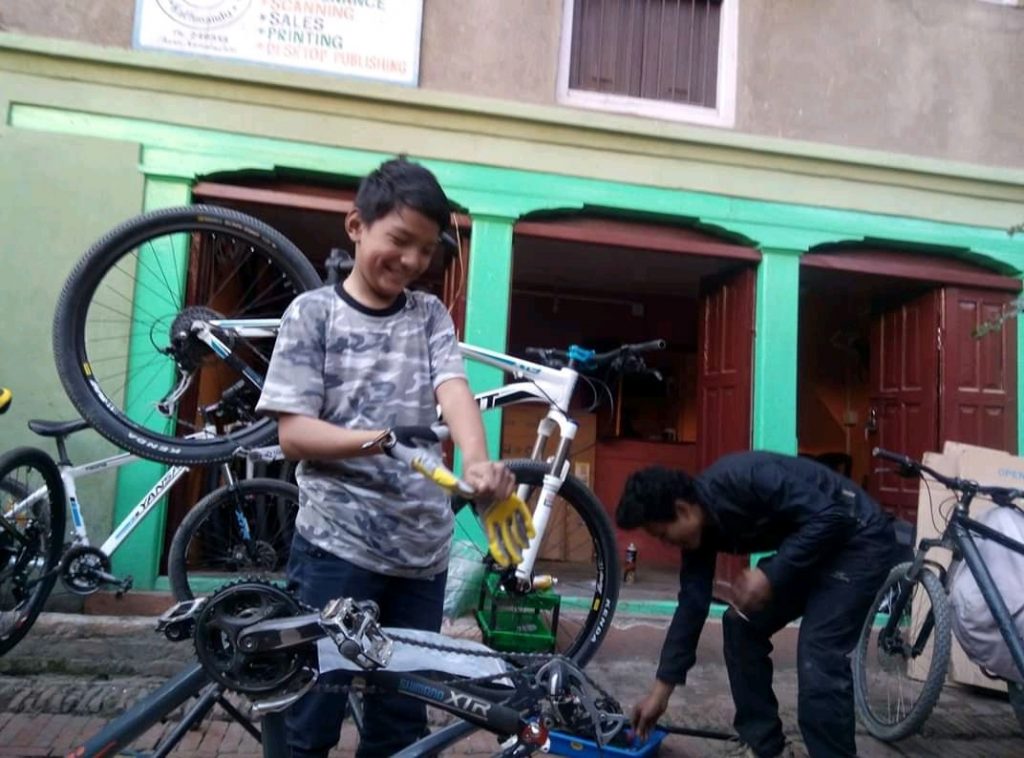 Right after the SLC exams, he started working but also joined a morning college. He was 16 then. His first job came about working in a bicycle shop, Laxmi Cycle Centre, Kamlachhi, where, he as a 7th grader, used to frequent as a wide-eyed onlooker after school. He seemed excited, though, to work as an apprentice mechanic. That would give him a break to realise his dream of becoming a mountain biker, he mused.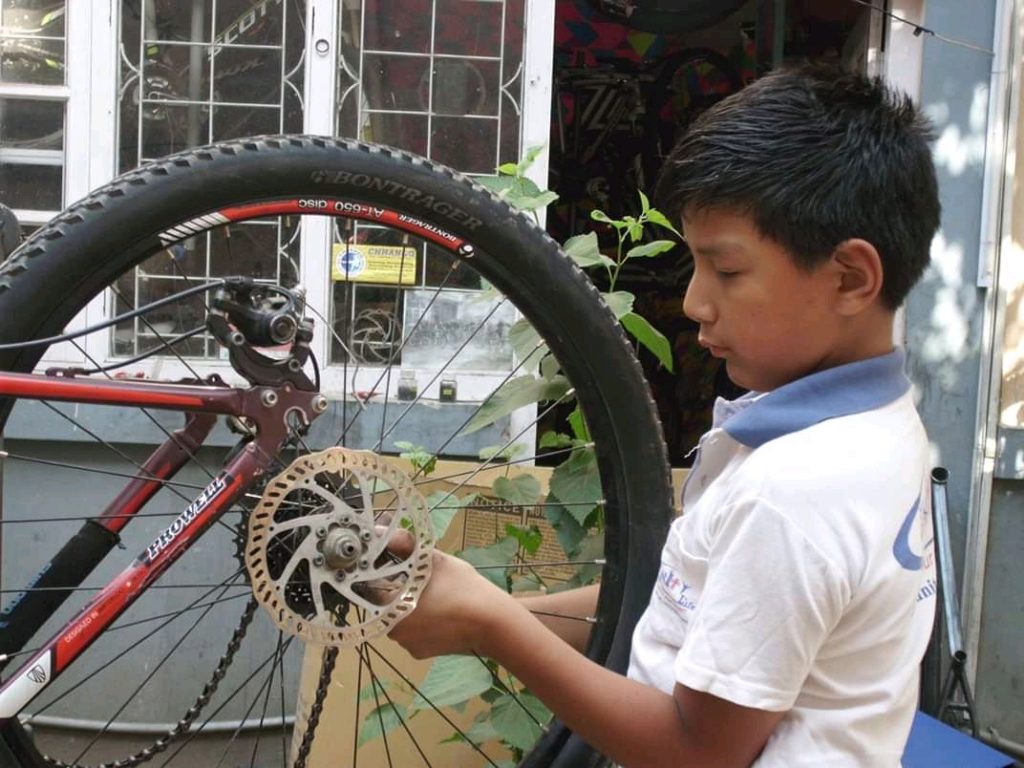 Care and support
Samir's mom cared for him and brought him up doing odd jobs to pay for his school, later college, and met all household expenses. He lives with his mom in a rented house at Asan. "My mom worked in a hotel at Thamel and cooked food for the staffers, but she lost her job after the hotel shut down after the prolonged lockdown recently," said Samir.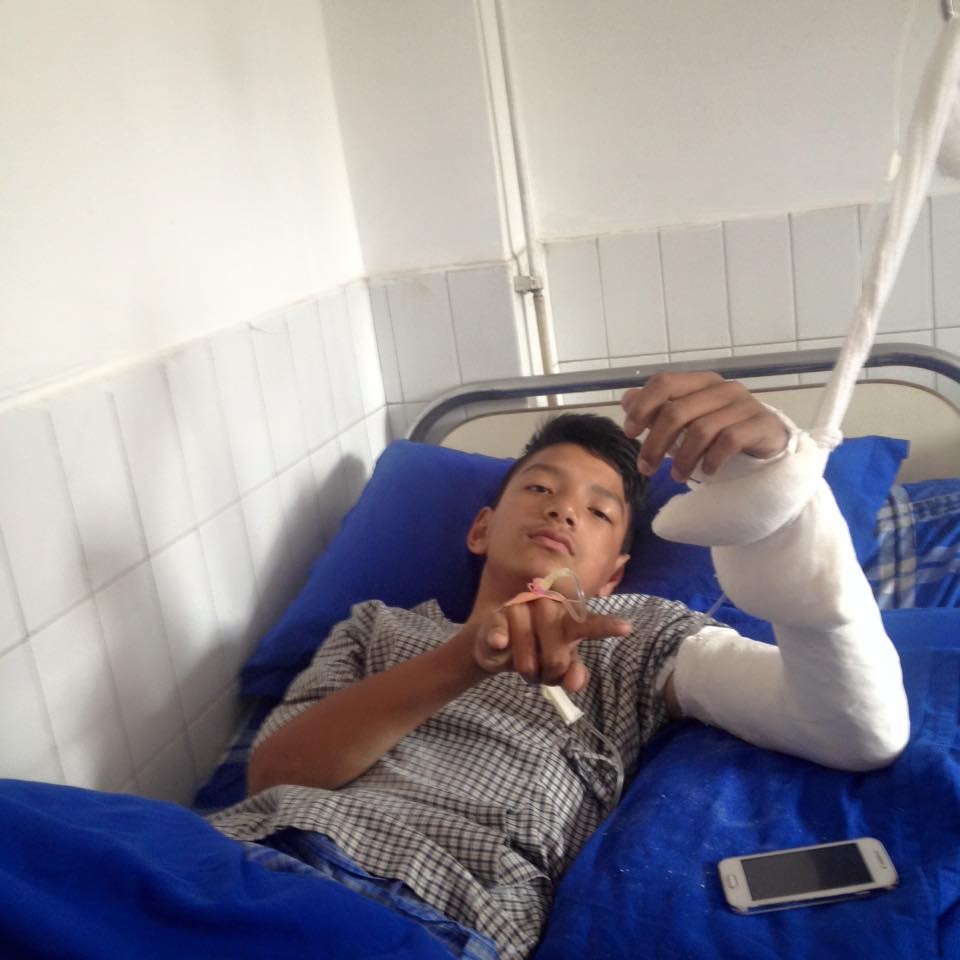 "She never asked for money even when I started working, and I began saving up," he further added. "Did your mom ever disapprove of your attachment to mountain biking, given that you'd opted for DH, which was wide open to serious injuries?"
To that, Samir chuckled (he always appears slaphappy), and said "Not that I'm aware of, not even when I broke my arms twice during training. She is the most understanding woman and the best mom in the world," he said, again with a bashful smile. He later told me he had sustained more than his share of injuries. "But, that does not stop a true mountain biker from his passion," he sounded proud.
When he related to me how he cached his savings, I could not help break into a chortle. "I turned into a close-fisted guy the day I'd my first job. Since mom never asked me for a penny, I stashed away my salary at home by stuffing it into socks and sliding them in the farthest corner below my bed." Some ruse, I thought.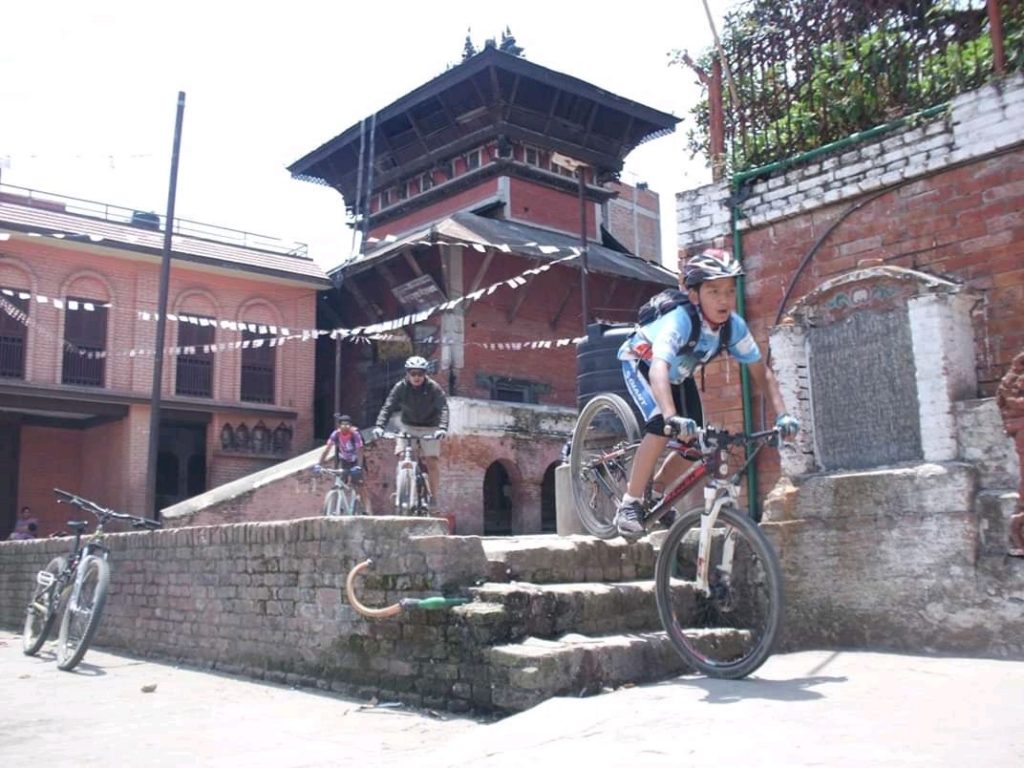 New job, better opportunity
After one year at the local bike shop, Samir was offered a job by Kathmandu Bike Station, Pani Pokhari—courtesy Prayash Tamang. His one year of experience at Laxmi Cycles paid off, and he felt gratified to work for a high-end bike outfit like KBS.
He is currently working there as an apprentice mechanic for the last one-half year. And he could not have asked for a better option. "Things have started looking up for me since, and Prayash uncle for me is nothing less than a confidante and a mentor," Samir confided to this scribe.
Impressed by his sincere and hard work, he recently got a new up-end Trek All mountain bike at the ex-factory price. His company has also pledged to replace his bike every year with an updated model. In exchange, he works on weekends as a group-ride leader for beginners, including school kids.
He took a terrible fright of losing his job when the initial lockdown got imposed, and Bike Station shut down, but it reopened its workshop partially after a month, and he resumed his work.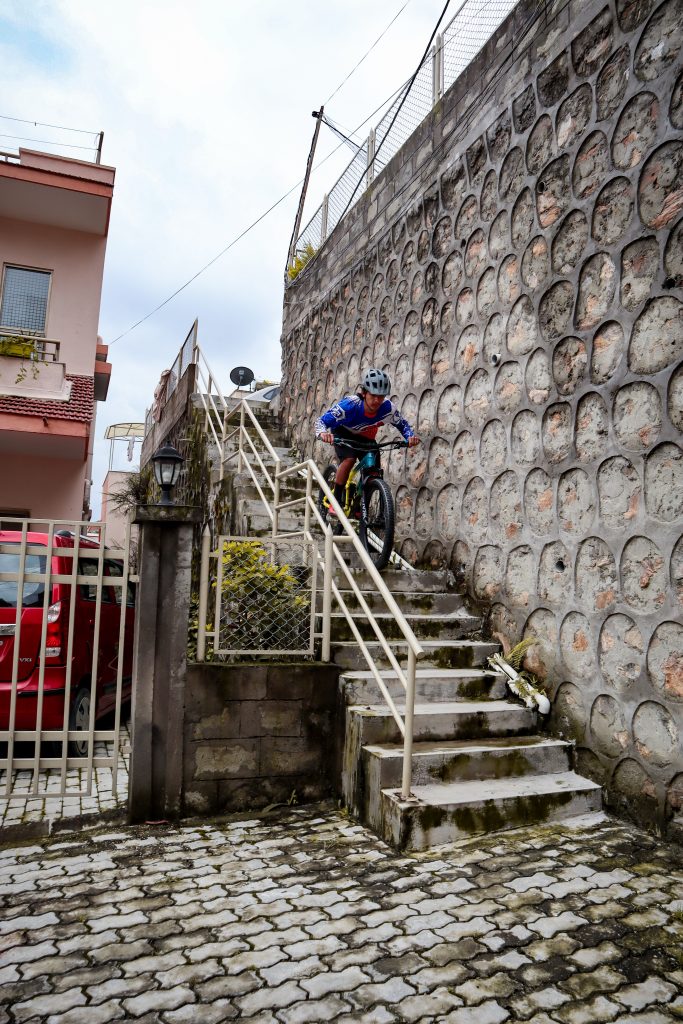 Juggling work, training, commitments and fun-time
"Any genre of riding/racing needs intensive training to pave for a headway, better performance, stamina, and supremacy in one's field, isn't that so? So, how do you manage work, home, and your training," I asked. Samir looked at a loss.
"This happens to be the toughest part of my routine today in the pursuit of my goal. I barely manage to do it," lamented Samir. Only his ride mates seem to double as his friends. As things stand, work for Samir seems to overshadow his training as it serves as the mainstay for him to both meet the mundane and realise his dream.
"I report for work at 9:30 am and stay until 7 to 7:30 pm, six days a week. Only the weekend is left for me to train, buy things for the home, do the chores, and barely save time for friends other than riding partners, and by the time I hit the bunk, I'm plumb burned out" shared Samir.
Hard times and scarcity
Samir grew up in hardship and deprivation, fair and square. For all that, he learned to live with things as they came. He recalls how he had to borrow a mountain bike from a friend early in schooldays when he took part in a championship race. Time and again, he had to swallow his pride to pursue his motivation. That did not deter his determination, though, neither did it weigh heavily on his morale or self-esteem.
All stumbling blocks for him are just a means to an end—his ambition. They had become part of his life. That seems Samir's strength, which keeps him kicking and ticking. Further to DH riding and racing, Samir always wished he did enduro-style too. Although he contended for the Under-18 Asian Enduro Series Nepal in 2017, he has not taken part in such races since.
Enduro races include stages and involve five to six days minimum. But he knows most things in life for him do not come cheap, competition races included. Both time and cost-wise, as it is, it is close to off-limits to him. "Come to think of it, each race, DH or for that matter, enduro, carries expenses. A single enduro race cost equals to Rs 20 to 25K, a sum too exacting for me to scrape by," bemoaned Samir.
The DH races cost a quarter of that, nevertheless still a considerable amount for him. It gets frustrating at times when he finds himself helpless as much as he is confident of excelling in such races. And, for upcoming riders, sponsors are hard to come by into the bargain.
Past and present
Looking back, the elite bikers of yesteryears made concerted efforts in their pursuit to keep this sport alive and kicking. So are the new breeds of riders today. To pore over this matter, it had been and still is an epic struggle for those top-dogs of mountain biking—simply because most came from an impoverished background. The instances are not far to seek. Ajay Pandit, Late Narayan Gopal, Laxmi Magar, and Rajesh Magar, to name a few, had to fight it through the breadlines.
To my question to the past President of NCA (Nepal Cycling Association), Chimmi Urkyen Gurung (read a brief profile on Chimmi), considered a doyen of this sport in Nepal, he said, "This is an unpalatable and hard bitter truth even accepted to this day. During my tenure, to address this setback, I did my best to lobby the concerned authority, with the issue in question the Nepal Sports Council, under whose directives the NCA is governed."
"I approached the Tourism Board, too, as this sport had the boundless potentiality to bring in foreign revenue. Regrettably, mountain biking is still in its infancy in Nepal and occupying the rock-bottom priority failed to draw full deliberations from the two prospective establishments," he further explained.
Happy moments to cherish
"I felt I was the happiest man on earth when in 2018, I took a podium-standing as a runner-up in the Elite Class DH Championship organised by the Himalayan Outdoor Festival at Hattiban," beamed Samir, "I was 16 then. I was supposed to sign in for the junior category but settled for the elite challenge. Suman Tamang (not to be confused with my uncle Suman Lama), the National DH Champ 2019, clinched the gold."
Later, he told me that the credit for his victory accounted for the state-of-the-art enduro bike Kathmandu Bike Station had provided him for the race. Trial runs in the international context have shown that in DH races, bikes from the same classification bring in better results than other kinds, including enduro. So, it stands, Samir could have done better yet.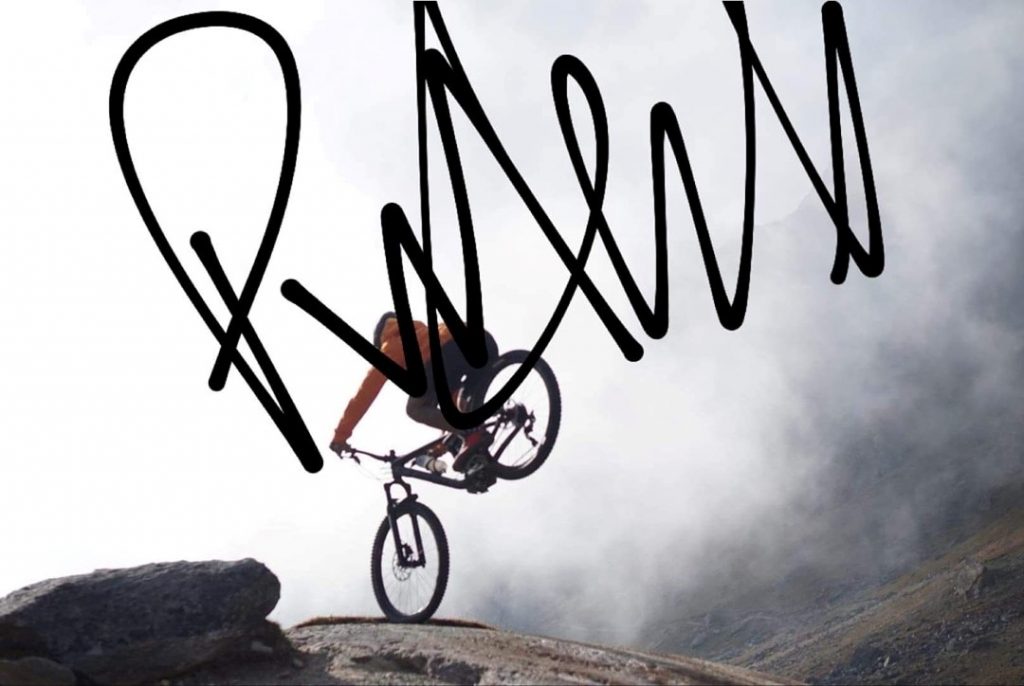 Another happy moment for him was when he became a proud owner of his dream bike the first time—a Trek Remedy 8. He bought it from a close friend and co-rider for Rs 110 k since he had to go to Bangalore for his further studies. He had purchased it for Rs 309 k only six months back—it came as a special favour from a special friend.
"I sold off the rundown Scott downhiller I got from uncle Suman for 80 thousand rupees and paid my friend the rest from my savings—not a penny from my mom, though," Samir said. Wow! Samir would make a shrewd salesperson, if he was other than a biker, I thought.
Skills and techniques to master
In the DH discipline, to hone their downhill and gravity riding, every rider has to undergo rigorous training and learn essential skills from jumps, drops, and advanced cornering techniques. Speed and timing are of utmost consequence—every thousandth of second counts up in a race.
But body-position footwork and speed control stand equally critical to develop the skill to perfection. To my question, what part of DH riding he found the toughest, he remarked, "For me, the trickiest is the gap jumps and off-camber sections where the outside edge of the trail-bed is lower than the inside edge on the DH circuit."
It is not uncommon for DH or enduro riders to cut capers, doing the "tricks" other than their routine training—it is but natural. Samir seems quite nuts about it, and some of his tricks include wheelie, manual, bunny-hop, endo, 180, 360 tyre-tap, wall-ride, crank-flip, you name it.
In reply to my question, "what's your motto", he said, "I love that quote from Jerry Dunn: "Don't limit your challenges, challenge your limits." This is for everybody, he added.
As I rounded up my pleasant tête-à-tête with the bashful, soft-spoken, and the 'happy-camper' as he is, I still had up my sleeve a final question. "Samir, your Trek Remedy-8 looks in mint condition. Did you buy it recently?"
"Yes, uncle," he replied and added, "Only six months ago. I bought it under my own steam—not a rupee from anyone, mom either," Samir finished and gave me that disarming smile for the umpteenth time. I grinned back, too—I could not just help it. It seemed plumb infectious and caught on like greased lightning.
Photos: Courtesy Samir Tamang and the author