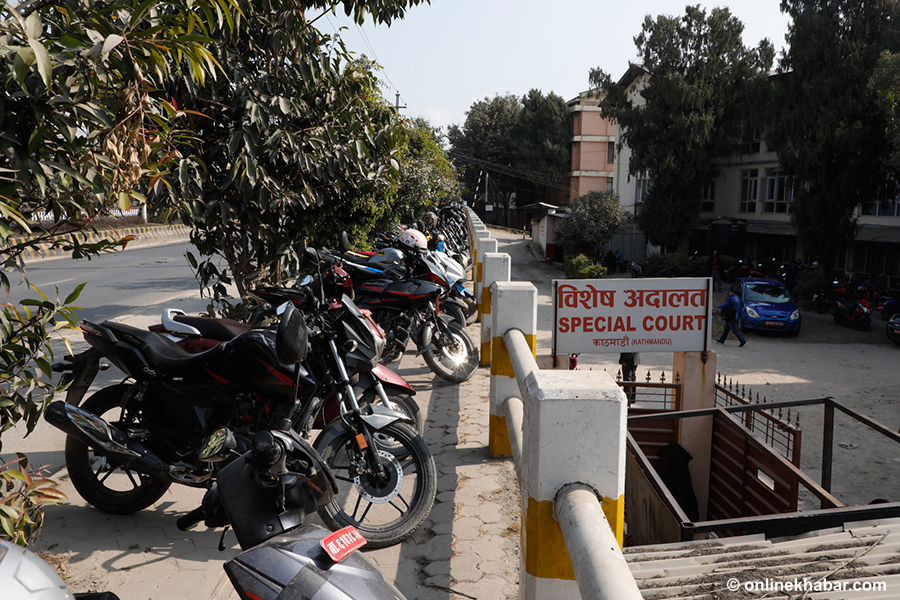 Infrastructure development, particularly the development of roads, has both advantages and disadvantages. While it has done a lot for economic growth, it has also increased pollution, traffic congestion, and injuries and deaths from accidents.
Following the west's suit, Nepal and Kathmandu also embraced a car-centric planning approach, prioritising vehicular movement over pedestrians. But, now, as there are fewer and fewer open spaces and traffic jams are ever rising, a lack of parking spaces for vehicles has become a perennial problem in Kathmandu. It is about time we started to raise questions about how unlivable and unsustainable the city has been due to rapid urbanisation.
In Kathmandu, cars take up excessive amounts of road space compared to the number of trips they make. They also pollute the air, put pedestrians and bicyclists in danger, and cost astronomical amounts of money and space to maintain. To raise awareness about the need to stop this, the city recently celebrated Park(ing) Day calling for more open and pedestrian-friendly spaces. It is quite important we hold such discourses as it was about time the city became people-friendly rather than vehicle-friendly.
The first-ever Park(ing) Day was celebrated to call attention to the need for more quality open spaces, start a discussion and advocate for more places for people and not cars, to generate critical debate around how public space is created, allocated, used and managed, and to improve our urban experiences.
Celebrating Car-Free Day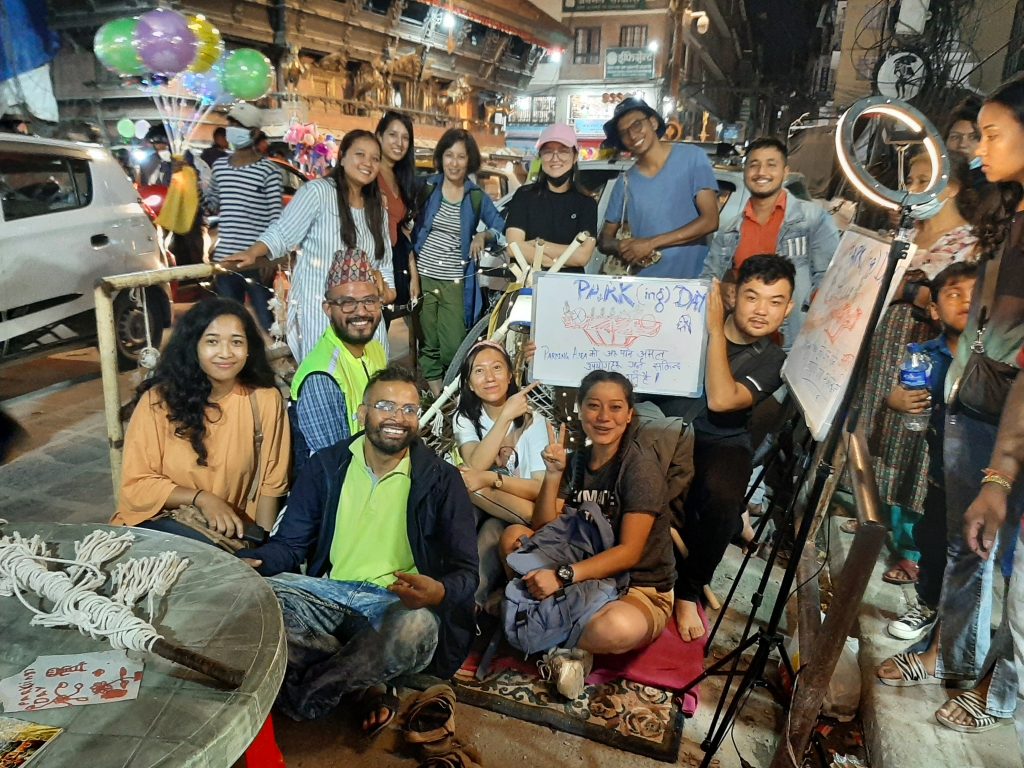 On September 22, people around the world celebrate World Car-Free Day. It is an annual reminder of the folly of creating car-based transport systems and of the many advantages that would accrue if we lessened our automobiles and instead created better conditions for walking, cycling, and public transport.
Meanwhile, Car-Free Day celebrations illustrate how much better life would be in cities if they were safe and convenient to move around on foot, cycle, and public transport; if there were ample places to play and socialise outdoors; if we had parks and playgrounds instead of car parking space; if people no longer wasted time and money stuck in traffic, breathed filthily, or ran a high risk of being injured or killed in road crashes.
If that could be done, we could have more people-centric cities and cleaner and fresher air as well as vastly more affordable housing if we replaced car parking spaces with trees, parks, and other better uses. For this, we must first acknowledge and accept the dysfunctionality of ongoing development trends and the central role of the automobile in worsening life in our cities.
We have failed to provide open spaces for people. We continue to sacrifice pedestrian pavements while extending streets for cars. Children cannot safely walk or cycle to school; adults face nightmarish daily commutes; we lack public amenities like parks or public toilets throughout our city because we feel it is more important to have parking spaces for our cars rather than parks to stretch our legs and play.
Everyone would agree when I say we want the city to be livable. For this, our public spaces need to be multi-functional and adaptable. We must reduce our dependence on private automobiles and improve the situation for active transport (walking and cycling) as well as public transport.
Supporting global movement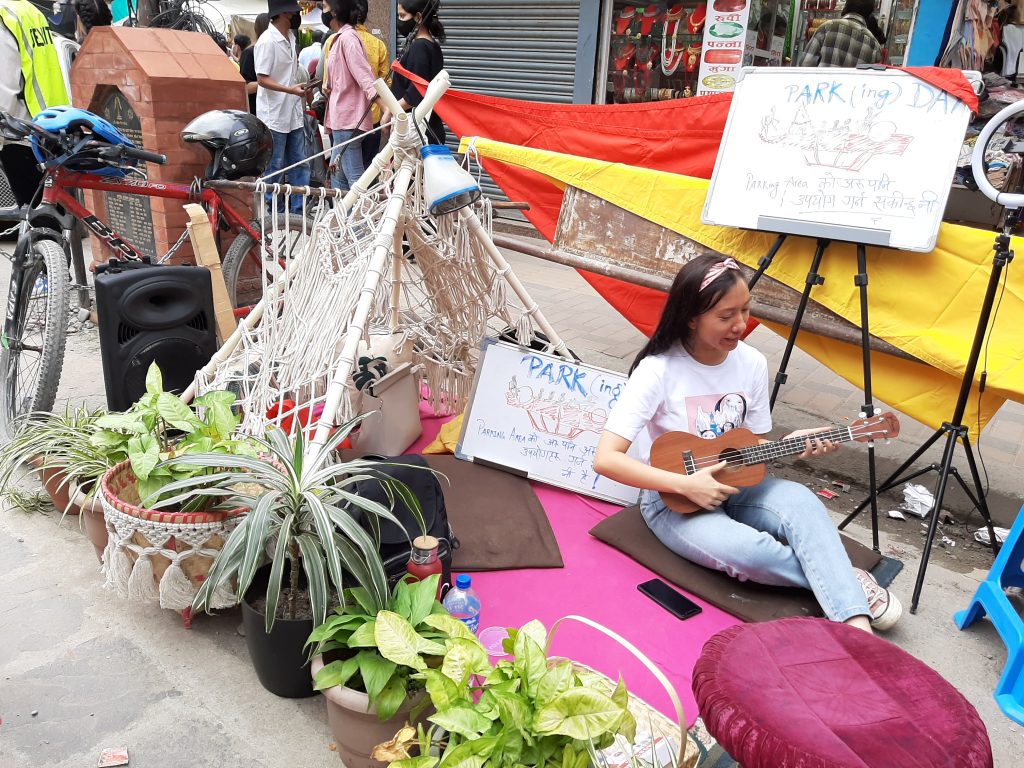 This year, the first-ever Park(ing) Day event took place at Indrachok, Kathmandu. It was organised by Digo Bikas Institute, Placemaking Nepal, Cycle City Network Nepal, Nepal Cycle Society, Utopia Kathmandu and Vriksha Foundation, as a part of the campaign for more livable cities.
Park(ing) Day is a global movement where we temporarily repurpose/activate parking spaces into vibrant public places promoting walkable, safer and inclusive streets.
In this one-day event, we activated a metred parking space at Indrachok into a temporary public place and created mini recreational areas to play, relax and socialise. The day was intended to encourage creative place-making, and raise awareness about the crucial role of public spaces for improved quality of life and retrofit the built environment to create more walkable, livable, inclusive and healthy communities.
This collective effort to reimagine the use of metred on-street parking space into a temporary public place for social interaction was well received by the local community, city dwellers, visitors as well as passersby. The humble setup with movable chairs, a table, a macramé teepee, some plants, board games and music acted as micro living rooms with chill-out areas, rest spots and play spaces where diverse people of different age groups, genders, socio-cultural backgrounds came together and embraced the outdoors in new and creative ways.
The parking space thus got transformed from merely a location into a destination for leisure and merriment. Our simple experimentation showcased different possibilities and uses of the parking space and the swarms of people visiting the street show just how much we Kathmanduites need such spaces.
We believe that we could have vastly better cities: less congestion, cleaner air, fewer deadly crashes, more open spaces, and a better response to the climate crisis. But, to do so, we have to end our deadly and destructive obsession with automobiles.
We need to encourage city dwellers to start experimenting in small ways. The changes do not need to be radical. We can start by documenting a street and sharing the uniqueness or challenges of the surroundings, be respectful of pedestrians and cyclists, choose to paddle to work or simply volunteer for a good cause. These small actions can have long-term impacts.
So, it is time to work together to re-envision our parking spaces and overall streetscapes and to ensure that the life we imagine one day a year could be our life every day: a healthier, happier life that would be good for us, our future generations and our planet.