"I took a walk in the woods and came out taller than the trees"—Henry David Thoreau
Staying away from friends, 'social' distancing and no hanging around town for some time seemed like a hiatus, if not a long school vacation like in old days—nothing much to fret over. It did not after the lockdown crossed a wearisome two months.
Shayeet, my young companion next house, seemed on the verge of breaking.  I did not fare any better, stuck to my home, stultified, drained off all motivation, and creativity. My mind seemed to fail to get involved—to simply put it—bored out of my brains. My mountain bike languished in a corner untouched and undusted as my rides had come to a grinding halt. I was dying for a ride and that deep lungful of long-overdue fresh country air.
The ride
I called and asked Shayeet about doing a ride. He seemed in an all-mighty hurry to unwind himself. It was our calling, and we did not want to miss out on it. After toying with the idea, we finally decided, it was time we were connected with the backwoods—playing by safety measures, of course. We carried our lunch and water and to say the least, made up our minds to avoid 'mortals,' like the plague.
I live around Tokha area . . . been there for four years. Away from the city hubbub and the bottlenecks, I have come to like the place. The thing I hold in high regard about the locale is the neck of woods, which offer at spitting distances many tracks, both paved and dirt that lead to the countryside and the verdant hills.
What could I wish more—as I happen to be an avid mountain biker? And, the hills afford pretty challenging climbs and a load of single tracks into the bargain.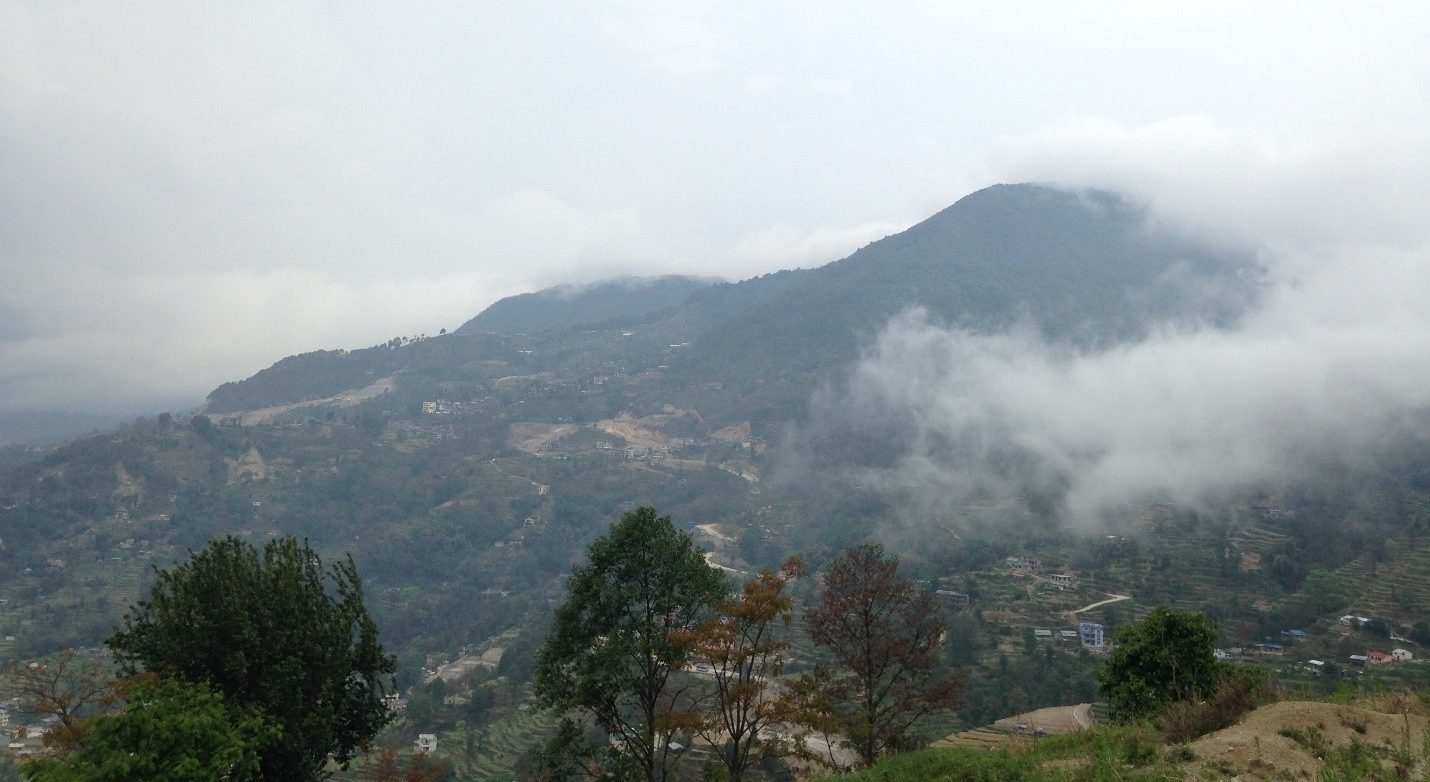 Weekend jaunts
The weekend rides are spoilt for choice as there are locations you can ride to by the bucketful.  If you get tired doing a route, you can switch to the next, or do the same, the other way round—that sure adds a whole new ball game to it. The closest from my house are, Jhor and Sangla, a little away from the ancient town of Tokha and a well-known shrine called Chandeswori, one of the Shakti Peeths.
If you fancy it, you can hit a steep climb next to the shrine, which heads towards a wooded hill with scarce habitation. The dirt road converges on a paved road. The left goes to Dandagaun, another sylvan uphill to the Shivapuri Nagarjun National Park while the right bend takes you to the town of Budanilakantha, and the famous Hindu deity Vishnu, reclining under the hood of Shesh Naag (a thousand-headed reptile god from Hindu mythology) in a small pool.
Off to the hills
We rode that particular day to a new spot—purely a happenchance. Shayeet, my young partner, and I were riding to Jhor, planning to return via Sangla, a good 15-km round trip.
Suddenly, a little before Jhor past a fork that went to a wooded hill north, I called out to him if he would like to try a new place. Yes—came a pat reply. We double-backed and took the turn-off.  I had been on that track before, but least thought I would be doing it that day. I had previously given up on it when I was halfway up. Every time I spun by to Jhor, I instinctively looked up at the wooded hill with a tiny habitation.
Not to worry, I will do it someday for sure, I promised myself. That was eight years ago. And the only reason then for giving up was the impossible incline—way too steep for my earlier 9-speed GT bike.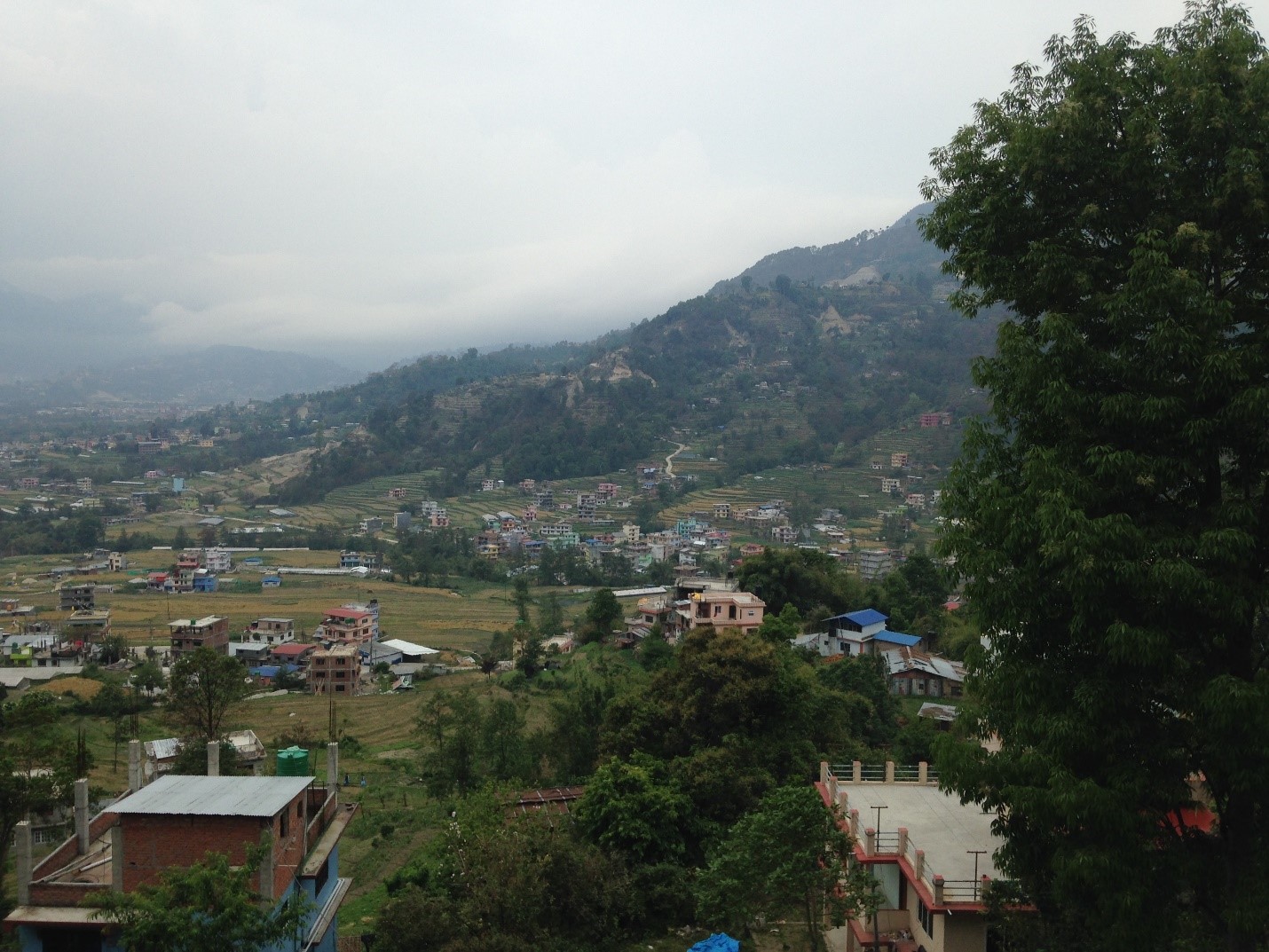 Tokha
From our residence at Milan Tole (street), we pedalled right through the ancient Newar town of Tokha. Once an independent kingdom called Jaipur (later named Laxmipur), its history dated back to the Lichhavi era (c. 450-c. 750 CE). With time, rapid urbanisation transformed the town—old time-honoured heritage replaced by the so-called "modern" trappings.   
Curiously, the town has not been able to shake off one of the last vestiges of the olden times, though—production of chaku (molasses) to this day. If you happen to take a stroll across the back alleys of Tokha, you cannot mistake the distinct robust aroma of molasses invading your olfactory senses.
Amusingly, you can even follow your nose down to a nearby factory. I did when first I visited the town to buy some chaku my wife asked to bring for Yomari Punhe. Tokha, or 'tu' 'khya' in Newari, translates to sugarcane field or ground, which the town once boasted in abundance. Chaku those days was produced from sugarcane juice; jaggery is used today, instead.
Off to Jhor
As we headed towards Jhor, the road appeared deserted and leaving out a couple of passing motorbikes, a few men and women with their masks on hung around their houses. Kids nearby seemed engaged in playing rough and tumble. The road was conspicuous by shuttered shops. Somehow, the vacated scenes appeared as it were from a sleazy Bollywood horror movie. And, we must have been portrayed as the baddies, all swathed in our MTB gear, helmets, and buffs that covered more than half our face.
"Uncle, if Kathmandu remained like this, it would be heaven on earth, no?" Shayeet said and fell into a full-blown guffaw. Nothing more than a pipe dream, I thought and smiled to myself. It would be "back to Mangalman" (Nepali jargon meaning 'back to square one') after the lockdown. Shayeet looked relieved, and tickled pink—seemingly a sudden torrent of water had burst out a sluicegate thrown wide open.
My Trek 10-speed Fuel-8 dual-suspension proved much better on the steep incline.  R and D today has indeed done wonders in churning out modern bikes with cutting-edge technology. You can get a branded mountain bike from an entry-level, Rs 65,000 to a high-end for an over the odds, Rs 300,000 or above. Shayeet too had a Trek, hardtail 29er—great for uphill.
It turned out, previously a dirt track, the stiff uphill was paved. The concrete was used on the gradient instead of asphalt so it worked better against wear and tear. Although far easier than before, some places remained near vertical.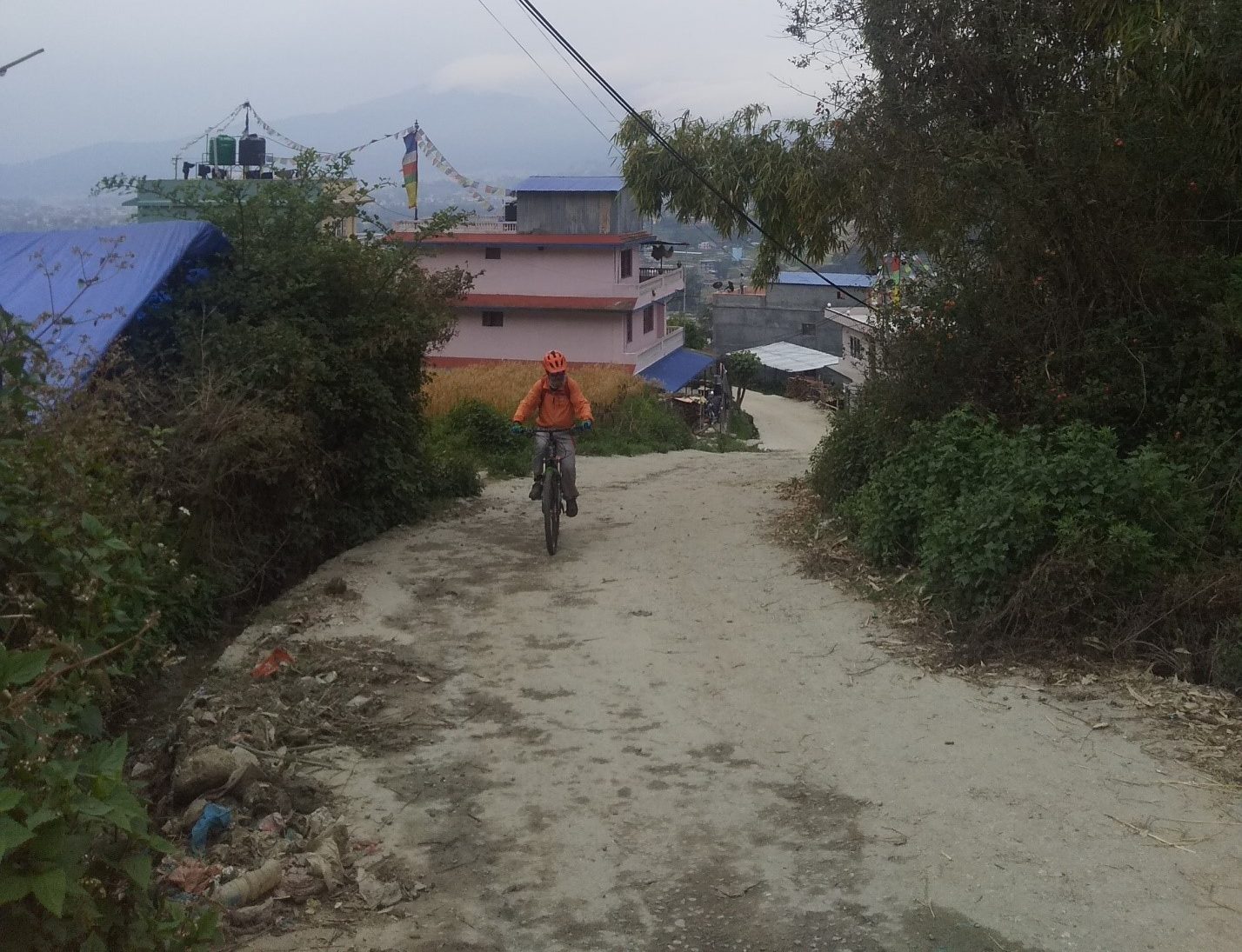 Clusters of houses with intermittent empty plots growing vegetables and corn marked the roadsides. Some even had small patches of rice fields. As we pedalled up, the south afforded a better view of Tokha town and the urban sprawl further. Some 15 years back, save for a scattering of houses, Tokha's fertile fields during the monsoon rolled out green stalks of rice cascading down as far as you could see. And, lush trees and shrubbery dotted the expanses creating an idyllic pastoral setting.
With the inroads of urbanisation, gone are those glorious days of natural splendor. Houses upon houses pepper the once open lush landscape; brick and concrete seem to have gobbled up the past verdure.
Up on the hill
Save for a handful, most teahouses and shops were boarded up; did not matter to us as we had no mind to drop by any. The climb got steeper and harder as we struggled on our "granny-gear.""Jai Gadhi Mai," I cried out loud (a call to the gods; people often do that, any god, to chin themselves up) and bore down on my pedals—real hard.
It seemed to work a little but soon proved too punishing, though, and before long I was at the end of my rope. Resignedly, I dismounted and pushed my bike up the incline; Shayeet did much better.
After a half-hour, the brow of the hill seemed to draw closer as houses appeared. Shortly, we were at Tamang Gaun. An enormous chaanp tree (Michelia champaca, more commonly Magnolia Champaca) with its extended branches and foliage stood tall on high ground by the roadside. Said to be more than six generations old, the village later was also referred to as Chapa Bot (tree), named after the ancient tree.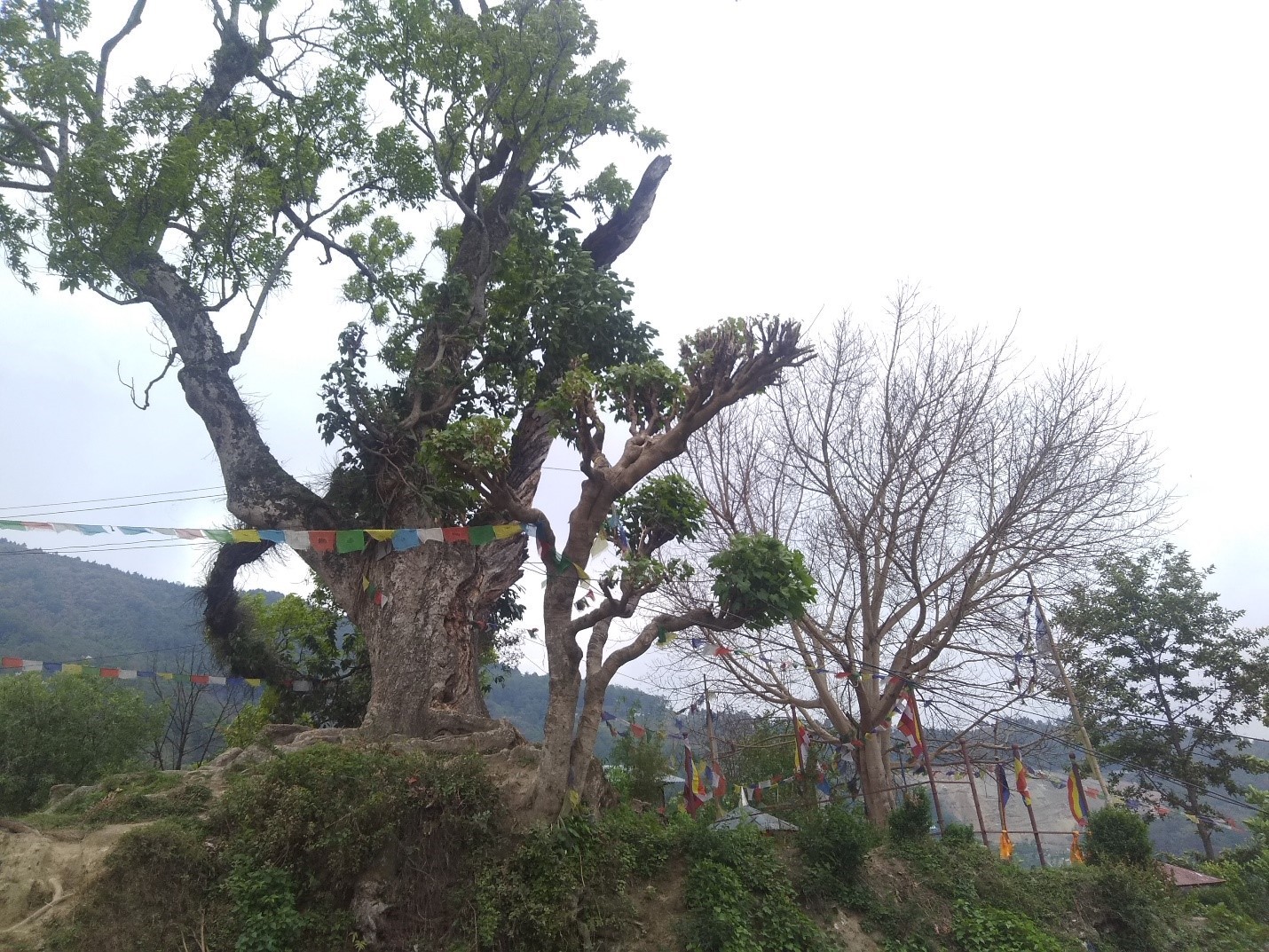 Its gnarled trunk and furrowed bark seemed to bear witness to its hoary age—its girth at one metre from the base measuring close to 10 ft. Shedding light on the early history of the tree, Kanchha Tamang, a 77-year-old village elder from Chapa Bot, said, "My great grandfather used to tell us, the chaanp tree stood there in his great grandfather's times, too, when the entire Tamang Gaun hill was nothing short of a thick impenetrable jungle."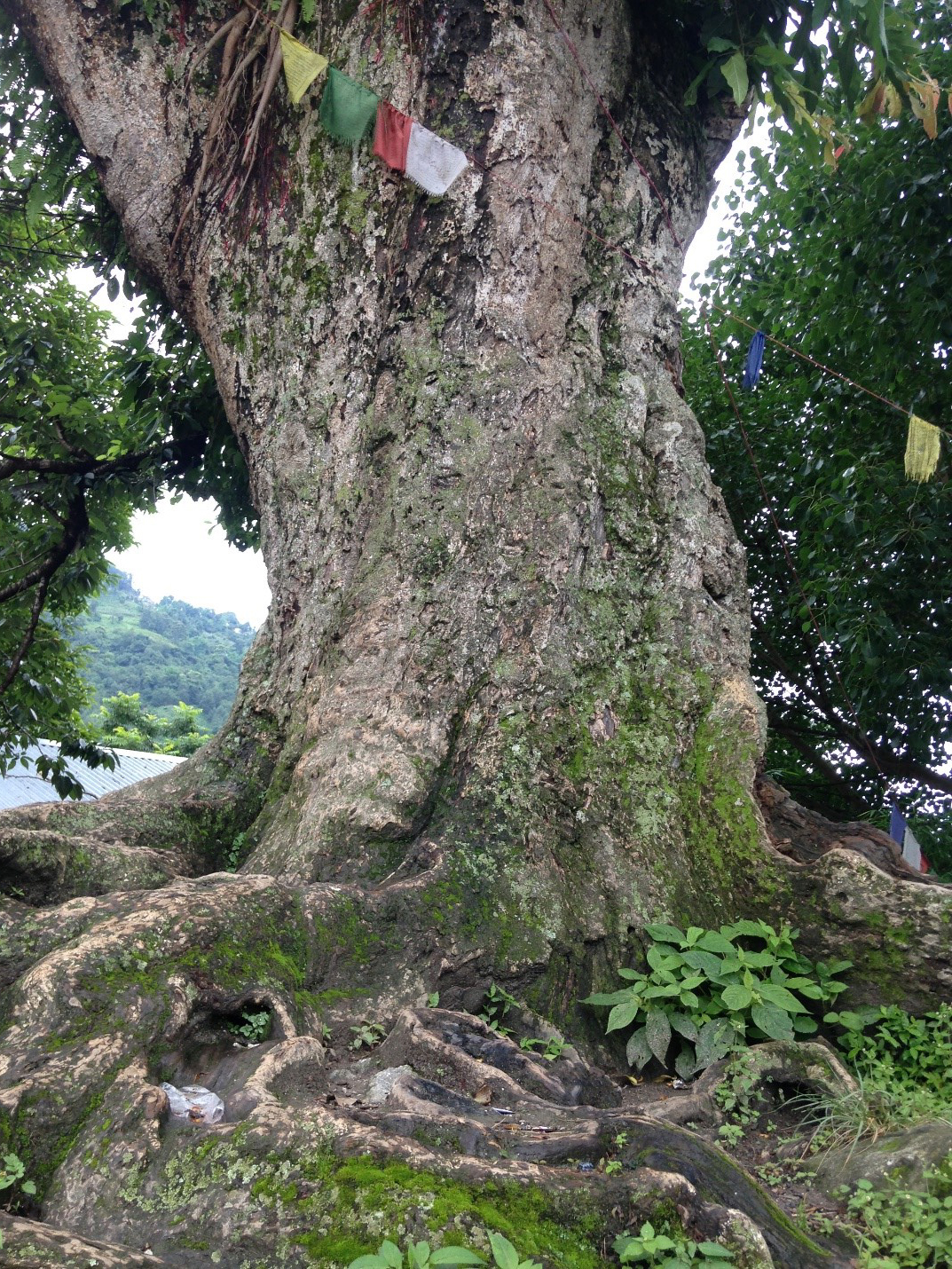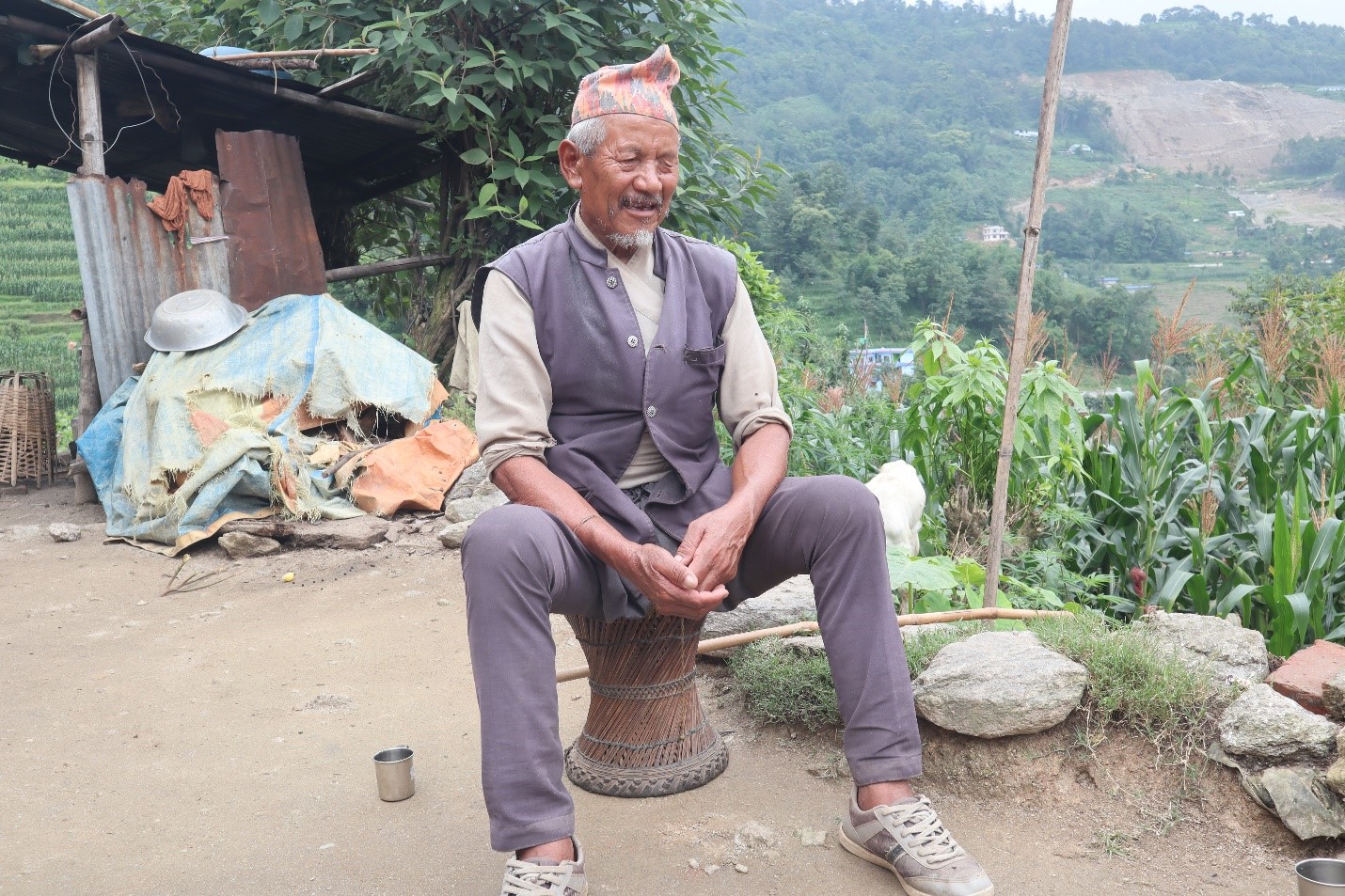 The hillside overlooked the east to the densely forested ridge of the Shivapuri Nagarjun National Park and the south commanded a smog-washed view of the sprawling Kathmandu valley. The northwest towered with the massive height of lush Shivapuri hill studded with cone-shaped pine trees—picture-perfect, indeed. The southwest looked over the Jhor town.
A little above, amidst a wooded hill, I spotted a pagoda-shaped structure that strangely appeared as the only sign of habitation, standing aloof, almost forbidding. "That's Chihaan Danda (cemetery hill). It's a crematory," informed Kanchha Tamang. "All the deceased from Tamang Gaun is cremated there."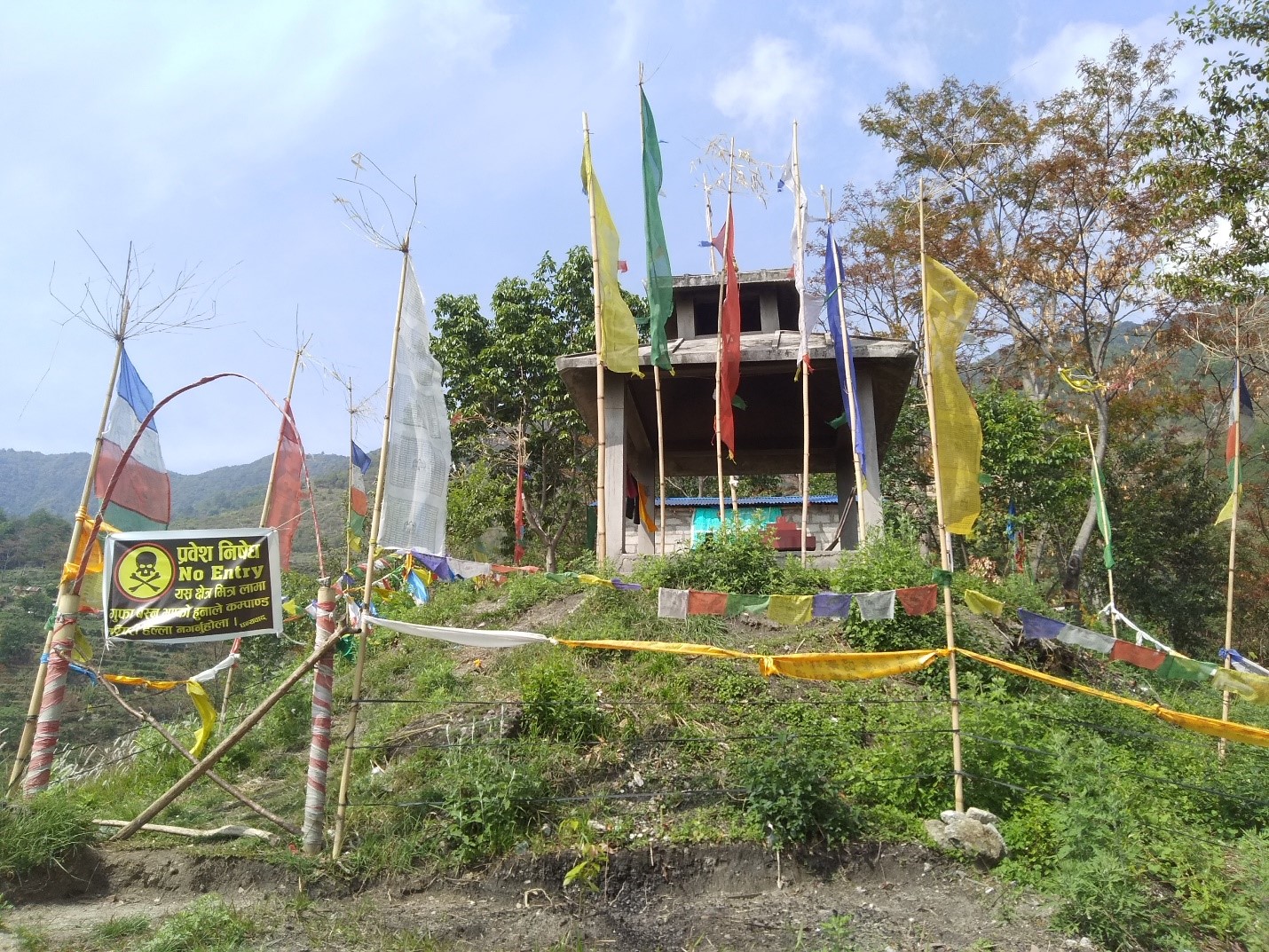 "Recently, right next to the crematorium, two devout lamas went into a three-month-long meditation retreat," he further added. He also revealed that in the olden times those who died of smallpox were first buried there, then exhumed after a week or so to be cremated again.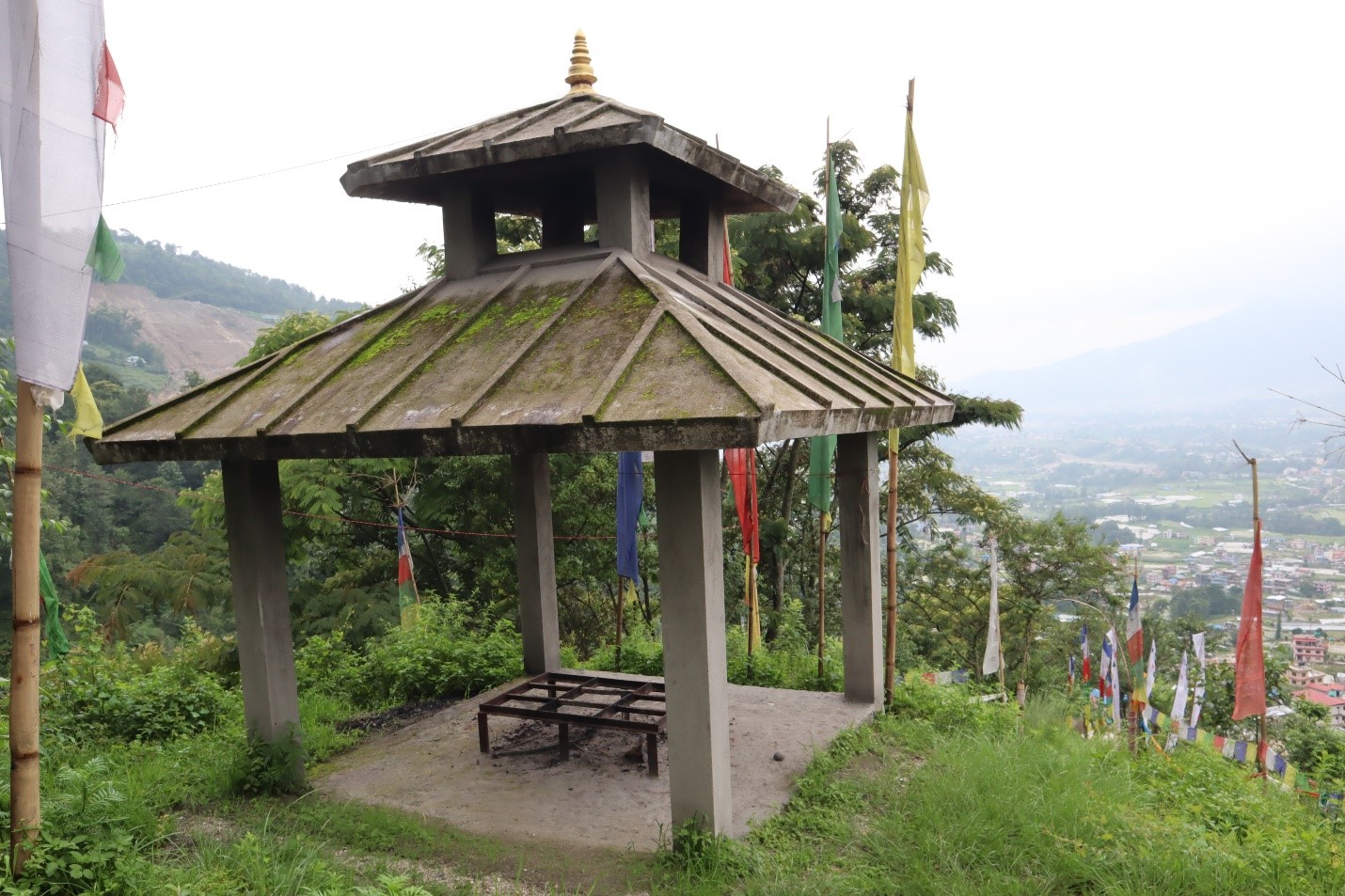 The Tamang village seemed sparsely inhabited with each house bearing plots of cultivated land that split into narrow terraces dropping down to the foothills—a small village, tiny holdings. With monsoon around the corner, knee-high corn stalks and green vegetables seemed to paint the hillside a verdant green.
But, the boom in real estate on the outskirts of Kathmandu valley did not seem to spare even the lush hills. I could make out the hideous tell-tale marks of land-plotting in Tamang Gaun, too.
As we stopped to sip a little water, recover our heavy breathing and soak in the rural landscape, we saw a few young lads hanging around a clearing before a bunch of houses on the hillside. None seem to wear a mask in the village. We had our buff on to cover almost half the face and still kept a distance as we struck up a conversation.
"Hello, guys, what must-see places are around here?" I asked one of the boys. "Well, for a start, you will want to look at a beautiful idol of Buddha right behind that Pipal (Ficus religiosa) in a small glass enclosure," one of the fellows said, pointing towards it.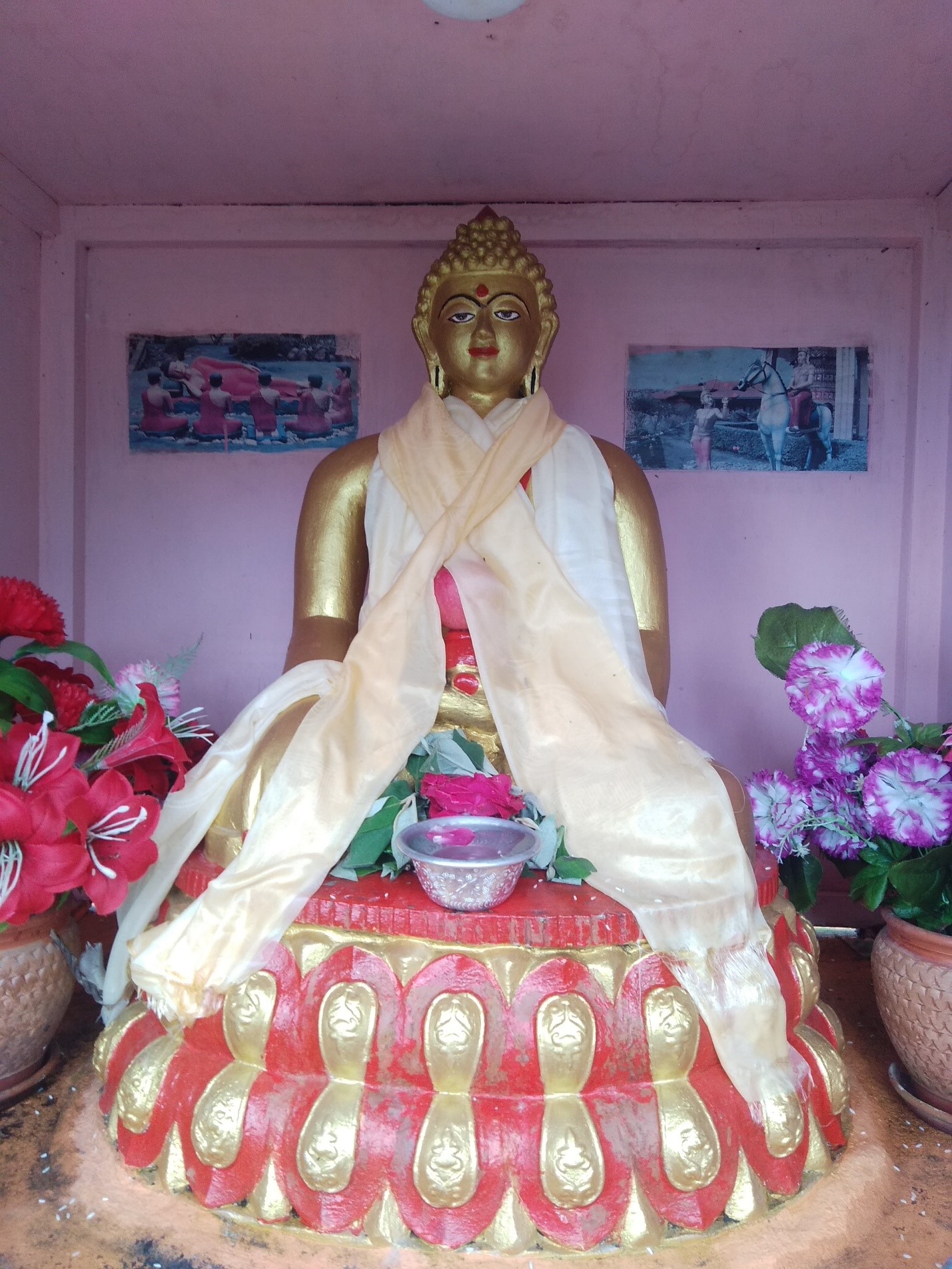 "Next, you can visit the Mahankal Devi temple. And if you go a little further up the hill, you will find the Jaleshwor Mahadev, close to the Shivapuri forest," he seemed to eye our bikes longingly as he answered." "Uncle, how much does a bike like yours cost?" another asked.
That is but clock-work, every time we are in the country. To his disbelief, I told him the price crossed one lakh rupees. We rested a bit, had a little chinwag with the boys and then hit the dirt road that followed a steep incline. "Darn it, we got to climb again," I bemoaned out loud. Shayeet was already way up.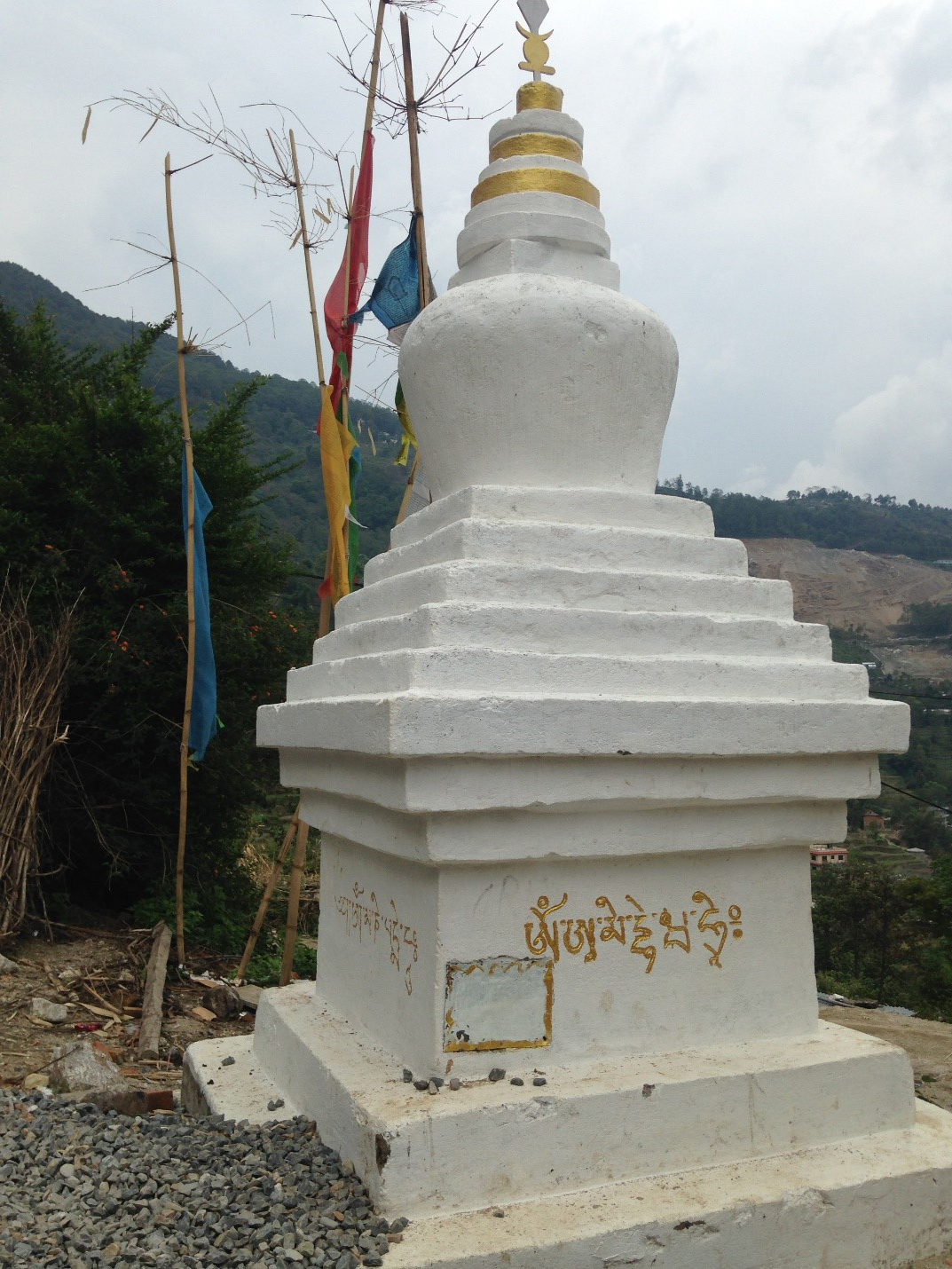 The houses thinned out as we slogged it up past a Stupa, white as snow. The letters in gold in the Tibetan Pinyin characters: ཨོཾ་མ་ཎི་པ་དྨེ་ཧཱུྃ (Om Mani Padme Hum) stood distinct on it. The dense Shivapuri forest seemed to get closer and pronounced. In something like 20 minutes, we spotted a copse of trees, surrounded by shrubs. A closer look showed a shrine on slightly high ground next to the road. A sign read, Mahankal Devi Temple.
Pics by Shayeet Sharma and the author