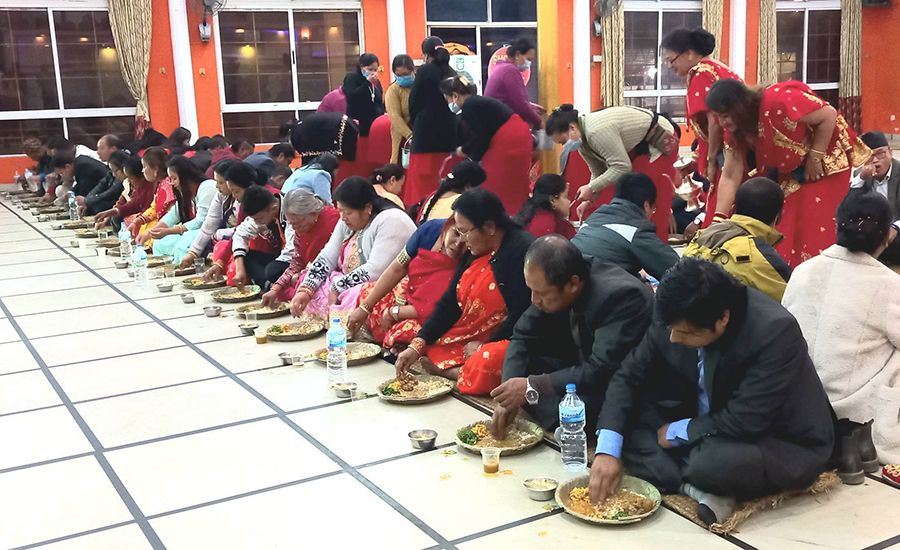 The Newa community, the natives of the Kathmandu valley, is known for its festivals and jatras. But this community is equally rich in food and culinary style too. Almost every month, there is a fest in a Newa neighbourhood for the purpose of getting together with family members, relatives and friends.
The Newa people have their own culture of eating, which distinguishes them from others. Suku bhwoe is one kind of feast and dining culture in which attendees eat by sitting on a sukul, a carpet made up of hay. However, this kind of feast is losing its charm these days as the sukul is being replaced by chairs and tables. But why?
The changing scenario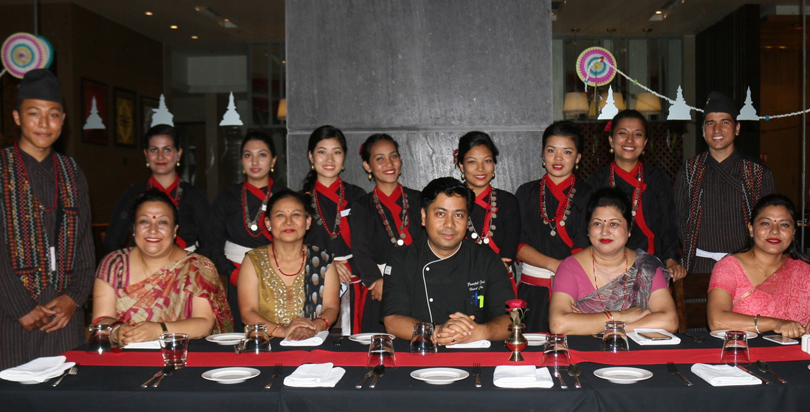 Cultural expert Om Dhaubhadel says the suku bhwoe culture is getting unpopular due to a busy lifestyle and modernity. "People from the Newa community used to enjoy this feast where the host would serve a variety of dishes to the attendees who sat closely on a sukul."  
He says that people have become too busy these days that they do not have time for such time-consuming arrangements. It applies in the case of both organisers and the attendees.
In the suku bhwoe system, the food is served serially and one cannot leave the feast until the entire food arrives. He says, "Just like in a party palace, we cannot leave suku bhwoe by just eating what we like. It is not a buffet system."
The other thing that makes suku bhwoe uncomfortable is modern-day attire. It is difficult to sit cross-legged on the floor wearing a modern dress. Sitting on a sukul by wearing a skirt, pants, half-pants and lehenga is uncomfortable. "This is also a reason for the declining charm of suku bhwoe," says Dhaubhadel.
According to him, the importance of sukul bhwoe has not been explained to the younger generation. The young generation considers it a hassle to arrange it, leading to a sharp decline.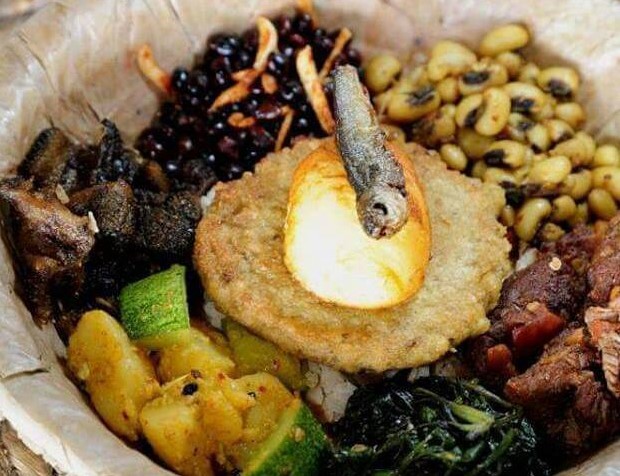 Here are some interesting details about suku bhwoe.
When is it organised?
In the Newa community, it is conducted during auspicious occasions such as rice feeding ceremonies, suryadarshans, bratabandhas, weddings, wedding anniversaries, ratharohans and guthi events. Likewise, it is also conducted after the death ritual.
"It used to take place during all the jatras and festivals, but now it is conducted only in guthi events and death rituals," says Dhaubadel.
What food is served?
Some of the popular cuisines served during a suku bhwoe are chiura (beaten rice), leafy greens, garlic, buffalo curry, and different beans that include kerau (pea), chana (gram), simi (black eye pea), and simpu (cannellini beans). The other dishes are cauliflower, potato, chhyala (soup with bamboo shoots), spinach, bhutan (fried organ meat) and jujudhau (curd).
The feast ends with a serving of radishes, carrots and some pieces of fruits as a salad.
When did it begin?
According to Dhaubadel, the exact date when this culture began is not confirmed. He assumes that the Newa community conceptualised it while developing their culture and civilisation.
---
This story was translated from the original Nepali version and edited for clarity and length.