If something shows that a woman is from the Newa community, the indigenous habitats of Kathmandu, the capital of Nepal, the easiest way would be her dress of the haku patasi. Haku patasi can be literally translated to a black sari.
This is one of the many traditional and widely known dresses worn by Newa women. The Newa community is indigenous of the Kathmandu valley, residing here since the time when weaving used to be a major industry in the valley. Many people owned handlooms and locally produced clothes, for personal use and for sale. 
Among the locally worn clothes, Haku Patasi was the common attire that women, especially from the Jyapu (sub) community within the Newa community, wore. Even today, the attire garners immediate attention.
This dress is usually worn during important festivals like Nhu Dan (new year) of the Nepal Sambat, celebrated on the day of Mha Puja, the fourth day of Tihar. It is worn by those who want to represent the Newa community, their culture and traditions.
Elements of a haku patasi set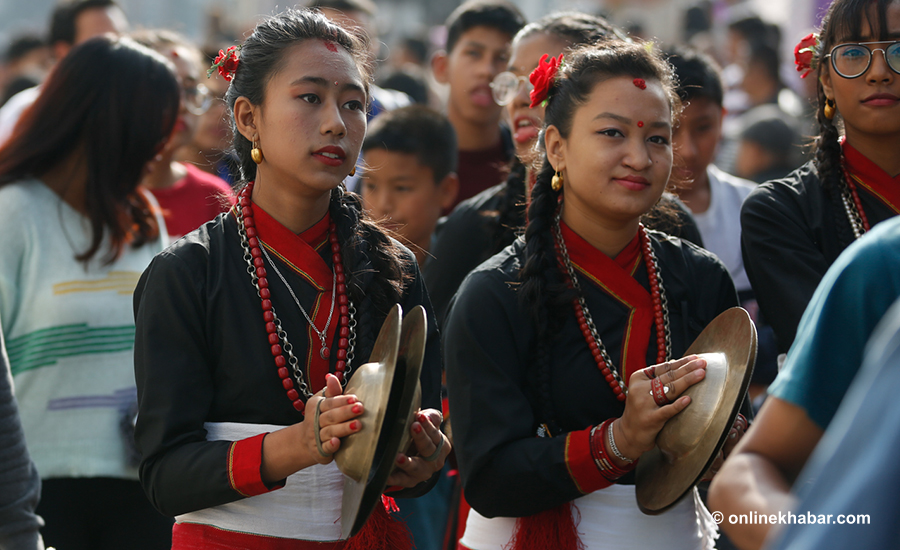 Haku parsi: A long black cloth with red borders is wrapped around the lower half of the body. It has pleats in the front. You do not need a petticoat for haku patasi, unlike other saris. Usually, it is about four-metre long.
Jani or patuka: It is a long white cloth, folded and wrapped around the waist like a belt. It holds the parsi in place.
Bhoto or blouse: Traditionally, it is a full-sleeve blouse with two overlapping flaps tied at the four corners on left and right sides of the front. This is also called misha lan (clothes worn by women) in Nepal Bhasa. It is usually of plain black or dotted black fabric made of cotton.
Gaa or shawl: To complete the attire, one wears gaa or shawl. The way to wear this is to have it wrapped diagonally across the chest with one hand (usually right) outside the shawl.
Sachika: It is a red thread that has three sections. Women braid their hair and wear sachika from the middle to make their hair appear longer.
Chakti laakhan: The attire is usually coupled with a pair of locally made red slippers, called chakti laakan (shoes made of velvet cloth) or bhamcha laakan (shoes worn by brides, usually more decorated).
Apart from simple, day-to-day wear, depending on the occasion, women also wear elaborate jewellery that includes:
Lunswan: A gold jewellery piece or headgear worn at the centre of the head
Taayo: A golden locket with a golden, rectangle or oval pendant.
Tikmaa: Another elaborate piece of jewellery worn on the side of the head, it has a lattice pattern in a triangle-like shape.
Bhimpumaa: A necklace made up of big coral gems, usually red
Kalli: A pair of chunky silver anklets worn around the ankle. As haku patasi is just a little longer than knee length, the anklets become an elementary piece of jewellery to wear.