The Newa community is one of the communities residing in Kathmandu that has a rich history in culture and traditions. There are a few ways that people can identify Newa women from others. One of them being their quintessential attire, haku patasi. Apart from this traditional attire, the jewellery worn by the women is also a key way people can figure out Newa women from others.
Below are some of the jewellery items popular among Newa women in the Kathmandu valley.
1. Makashi
Makashi is a bucket-shaped or U-shaped earring that is mostly worn with traditional haku patasi. This earring is made of gold or silver that can be worn almost every day with different Newa attires.
2. Lunswan
The word 'lunswan' means golden flower. This jewellery item is usually used in wedding ceremonies and worn by the new brides. A lunswan is worn on the top of the head by the brides. It is made of gold and crafted in a circular shape. It has little dangling flowers, birds and the image of Ganesh, made of coral, at the centre.
3. Tayo
Tayo is a traditional Newa necklace made from gold that has both symbolic and religious values. It is worn by women, brides, and even female deities such as Lokeshwars, Yoginis, Dipankars, and Kumari on special occasions. Tayo is said to symbolise the Kathmandu valley, Pancha Buddhas, Mahayana Buddhism as well as the universe.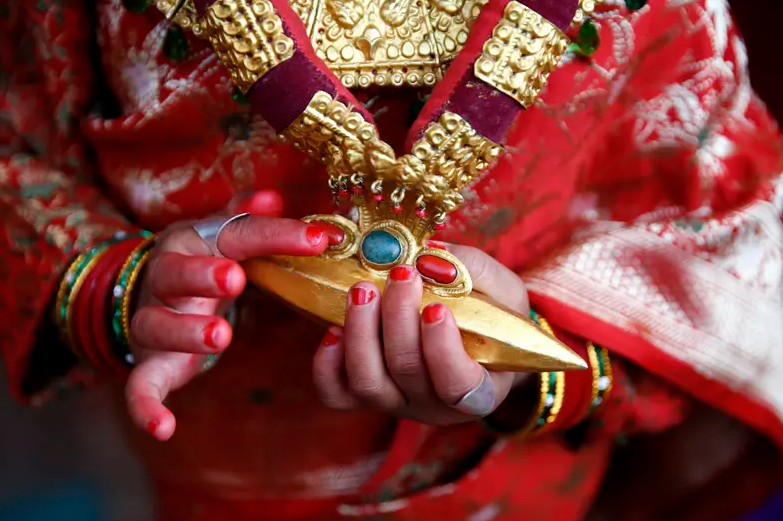 4. Nyapu sikha
This is another beautiful piece of jewellery that is worn on the head by Newa women. Nyapu sikha is a unique ornament that contains five sets of chains connected to each other that resemble a hand fan. It is worn on the side of the head and pinned to the hair, commonly adorned by new bridged or other women wearing haku patasi.
5. Pyaakhan angu
Pyaakhan angu is a traditional ring that can be loosely translated into a dance ring. This ring is mostly worn by women while performing a traditional dance. Pyaakhan angu is made from pure silver and is usually worn around index fingers. It is also worn by girls and women performing ih, bara and wedding ceremonies.
6. Ghau
Ghau is a necklace-like jewellery piece related to Mahayana Buddhism worn by Newa women. It is an amulet box pendant decorated with precious stones attached to it. The stones are said to signify the Pancha Buddhas of Swayambhu Stupa.
7. Tuki
Tuki is one of the important pieces of jewellery that women from the Newa community get to wear in their life. One can only wear tuki after clearing the procession of Janku that is done as the celebration on their 77th year, 7th month and 7th day on this earth.
8. Bhimpumaa
One of the few ornaments that can be worn by all gender groups is bhimpumaa. This simple but enchanting necklace is prepared by connecting the coral beads, usually red ones, in a single string. Bhimpumaa is usually paired up with traditional Newa attires on special occasions.
9. Asarfi maa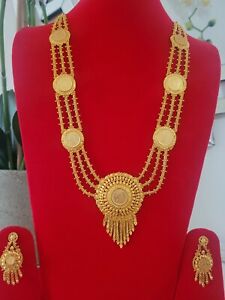 The jewellery item made from gold coins is referred to as asarfi maa.
Though this is not limited to the Newa community, it is usually the women from this community that can be seen wearing asarfi maa.
Women also wear this on important occasions like weddings and traditional or cultural events.
Usually, married women or women from affluent families can be seen wearing them.
10. Tikmaa
This is a round necklace that is worn by almost every Newa woman during her childhood. Tikmaa is a very beautiful and attractive necklace worn by girls only on certain occasions like ih and bara. The girls wearing this necklace are usually taken as a form of a goddess.
11. Kalli
Kalli is a piece of jewellery made from silver that is usually worn around the ankles. Even in kalli, there are multiple varieties as per their shape and size. The major types are sinhakhwa kalli (a thick anklet with a lion's face carved on it), taha kalli and jangi selaya kalli among others.
12. Tutibaggi
One of the special pieces of jewellery that have unique traditional value is tutibaggi. It is a pair of anklets worn by a new bride. The father-in-law, after the completion of the wedding, puts this on the bride's ankles, welcoming her to the family. This is also the first and the last time the father-in-law touches his daughter-in-law's feet.