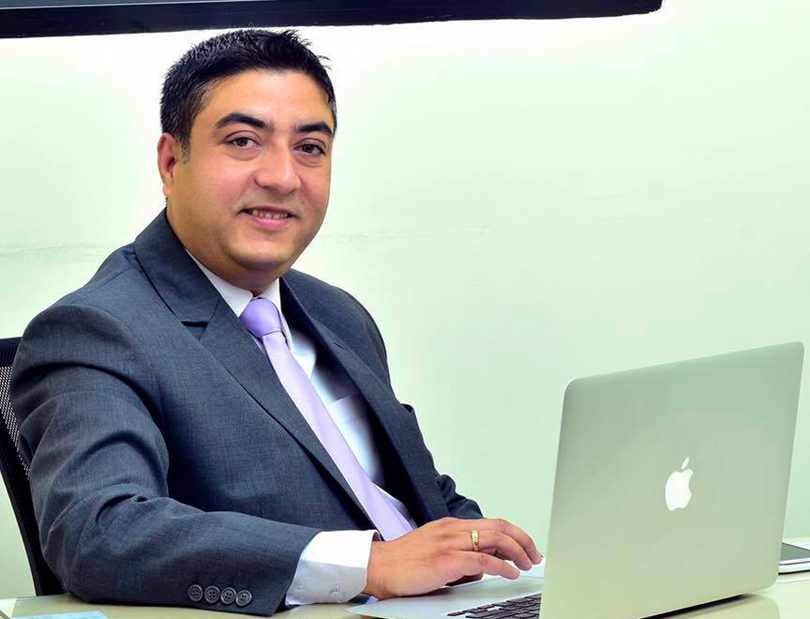 Finance Minister Yuba Raj Khatiwada announced in his budget speech for the next fiscal that new startups can get a tax exemption if they register themselves under the VAT regime within six months of the new fiscal. With the announcement, startup companies have come into the limelight yet again. The startup community in Nepal has taken the announcement positively and hoped that the government introduced new programmes to promote startups.
In this context, Onlinekhabar talked to 'startup enabler' Niraj Khanal, who has been closely observing the development of the entrepreneurial ecosystem for startup businesses in the country as co-founder and CEO of Antarprerana, an entrepreneurship support system.
Excerpts:
As an 'entrepreneur working for entrepreneurs', what is your opinion on the new budget?
Let's start on a positive comment. The budget has recognised startups and this is a welcome move. But, we have to wait and watch for the results.
Now let's look at the other side of the story. Officials in Nepal are still confused about which government body should look after the sector. There are some bodies under the Ministry of Industry, but they have been inefficient and inactive. We need a government body that promotes startups, bring new ideas and models of operation. For that to happen , the government should upgrade itself and its staff on how to deal with startups.
Of course, there are policies. But, the government does not have skilled human resources to implement them. The government plans to launch a challenge fund, but it is clueless about the process; it does not know who is to operate such a fund.
I believe that government officials should be given an orientation on modern business techniques. The Ministry of Industry should be made more responsible. Over the past few years, it has done a few things, but that is not sufficient. It has consulted non-government stakeholders like us; some committees have been established. But, continuing the efforts is difficult because, I repeat, the people at the Ministry do not have the technical know-how when it comes to dealing with startups.
Do you attribute this problem to the political leadership or the bureaucracy?
I think the political leadership is willing to promote us. I can see many ministers speaking about the issue. But, the problem lies in execution, which is the ambit of the bureaucracy. The vision for startups has been presented in government documents, but the the people responsible for executing the vision have failed to play their role.
Now, the political leadership needs to work on strengthening the executing bodies. Promoting startups should be taken up as campaign. We can learn from relevant international practices to do what we need to promote startups in this country.
You know, existing policies do not open up doors for innovations. I believe that we should let startup disrupt policies to do things differently. Innovations go far beyond what policy makers can see for the near future. Until a few years ago, no one had imagined that Facebook or Google would generate millions of jobs. Hence, we need policies to protect companies capable of bringing such disruptions and let them go beyond established policies for a certain period of time.
Besides the role of the government, how do you assess the entrepreneurial ecosystem here?
In Nepal, we connect the term 'entrepreneurship' with any creative business different from traditional businesses, and that seeks to solve various problems of the society. We also refer to such businesses as 'startups'. It's been around five years since the debates over startups became so vibrant here. Traditionally, businesspersons would launch their ventures using existing resources and knowledge. But now, startups run on a different model. They do not run on their own; rather communities around them extend their support. This is what the ecosystem is all about.
The ecosystem involves multiple actors. The entrepreneurs are not isolated at any stage. They have support in the form of incubation, angel funds, angel investment, seed investment, business accelerator programmes, private equities and impact funds. Likewise, there are mentoring communities that provide advice and guidance to entrepreneurs. The government has also taken some initiatives and development partners and national and international NGOs have also been attracted to the sector. Likewise, academic institutions have been conducting a lot of activities related to startups. The media has also prioritised the issue.
Overall, the number of people who understand startups is increasing. Our society has accepted startups and people willing to do something are highly encouraged. I think this is an important change in our society.
But, some challenges, like the ones I mentioned earlier, are preventing us from moving forward. I hope they will be resolved as we move ahead.
You pointed out a few common characteristics of Nepali startups. But are all startups the same in Nepal? How is each one different from the other?
I think we can categorise startups on the basis of age of founders. There are ones founded by youngsters in their early 20s. Sadly, some of them are established just for the sake of the CEO title. The trend is increasing.
There are others who establish companies after working for other companies in a particular sector for around five years. They begin the business after learning and understanding various issues of the sector. Yet there is another group of people who launch startups after returning home from abroad.
We could also categorise startups based on the sector they work in. Many startups are emerging in the IT sector. Specification is increasing here; they are not limited to developing a website, software or mobile app. They are involved in building payment gateways and delivery systems. Likewise, there startups in the food and beverage industry that are not 'just restaurants'; they have specific themes and styles. I don't see much in the manufacturing sector. Most of the entrepreneurs are concerned with the service industry.
You say investors are attracted to the sector of late. Does this apply to all startups in all categories? Do all startups have access to the investors?
This is a difficult question, but what I can say is that companies that have a social aspect to their business are attracting a lot of investment as the number of impact investors is increasing. For example, there is a lot of investment coming into the agriculture and IT sectors.
Over past 25 years, national and international NGOs have spent a lot in Nepal. Their money has yielded some good results; but western investors think it is not enough and seek alternative models of intervention because they want to receive returns to ensure sustainability. Startups offer that model. As far as I understand, there are abundant opportunities for securing small scale investments to the tune of Rs 500,000 to Rs 5 million.
But, every investor wants to ensure that their investments gives returns. Our entrepreneurs have not been able to assure investors yet. For example, we open one company today, another one the next day. We have lost focus.
Exactly–many people think the startup entrepreneurs have opportunities, but fail to utilise them positively.
Some have utilised the opportunities, but others have failed. In Nepal, family businesses run on an ad-hoc basis. But, external investors need a discipline in the system. They need periodic progress reports and financial reports. Our entrepreneurs are not used to such systems. This results in an adverse relation with investors.
And, there are some 'grantepreneurs', who establish businesses just to receive grants from government and international donors. You run the company as long as you get the grants; and you shut it down when you stop receiving grants. It harms the entire ecosystem and the national economy.
But, there have been some improvements of late. When entrepreneurs establish a company, they form a board of directors by also including representatives from the investors. The entrepreneur owns the company, but he/she will be accountable to the board. The board convenes regular meetings, in which the entrepreneur reports progresses and the board makes suggestions. We are now growth-oriented and the change will take place gradually.
Earlier, you were saying that we have lost focus…
While coaching startup entrepreneurs, we tell them that there is a difference between a business and an entrepreneurship—a business is based on the scope of earning whereas an entrepreneurship is driven by interests, not scope. Without understanding this, many people launch startups and divert to other sectors or migrate abroad once it fails in next three months. But if one is a real entrepreneur, driven by interests, they continue to work hard to find some solutions even if their first products fail to sell.
Business theorists believe nine out of 10 companies fail in their first two years. There are two major reasons behind such failure. The first, you wait for your product to be perfect before launching it. You spend time refining your product without interacting with your customers. But, in fact, planning does not polish your product… Our companies also do not have the capacity to interact with customers and work on their feedback.
Second, you do not understand who your customers are and you fail to address the want of customers. There is a gap between the products and the customers.
There is another reason too, in the context of Nepal. When you start a business at a young age, you don't know management know-hows. You don't know how to treat your team; you don't understand doing alone is impossible. You don't know how to get connected to your stakeholders.
I see a mismatch between students of our colleges and universities and the need of startup businesses. At schools, we have been taught to work for corporate companies, not startups. You need to multitask for a startup, which you have not learned.
What is the role of companies like yours to solve these problems?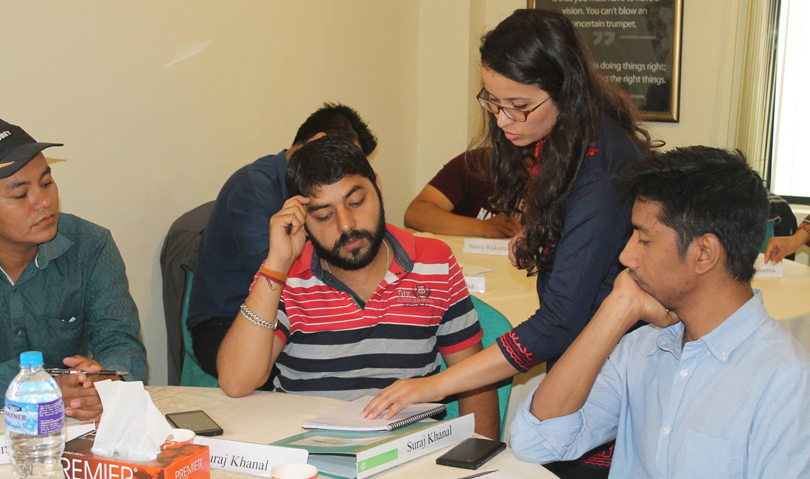 Basically, we are enablers or support systems. We provide coaching and mentorship to startups. We help them get connected with investors and stakeholders. We help them go through company registration procedures.
Besides these regular jobs, we have been organising various events to support startups. For example, the new edition of our flagship programme Nava Udhyamshala is starting on June 25. It is an intensive training programme designed by Antarprerana for initiating and running a business with a tailored course for startups. Launched in August 2016, Nava Udhyamshala is specially designed for aspiring entrepreneurs to equip them with knowledge, skills, and network required for transforming their ideas into businesses and towards sustainable growth.
This course aims to build a solid foundation on which aspiring entrepreneurs can grow their enterprise. During each session, Antarprerana trains 12 participants and provides them with coaching and mentorship for a month. So far 83 startups have participated in this flagship programme.
We provide different kinds of support to different groups of entrepreneurs. We help early stage entrepreneurs learn theories of the business world, model their businesses and get connected to the stakeholders; we call it incubation. If possible, we also help them access some seed and angel investments. Ideally, after around two years, they develop the capacity to expand their business. When they need further investment, we provide them business accelerator programmes. They get access to bigger funds in this phase. During the third level, the companies seek opportunities to expand across the country, or beyond. They also need a different level of coaching.
There are many companies at the first and second phases in Nepal. I hope there will be a few of the third level after a couple of years.