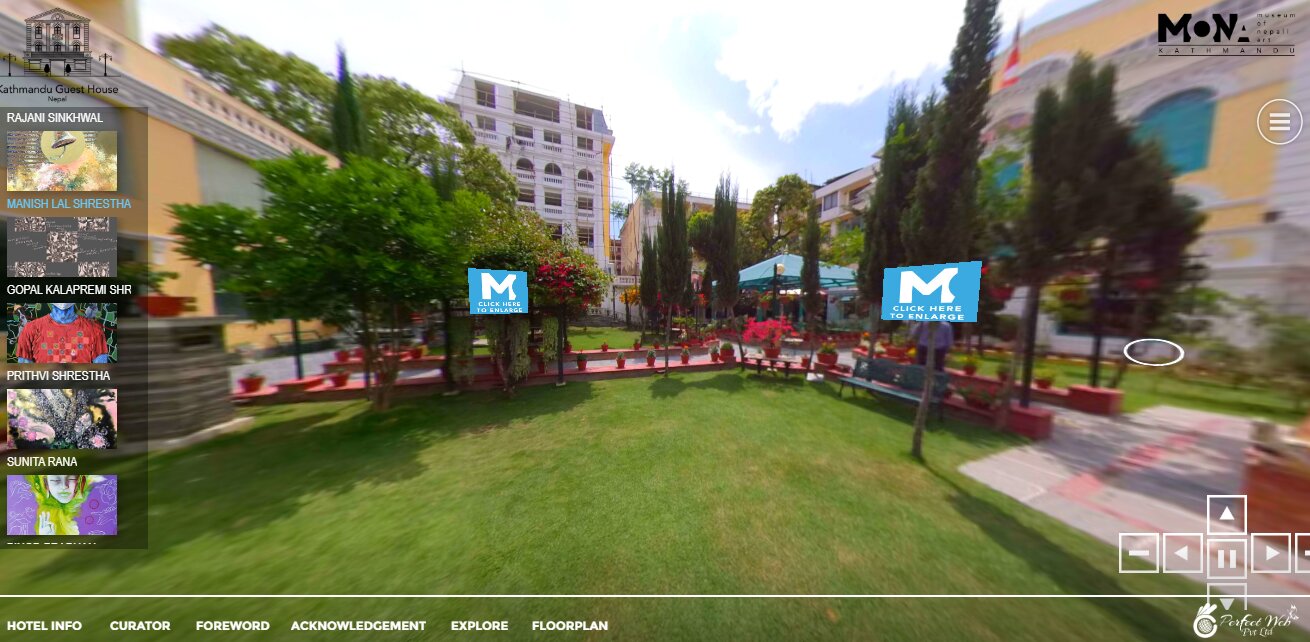 When tourism entrepreneur and art-enthusiast Rajan Sakya thought of opening an art museum at Kathmandu Guest House in Thamel last year, he was full of hopes. Initially, he planned to inaugurate the Museum of Nepali Art (MoNA) on February 2, 2020, which was later rescheduled for April 4 citing growing concerns over the coronavirus outbreak. However, the new date turned scarier as the country went on lockdown around 10 days before and the human movement came to a standstill.
This was when perhaps his 'business mind' triggered an innovation: why not using this crisis as an opportunity? He thought of an online art exhibition, so far never heard of in Nepal, incorporating a 360° virtual tour of the Kathmandu Guest House garden with paintings hung here and there.
This is how 'Tangential Stress' took place on Thursday last week (May 14) and the new museum came into operation, though it awaits its formal opening. Sakya claims this exhibition is the first of its kind in entire South Asia and hence it heralds the beginning of a new era in the Nepali fine art sector.
The exhibition
As the title suggests, the exhibition was designed around the coronavirus and its effects on an individual and society. It featured 19 paintings by 19 Nepali artists, and the exhibits included two Mithila artworks.
"While visiting the exhibition website, one can navigate through the whole KGH premises and go through the paintings; virtually, they are placed exactly where the paintings are placed physically," Sakya says, "Staying at home, they attend the exhibition and enjoy the paintings and keep their love for art alive, and share the perspective of the artists on Covid-19."
With such an exhibition, Sakya says he wants to be a catalyst to motivate and encourage the artists who have been cooped up in their homes. Sakya, as the curator of the exhibition and director of the museum, had commissioned the artists accordingly. Around a month ago, he approached them all and with their completion, he spent the next three weeks to design the website for the virtual tour.
Colours of reality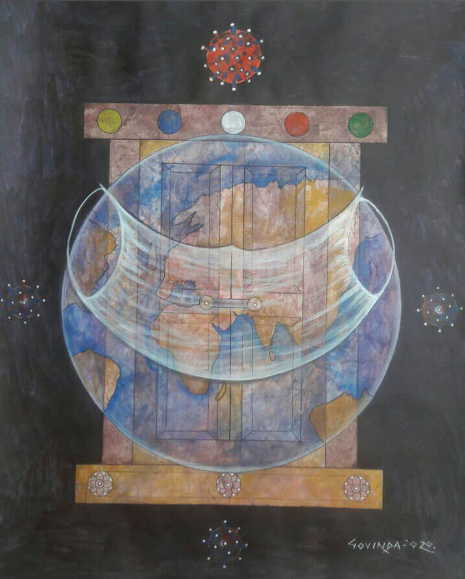 The Covid-19 has induced many effects such as stress, depression, and insecurity among many people including artists. Veteran artist and former Lalit Kala Campus chief Govinda Lal Singh Dangol has depicted the same in his painting 'Daibya Shakti' that depicts a globe with a mask, showing how the world is suffering and living with masks.
"There are stress and chaos during this crisis, so I wanted to portray the message that it is not just enough to follow the lockdown to be safe, we have to work on our behaviours too," Dangol interprets his work, "Since it's a country of many Hindu and Buddhist followers, the five symbolic lights [in the painting] are a source of hope, faith, and energy required to protect us. The locked doors suggest evading the wrong thoughts, and people, and saving yourself and others for a better future."
Another painting that depicts how important masks have become is Erina Tamrakar's 'The Variable Gem'.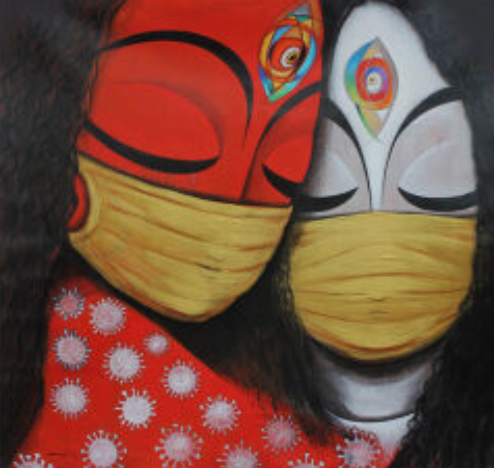 "The masks have become the basic necessity for all. Because the masks were not enough, many negative outcomes were seen including the loss of many lives. The masks have become as important and valuable as gold, more than before," Tamrakar, also a co-founder of eArts Nepal explains, "I have been working with faces in my paintings and, here, I have also extended the Third Eye Series that I am working on personally."
In her exhibited painting, the closed eyes of women depict the pain of the pandemic and the discrimination or abuse that women endure silently during this time. Likewise, the two women represent the bond of two people and the emotional support they can give to each other, though the physical proximity is to be avoided, she adds.
Other artists have taken the angle of self-realisation and learning in their works. One notable is a visual artist and founder/director of Gallery MCube, Manish Lal Shrestha's 'Sound of Silence'.
"Stuck at home, the first noticeable thing is silence. With that, you start to notice the sounds that you do not normally pay attention to, like your heartbeat and bodily vibrations," this is how Shrestha philosophises his work, "The lockdown has been a journey of inner peace for me so I have depicted the same in the form of a bell in a bubble as a metaphor for the inner sound that echoes in solitude."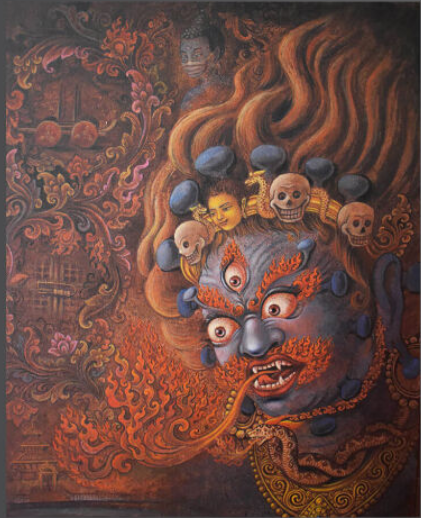 Another artist that used metaphors to explain her thoughts is Rajani Sinkhwala. "Just like the Mahakala, the coronavirus has come as a destructive force that has killed many and affected many more. But, it also has both positive and negative aspects like Mahakala," she interprets her artwork 'Mahakala', "In Hindu culture, there are stories that highlight the destruction as a blessing in disguise where the order is restored."
Meanwhile, some artists also took the exhibition as an opportunity to express hope for the necessary change. Asha Dangol's painting 'New Avatar' puts the heads of humans and animals on the same body. "We have been treating animals in an inhumane way, putting them in cages and treating some animals worse than others. With this [painting] and the lessons from the pandemic, I hope we will start treating them right, honour their rights, as well and give them the freedom they deserve by not exploiting them for commercial purposes."
The silver lining
The world came to a standstill after the pandemic, and art like any other field also got hit. But the artistic and creative minds of artists have surpassed the problem. Consequently, other platforms like the MoNA's virtual exhibition are also coming to the fore.
For example, Erina Tamrakar and Asha Dangol, two of the six co-founders of eArts Nepal, are also giving a platform for artists like them. They have started a section of the virtual exhibition on 'Nepali art in Lockdown 202o' on their website, featuring different artists every day. They have also been garnering positive responses from the audience too.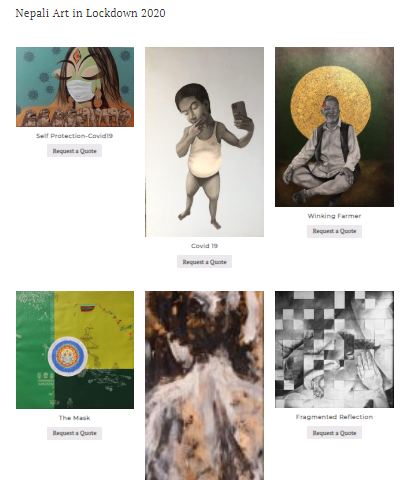 "Using platforms like that of the virtual 360° exhibition or simply online exhibition, and taking art online has enabled art to reach out to people beyond borders, breaking the need to be physically present for them to enjoy it," states Tamrakar. Sinkhawala also shares the same view, adding it is indeed a need of the time.
While the feel and the experience of a physical visit cannot be defeated, the artists unanimously agree that the platform gives them that next level of exposure worldwide. "Art on online platforms crosses borders and physical hindrances, so it is essential for artists. Having one's art online will become a great portfolio for artists," expresses Manish Lal Shrestha.
He adds the online mediums can help the Nepali art space flourish and reach many people. "It will increase access, and hence, we can explore and widen whatever small ideas about art and art genres we have," he says, "In the future, we can hope to introduce and see sound art, video art, interactive arts among others widely."
Even if the lockdown is out of the equation, many believe the opportunities are endless.
Tamrakar says such initiatives have become exemplary and planted seeds of new ideas. "They can increase opportunities for collaborations with international artists and museums. So far, contemporary artists have got more exposure, but with virtual platforms, we can give much-needed opportunity to exhibit other specific genres of arts and artists. With some tweaks, this platform and different mediums of art can flourish for a longer time."
Asha Dangol attests it but adds that many artists lack marketing and public relations skills needed to correctly and effectively promote their arts. He also adds that more homework is needed before the less explored art genres are taken into the mainstream.
Veteran artist Govinda Lal Dangol also says, "The opportunity that has come in the form of a virtual exhibition; we must take its advantage. But, art is as vast as the ocean; once you dive into it, you can swim for a lifetime."
But, he wishes the government and political leaders supported the preservation and promotion of art. "One politician buying one artwork and putting it in their office will help. The county can be considered developed when the art is developed and understood."
---
Published on May 18th, Monday, 2020 11:24 AM
---
Download Onlinekhabar App. Android click here & IOS click here . Keep in touch with us on Facebook, Twitter & YouTube.