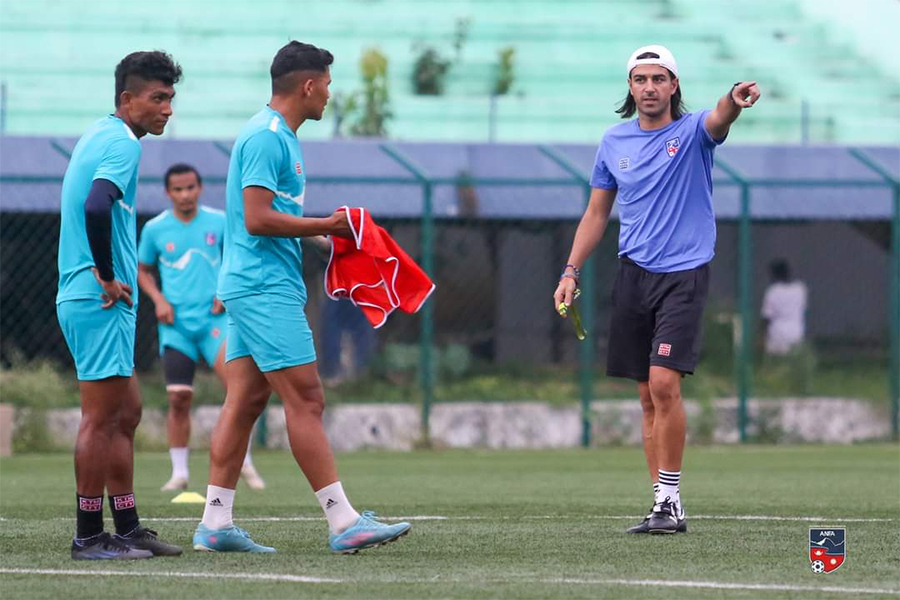 Bengaluru, June 21
Today, Nepal is set to face Kuwait in their opening match of the SAFF Championship at the Sree Kanteerava Stadium in Bengaluru.
The Nepali team has arrived in Bengaluru with very little preparation with their new coach and a very inexperienced team.
Despite that, head coach Vincenzo Alberto Annese up hopeful to bring a good result against tournament favourites Kuwait.
Speaking to Onlinekhabar on Tuesday, Annese said despite not having enough time to prepare for the tournament, the team was in good spirits ahead of their first game against Kuwait.
"We are fit and ready. Kuwait are a good team and we know it is going to be tough but we are ready for the challenge," he said.
He feels the preparations would have been better if they had more time before the tournament. But with the league ending only 10 days ahead of the tournament, Annese could not prepare the team as he would have liked.
"The game against the Philippines was good practice for us. We took on them with only two days of training and did quite well. We had chances in the game. If we had 10 days before that game, we could have won I feel," he says.
It has been a little over three months since Annese took over as the head coach. As the league season was ongoing at that time, he has not been able to spend much time with the national team. Despite that, he feels hopeful.
Annese did not say what his goals were for the SAFF Championship. But he did say he wants to start the tournament positively and hopes the team can play with his philosophy.
"My and the team's main focus right now is Kuwait. We go one game at a time," he said.
Familiar foes
Nepal and Kuwait have been meeting regularly. Since 2019, the two have played five times with Kuwait winning four and drawing one.
In the nine total games the two have played against each other, Kuwait have won eight of them with their latest win coming in June 2022 during the AFC Asian Cup Qualifier where they beat Nepal 4-1.
This, however, is Kuwait's first participation in the SAFF Championship and Nepal wants to welcome the Kuwaitis with a defeat in their first match.