The news of the house owner Saraswati Pradhan not allowing a Dalit journalist Rupa Sunar to rent a flat because of her caste has made public outcry after she uploaded a video about it on the internet. Sunar also filed a case with Nepal Police as per the Caste-based Discrimination and Untouchability (Offence and Punishment) Act, 2011, but Pradhan was released on Wednesday, allegedly due to political pressure from a sitting minister.
The case got quick media attention attracting everyone's concern. The issues of caste-based discrimination and untouchability are deeply rooted in our society. Although the laws have already banned the practice of discrimination and untouchability, incidents amounting to this office can be traced in various parts of our life. The murder of six Dalit young men in Rukum West in May 2020 and the rape and murder of a Dalit girl in the same month are some extreme reflections of society's look towards Dalits. Notably, there are subtle practices of discrimination and untouchability based on caste.
However, in the recent Rupa Sunar-Saraswati Pradhan controversy, some other ethnic groups including some Newars of Kathmandu also argued that media sensationalised the issue with an argument that there was no caste-based discrimination and the landlord was simply exercising her right over her private property. The issue got worse, when one of the minsters of the government received the accused (landlord) in the police custody.
So, from a legal perspective, what does this case all about? Here, we explain.
Nepal's law on discrimination
The international community has repeatedly called on Nepal to take effective actions against the practice of untouchability and discrimination based on caste. The UN Convention on the Elimination of All Forms of Racial Discrimination 1965 (CERD), to which Nepal is a party, in its report in May 2018, booked Nepal for the poor implementation of its anti-discrimination laws. The committee expressed its concern over the practices as barring the Dalits from places of worship, public spaces, public sources of food and water, educational facilities and housing areas used by other castes. Furthermore, in the third cycle of Universal Periodic Review, in January 2021, the UN Human Rights Council made a comment that deep-rooted social attitudes tend to change slower than new legal principles are adopted.
Nepali laws are clear on this front. Section 4(2) of the Caste-based Discrimination and Untouchability (Offence and Punishment) Act, 2011, states that no person shall–on the ground of custom, tradition, religion, culture, rituals, origin, caste, race, descent, community, occupation or business or physical condition–do or cause to prevent, control or restrict anyone in any way from entering, attending or participating and to expel anyone individually or collectively from a public place or public occasion or to make social exclusion or discrimination of any kind or to impose restriction on such act or to demonstrate any other kind of intolerant behaviour in any public or private place against a person, by making untouchability or discrimination.
The recent case and Nepali law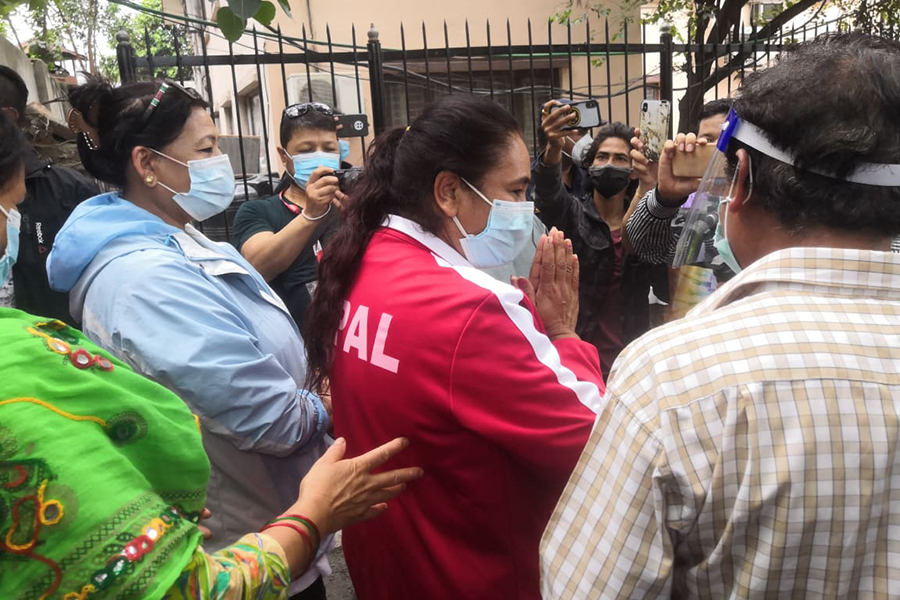 The news pieces on various online portals, as well as interviews of Rupa Sunar on various media outlets, show that she was restricted from participating in the offer of the rent, which is a clear violation of the law.
Another legal provision, which is, National Penal Code, 2017, in its section 161 mentions, "No person–in purchasing, selling or distributing any goods or services–shall purchase, sell or distribute such goods or services from or to only any person belonging to any particular caste, race or community or omit to provide, sell or distribute such goods or services to any person belonging to any particular caste, race or community." Both, the crimes are listed as state-party cases, which means the state mechanism (the government attorney) would plead the case on behalf of the victim(s).
The aforementioned legal provisions clearly indicate that no individual has a right to discriminate against anyone on the basis of caste and commit to untouchability even in their private property. However, the investigators (Nepal Police in the case of Nepal) have a duty to present the evidence of caste-based discrimination to prove the discrimination beyond a reasonable doubt. In this case, it seems, the evidence to prove the intention of the landlord could not be maintained, hence she was released.
The case of Rupa Sunar is illustrative of various forms of discrimination based on caste in Nepal. The issue also divided the Nepali society into two groups: one accusing Sunar of trying to get attention when she was not discriminated against at all and the other group supporting her movement. It clearly shows Sunar's and other battles alike still have a long way to go into Nepali society. Nevertheless, the issues like this need to be brought to the forefront and discussed more. Awareness to reflect the existent discrimination is essential.