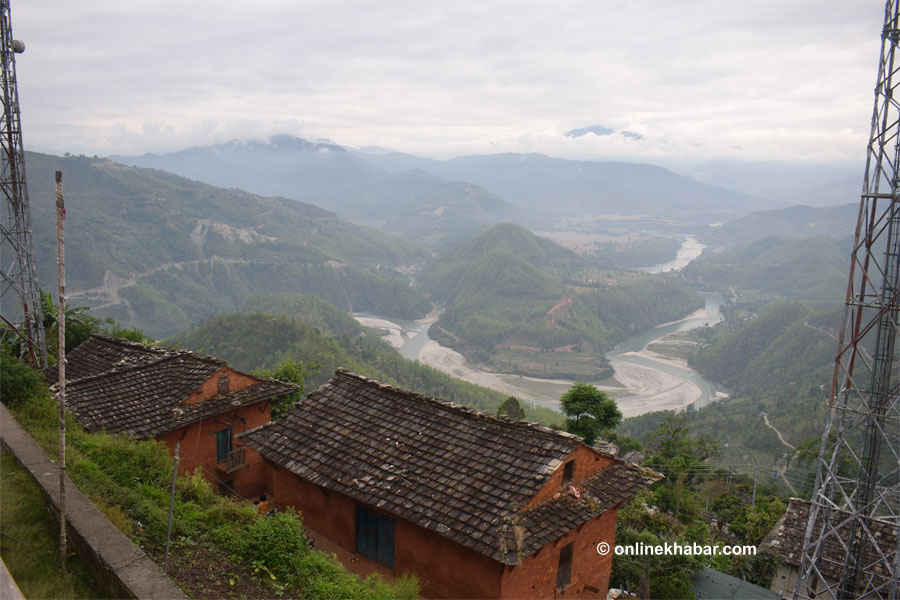 Located some 700 kilometres away from the country's capital, Jajarkot and Rukum districts frequently make the news, sometimes with food crises, sometimes with floods and landslides. These two districts were also a hotspot of the decade-long civil war in the country, which the Maoist cadres and leaders said was launched to change the nation.
These two districts of the Karnali province, separated by Bheri, have been in the limelight again. Nabaraj BK and a few of his friends who had gone to marry BK's girl-friend, which would be an inter-caste tie, were brutally chased and beaten, and six of them were stoned to death as planned by the girl's family and Dambar Malla, a Nepal Communist Party leader in the neighbourhood. Achievements of the decade-long revolution against inequality and discrimination initiated in the very place were mercilessly swept away by the strong current of Bheri, which can be seen from the house of both Nabaraj and the girl.
After 11 days of this incident, we had also gone to the incident site to see what happened.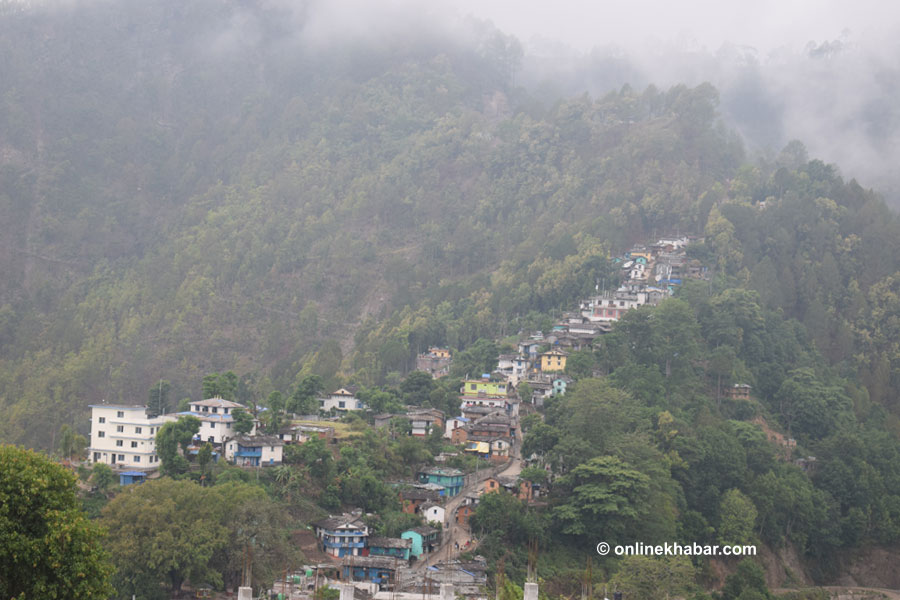 Ground zero
The life of 21-year-old Nabaraj BK was taking a new turn from May 23. As asserted by his family members, his girlfriend had telephoned him the day before, inviting him to her place for the wedding. After the conversation, BK had smiled looking at the tattoo on his hand, inked with his beloved's name.
On May 23, his face was seen brighter than it was any other day. He woke up early in the morning, cut his hair, bathed and cooked food. He then cleaned his room neatly and went to his aunt (mother's sister's), who lives nearby his house and said, "Today, I have prepared food myself. You also have to come to eat."
He then phoned Lokendra Sunar, son of his second aunt living in Matela, and asked to accompany him, "Boy! Today, we have to go to Soti to bring your sister-in-law. Tell your friends as well."Listening to him, Sunar became very happy. Born in a poor family, Sunar could not study beyond the ninth grade. Sunar shared the happiness of his brother's wedding with his mother Laxmi.
At that time, Laxmi turned her head towards the nearby Bheri river and frowned, "Will a Thakuri's daughter come with us?" What does all this matter to Sunar? He did not care about all this ran from a lonely house on the banks of Bheri to his friends in Matela Bajaar, including Govinda Shahi, and informed them about the wedding.
BK had already informed his nearby cousin-cum-friend, Sanju BK and Ganesh Budha Magar about the wedding. Just a few days ago only, they had gone like this in a group for a friend's wedding.
Suspecting the would-be groom's unusual excitement and glare, his mother Urmila questioned, "Where are you heading towards?"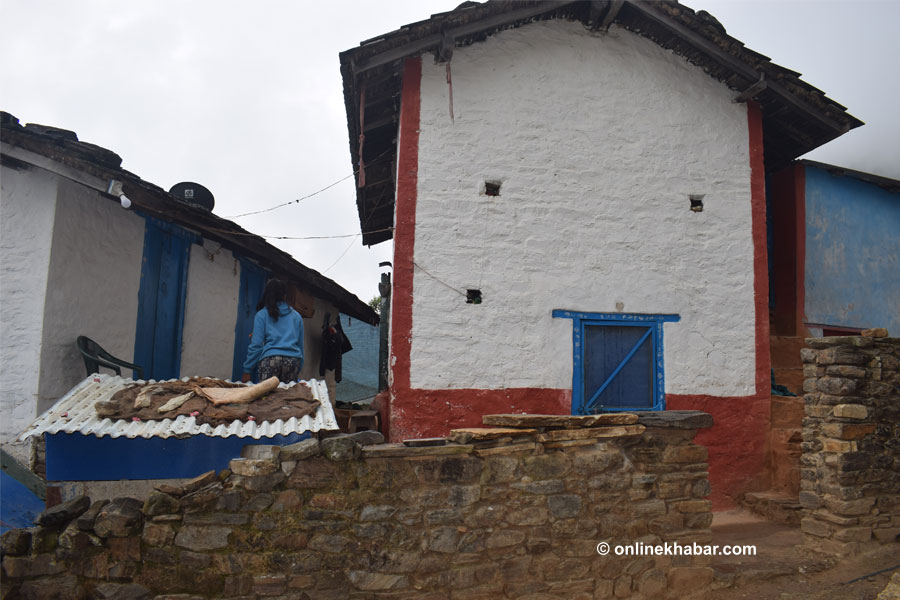 He quickly replied, "Nowhere. Can't I even clean up?" However, he disappeared from the house without any notice at around 10:30 am. Urmila thought that he must have gone to his friend's house to use the internet.
BK, on the other hand, had left his house in Ranagaun, Bheri municipality-4, Jajarkot and set out on another journey to Soti with his 10 friends, fantasying his girlfriend as his bride.
During the lockdown, transportation service was not in operation. Before walking towards Soti village, they had to pass about 37 kilometres and descend to the banks of Bheri, where there is a burgeoning Matela Bajaar. However, BK and his group did not reach Matela Bajaar. Instead, Sunar's friends walked uphill from Matela. The two groups met on Dhalla Bridge. BK's friend Sudeep Khadka says, "We met at Dhalla Bridge at half-past one in the afternoon."
—
The news of BK's marriage shocked many people except some of his close friends. Nonetheless, all of them were happy to be part of his wedding's procession.
BK had won more than two dozen certificates for his excellence in high jump, football, swimming, kabaddi and volleyball at his school. He was also a cadre of the National Cadet Corps (NCC) which gives a three-month training course to the students for being excellent and disciplined in sports.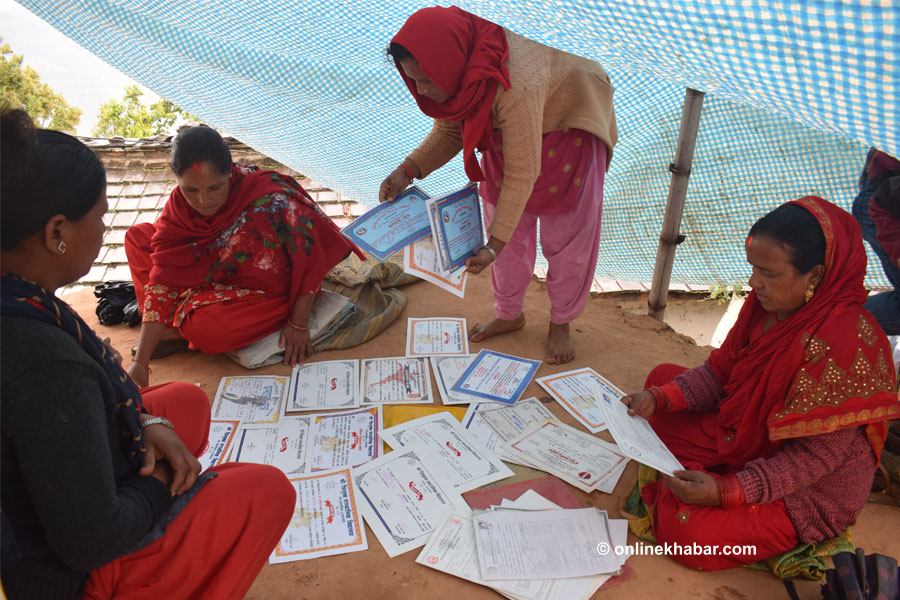 One of the members of the procession, Gopal Budhathoki returned to his home from Dhalla Bridge, due to the reason best known to him. Waving goodbye at him, the group of 18 youth continued their walk on along the under-construction Mid-Hill Highway.
There are only three houses by this road until one meets a small way to go to BK's girlfriend's house. This narrow path was rarely walked by people. However, it is a very short way to reach the place. BK's group chose the same route.
A very steep narrow path in the middle of a dense forest—they went up, picking sal, mal and pine leaves, pressing them into their mouths, and whistling. After crossing the forest in about 15 minutes, they reached the main village of Soti. There are about 30 houses. They crossed the settlement and reached the house located at the bottom.
Situated in Soti, Chaurjahari municipality-8, Rukum West, an old palace-style house is painted with red clay and kamero. The yard of the house paved with stone looks smooth. The three-story house has a stone roof. From the side of the house, there is an off-road. This is the girlfriend's house.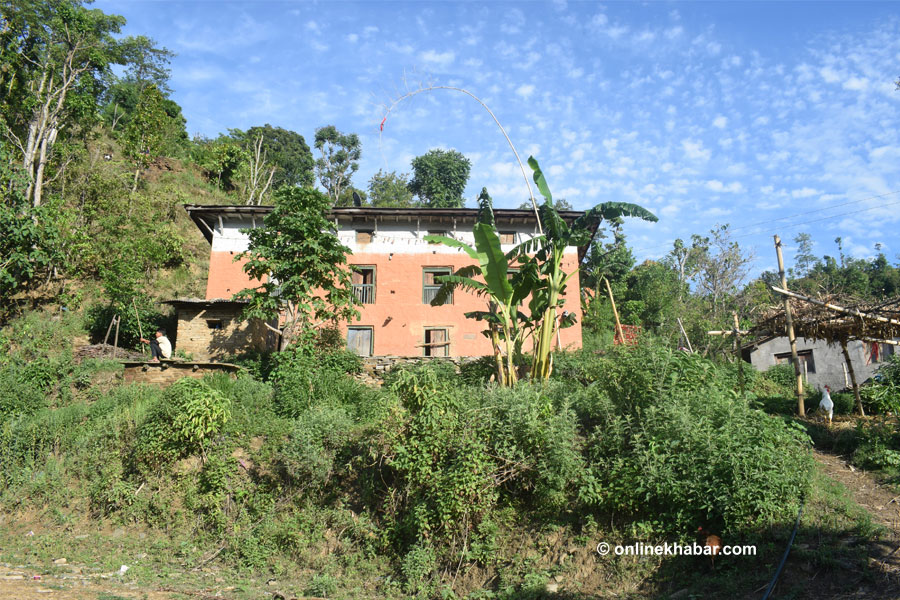 —
As BK's group stopped on the road, the girl's mother saw them.
Mahesh Karki, who had gone with BK, says, "Her mother shouted at them from near the house, saying, 'Wasn't the last time's beatings enough for you guys? Should we kill you…?' We could not bear the verbal abuse and returned, hoping BK and his girlfriend would marry later."
In last April only, BK returned with a bruise on his right eye, which had not been healed till that day.
The girlfriend's sister-in-law, Sonu, says that after finishing the exam, the girlfriend's 13-year-old brother Lakshuman had gone to stay at BK's house in April. A week later, BK had dropped off Lakshuman to Soti. Ward chairperson Dambar Malla had arrived just a moment before BK was about to hand over Lakshuman to his family. Two houses below the girl's house is the blue house of chairman Dambar Malla. He was a member of the People's Liberation Army of the then Maoist warriors.
Holding her four-year-old son in her arms, 20-year-old Sonu says, "Binod and Lokendra Malla had slapped and warned BK at that time."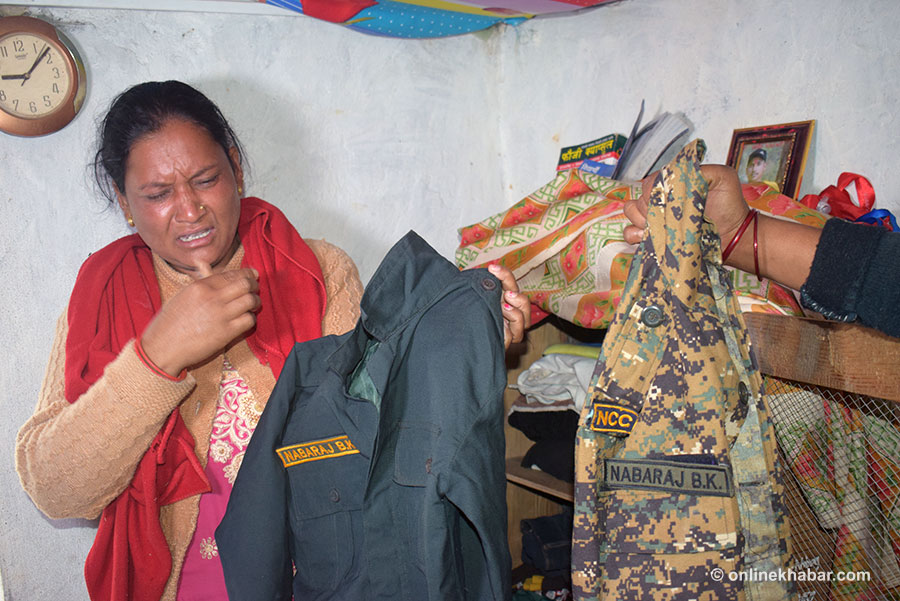 After that, the ward chair had called Chaurjahari Police Station and made the law-enforcers arrest BK arguing it was a serious crime for him to love a girl of the so-called upper caste. The police investigation suggests that the villagers had already known about this 'crime'. The police have also found out that the girl had gone to BK's house at least four times.
—
BK's mother, Urmila, had been shocked upon receiving a call from the police station. The following day, she had rushed to the station in Rukum West at around 11 am in her attempt to release her son. Urmila used to be terrified even when her only son was pricked by a thorn. But even after waiting till 5 pm, there was no sign of him being released from the police custody because the one who got him behind the bars was not present there.
When the sun was about to set, the police had brought readymade papers, made Urmila and her son sign before releasing him from custody. Urmila cannot read letters. However, Inspector Dharma Bista of the Area Police Office, Chaurjahari, says, "At about five in the evening, after the chairperson asked us to release him, we released him, warning him not to come here from now onwards during the lockdown."
On the way to their home, when Urmila had seen the blue stain on her son's eyes, she had murmured, "From now onwards, never go to that place again. One should not go to such places where love is criminalised."
Nabaraj had nodded his head.
Celebration-turned-genocide
But when his beloved called him in May, BK gathered confidence again and headed towards Soti.
According to police, the two youth were in a relationship since January 2018. The girl had also stayed overnight at the boy's house twice: during a local fair and on a birthday of BK's cousin. BK' aunt Purnima, says, "She also brought a small doll as a gift." Such gestures from her had given an end to BK's quest for a prosperous daughter-in-law.
However, on May 23, BK could not even see his girlfriend's face and the gang went straight to the east following an alternative road. BK and his mates were all covered with dust.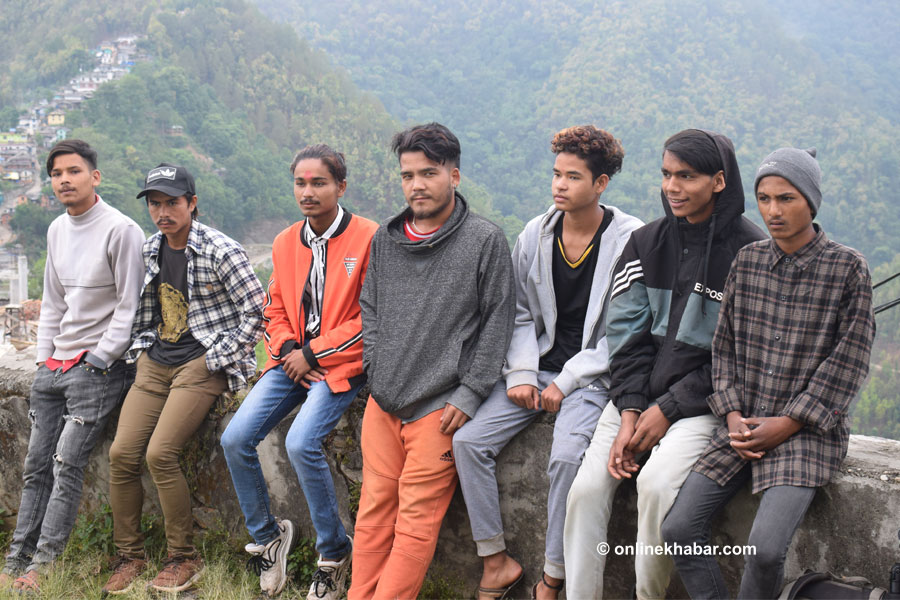 After seven to 10 minutes of walk, they reached a well. They washed their face and took rest for a while watching Bheri sighing in the gorge below.
After walking for five minutes down the hill comes Binod Malla's house. There are only three houses. According to Binod's aunt Chandra, the group reached the house in search of Binod. After finding that he was not there, they went down to the forest.
The group ran into the forest trampling the pine leaves. As the group was big, some were far ahead and some were behind. They were afraid to form and walk in a group due to the lockdown. Bhola BC says, "The group of six/seven including BK was far behind us."
After walking about two and a half kilometres, they reached the Mid-Hill Highway. Before meeting the road, there is a stone. Their group rested on the same rock for a while. It was around 5:30 pm.
They had just stepped on the turning of the highway from that stone and they heard a loud chaotic noise. Then, they learned that some of their friends, who were behind, were attacked with stones.
—
Injured Sudeep Khadka says, "Many people were running after us. One group was coming from the forest side, the other from the road. They had sickles, firewood and nails in their hands. Some of us jumped off the road from the turning and some of us ran towards Rukum. But the same number of people from Rukum was attacking us."
The entire village was against them as if the then Maoist army would besiege the opponents. It seemed as if they had planned to gang up against them to stop the inter-caste marriage. After seeing the whole village turning against them, the youth aged 16 to 22 became petrified. Now, the only option left for them was to go jump and swim across Bheri.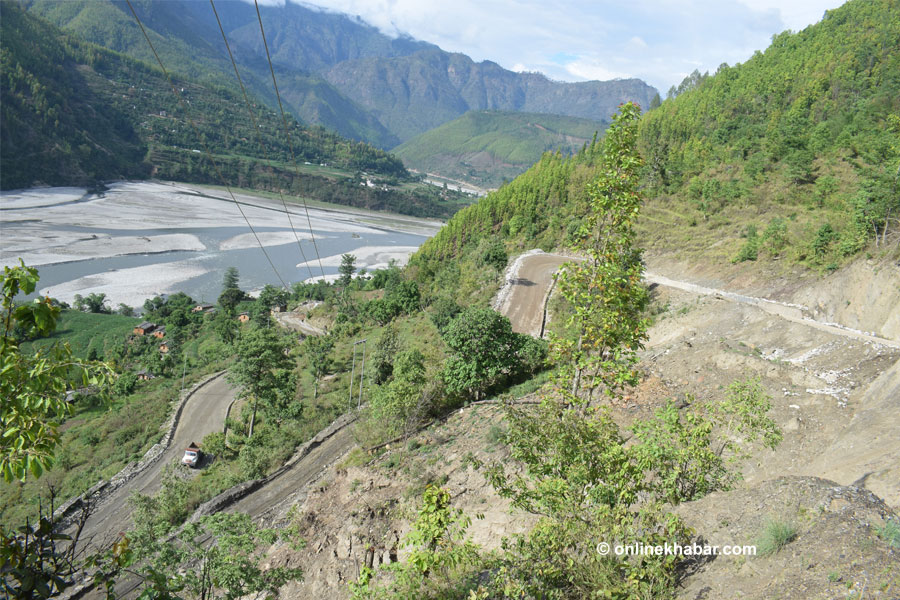 To reach the river, one has to cross a maize field of about one kilometre. They ran towards the same field. Nearby are two small villages of Goiri Jiula. However, their pace slowed down in the front of the siege of the mob. Then, maize fields, dusty roads, the banks of the river turned into a battlefield collectively. People of Soti's Goiri Jiula became mere spectators. According to the police investigation, four to five villages of Soti were involved in the attack.
According to the injured, some 100-150 people attacked them. Pointing to a long wound inflicted by a sickle on his elbow, injured Sudeep Khadka, says, "There was a large group of women sitting on the hillside watching. Mainly, young people came and started beating us."
The youth who had gone to celebrate the wedding were falling in the maize field.
Some managed to escape and reached the riverbank again. Even so, the villagers did not let them go freely. Showing a swollen spine injured by a sickle, Jeevan Khadka says, "One person was being beaten by 10 to 12 people. We all were injured from head to toe all at once."
Madan Shahi, another injured, says, "I could not even sleep due to my chest pain. It still hurts till today."
Five people managed to cross the river and five others got stuck in the middle of the river. They say simultaneously today, "But, we did not see the six people killed anywhere."
Series of attacks
The survivors suspect the six might have been attacked while crossing the Mid-Hill Highway. The accused have admitted in the police statement that they threw their bodies in the river after the murders.
They were beaten by stones even in the river. When they crossed the river, there was another group ganged up to attack them. They had reached there in Kalagaun from Soti village on the pretext of playing football.
According to the chief investigator deployed by Nepal Police, SSP Posh Raj Pokharel, a group of 11 people were waiting across the river to attack them.
There is a police post in Kalagaun also. From there, the clash was seen clearly. DSP Kishor Shrestha of the Jajarkot District Police Office says, "Our personnel had blown their whistle after seeing the incident. But, we only got the information through the ward chairman at 6:15 pm."
Only after that, four policemen led by an assistant sub-inspector reached the spot at 6:30 pm. Injured Govinda Sunar says, "Police had blown the whistle, but we were still being beaten"
After reaching the site, Jajarkot police arrested 12 injured persons. But the assailants were left unharmed. The attackers were neither arrested nor taken to the police station for interrogation.
Police personnel on the Jajarkot site went to Rukum West and handed over the injured to the Chaurjahari Police Post as the incident took place in Rukum primarily. Inspector Dharma Bista of the post says, "We rushed the injured to a hospital at nine o'clock. As Sudeep and his friend were seriously injured, we kept them in the hospital and 10 others at the police station."
The injured shivering after being wet in the cold water of Bheri were interrogated till one o'clock in the night.
—
Meanwhile, at around 6:30 pm, the news of the recovery of the bodies in the middle of Bheri reached BK's mother, Urmila. She reached the District Police Office, Jajarkot at 7 pm fearing if her son was arrested again… But at around 11 pm, BK's sister Laxmi telephoned Urmila, crying, "They threw our Nabaraj in Bheri."
Urmila just wanted to rush to the banks of Bheri to hug her son, leaving everything behind. She sent her husband and some relatives to the river. Her husband (BK's father) had wished all the way that the body discover would not belong to his son.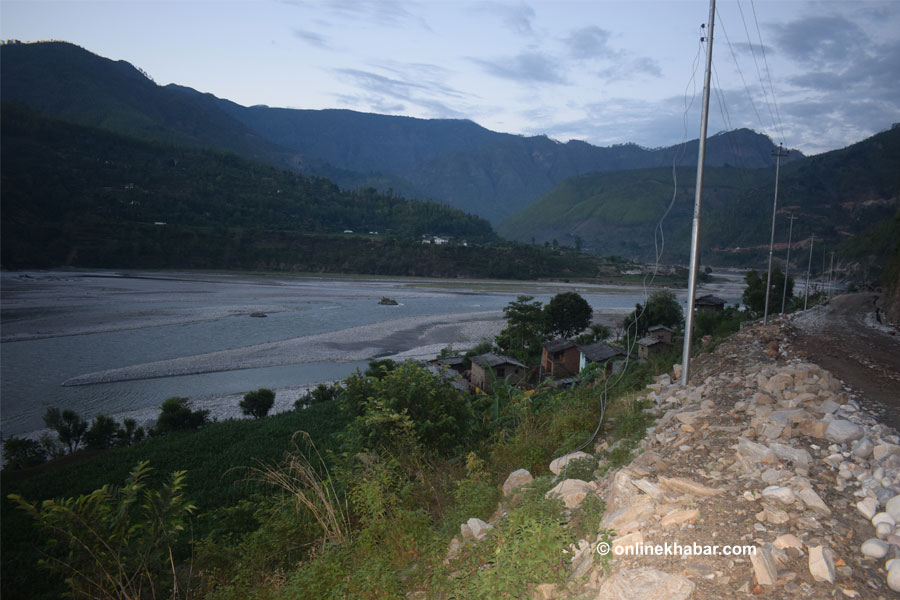 It was one o'clock in the night when the father's group reached the bank of Bheri. Just a while ago only, a continuous storm and heavy rainfall had stopped. Two or four people, including police, were sitting on the bank of the river along with the body. From the clothes only, BK's father knew that it was his son's. He fell unconscious.
BK was sleeping quietly in the middle of Bheri, facing his face towards the earth. He had a bag next to him. From time to time, the waves of the river hit him. The back of his shirt was fluttering. As seen in the moonlight, he was as quiet as the bank of Bheri.
His love had dissipated calmly with the calm Bheri burbling. His father says, 'His hand was broken. His head was crushed by a stone." A police team recognized the body as belonging to Nabaraj BK at around 1 am, informs DSP Thak Bahadur KC. He says the police did not suspect if anyone else also died in the incident.
The next morning, at eight o'clock, the police in Jajarkot received BK's body from their counterparts in Rukum West. Meanwhile, the Rukum West DPO also sent a 10-member investigation team to the site at 7:30 am. KC says the personnel found some sticks on the spot.
Meanwhile, the villagers of Khalanga and Matela of Jajarkot walked on the banks of the river in search of BK's other friends. The police were not with them.
At 5:30 pm in the evening, locals found the body of Tikaram Nepali at Khodakhola in Bheri municipality-11. Later, the police also joined them.
DSP KC says, "After finding another body the next day, we realised that it was a big incident and then became serious."
However, the police detained the ward chairman and three members of his family for investigation only on May 25. The ward chairperson was sent back home on May 26. DSP KC informs, "On May 26, we sent our personnel in civvies to the village. We sealed off the area and arrested 18 people on May 27 morning."
According to Gopal Bahadur Nepali of Kushe rural municipality-1, the police of Jajarkot refused to file a complaint on May 25. Only when they went with a mass protest on the next day, a complaint was filed against 20 people of Soti.
—
Below Nabaraj BK's house is his cousin Sanju's house; below that is Ganesh Budha Magar's house. It was not his own house, the Budha Magar family would stay there paying a rent of Rs 500 per month. Along with Nabaraj BK, Magar was also selected and trained in the National Cadet Corps. When we reached his house on June 5, an incense stick was lit next to his photo of Ganesh in the rented room. There was not even a bed.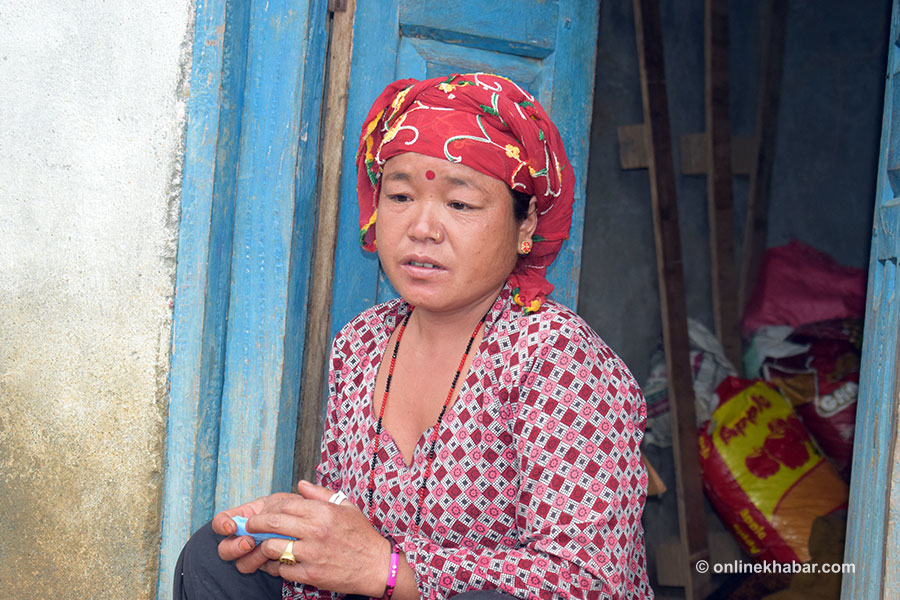 Magar's parents are masons. They would leave the house at seven almost every morning and come back at 11 o'clock to have lunch, then again leave for work and only return to their rented room at night. On May 23, his mother Radhika had asked him to bring mutton and cook it. However, Magar had said he would do it later. After not seeing her son for a while, Radhika had called her son again at four o'clock, "Boy, bring the meat and cook it in the evening!" He had replied, "I have come to Kudu today. I may reach home late or I may not even come."
On May 25, Budha was found floating in Phera, Bheri municipality-12 at 4 o'clock. His mother Radhika says, "One side of his body was swollen. I couldn't see anything else."
She could not sleep because of the tragedy of her son's death. She was not even allowed to do his son's final rituals in the house where they were staying. She bursts into tears, "While crossing the river, he was stoned to death. Give us justice. Imprison the murderer for life. We don't have anyone, where can we go? "
On May 27, Lokendra Sunar's body was found at Rakse in Bheri municipality-13 at 1:30 pm. Ganesh Shahi's team found his body. Lokendra's one-storey house lies in Marela Bajaar near the banks of Bheri.
The Sunar family does not have any land to earn a living except this. As his house is on the river bank, he was a pro in swimming, so his mother Laxmi had hoped until his body was found that he would return.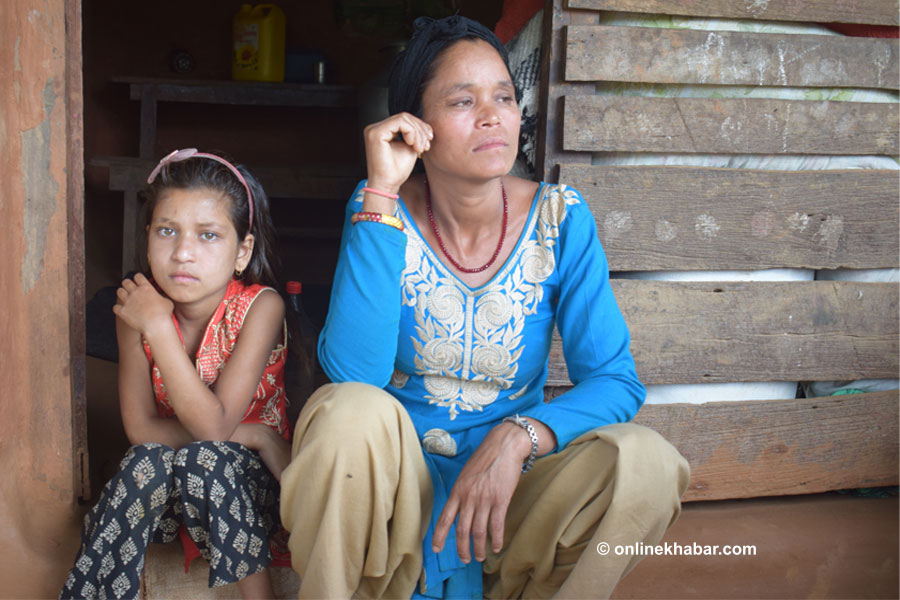 Staring at the flowing Bheri, Laxmi says, 'My son was beaten in such a way that I could not even recognise him. I can only tell it was him because of the clothes he was wearing. There were no eyes."
This was another big thunderbolt for Laxmi, who had lost her husband in a bus accident just a year ago. Her eldest son is overstaying in Malaysia after visa expiry. Helpless Laxmi has to deal with grief on one hand and hunger on the other.
Ganesh Shahi, who had dragged Lokendra's body from the river to the shore, says, "There was blood flowing from his body." The beating caused his testicles to swell that big like a balloon. There were horrible injuries all over his body that I couldn't see. His hand was tied with a rope. When we pulled out the body, it broke."
—
By when there had been nationwide protests against this mass murder, the mothers of the deceased began visiting the District Police Office on a daily basis to seek justice. Their day was spent giving details of the injured, sometimes to the police, sometimes to human rights activists, sometimes to the media.
Still, concerned authorities were not paying attention to the treatment of the injured. No protest was heard in Rukum West, where investigation on this incident was underway. It was so calm as if nothing had happened there.
Meanwhile, more bodies were found in the next days. By June 2, all the six persons missing were found, dead.
Personnel involved in the search say all the bodies had different kinds of injuries. The mother of Sanju BK, one of the victims, says, "He was stabbed on the neck with a sharp weapon. There were injuries all over his eyes and face." The man's 20-year-old wife says, "He used to say that he would become an army man someday!" Dressed in white, perhaps she is worried about the future of herself and her children.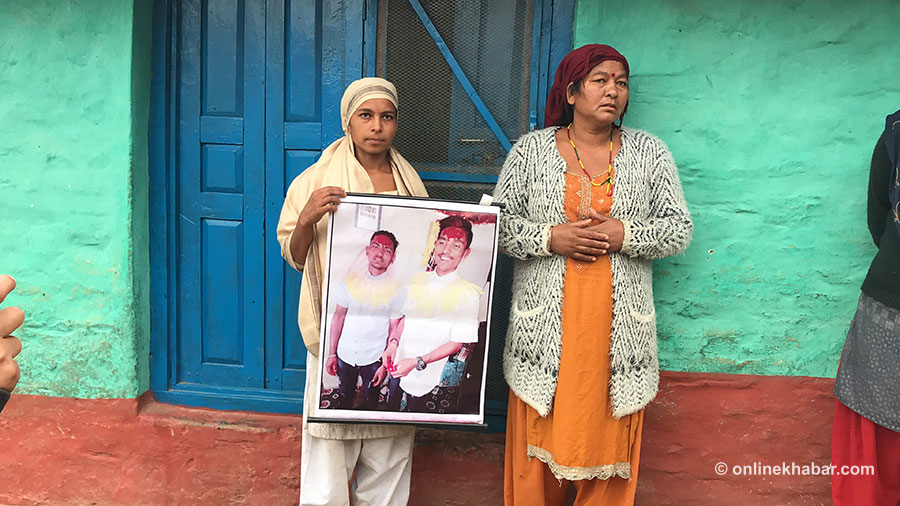 Likewise, another deceased, Govinda Shahi's aunt says about the victim's body, "One ear was cut off. There was not a single part in his body that wasn't injured. His nose was crushed by a stone. There were no front teeth. We only recognised him by his clothes."
—
In this way, six people had to sacrifice themselves while attempting an inter-caste marriage. Three weeks after the incident, the police have completed the investigation and handed over the case to the District Government Attorney's Office. The office has subsequently filed a case at the District Court, naming 34 persons as defendants.