There is little doubt that roads are arteries of development and can add to the overall quality of citizens' lives. Sadly, if you talk about public roads in Nepal—national highways, strategic road networks, city roads, feeder roads, district roads, or rural roads—most of them have been clogged and turned into perils. Further, countless potholes, poor drainage systems, yawning ditches, a number of mismanaged manholes and sinkholes as well as other road-related infrastructural breakdowns have perennially added to the public woes.
When such hazardous roads become appallingly muddy and camouflaged with water puddles during the monsoon, they can twist human ankles and topple zigzagging motor vehicles. It is extremely onerous to navigate such perilous streets and wrecked pavements. Indeed, Nepali public roads are distressingly posing manifold threats to the lives of commuters whereas children, differently-abled and elderly people are among the hardest hit. Therefore, such perilous roads and road-related infrastructures require the serious attention of the concerned agencies of the government in order to identify the root causes and mitigate their potential costs.
Recognising roots
Poor road conditions are often associated with the sickness of the system in the country. Putting it otherwise, the dilapidated situation of roads is avowedly attributed to deep-rooted corruption, nexus among government bodies, bureaucracy, political leaders, engineers, and contractors. Also, a lack of timely road safety audit and periodic maintenance together with unplanned digging of roads, rampant dumping of construction materials, and poor traffic management are among the prominent causes. Besides, haphazard construction and expansion of roads and road-related structures without a feasibility study, use of lousy materials, delay, non-compliance in the construction process, lack of coordination among the various agencies of the government, and inaction on the part of authorities, among others, have rendered Nepali public roads a modern ruin. Moreover, Nepal's road-building spree and use of gigantic bulldozers, excavators, earthmovers, and tipper trucks across rural and mountainous territories of Nepal have further exacerbated the quality of roads.
Likewise, the lack of proper fiscal discipline in the state's budgetary system has equally contributed to the miserable road infrastructures in Nepal. We are well aware of the culture of asare bikas in Nepal. At the eleventh hour of every fiscal year, the government speeds up various developmental projects at the cost of sustainable infrastructures. Our contractors can be seen carrying out many developmental activities–digging ditches, laying sewerage pipelines, constructing and blacktopping roads, and setting up other road-related critical infrastructures, among others. Hence, the under-utilisation of the budget for the substantial part of the fiscal year and gush in expenditure towards the end only makes matters worse, thus leading to rickety, shoddy, and substandard road-related infrastructures.
Perennial burdens
The sight of public roads turns frustratingly chronic during the monsoon whenever floods and landslides wreak havoc. With the monsoon pounding the nation, every year, a huge number of Tarai roads resemble waterways and are even washed away. Moreover, the roads of hills become almost non-functional due to landslides or other monsoon-related disasters owing to fragile topography as well as faulty designing. Traffic movement gets stalled for hours or even for days during the monsoon, which even affects humanitarian responses. This year also, this happened to many public roads, including East-West Highway, Tribhuvan Highway, and Kanti Highway among other roads connecting to major cities of the country. Besides, denizens in different parts of the country are facing mounting hurdles as the monsoon continues to ravage roads.
Transporting agricultural products to the markets and bringing daily commodities back home becomes almost a nightmare. Therefore, the precarious state of the country's major public roads often has widespread socio-economic impacts as it does not only obstruct the smooth flow of traffic and movement of people but also adversely affects the delivery of essential items like foodstuffs, fuels, and life-saving medicines. In addition, this often creates a favourable environment for black marketing and inflation at a time when the public is facing waves of challenges due to the ongoing Covid-19 pandemic along with monsoon disasters.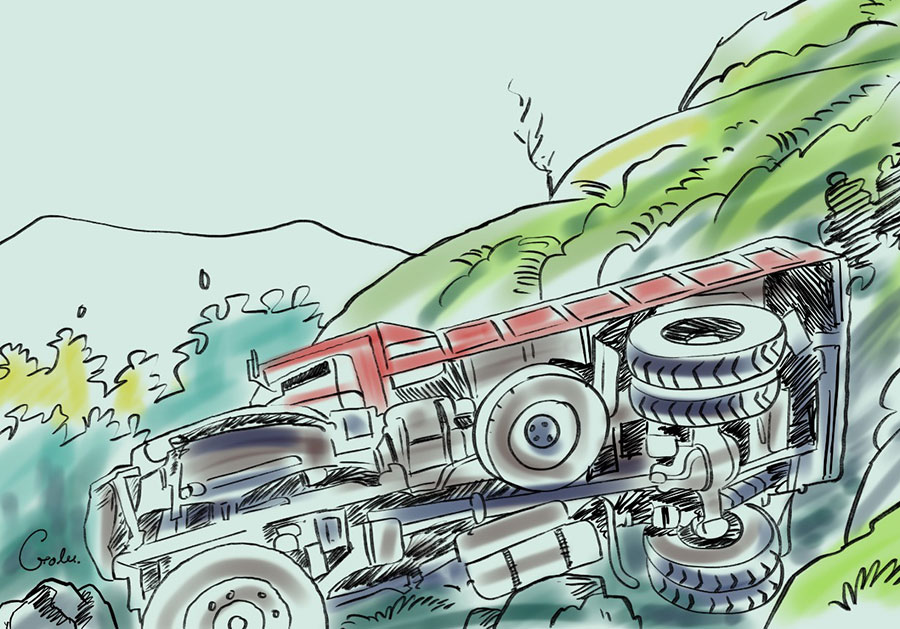 Most distressingly, the sorry state of roads has frequently exposed people to unpredictable catastrophes. For instance, take road-related accidents which have long remained one of the most common causes of deaths and injuries in Nepal. If we compare the available studies (Road Safety Situation in Nepal and road-related accidents) the statistics show approximately 142% increase in death rates caused by road accidents in a span of 10 years (2008/09 to 2018/19) whereas the road accident increased by 178% during the same time. This is obviously a great challenge to meet the ambitious target of halving the global number of deaths and injuries from road traffic crashes by 2030 as set by the United Nations General Assembly.
On the other hand, seven Nepalis, on average, lost their lives each day in traffic-related accidents in Nepal before the lockdowns. Although the road-related accidents declined significantly during the lockdown period, police statistics before the pandemic show 2,789 fatalities were recorded in 2018/19 alone. Deaths and injuries on such roads are just the tip of the iceberg. In a country like ours where essential health facilities are dire, road traffic injuries are all too often a proven ticket to productivity loss and poverty. Every year, fatalities and injuries caused by these perilous roads and road-related infrastructures hit the media headlines. Despite this, such cases are rarely filed against contractors and engineers for the rickety maintenance of the roads. Appallingly, police report often finds the victims or drivers guilty of deaths and injuries due to their sheer negligence. The authorities are spared despite their criminal neglect of duty.
Whose responsibility?
Although road safety experts have often linked the poor road condition with inadequate funding policies in the nation, the government allocates a huge chunk of the budget to develop, improve and maintain the transport sectors every year. In the fiscal year 2020/2021 alone, Rs 16.30 billion had been allocated for the maintenance of roads and other road-related infrastructures with a view to making road transport comfortable and safe under the Road Board Nepal.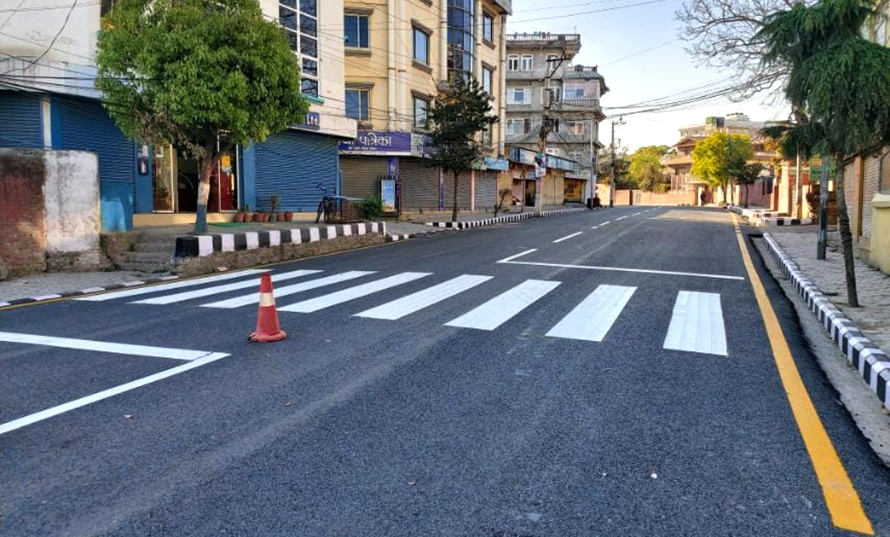 Apparently, the Department of Road (DoR) under the Ministry of Physical Infrastructure and Transport (MoPIT) is an authoritative agency responsible for planning, construction, maintenance, expansion or improvement of public roads and road-related infrastructures. Besides, the Department of Local Infrastructure Development and Agricultural Roads (DoLIDAR) under the Ministry of Federal Affair and General Administration (MoFAGA) is accountable to maintain rural roads through its district-level network and local level technical offices. Both the DoR and the DoLIDAR have been backed by institutional arrangements, policy and legal frameworks, technical capacity, and human resources for the development, maintenance, and improvement of the public roads.
Further, chapter 4 of the Road Board Act (2002) and Nepal Road Safety Action Plan (2013-20) as well as Strategic Plan for the Development of Road, Rail and Transportation for Prosperous Nepal (2016-2020) devised by the Ministry of Physical Infrastructure and Transport have made it mandatory for a periodic road safety audit to ensure safer roads and mobility—one of the five pillars outlined in the UN Global Action (2011-2020). Sadly, if we have a closer look at implementation aspects of these laws and policies, they have largely remained downplayed for far too long despite public hue and cry. The responsible agencies of the three tiers of the government now cannot continue to ignore their accountabilities for effective road safety performance. Also, in this regard, following Sweden's example of redesigning roads can go a long way in Nepal.
Therefore, it is high time the government comprehended the gravity of the road safety status of Nepal. It seems that the government also needs to stress on reformation of institutional roles and capacities with an added priority to scale up road safety measures. On top of that, what cannot be overemphasised is proper investment coordinated with partner agencies, which is vital to improve national health, wellbeing, and economic growth as the World Bank has suggested in its report last year.
The authors are currently MPhil scholars at Nepal Open University.