Like other sectors of life, the literature publishing industry also suffered a blow during the two years of the Covid pandemic. With the infections subsiding now, all sectors of the economy are struggling to revive, and the publishing industry is not an exception.
Kalpana Dhakal is the chief executive officer at Kitab Publishers, a publication house based in Kathmandu. Despite the pandemic, the company established in 2019 has published 10 books to date, including Sati, Mokshabhumi, Kara and Pararashtraka Patra which created quite a buzz among critics and general readers.
Recently, Onlinekhabar caught up with Dhakal for an interview. In the conversation, she has talked about her inspiration behind starting a book business, the challenges of the publishing industry, the trend of books in Nepal and many other things related to the industry.
Excerpts:
Let's begin with something personal. Earlier, you were a journalist working with some best media houses in the country. But, you suddenly switch to the publishing industry. What made you do so?
Yes, back then, I was a journalist. As my career was going on smoothly, I had to quit it suddenly due to some health issues with my mother. Later, as time passed, I again wanted to do something.
My family and friends all were fond of books. Almost every day, we somehow used to talk about books. Since all in my circle were avid readers, talking about books always fascinated me. Hence, the idea of starting a publishing house triggered me.
Can you also tell me something about the first book of your publication?
Our first book was 'Biman Bidroha' by Durga Subedi. The book really did very well in the market. The coverage we got from the overall media was overwhelming. Over 4,000 copies were sold in a week. The response from the readers and booksellers was beyond expectations. I was very happy and anxious at the same time. The identity given by the first book since my venture into the publishing industry is very special to me.
How has your experience been in the publishing industry since then?
As I was a journalist earlier, it has helped me significantly in running the business. All my writers and other concerned people in my book business are well known about me. It has helped me gain their trust.
With that, working as a book publisher has been very productive for me. I have got an opportunity to meet a lot of brilliant minds while running the business. I believe the book industry is a very healthy industry as reading books never creates a loss for anyone.
For me, every book is exclusive and publishing a book is like giving birth to a new life.
Like other industries, the publishing industry may also have challenges. In all these years of experience, what challenges have you found in the book industry?
Mainly, there are two challenges in the publishing industry. Firstly, it is finding out the quality book, and, secondly, the fluctuating book market. Once the book market was at its peak when books like China Harayeko Manchhe, Palpasa Cafe, and Rukmangad Katwal were released. But, after that, the book market fell down immensely. Even 2,000 copies are hardly sold.
After Covid, as a result of inflation, prices of everything increased excessively. In this situation, books might not be the priority for many individuals.
Similarly, we also need to increase the number of female book writers and that is also one of the challenges. There are many potential women writers and I want to work with them. But, probably due to their hefty engagement in family and professional life, they could not have been able to write the books. I have been continuously holding meetings with those potential women writers. They are responding to me well. I hope, very soon, the Nepali publishing industry will witness a good number of women book writers.
With that, Covid has also posed a challenge to the book industry. We were compelled to shut our office for a long period. The loss we bear has not been recovered yet.
So, what is the latest book trend in Nepal? 
It is found that most people are interested in nonfiction, history and politics. Nonfiction works have a relatively high demand. At the same time, some fiction works have also done remarkable jobs in the market.
We, the members of the publishing industry, never know which book will be a hit or flop. But, we get suggestions from many individuals regarding the topic we should publish the book about. 
But, it is said that the readership of Nepali books is decreasing. What do you think? What could be the reasons behind it?
Definitely, the readership of Nepali books has decreased notably. But, I think there is no research or survey that shows why. Some of the reasons could be the post-Covid market inflation, a lack of quality books and high engagement in social media.
There was an expectation that the people would read more books during the lockdowns. The online booksellers were very happy about it. But, I don't think things happened as expected. I also heard that many people could not focus on books due to the anxiety posed by the virus.
The booksellers say that there is a lack of quality books. Likewise, they also say the youngsters only want to read English books. Hence, I think the publishing industry is struggling to increase the readership of Nepali books. I have a plan to do something about it but don't want to reveal it now.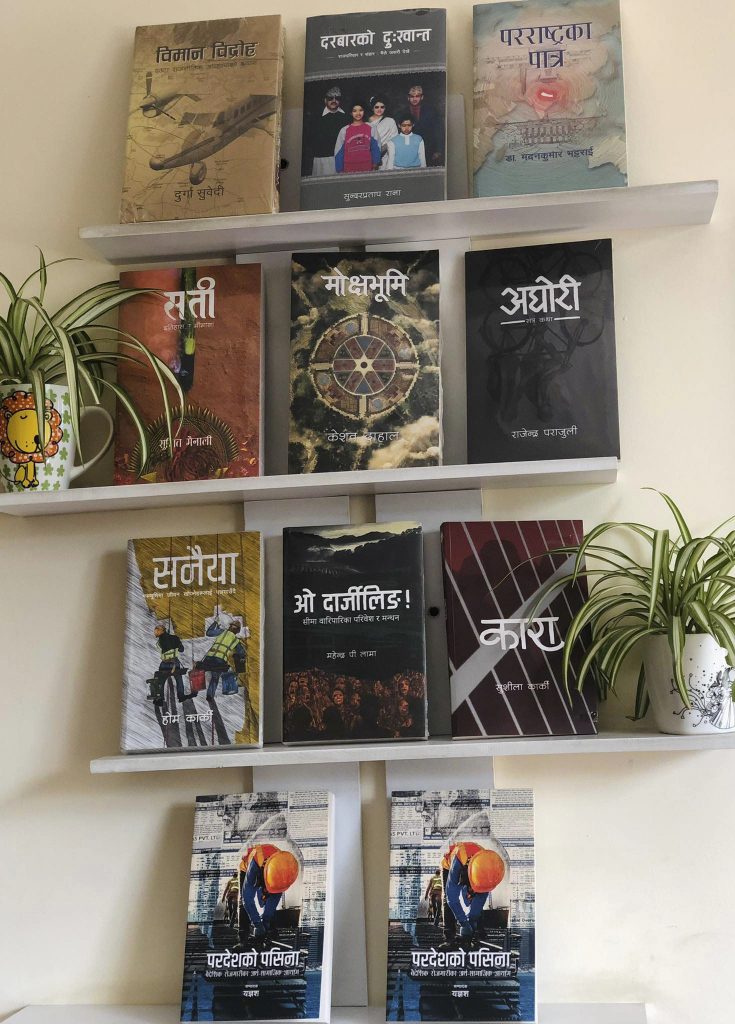 Translation might be one of the ways through which reading culture and the publishing industry can be promoted. Have you thought about translating the books in the near future?
I already tried doing translations but, unfortunately, withdrew from the project. I haven't seen sustainability in translation. There are many books that should be translated. But, currently, I am not in the position to work in translation as it requires extra financial and human resources.
We have very limited human resources for translation. But later, if everything goes well, we will definitely work on it.
Kitab Publishers has recently launched a book, Paradeshko Pasina. What is the book about?
Paradeshko Pasina is a collaborative work of seven writers. Each of the writers has written about various areas of foreign employment. The book is edited by Yangesh, a noted journalist in Nepal. The topics in the books are related to government policy, remittance, changes created by foreign employment and others.
This book is based on the latest facts and data.
As the book is recently launched, we haven't received much of a response but people are appreciating its cover page.
They say "don't judge a book by its cover." Yet, because you already talked about it, could you let us know the process of cover designing for a book in the Nepali publishing industry?
Firstly, we give the manuscript to the designers. They read them and design the cover. We discuss the designs, and they get improvised several times.
Most of our cover pages are designed by Sachin Yogal Shrestha. Almost all the time, Sachin and I work. Sometimes, finalising the book cover consumes a lot of time. However, we do not find it stressful, but we love it.