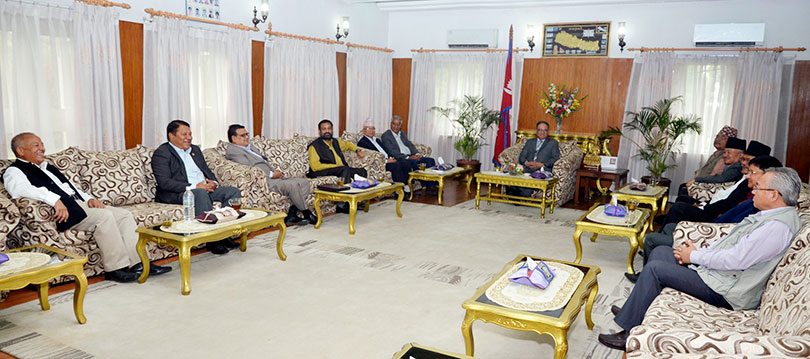 Kathmandu, April 19
Prime Minister Pushpa Kamal Dahal on Wednesday asked top leaders of five major parties if the local level elections could be held in two phases.
In a meeting of five major political forces at his official residence in Baluwatar today, the Prime Minister wanted to know the parties' views about the possibility of the agitating Madheshi Morcha joining the polls if they would be rescheduled in two phases, Deputy Prime Minister Bimalendra Nidhi informed after the meeting.
Nidhi, however, clarified that this question should not be understood as the government's plan to do the polls in two phases.
"We will do the elections on May 14. Please do not have any doubt about it," Nidhi said, "But the question is how we should take the argument that the polls could be held in two phases if the Madheshi Morcha is likely to join."
Top leaders of Nepali Congress, CPN-UML, CPN-Maoist Centre, Rastriya Prajatantra Party and Nepal Democratic Forum were present at the meeting called by the Prime Minister.