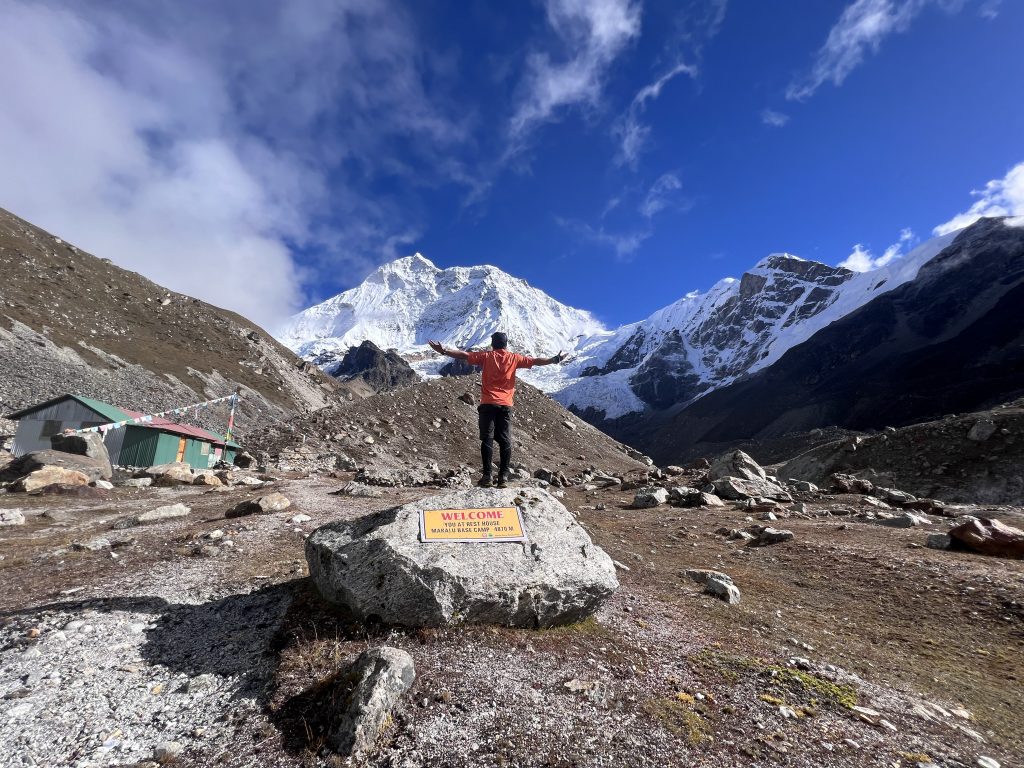 I had been meaning to travel to eastern Nepal for quite some time. But, every time I had planned, things had not worked out the way they should have. Even this year, I wanted to go to Kanchenjunga base camp, but fate took to me the Barun valley and the grandeur that is Makalu base camp.
As soon as I was given a two-week long holiday from work, I talked to a few friends from the travel industry and planned the trek to Makalu base camp. After all the planning was done, we left Kathmandu on September 21 by taking a flight to Biratnagar.
The next day, we took an SUV from Itahari to Khandbari and another SUV from Khandbari to Num from where our trek began as we ended the day at a small lodge in Chamla Kharka.
Here is the detailed itinerary that might be helpful for you to pursue the trail.
Day 1: Chamla Kharka to Tashi Gaun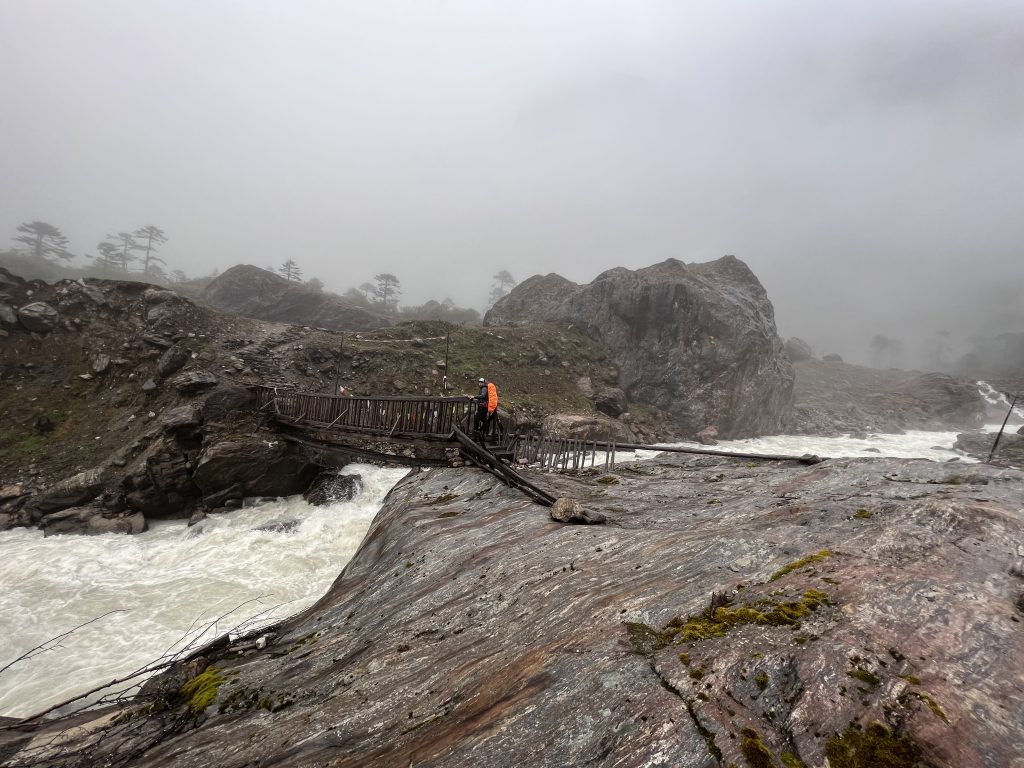 Knowing the trail to the Makalu base camp was hard. We started at 6 am. Our first stop was going to be Seduwa. Crossing the Arun river, we reached Seduwa at 9:30 am. After a plate full of dal-bhat, we left Seduwa, a place full of different ethnicities. While Chamla Kharka was a place full of Tamangs, Seduwa had Sherpas, Rais, Gurungs and Chhetris.
Seduwa is also the gateway to Makalu Barun National Park. After buying tickets to enter the national park and resting our full tummy, we began our journey to Tashi Gaun which would be our overnight stop for the day.
En route to Tashi Gaun, we walked past Mane Gaun and Chakse Danda. The trail is remote; not many people walk it. The phone network is non-existent as we were told only CDMA works in the region. Just as we left Mane Gaun, it also started to rain. But, we did not stop and persevered through reaching Tashi Gaun at 4 pm.
Tashi Gaun is the last settlement on the trek. From here onwards, there are only rest points and tea houses. After a warm meal, we discussed our plans for the next day and called it an early night.
Day 2: Tashi Gaun to Khungma
It was another early start for us. By 6:30 am, we had already had our breakfast and were on our way first to Danda Kharka; the plan was to get to Khungma by dusk. The rain was showing no signs of retreat. It kept pouring and that meant the entire trail had leeches who, like the rain, decided to accompany us throughout the day.
Even if the leeches and the rain were not a problem, we had to cross a swollen river. It was fierce and loud and any mistakes on our part would mean catastrophe. But, we carefully negated the river and reached Danda Kharka around 9:30 am.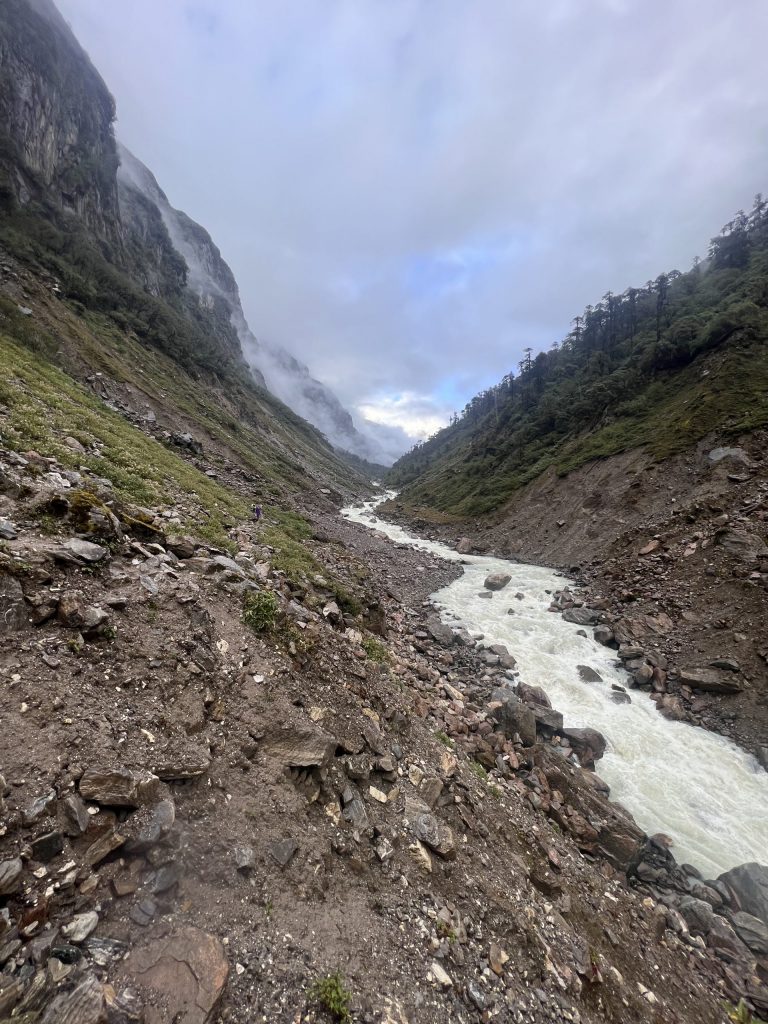 It was cold and a smiling Kipa Sherpa welcomed us to her lodge where she had lit a fire and was cooking lunch for us. She ran the lodge all on her own as her husband was in the Khumbu region working on the Cho Oyu expedition. It was shocking to see how she was not fazed at running the lodge all on her own. She also had to look after their three children.
After eating and resting for a while, Kipa gave us a plastic rain cover and we left hoping the rain would be kind to us. But, it did not and we reached Khungma around 3 pm. Khungma is a meadow at around 3,600 metres where people take their yaks, naks (female yaks), sheep and goats to graze. The land is also famous for red panda sightings.
The place only has three tea houses for trekkers. We stayed at Shiva Guest House where we were welcomed by Pasang Doma who even managed a heater for us to dry ourselves and our damp clothes.
We stayed around the warm kitchen talking with Pasang and porters who had plucked some mushrooms from the jungle, which was going to be our dinner for the night. I don't know if it was the hunger or the wild mushroom, but it was the best mushroom curry I have had in my life. After the warm meal and drying ourselves, we called it a night.
Day 3: Khungma to Yangle Kharka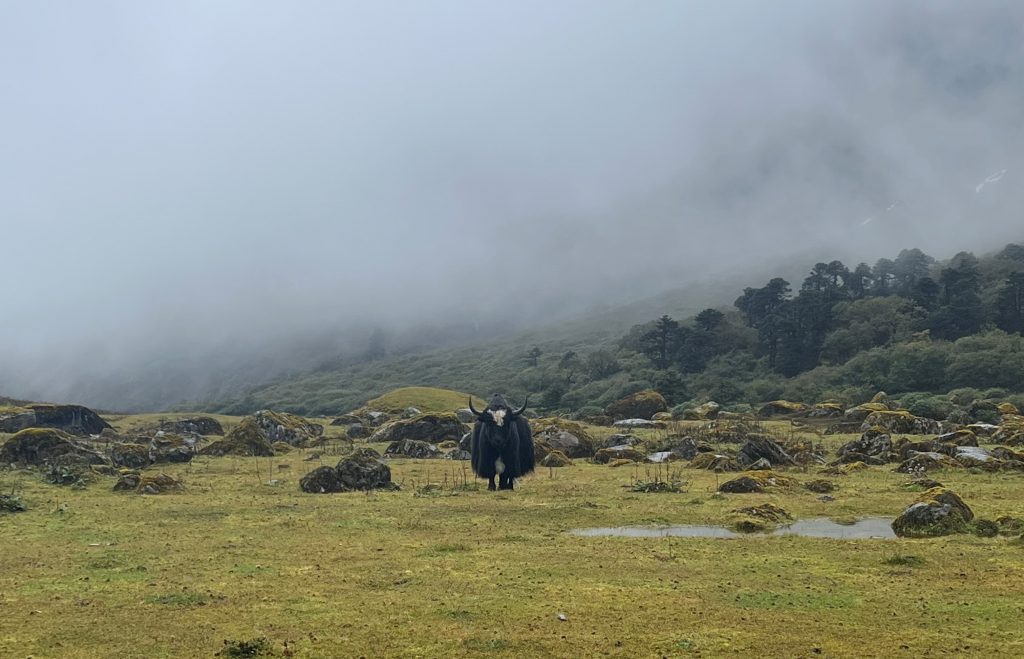 Our eyes opened to the sound of rain outside. This was going to be a long day and the rain made us very lazy, but we braved the rain and set off from Khungma at our usual starting time of 6:30 am. As we walked on, the rain stopped, but the weather was horrible. It was cloudy and when we got to the viewpoint, an hour's walk from Khungma, we did not see much. But, despite the poor weather, we took pictures and videos of the foggy mountain and started off again.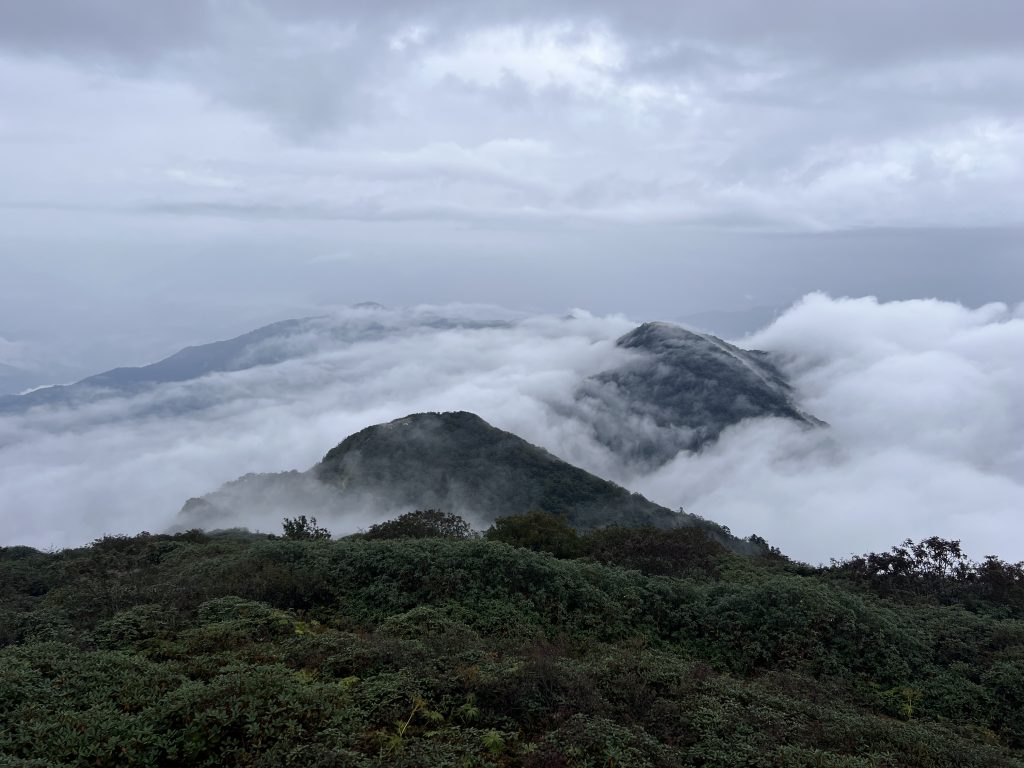 We reached Sanopokhari, 90 minutes walk from the viewpoint. I looked back and did not see my friends. I was a bit scared as I also could not see Sanopokhari. But as the clouds cleared, there was a small black pond in front of me. It felt like a large hole. It took me some time to figure out that it was a pond and not a hole.
After the rest of the group arrived, we moved towards Thulo Danda (or Siptonla Pass) where we would be having lunch. Thulo Danda is at around 4,200 metres and has a small tea house for trekkers to stop for lunch.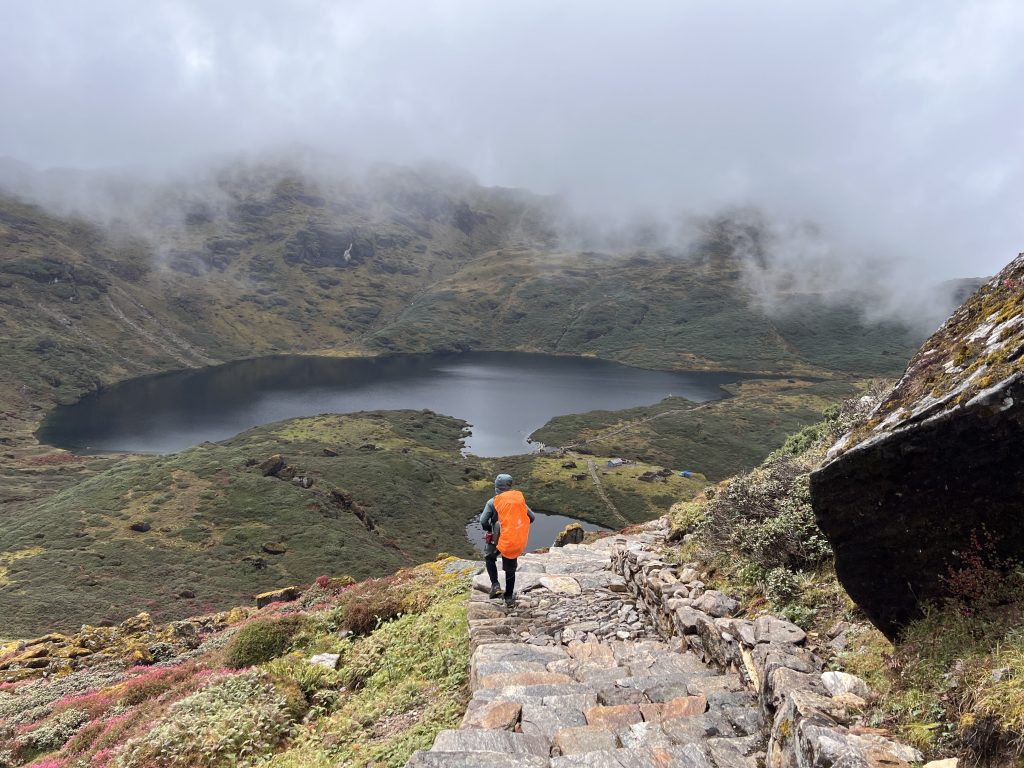 There, we met Dawa Sherpa, a guide who takes people to Shivadhara, a pilgrim sight in the Makalu-Barun region. After lunch, we set off towards Yangle Kharka and walked past Thulopokhari, which is reportedly four times the size of Sanopokhari. Surrounding Thulopokhari are huge mountains where locals come to collect yarsaghuma.
From there, we crossed another pass and descended around 1,000 metres and reached Dobate at 2 pm. The place has only one tea house, but it was closed, so we moved on and reached Jatey Odaar crossing another swollen river. Crossing a risky landslide area along the banks of the Barun river, we crossed it near Phemthang and reached Yangle Kharka at 5 pm. Once again, our clothes were damp due to the rain and after drying them and eating our dinner, we went to bed around 7:30 pm.
Day 4: Yangle Kharka – Shivadhara – Langmaale Kharka)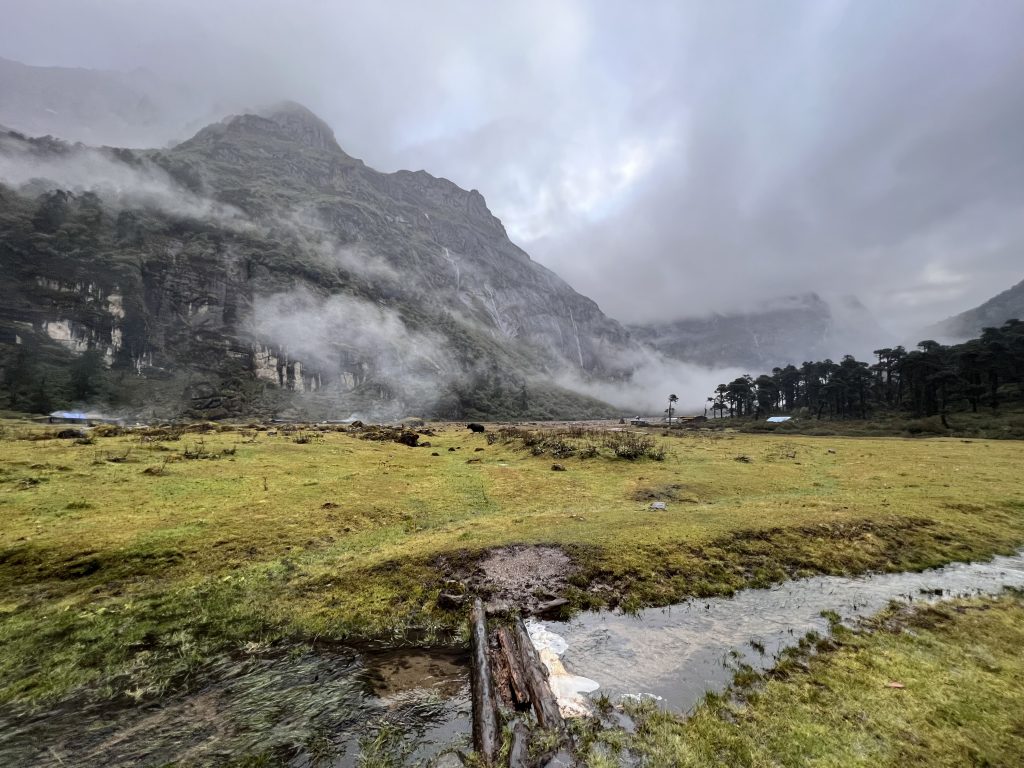 Our initial plan was to reach the Makalu base camp first and then climb to Shivadhara on our way back. But everyone told us that it was better to go to Shivadhara first, and we took their advice. That meant we needed to start earlier than we had been starting. So, after waking up at 5 am, we ate and by 5:30 am, we were out. We soon got to Neha Kharka and leaving our rucksacks at a small tea house there, we set off to climb the nearly 700-metre elevation to get to Shivadhara.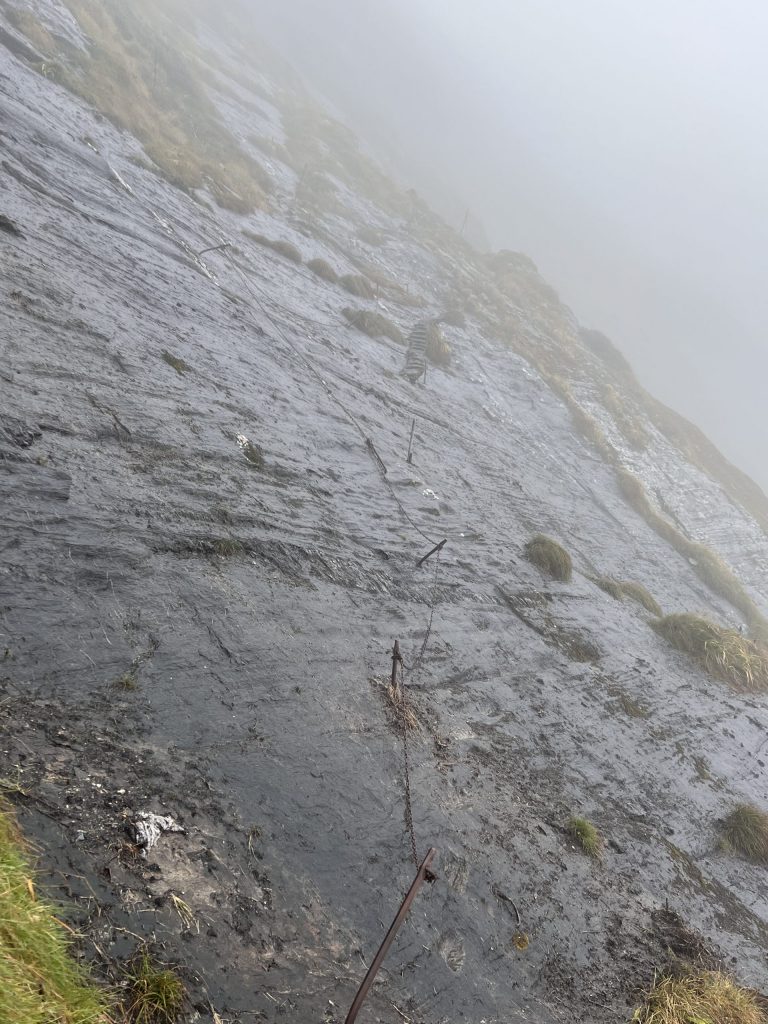 I have been to many places, but this trial to Shivadhara was simply crazy to walk on. Even thinking about it gives me goosebumps. There is one stretch where we have to walk on iron rods bolted on a cliff, known as via ferrata. My heart skipped a beat with every step on the rods. Braving the rods and knowing very well, we would have to cross it while descending, we slowly made our way to Shivadhara.
The weather was not the best, but when it did clear for a brief period, we got to see the grandeur of the Barun valley. I do not know if I will ever be able to forget this place. But, we could not stay long; we had to get to Nekha Kharka, eat and then head to Langmaale Kharka.
As soon as we left, a friend showed signs of altitude sickness. Not wanting to risk anything, we asked him to return to Neha Kharka. From here, it was just the two of us and walking at our own pace, we got to Langmaale Kharka. As we were sitting next to a heater, we were surprised to see our friend, who we had asked to stay at Neha Kharka, walk. Accompanying him was Dawa.
He told was how he had not walked all the way here to give up and after convincing us he could carry on, we had our dinner and went to bed.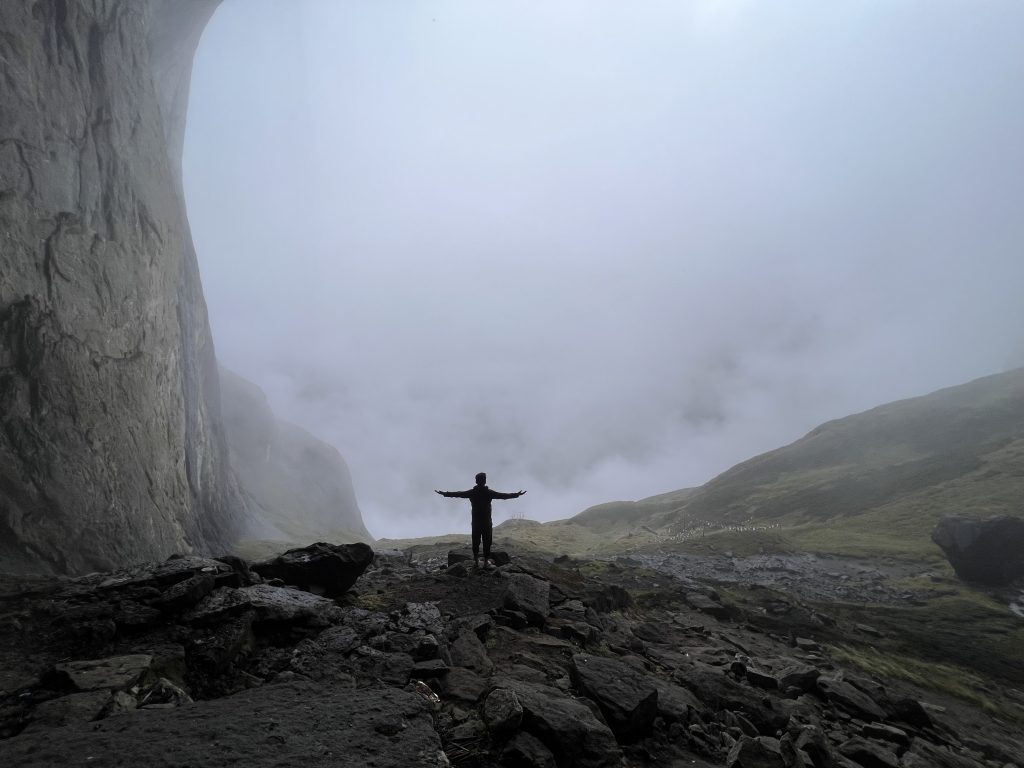 Day 6: Langmale – Makalu base camp (Setopokhari) – Phemathang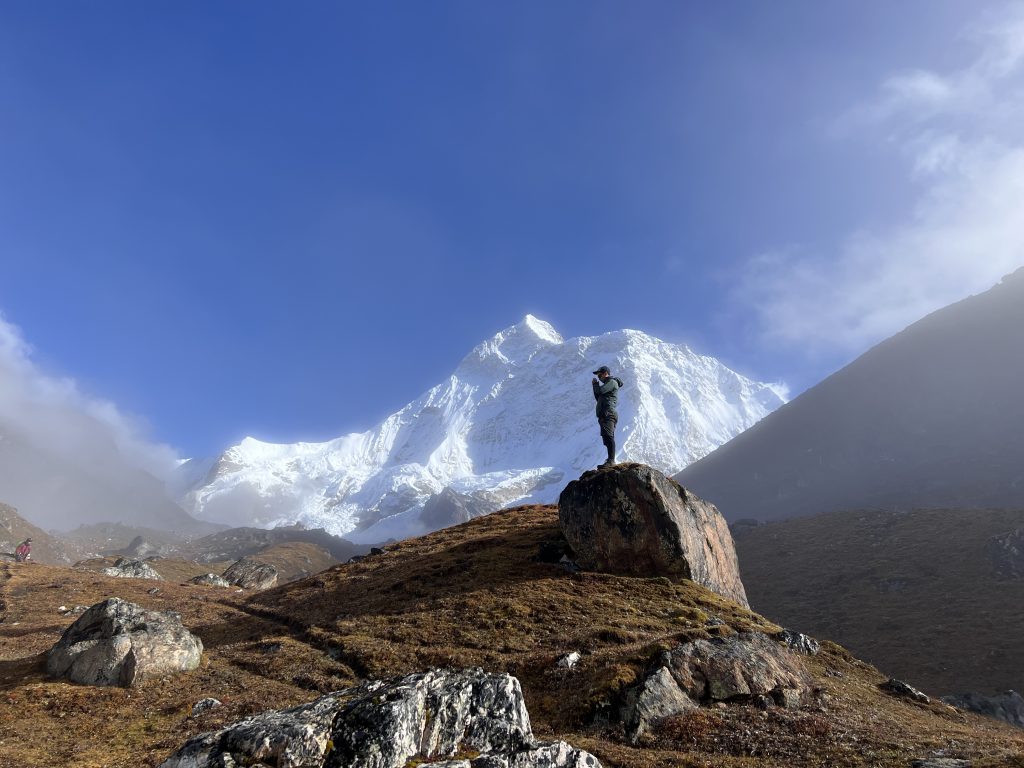 That was the day we'd get to the Makalu base camp, but the day was going to be long and we got up really early and started walking at 4:30 am. As we would be coming back the same way, we left all the unnecessary items and walked towards the Makalu base camp with head torches on our foreheads. As the day broke at dawn, we got to see the misty view of Mount Tutse, also known as Peak Six.
The rain followed us almost every day, but this day, we were blessed with some good weather. By the time we reached the viewpoint in Merak near the Shersong Glacier, the weather cleared up, meaning we could finally see Makalu, the fifth-highest mountain in the world. It was like I saw something supernatural.
But, the Makalu base camp was still far away. We were nearly at 5,000 metres and the altitude was getting to us. Dawa said he had a headache and that was concerning as was the weather which we knew would turn against us anytime.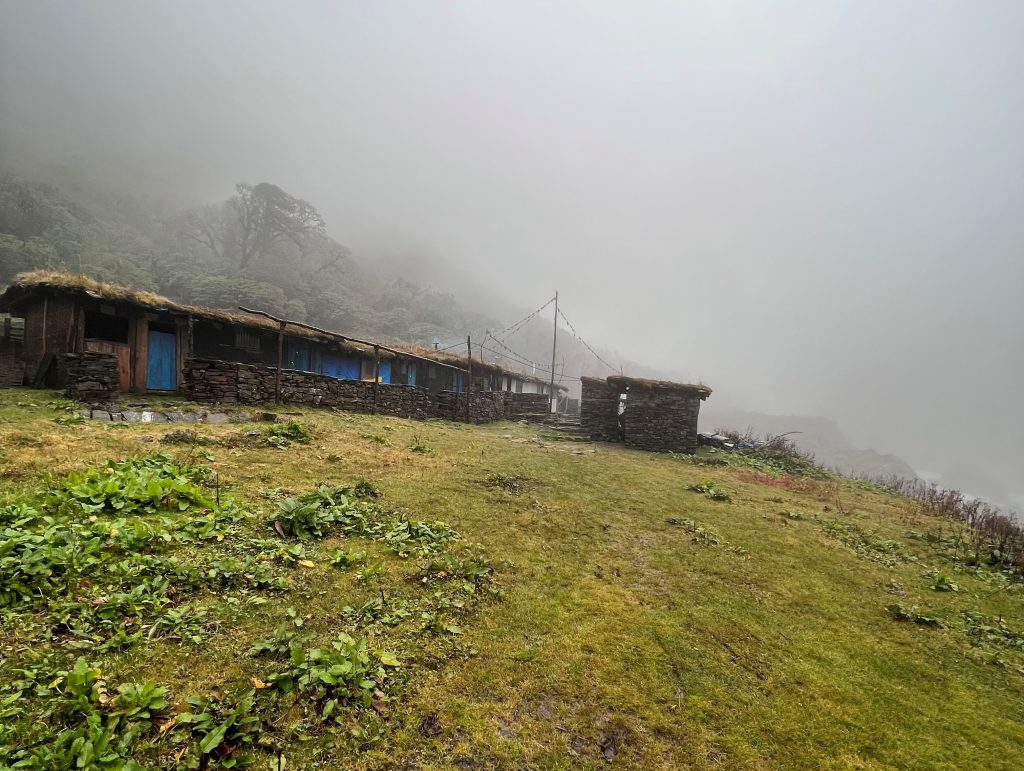 Slowly and steadily, we got to the Makalu base camp, also called Seto Pokhari. We got there at around 9:30 am and Makalu was straight in our faces. I do not have words to describe it, but I will say one thing, you have to get there to experience the grandeur of the pyramid-like mountain that is Makalu.
After nearly an hour at the Makalu base camp, we decided to move as Dawa's headache was getting worse. Ditching the viewpoint, we decided to get back as soon as possible. We reached Langmale before noon and ate and started descending further. Our plan was to get to Phemathang, which was almost 1,200 metres below where we were. It was going to be a long walk down and we knew our knees would be shattered by the end of it. It was rainy and once again we were damp. After a long day, we were at Pemathang where we were going to stay the night.
There, we met a shepherd who told us of a recent bear attack in the area, which added to our worries as we also had to cross swollen rivers on the trail. But, that was tomorrow's worry and not wanting to think about it, we ate and slept.
Day 7: Phemathang – Tashi Gaun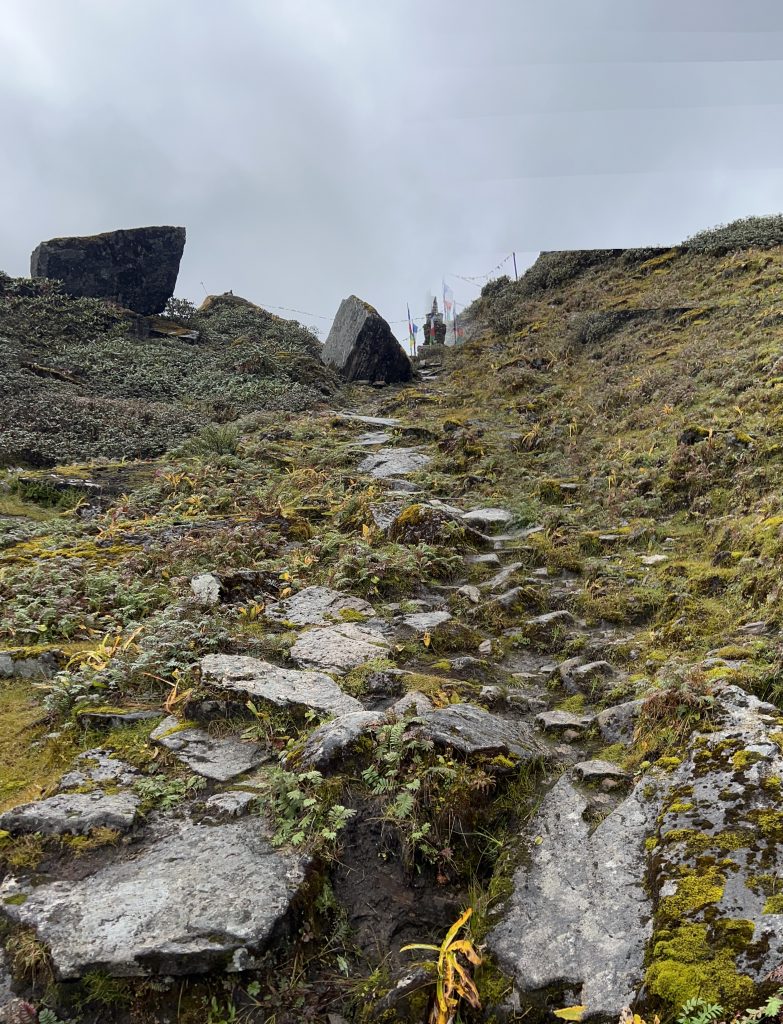 This was the hardest day on the Makalu base camp trail. We had to climb 1,000 metres and then descend 2,000 metres. We were praying that the weather would be kind to us along with the landslide area and the swollen river.
Crossing the river barefoot, we then started our ascent to Sipton Pass. Our plan was to eat Dobate for lunch, but the only place there was closed, which meant we had to walk on to Thulo Danda. Even though we did not get to eat, the view from Dobate was splendid. The green meadows were so pretty that it felt like someone had laid green carpet on the hill. Complementing this were many waterfalls coming from high above.
We got to Thulo Danda around noon. The first thing we did there was to call our families informing them we had made it to the Makalu base camp. We also ate a warm meal and after resting for a bit descended further. At Sano Pokhari, a friend even bought yarsagumba.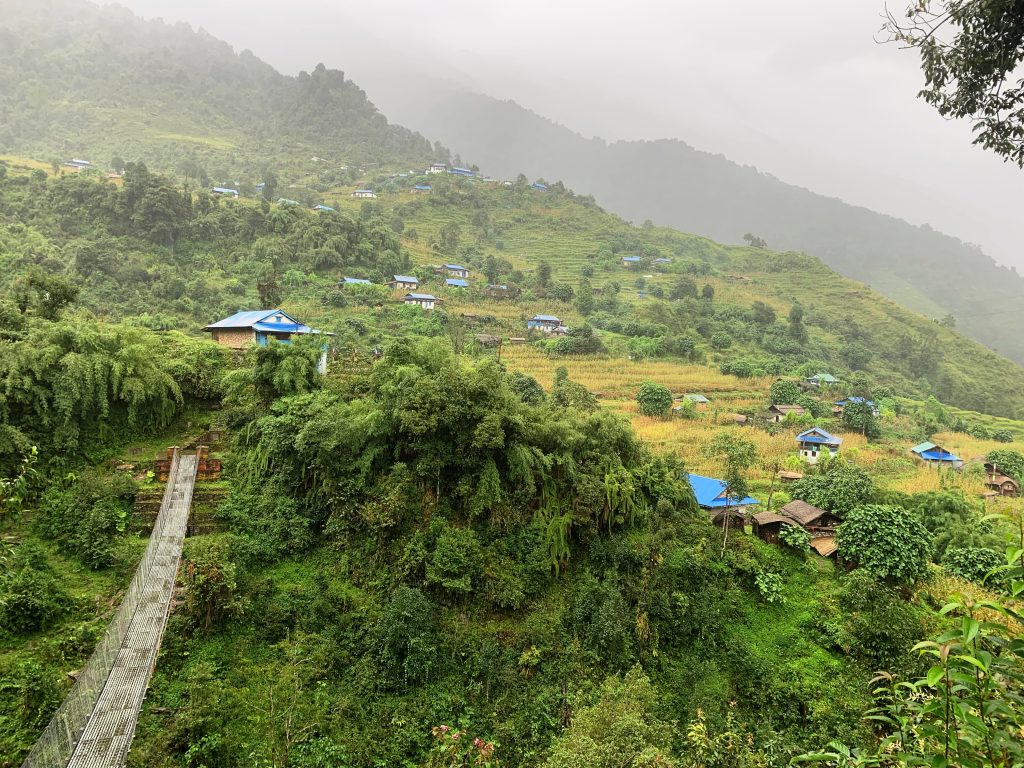 By the time we got to Danda Kharka, it was 4:30 pm. We were tired. Keepa Sherpa, the same lodge owner, greeted us and wanted us to stay there. But, we wanted to get to Tashi Gaun and slowly made our way down. Keepa's son was quite insistent and wanted us to stay, but disappointing the young boy, we left for Tashi Gaun, which we reached around 5:30 pm. We were exhausted from all the walking.
There we were told how fast we had walked. "You walked like locals," said Tsering. We did not care for that. We were just happy we had made it to both Makalu base camp and Shivadhara and were back safely. Then, we just wanted to get back home and to our families.
Day 8: Tashi Gaun – Num – Khadbari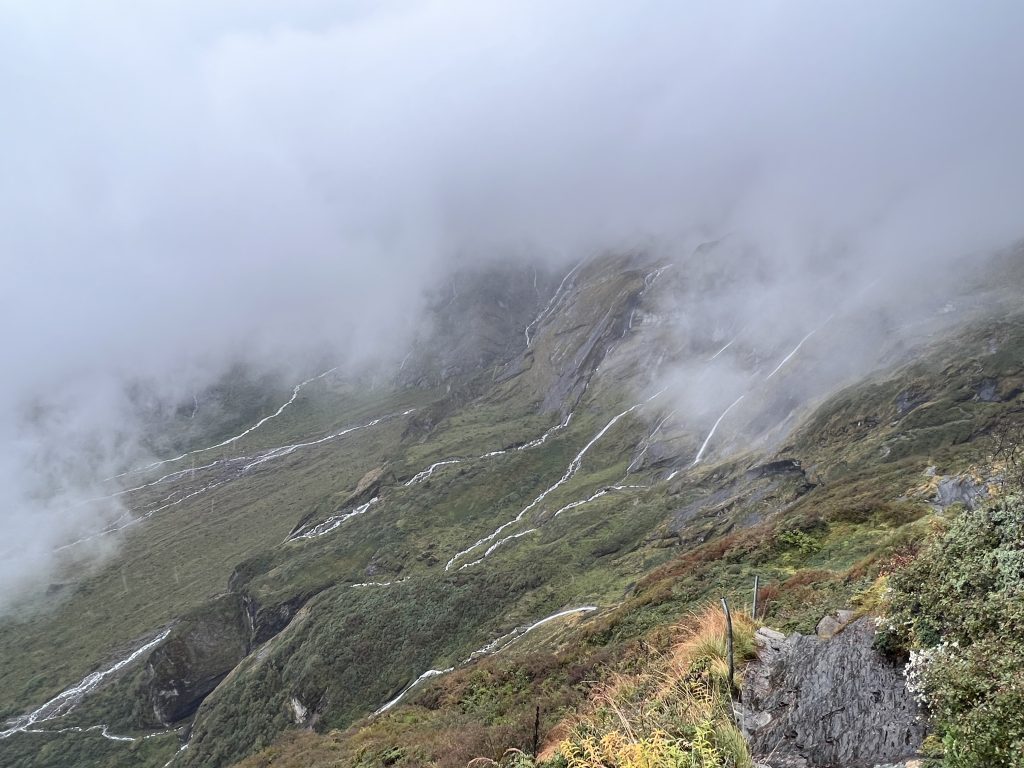 It was the last day of walking and the sun was out. Happy, we started singing as we started walking from Tashi Gaun. Our minds were happy and hearts full. We did not care how much we needed to walk; we just kept going. We reached Seduwa around 9 am. After eating dal-bhat, we set off towards Num, from where we would take an SUV.
The trek to the Makalu base camp and back was almost over. While we had complained about the rain most of the trek, the heat of the sun was unbearable that day. The last SUV from Num leaves at 2 pm so we had to walk very fast. The humidity and the sun exhausted us as we reached Num at 3 pm. We were worried about not getting the ride down to Khandbari, but thankfully, we found a vehicle and reached Khandbari at 7 pm which meant our trek ended. Now, the only thing left was to head back to Kathmandu.
Day 9: Khandbari – Itahari – Kathmandu
We had not taken a shower in over a week, so we got up real early and took a shower before we hopped on the SUV that would take us to Itahari. Crossing Tumlingtar, Leguwaghat, Pakhribas and Hile Bazaar, we crossed Dharan and reached Itaharai at around 1 pm.
From there, we got on an auto rikshaw and headed to the Biratnagar airport, from where we would fly to Kathmandu.
The Makalu base camp trek is one of the best trips I have ever had. Every time I thought about it, it brought a smile to my face. It had not been a day, and I was already missing the place. I missed the mountains, the rivers, the green meadows, and the ponds. I do not know about my friends, but I will remember this trip for years to come.
I know I will travel to other places soon, but this journey to the Makalu base camp, despite being hard, was amazing. You need to go to the mountains to really feel how I felt. So pack your backpacks because the mounts are calling us, and we must go.