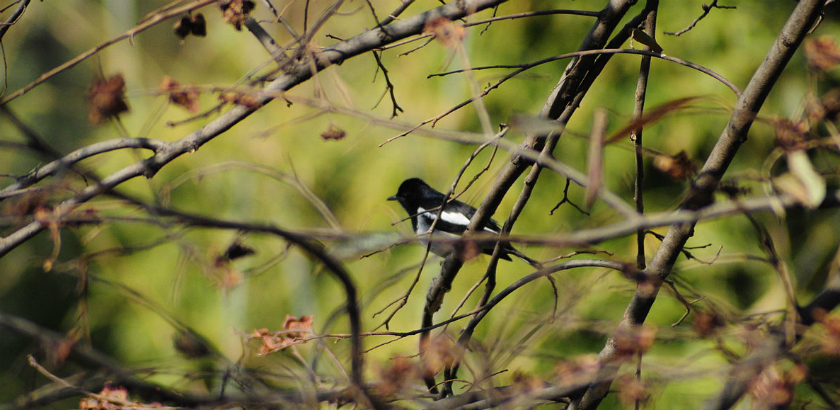 Even if you're not a serious birder, one who goes into forests with binoculars around the neck and a guidebook in hand, the thing you will notice first and foremost when you enter Shivapuri National Park is birds. Some will catch your eye with their brilliant plumage. Others, until they leave their high perches in trees, you will only hear. Within the first few minutes of being inside the park, you will have seen quite a few of the 318 bird species that have been recorded here.
Shivapuri's importance as a bird habitat and its status as one of Kathmandu's best bird-watching sites is reflected in the fact that it is one of two Important Bird Areas (IBAs) of Kathmandu (Phoolchoki is the other). Hari Sharan "Kazi" Nepali, a self-taught Nepali ornithologist, fondly remembers Shivapuri as his "school." It was in this forest that he first began (by playing truant) to study birds. Shivapuri was probably one of the places where Brian Hodgson, the British Resident from 1820-1843, searched for and collected birds to add to his collection.
Ironically, the fact that most species from Hodgson's time and Nepali's boyhood survive in Shivapuri today is due to hunting. Shivapuri's conservation history goes back to the days when it was the private hunting reserve of the ruling elites, especially the Ranas. It also escaped the axe because it was declared a protected area in 1975 under the Shivapuri Watershed Development Board. This step saved an estimated 50 per cent of its forest cover.
Shivapuri is located in a zone between subtropical and temperate climates. This has endowed it with a multitude of habitats within a relatively small area. This explains its extraordinary diversity of birds, 70% of which are residents. It is also an important stop on the migratory route, with some 100 species wintering or resting here before continuing further south. It is home to three restricted-range species: Hoary-throated Barwing, White-throated Tit, and Spiny Babbler, Nepal's only endemic bird. The slopes of Shivapuri, according to ornithologist Carol Inskipp, are where birders are most likely to spot the rather elusive Spiny Babbler.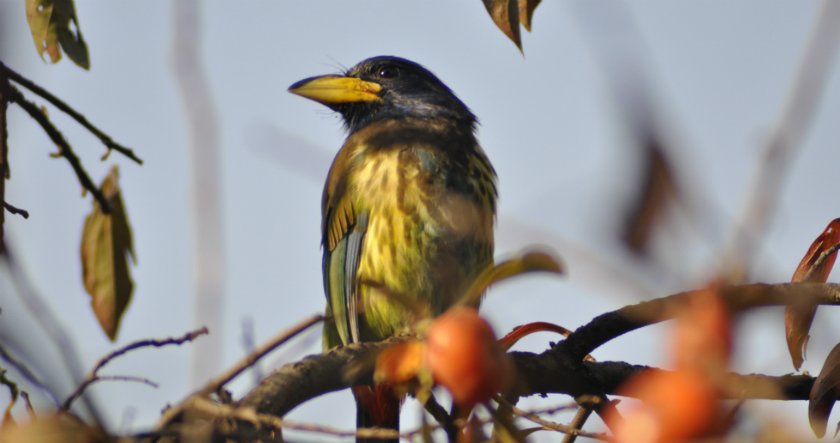 Although the Spiny Babbler is what most birders would like to get their eyes on, Shivapuri delights with other species like the Hill Partridge, Yellow-browed Tit, Great Barbet, Wedge-tailed Green Pigeon, Eurasian Jay, Kalij Pheasant, Red-tailed Minla, Nepal Fulvetta, Asian Paradise-flycatcher, Rufous-bellied Woodpecker, Mountain Scops Owl, Speckled Piculet, Rufous-bellied Niltava, White-throated Needletail, Yellow-bellied Bush Warbler, Northern Goshawk, Maroon-backed Accentor, White-tailed Rubythroat and Grey-winged Blackbird. The Nagi Gompa is a great place to spot eagles and, since they often fly pretty low, to photograph them.
A birding trip to Shivapuri provides an opportunity to bridge the gap that has developed between Kathmanduites and birds. It also raises a question: Why have we city-dwellers banished these creatures of vibrant colors, graceful movements and melodious songs from our midst?
Entrance fee
Nepalis: Rs. 60
SAARC nationals: Rs. 300
Others: Rs. 560
Getting there
There are several entry points into the park, but the nearest and most convenient (because of road access) is the one at Pani Muhan, north of Budhanilakantha. To get to Budhanilakantha, head north (toward Gangalal Hospital) from the Narayan Gopal Chok on the Ring Road. Micro buses ply this route, so getting a ride is not a problem. If you are driving up to the park, turn left at the Budhanilakantha Temple, skirt it clockwise, then head up the steep road. If you are on foot, head straight up the road in front of the temple. It's a 30-minute steep climb to Pani Muhan on foot.
What to take
Carry enough food and water for the hike. There isn't a shop inside the park. You will be able to refill your bottles at Nagi Gompa though. They also have a canteen; but it's not always open. Beware of the monkeys at the monastery. They take the opening of food packets at the monastery as their cue to snatch it away. People have been bitten by monkeys there.
Besides birds
Even if there were no birds and no animals in the park, Shivapuri is still a wilderness. The hike up to its summit is one of the best you can have anywhere in the Valley. It's quite a walk (the peak is nearly three thousand metres high), so give yourself enough time to get there and get back down in daylight. For a more relaxed and less taxing hike, Nagi Gompa is the best option. It's 3 km from Pani Muhan.
You can also go canyoning (www.canyoninginnepal.com), bouldering, rock climbing and mountain biking in the park.
Bird Conservation Nepal (BCN) is the place to go to if you wish to know more about birds and birding in Shivapuri (www.birdlifenepal.org; 01- 4417805 / 4420213).