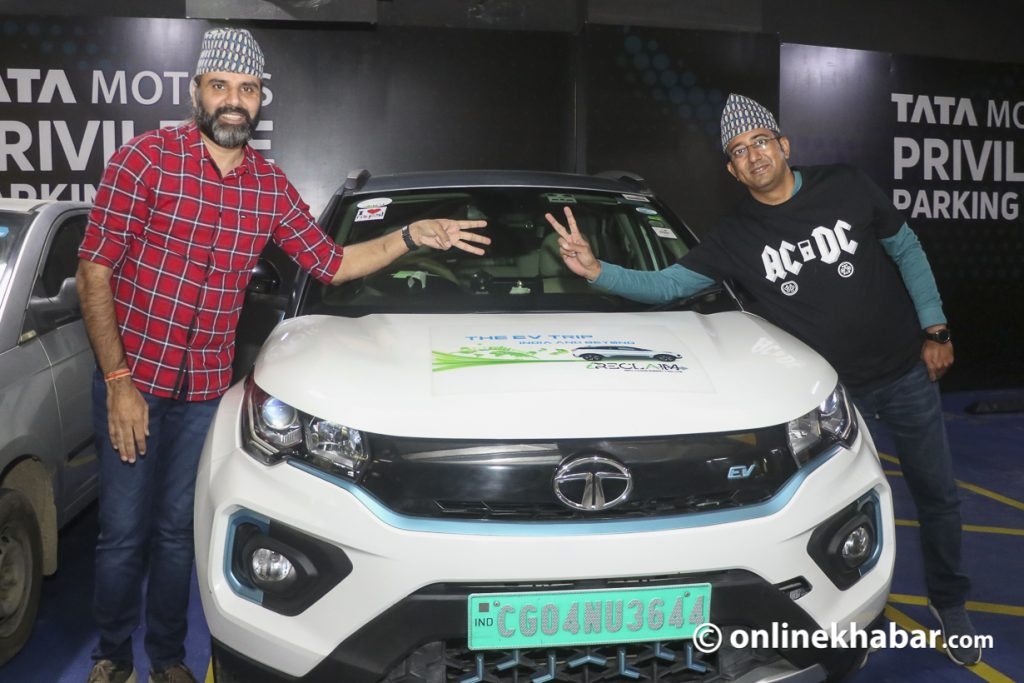 Due to inadequate infrastructure for charging a battery, people tend to think that travelling long distances on an electric vehicle is challenging in Nepal. However, two persons from India—Ashish Arora and Praphulla Kolhe—are proving it wrong by travelling from India to Nepal on an electric vehicle.
They are aiming to travel 25 thousand kilometres, following the India-Nepal-Bhutan-India route. They began their journey on October 28. We want to spread the message that there is a higher possibility of electric vehicles in South Asia, we need to see our future on it, says Arora.
Driving for a cause
A few years back, Arora of Delhi went through a serious throat infection and he had surgery. Afterwards, the doctor advised him to stay in a healthy environment. He went to Canada for some time to overcome his health issues. And as he returned to India, his infection flared up again. Air pollution was its cause.
However, due to Covid 19 and the lockdown, the environment was somewhat pollution free. Nevertheless, after the lockdown, Arora decided to take initiative for creating a pollution-free environment. "We have big hospitals, innovations, doctors and scientists but don't have a healthy environment."
So he decided to take the initiative that he could for a healthy environment and he left his petroleum car and purchased an electric vehicle. Since then, Arora has been encouraging people to use EVs in India. He makes friends with people who use electric vehicles. He also shares and listens to the experience of others who are using EVs. "EV is easy to use in everyday life. Now it can be part of everyone's life." To spread this message, Arora is now in Nepal with his friend Kolhe.
Their journey in an EV
Both of them shared their experience of travelling six thousand kilometres and eight states of India in Tata Nexon Max, an electric car, with Onlinekhabar.
Arora has created a What's app group of people who use EVs. According to Arora, there are also some Nepali in the group. Arora from Delhi and Kolhe of Hyderabad met each other through the What's app group. And having the same intention of spreading the message about pollution-free vehicles, they decided on the tour.
Many people are still doubtful about the EV, which has recently started earning popularity globally. But Arora and Kolhe have tried to break the scepticism about EV by travelling such a long way on it.
They reached Nepal after travelling to Telangana, Maharashtra, Madya Pradesh, Hariyani, Rajasthan, Gujarat, Srinagar and Ladakh. They entered Nepal from Bhairava and stayed in a hotel near Pashupati.
Many might think whether it is possible to travel in an EV for such long hours or not. But Arora and Kolhe have already completed one-third of their planned destination and have arrived in Kathmandu. According to Arora, neither the road nor the charging infrastructure disturbed their tour.
The environment is being created for electric vehicles in South Asia, says Kolhe. Road security, charging stations, technology, battery management and all others were in favour of EVs.
On this tour, they travelled to roads of different structures. Their EV crossed an express highway, semi-pitched and dirt road. But the car did not put them in trouble in any place.
The ground clearance of the car easily helped them to cross dirt roads.
This journey has increased my confidence towards electric vehicles, says Kolhe. The South Asian nation should rapidly start using EVs, the duo says. "Let's increase the number of EVs and develop more charging stations."
---
This story was translated from the original Nepali version and edited for clarity and length.