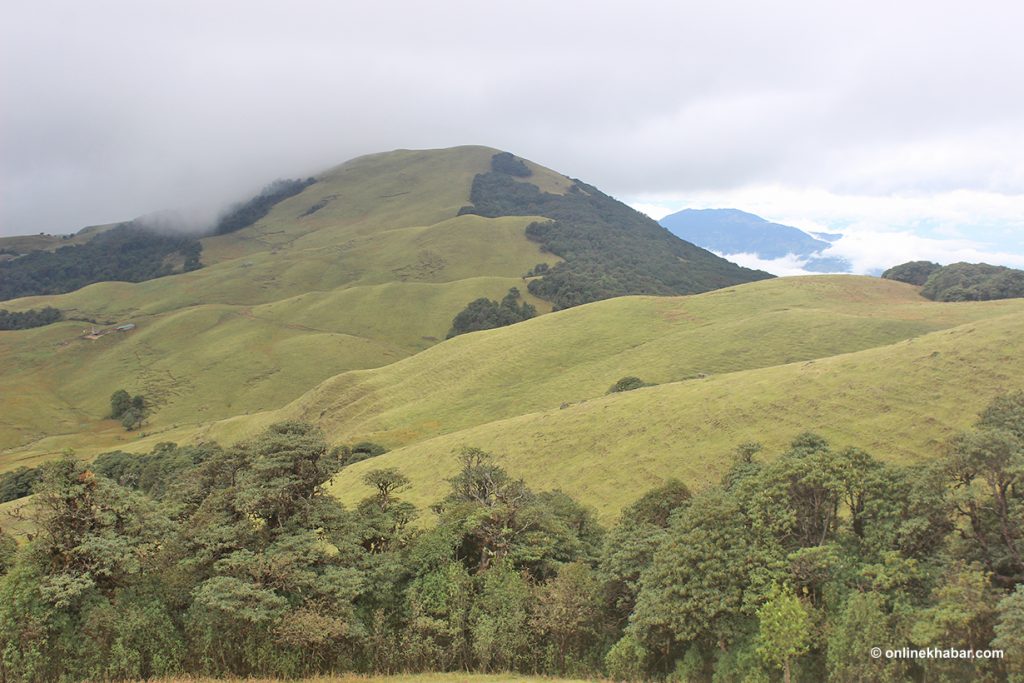 I ended up trekking the Mundhum trail by chance. The route had been on my bucket list for quite some time, but circumstances were not in my favour. When the chance came to trek one of the 10 most beautiful trekking trails in Nepal, I was not going to let it slip.
This trail has a history surrounding it, a certain ritual too. The trail holds a special place in the hearts of Kirats. It has got pretty much everything: a neat trail, an amazing ridgeline and some beautiful ponds and lakes. But, mind it, it is not for the faint-hearted people.
Trekking with the magic healer
I'd heard so much about the Mundhum trail. But, every time I planned, something or the other did not add up as my dream of trekking there remained that – a dream.
In early September, when my friend Nabin Rai asked me to join him on a journey to Salpa Pokhari along the Mundhum trail, I was once again disappointed. He told me how he was accompanying a new shaman from Lamakhu and asked me to join him. But, due to other commitments, I couldn't go.
A week later, Yugsan Kirat called to tell me how great the new shaman was.
"He can cut ginger with his bare hands. A friend has even shot a video of him doing that," Yugsan told me.
That was it. I had to go see this for myself. I asked if Yugsan wanted to do and when he agreed, I set off to get lost in the Mundhum trail.
The journey started on September 16. I and singer and composer Dipesh, Nabin and Karna would join the shaman up to the pond. Yugsan sadly couldn't join us as his daughter fell ill.
When we reached Lamakhu, we were told around 30 people had already started the hike up with the new shaman, Chandra Kumar Rai. After a brief rest, we too set off to go to Salpa and Silichung.
We were hiking up a trail from the below Sapsudhap. The forest trail was quite amazing but just as we started the hike up, it started to rain. As Sapsu temple got closer, the rain started to pour down. We tried to take shelter under a tree, but my 'high-quality shoes' slipped and I fell down.
The difficult trail
I tried to grab a bush, but the weak shrubs couldn't hold on to my weight as I fell quite badly. I was hurt but I persevered and met Nabin and Karna at a rest stop near Sapsu temple.
It was still raining and we were worried if the rain would subside. Usually, the rain in the mountains doesn't stop, but it did. And with that, we set off climbing.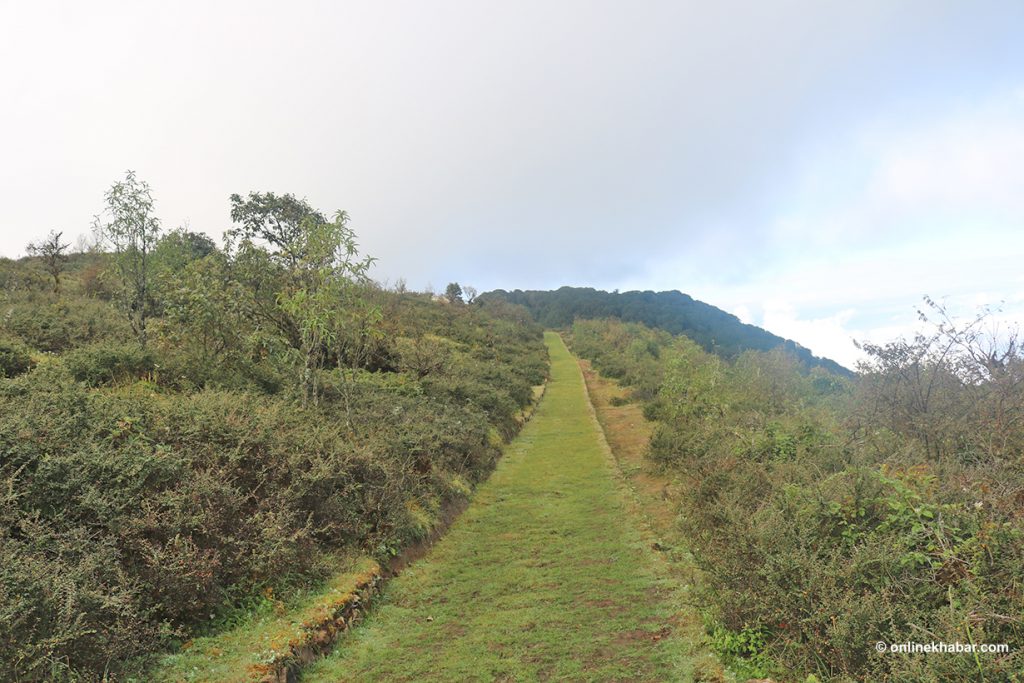 After walking downhill for a short period, we reached a cave. We felt cold and Nabin set up a small fire in the cave. We ate some baked corn and some local liquor we'd carried with us. We were tired so we kept quiet, ate drank and wondered when we would reach our destination.
The Mundhum trail starts on the border of Khotang and Bhojpur districts in Province 1 from Chakhewa Bhanjyang. But, we didn't start from there, we joined the trail from Dalsinghe, some six kilometres uphill from Chakhewa Bhanjyang.
It was drizzling constantly and the dense fog didn't help us either. But, we didn't stop as the trail kept surprising us with things I personally hadn't seen before. Old Kirat rest points and ponds in the shape of bows and wasofungwa mesmerised us along the way.
It soon became dark, but the moonlight helped us on the mystic Mundhum trail. We stopped to admire the gleaming town of Bhojpur, took a sip of alcohol and smoked a cigarette each and walked on.
As the evening turned into night, we reached Ghodre Deurali, around 2,750 metres above sea level. Milan, who was ahead of us, had arranged a camp for us to stay the night at. We freshened up, changed our clothes and sat by the fire eating dal-bhat.
After deciding who would sleep on the bed and in the sheds, and some fun and games, we called it a night.
When I woke up in the morning, I was once again reminded of my snoring. A while ago, on a trip to Ghandruk, I was judged the king of snoring. And, in the morning, a few people told me how my constant snoring didn't let them sleep.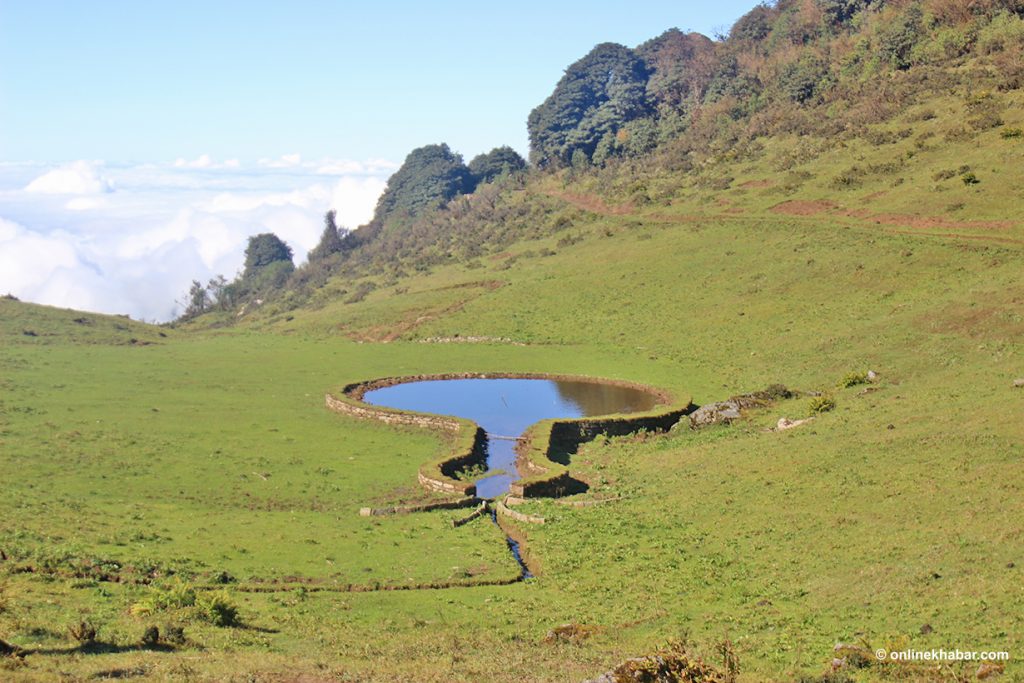 The shaman's team headed up first. We tried to follow them, but we fell behind the team quite early. Those who had left the camp after us also caught up with us and our group got larger.
A few of them had been to Salpa before. Some had been there four times before. When asked why they loved going there, one replied that going to Salpa would improve health and that their wishes would come true.
On the full moon in December, many devotees gather around Salpa Pokhari, a popular point along the Mundhum trail. Shamans from different ethnic groups assemble there as they believe they gain supernatural powers in the place.
After a few hours' walk from Ghodre, where we'd spent the night, we reached Has Pokhari in Maiyung. A group had stelled down to cook food, but we wanted to carry on.
Trying your luck along the labyrinth
Just as we passed a group, they asked us to stop and told us how the trail forward was confusing and that we might get lost. They even offered us food but as our group had already set off ahead, we didn't want to waste time and ventured ahead.
"Go straight, you'll find a pod then head left," an old lady told us.
We climbed up and quickly realised what she meant. There are no trail marks and the chance of getting lost was quite high.
And, that is what happened. We got lost, and then, we had no idea what to do.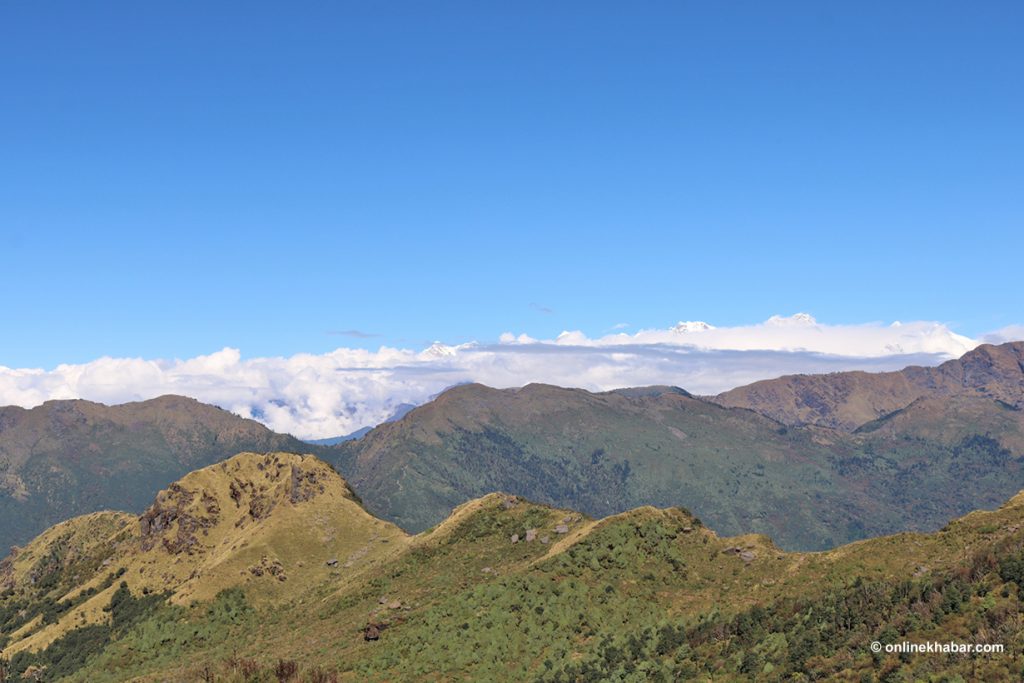 We tried calling people, but there was no phone network. We had no choice but to walk ahead and soon we reached a pond where we got a phone network. We called people and asked where to go. They told us we should head down from the pond from where we'd join the trail.
Maiyung has lots of ponds and there are downhill paths everywhere. We did take one downhill, but we never found the exact Mundhum trail. We saw a shed and some horses nearby and hoped someone would be there. But, the shed was empty.
It started to rain. So, we climbed up again and reached a vantage point from where we saw a trail. We were certain that we'd meet some on the main road and walked down. It was 1:30 pm. We had been lost for three hours.
The terrain of Maiyung is wide. The rolling hills didn't help. We climbed one hill hoping that it would connect to another, but the trail would go straight down which discouraged us a lot.
We were tired and were sitting by a roadside when suddenly we saw a man. When we asked if we were on the correct trail to Salpa, he told us we weren't and asked us to follow him.
We were hungry and it was raining constantly. We could barely move. Knowing we were so far from the Mundum trail was discouraging.
"Elders used to tell me don't discard a warm meal but we did and look where it got it," Nabin said.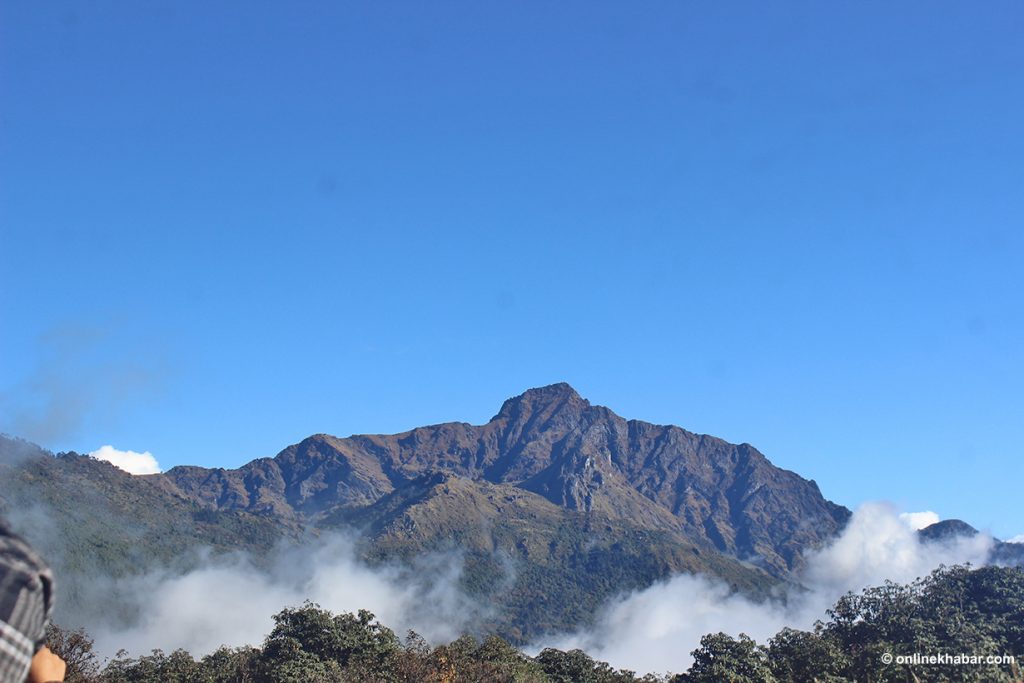 It was funny but sad at the same time. We felt discouraged and that is when we asked the guy to help us find shelter for the night.
Nabin even asked him to go forward and tell our friends to come and get us. And, he did just that as he rushed ahead and came back to help us with others who were waiting for us.
His efforts were invaluable to us. We couldn't have asked for anything better. We were exhausted and finally caught up with our Mundhum trail team.
As soon as we reached the camp, we were given a warm noodle soup which we felt brought us back to life.
But, soon reality struck us. We knew it would rain all day again. We didn't have anything dry to wear. Our legs were shattered and we knew we needed to walk two more days to reach the destination.
I and Dipesh felt we couldn't go on. We told Nabin who wasn't happy about it, but he understood. A few elders from the group told us to carry on but we had made up our minds. The group left for Salpa and we headed back from where we came from.
We reached Home Stay Number One around six in the evening. We were there for around 33 hours and during that time, it rained constantly. Tucked in our blankets, we wondered how the group that went ahead was doing.
But there was nothing we could do. All we could do was hope they were okay. We couldn't make it to Salpa-Silichung. We were disappointed but that said, our journey along the Mundhum trail is something we will never forget.
---
This story was translated from the original Nepali version and edited for clarity and length.