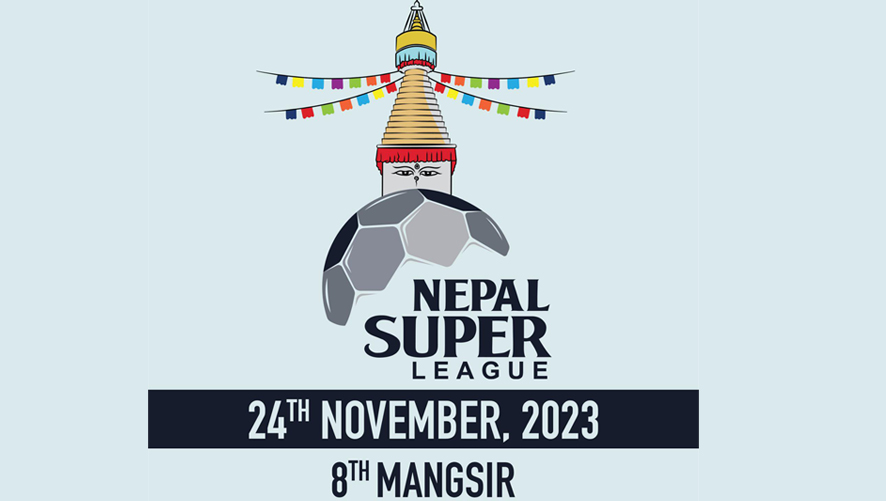 The auction of the Nepal Super League (NSL) was full of new faces.
Due to the ongoing player crisis in Nepali football, NSL, Nepal's only franchise football league has seen a major facelift since its first edition back in 2021.
Nine teams are taking part in this year's edition after Biratnagar City FC pulled out of the tournament. Out of the nine marquee players for the 2023 edition, only three were marquee players in the first edition, highlighting the significant changes that have taken place since then.
Bishal Shrestha, Bikesh Kuthu, and Anjan Bista are the sole marquee players from the inaugural edition. However, they have all switched teams from their 2021 affiliations, with Shrestha now representing FC Chitwan, Kuthu playing for Sporting Ilam FC de Mechi, and Bista joining Jhapa FC.
The newly appointed marquee players include Ananta Tamang, Hishub Thapaliya, Aashish Chaudhary, Arik Bista, Ayush Ghalan, and Deep Karki. They will be representing Lalitpur City FC, Kathmandu Rayzrs, Dhangadhi FC, Butwal Lumbini FC, Pokhara Thunders, and Birgunj United FC, respectively.
Ghalan made a significant impact in the 2021 edition after being discovered through a talent hunt organized by Pokhara Thunders. Thapaliya and Chaudhary, who showcased their skills in the recently concluded A Division League, are set to make their debut in the NSL.
This year's auction featured a total of 179 Nepali players, with 28 falling into Category A, 81 in Category B, and 70 in Category C. Out of this pool, 120 players were selected to join various teams, leaving 59 players unsold for the tournament.
The second edition of the NSL will take place from November 25 onwards.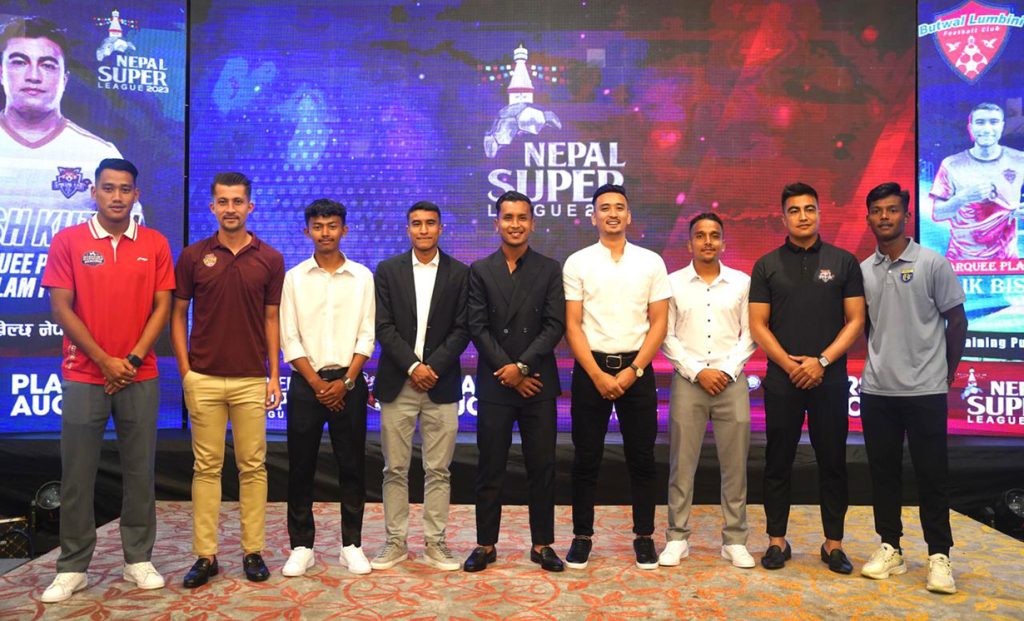 Ilam going with experience
Under the guidance of coach Meghraj KC, the newly formed team Sporting Ilam de Mechi, featuring a roster of seasoned players, is set to make their debut in the NSL. Former champion with Kathmandu Rayzrs, goalkeeper Bikesh Khutu will captain the team.
Ilam will be bolstered by the presence of experienced players like former national team captain Biraj Maharjan, Bharat Khawas, Bimal Pandey, and Navin Lama.
In their pursuit of strengthening the team, Ilam acquired Biraj Maharjan, Ashish Gurung and Navin Lama from the A category. Notably, Lama's inclusion in the team was confirmed during the second round of selections. Among these three players, Gurung is a new addition, while the other two bring with them a wealth of experience.
Jhapa on the attack
Jhapa will likely rely on its attack to try to win the NSL in its debut season. Anjan Bista serves as the marquee player for Jhapa. The team also boasts one of the most formidable lineups in this year's NSL. This team appears to have achieved a balanced composition across midfield, forward, and defence.
Laken Limbu was eagerly sought after by nine teams from the A category before ultimately being acquired by Jhapa. Prashant Laksam Limbu, who earned acclaim as a midfielder during the U19 SAFF Championship category, also found his way to Jhapa via a lucky draw. Defender Tsiring Lama made his way to Jhapa.
Adding to their roster, Jhapa secured goalkeeper Anish Deula from Jawalakhel Youth Club. The team invested Rs 2.05 million to acquire 13 players from the auction. Among them, Jhapa selected 3 from Category A, 6 from Category B, and 4 from Category C.
Youthful Pokhara
With youngster Ayush Ghalan as their marquee player, Pokhara has decided to go with young players to take part in this year's NSL. Coached by Nabin Neupane, Pokhara will be looking to run their opponents out of the park. They made significant strides in the auctions by securing 10 players even before the auction of the remaining 100 players concluded.
Among their acquisitions, Pokhara has added defender Anjal Maharjan, midfielder Suraju Thakuri, and forward Sanjeev Bista.
Lalitpur believes defence wins you titles
'Attack wins you games, defence wins you titles'. Believing in these famous words by Sir Alex Ferguson, Lalitpur City FC have built a team around the best defenders in the country.
The marquee player Ananta Tamang will be alongside defenders Sanish Shrestha and Sesehang Angdembe. Dinesh Henjan will lead the line for Lalitpur who will rely on their defence to take them to the championship.
Birgunj's mixed bag
Birgunj United is also debuting in the NSL this season and chose goalkeeper Deep Karki as their marquee player. The team has a young and talented midfield which will have Subas Gurung and Sudip Gurung. Forward Sunil Khadka will be tasked with scoring goals for the team along with a bunch of foreign players who will have to step up for them.
Unlucky Butwal Lumbini FC
Butwal Lumbini FC was the unluckiest team in this year's auction after losing out on players through the lucky draw. They were also forced to acquire two players from Category A in the second round. Nevertheless, the team maintains a balanced composition.
Chitwan balanced approach
Chitwan FC had an indifferent auction. The team will rely on the leadership of Bishal Shreshta who is their marquee player. The team also has a balanced squad with a blend of both young and old players. Tsering Gurung, Simanta Thapa and Ekraj Budhathoki will strengthen the defence, while Utsav Rai will be their workhorse in midfield and Navayug Shrestha will lead the line.
Strong Dhangadhi
In the second edition of the NSL, Dhangadhi FC, led by their young player Ashish Chaudhary as the marquee, presents itself as a well-balanced team. Devendra Tamang, a dependable player for the national team, strengthens their defence. Kritish Ratna Chhunju will want to be a highly reliable asset in the midfield while Tikendra Singh Thapa will be ensuring he keeps a clean sheet.
Changed Kathmandu
Defending champions Kathmandu Rayzrs look completely new for this year's NSL. Hishub Thapaliya will feature as the marquee player for Kathmandu Rayzrs for this year's NSL while goalkeeper Jiyarath Sheikh, who earned recognition as the best in the U-19 category, will also be a part of the Kathmandu squad.
The defence is likely to be led by Anjan Rai while their midfield will be controlled by Dipesh Gurung and Prashant Awasthi. With former captain Bikesh Kuthu and star forward Messouke Oloumou missing, the team will try to defend its title with a youthful team.