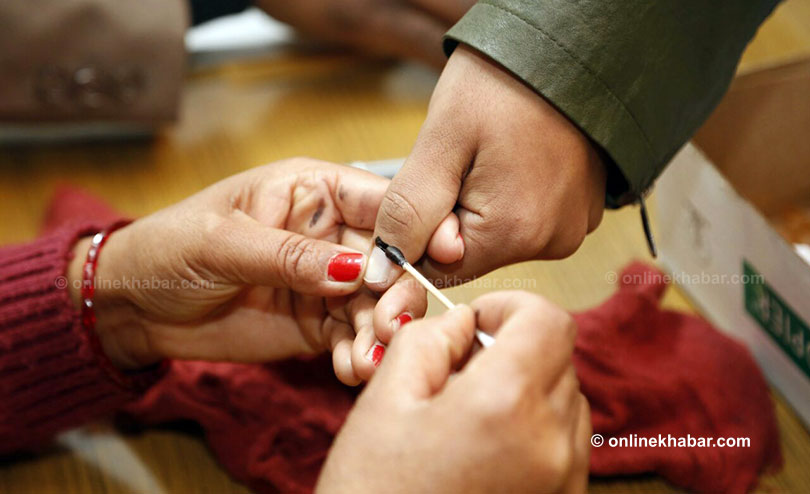 Another round of elections is about to take place in Nepal on November 20, 2022. This time, the elections are meant for choosing the next batch of provincial and federal lawmakers. The turnout in Nepal's elections fluctuates but the number of invalid votes has always been a concern in every election. So, for the November 20 elections, it is every voter's responsibility to make sure that their votes are clear and valid in order to be a part of the democratic process. 
So, to be an informed and responsible citizen, here are a few things you should know and remember while you cast your vote in the November 20 elections.
1. Make sure the ballot paper is not damaged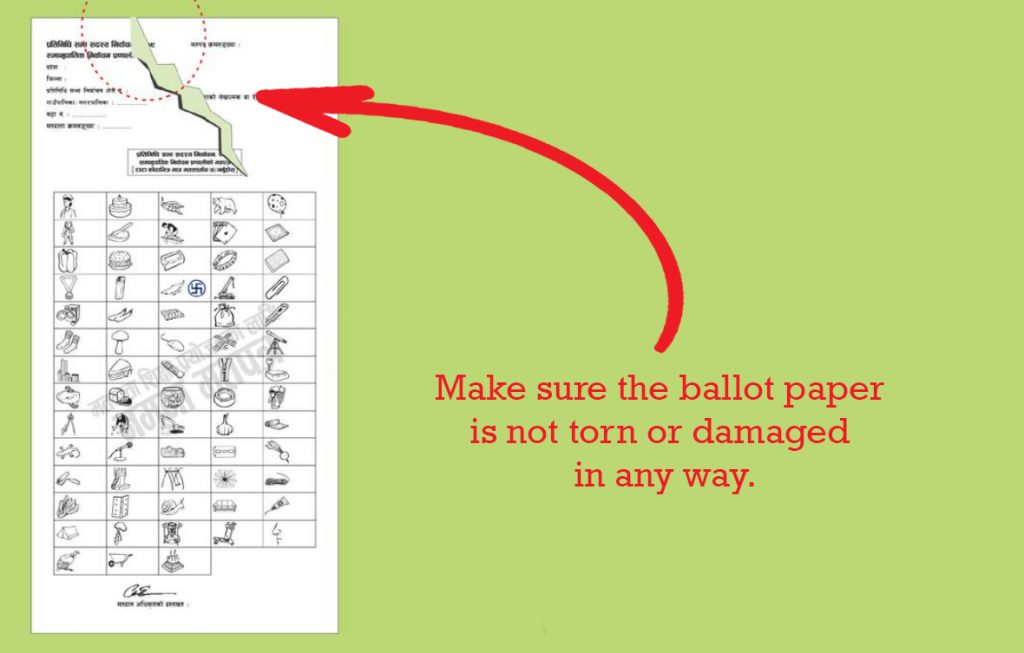 When you reach the voting centre for the November 20 elections and you get cleared for voting by the staff representatives there, you will be handed your ballot paper, one at a time.
As soon as you get the ballot paper, check the ballot paper and make sure that it is in sound condition. Check for damages, tears, or any unclear prints that might jeopardise your votes. Complain to the representatives if you see any problems.
2. Confirm the voting officer's signature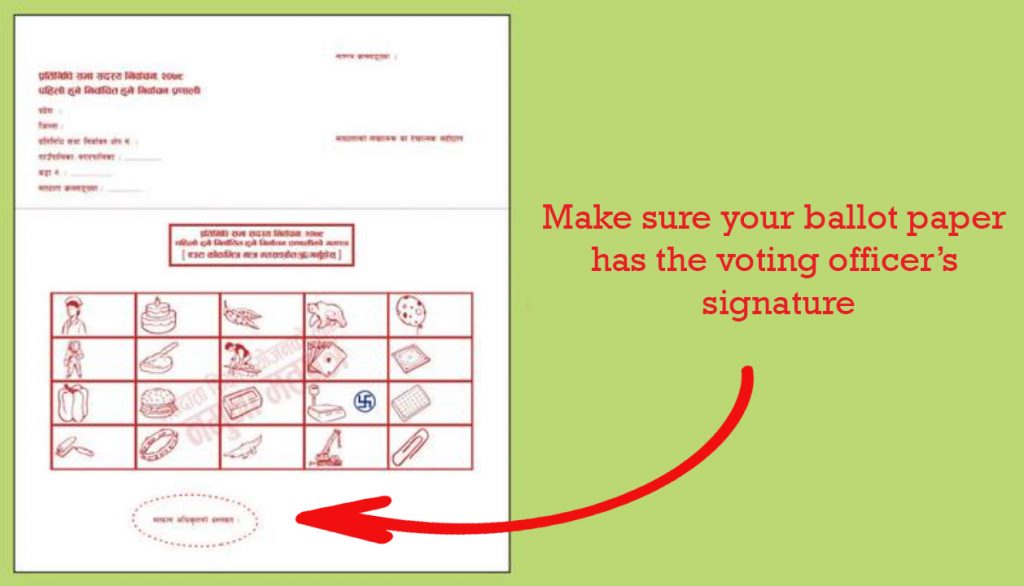 When you enter the booth during the November 20 elections, you will be given a ballot paper to cast your vote. When you receive it make sure that the first thing you do is check whether the paper has the voting officer's signature. If the ballot paper does not have the signature, your vote will be deemed invalid.
In this round of elections, you will have to drop your vote in four ballot boxes. You will have to repeat the process in all four of your ballot papers too. Before you cast your vote, check for the signature and prevent your valuable vote from being invalid.
3. Use the swastika stamp only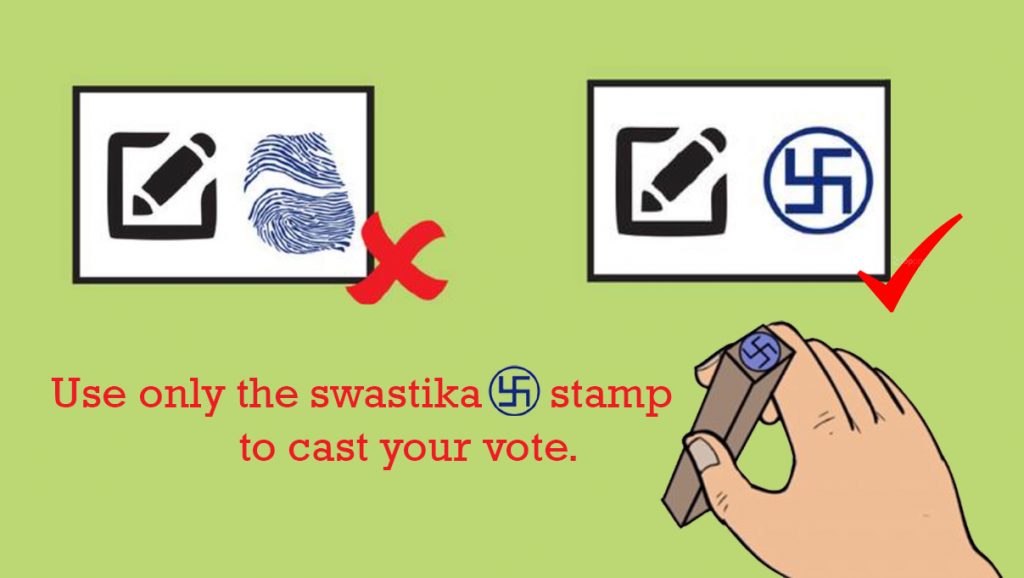 All the polling booths will have a swastika stamp stick and an ink pad, which you can use to indicate your vote during the November 20 elections. This means voters do not have to carry any pen or marker to cast their votes. In fact, voters have to use only the swastika stamp to vote; otherwise, their votes will be considered invalid.
Another major mistake that people tend to make is to cast their vote using their thumbprint, which is also not allowed and will cause your vote to be invalid. So follow this simple code of conduct and make all four of your votes count in the democratic process.
4. Make your stamp clear
One more thing you have to think about while voting during the November 20 elections is to make sure that you do not use too much or too little ink. If you do either of the two, it will result in your mark being unreadable and your vote is invalid.
Also, do not smudge the ink or use the stamp twice on the same spot or try to put your stamp twice on the same box. This will have to be followed in all four ballot papers.
5. Do not vote for two candidates/parties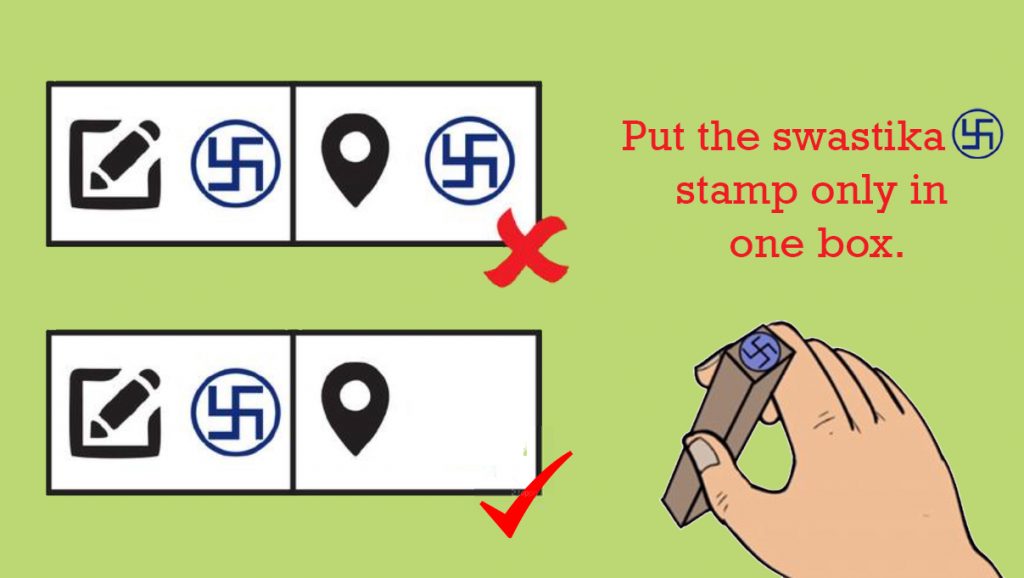 Depending on the ballot paper, you will vote for a candidate (first-past-the-post) or a party (proportional representation). And unlike the local elections, voters are required to vote for only one electoral symbol of your desired candidate or party on one ballot paper.
Do not cast a vote on two boxes on a single ballot paper. If you put two stamps, it will deem your vote invalid. So, make sure that you are only using one vote and that it is clear to read.
6. Stay inside the box
When you cast your vote, another thing you have to consider is to make sure that you indicate your stamp clearly and stay inside the set box while doing that.
If you put your stamp outside the box, you will be turning your valuable vote into invalid. In all four ballot papers, cast only one vote each and make sure to stay inside the box.
This also means that you have to indicate your stamp in a way that does not overlap with another box, horizontally or vertically.
You have only one vote so do not end up voting for two candidates or dividing your votes. Hence, make sure it is one per ballot paper and all stamps are clear to read so that your choice will not be ignored as an invalid vote.
7. Fold the ballot paper in a proper way
After you cast your vote, you have to drop your ballot paper in the ballot box. In doing so, you have to fold your ballot paper as you will not be able to drop it as a whole. Folding is also necessary here as it will help you maintain the secrecy of your vote.
But, how you fold the paper might determine if your vote will be deemed valid or invalid. Do not fold the paper in a way the face of the paper is folded outside and your vote can be seen. Also while folding, make sure that the ink is not smudged or that it makes an imprint on any other symbol on the paper.
One way to do it can be to fold it in a way that the part of the paper where you have placed your stamp lies on the (white) back side of the paper.
It is also a good idea to make sure that the ink has dried; for this, just blow into it so that it dries quicker before you fold the paper. It will save you the trouble of finding ways to fold and not mess up your vote.
8. Make sure to go into all four booths

As mentioned before, you are voting in four ballot papers–two for the House of Representatives and two for the Provincial Assembly. And, once you will only be done with your first ballot paper, you will get the second ballot paper and so on. [Read the step-by-step guide for the voting day here.]
Things to remember
It is compulsory that you carry your government-issued voter's identity card.
Do not carry your phones or any weapons or stationery with you.
Try to avoid mistakes as much as possible. However, since you are doing it four times, even if you make a mistake in any one, the other three votes will at least be counted.