There are more than 55,000 fonts of Latin/Roman alphabets (in which English is written), but there are only a few hundred Devanagari or Nepali fonts. Not many people like typing in Nepali, but the number gets even lower when we think about the actual number of fonts we use while typing Nepali.
But, why is the number of Nepali fonts so low? Does the country lack resources such as skilled human resources? Yes, say veterans of the field.
Fonts 'of Nepal'
Devanagari script was derived and developed from the Bhrama Lipi (script) in India 2,000 years ago, including Tamil, Marathi, Telegu. It flourished here as it shared similarities with the Sanskrit language during the Lichhavi and Malla period. But, it was James Prinsep, an English scholar, archaeologist and philologist for the British East India Company, who developed a simplified, readable and writable Devanagari script in 1837.
Meanwhile, designing fonts in Nepal started around the 1980s. While books were being published in Nepali even before that, the fonts used in the books were mostly imported from India.
Senior artist Ashok Man Singh, who was one of the first font designers of Nepal, says, "Then, there was only Ganesh font that was developed here. Later, I designed and developed the Kamana font for the Kamana magazine that I was a founder of," Singh recalls, "There were no computers then; everything was handwritten and designed manually. I registered the font in 1995 under the Copyright Act at the Registrar's Office."
He has designed a few Roman fonts and six more varieties of the Kamana font. His recent productions include one for the Curriculum Development Centre which has started using his Nepali font for its publications. Singh is teaching typography to the students of graphic communication at Kathmandu University, suggesting hopes for more months in the future.
Along with him, many artists, art students, publication houses, and companies have developed their fonts in Nepal. And if we observe, we can see that the trend is to artists name the font they have designed after themselves or their loved ones.
Ramesh Poudel, artist and journalist at Radio Nepal, transformed his handwriting as a Nepali font and registered it as 'Yagya' font after his father, some two years ago. Veteran artist Singh has also designed the 'Bhanu' font as a homage to Adikavi of Nepal, Bhanu Bhakta Archarya and his Nepali handwritten translation of Ramayan.
Fonts for everyone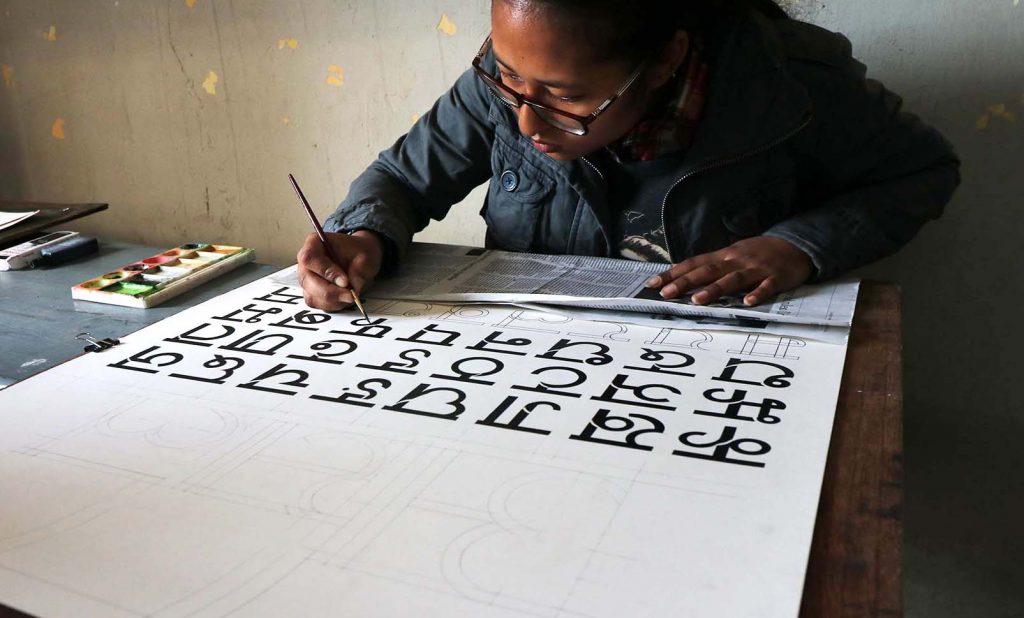 Nepal is quite young in terms of its academic typography tradition. It was in 2004 that Kathmandu University first introduced typography as a subject in the degree programme. Five years later, Sirjana College of Fine Arts also integrated the subject into its course. Lalit Kala Campus, the oldest fine art institution of Nepal, is the third institution that has typography as a course option.
Bijaya Maharjan, the head of the Graphic Communications Department at Sirjana College of Fine Arts, says his students start from basic lines to shapes, from angles to composition, and learn to use them together in developing a font.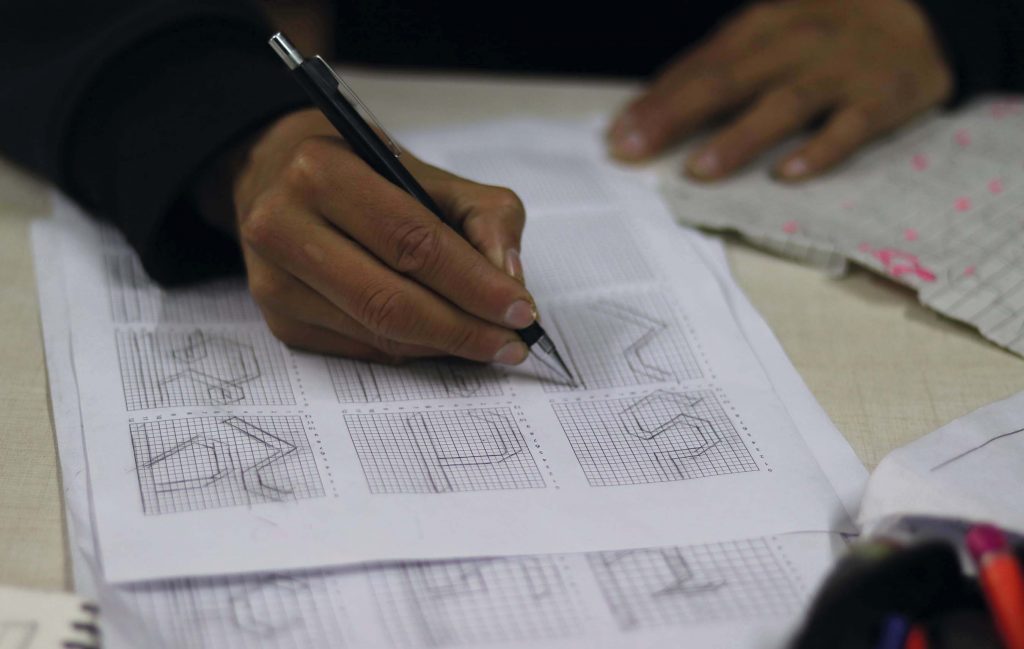 In the next step, they learn to scan and trace the outlines digitally and make all of them on the computer, to compile them all together. And these fonts can be sold as a package, and one can even make a living as a typographer, he adds.
Typography is even important for communications, he says. "It is through the art of typography that we learn to read and write. If it was not there then we would not have been able to communicate or read the ancient texts that hold the irreplaceable knowledge, and not just of the content in the text, but the art of the text itself."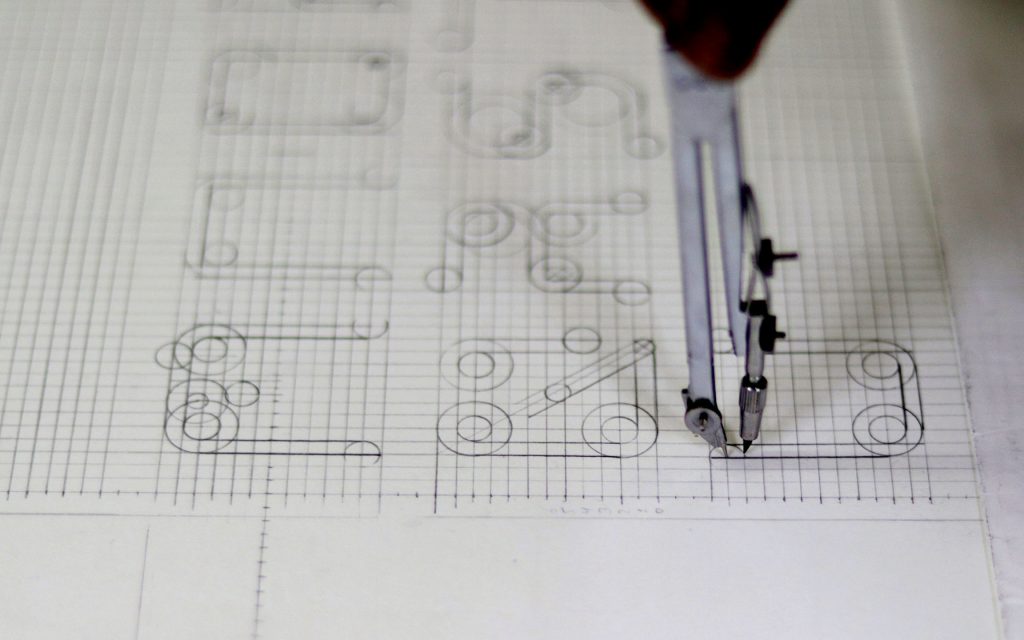 In today's world, typography has become an important aspect of brand image. Companies around the world have been commissioning typographers to develop their corporate fonts. "Designing fonts used by the companies have become as important as developing their logos or their names as the feel of their logo and their name depends on the font they use," he adds.
Likewise, he stresses, typography is also an important aspect of the entertainment industry. "The movie posters, the movie names, logos and their marketing are all a part of typography. It has to correspond to the feel and marketing of the movie. Many typefaces are designed specifically for the movies," he adds.
Nepal's backwardness
Despite the multidimensional significance of typography, much progress has not been achieved yet.
"We lack documentation and resources of the script. Academically, we do not have enough evidence or resources to teach the students. Neither our curriculum, under Tribhuvan and Kathmandu universities, has given typography that much-needed space," Maharjan laments, "So, the students developing new fonts are few and far between."
In comparison, he says, the typography of Roman script is much easier to read and to work with. "We have the detailed history, origins, and composition details of how English script developed. Much research has been conducted regarding them and it forms a good base for art students to learn about typography and its technicalities."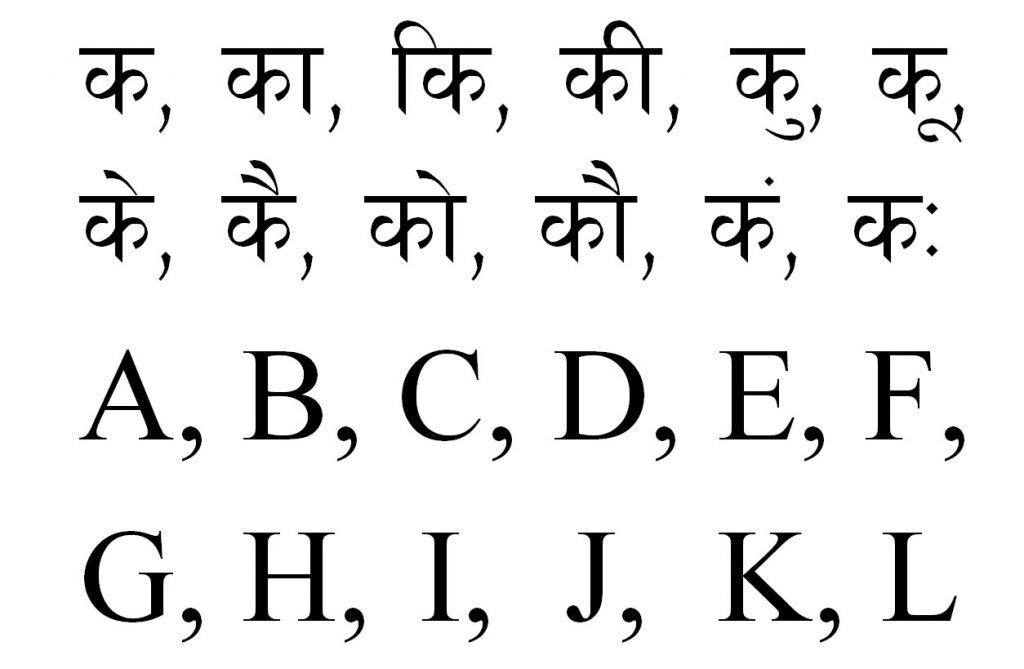 "But, when one designs the 'English' fonts, they only have to design the A, B, C, D… Z and other punctuations are used. But, Nepali fonts do not work like that," says the typographer and Creative Head at Callijatra Ananda K Maharjan, who has developed over 30 Nepali fonts. "For 'Ka', the first consonant sound in Nepali, alone, one has to design the letter as a whole (/ka/, the consonant plus /a/ vowel sound) and as a half (only consonant). Then, there are vowel markers [aakaar, ekaar, ukaar, okaar, aukaar, etc.] and the composite forms of the letters. So, the process gets tedious and long. It is even longer when designing Nepal Bhasa fonts."
Compared to the art world internationally, Nepal gets little to no promotion and encouragement in research or competitions, complains Sirjana College Principal Madan Chitrakar. "Thousands of English fonts can be found online free of cost. This is because the designers get funding and have the awareness that art should be cherished by all. Here, we still lack awareness. Plus, policies and guidelines regarding art registrations still need work."
He complaints, therefore, many of the artists and designers have refrained from registering their designs in Nepal.
Silver linings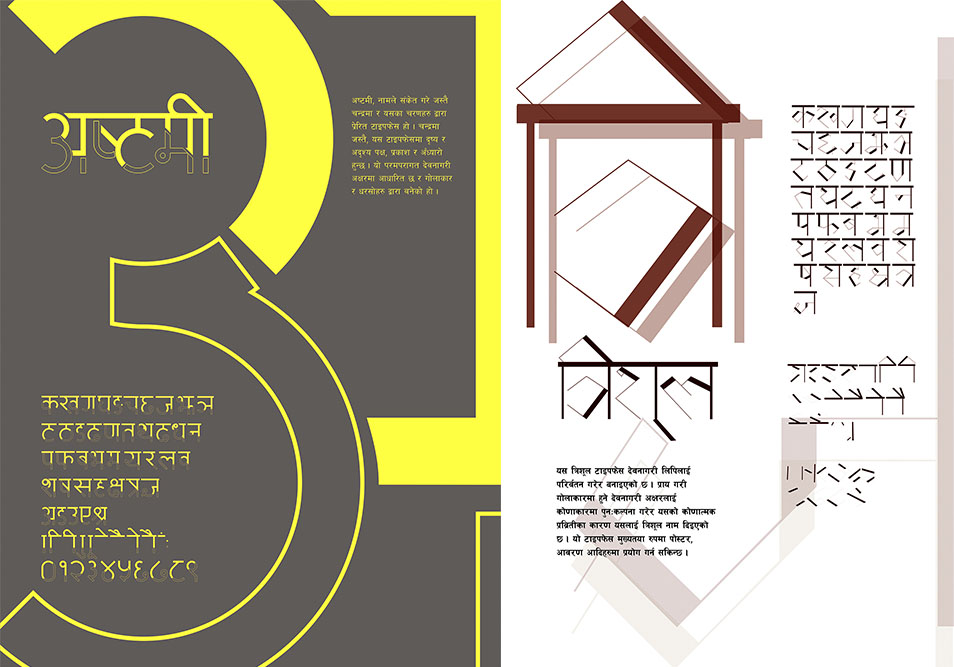 Because of these problems, Bijaya Maharjan adds, "Students do not show much interest in designing Nepali fonts. But, we have surely seen some growth. Compared to the Typography Show 2019, an annual event of his college, the second edition of the series in 2020 saw more students designing typefaces for Nepali."
Hence, artists believe the Nepali typography sector is making progress with the inclusion of typography in the art curriculum of Nepal.
Concerned Bijaya Maharjan has initiated and designed a new curriculum for the Bachelor of Fine Arts in the college. "The course has been the same since the start, no change or updates. So, recently a team sat together and we designed a detailed course to be taught here [in Sirjana]. It has been presented recently and approved but is yet to be implemented."
---
From the archive.