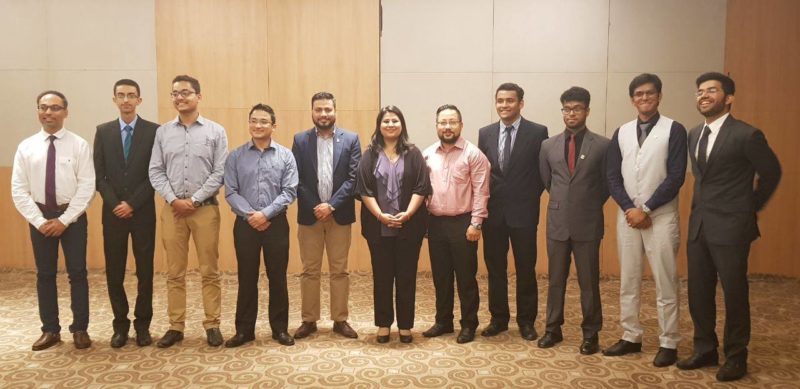 Kathmandu, June 3
As many as 38 Toastmasters from Nepal representing eight clubs made their mark at the Division-level Table Topics and International Speech contests at New Delhi, and the Oration 2018, the District-level conferences and speech contests in Agra of India.
Sandeep Adhikari from Kathmandu Toastmasters Club won the International Speech Contest at the Divison level with Dipesh Chalise from Laxmi Bank Toastmasters Club securing second position at the event.
Niladri Parial from Bodhi Toastmasters Club won the Table Topics contest whereas Rupak Mainali from Himalaya Toastmasters Club secured the third position.
Everest Toastmasters Club, Kathmandu Toastmasters Club, Himalaya Toastmasters Club, Kathmandu College of Management Toastmasters Club, and Shangri-la Toastmasters Club won the Distinguished Ahead of Time Award (DATA), alongside Kathmandu College of Management winning the Rapid 10 Awards that are given to clubs that enroll 10 members within a stipulated time.
Ranjit Acharya, Area Director for Area I2, won the Star Luminous Award. The award is given to one of the most productive Area Directors.
Acharya was elected Division Director for Division A, an important milestone in the Toastmasters movement in Nepal.
Suman Shakya, from Everest Toastmasters Club and Area Director of I3, was chosen Assistant Club Growth Director for District 41, covering Nepal and Bhutan.
"Continuing our proud tradition from Resonance 2017, Nepal has proven that it is a force to contend with in international level speech contests. We are also proud to make our presence felt in leadership roles across the South Asian region, among the Toastmasters fraternity," shared Acharya.
"We are an intellectual and cultural powerhouse, and it is time that we step up and take on larger roles in the Toastmasters fraternity in the region. Our mission is to form a separate District in Nepal by 2020 by promoting the Toastmasters movement all across the country", added Acharya.
After operating in relative isolation for over two decades, Nepal is now an active regional hotspot and a major contributor to the regional and global Toastmasters International movement with 12 clubs and around 500 members that practice public speaking, communication and leadership skills in their regular club meetings every week.