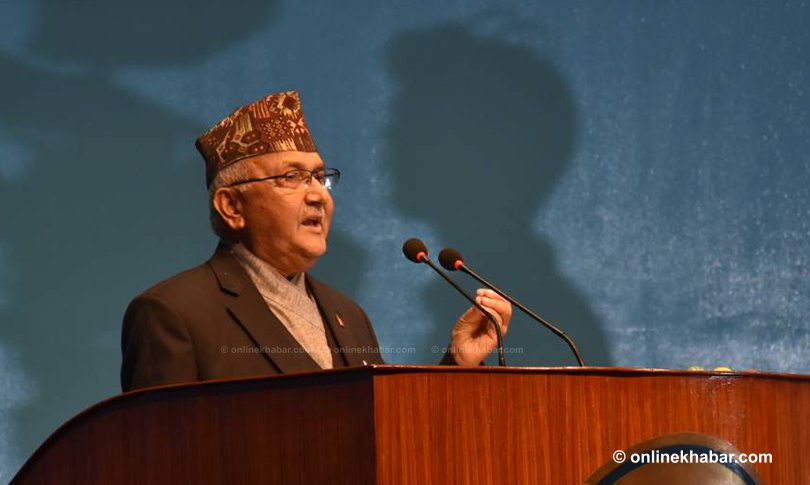 Kathmandu, May 13
Prime Minister KP Sharma Oli on Sunday briefed the Federal Parliament about the state visit of Indian Prime Minister Narendra Modi to Nepal that concluded on Saturday.
Speaking at a meeting of the House of Representatives this morning, Oli said Nepal's engagement in the Ramayan Circuit, laying the foundation stone for Arun III Hydropower Project among others were major achievements of the trip.
Meanwhile, Oli claimed the visit elevated the existing relationships between the two countries into a new height, adding the government did not forget its sovereignty and national interests while hosting the VIP guest.
Likewise, the two countries have agreed to make a fresh agreement about implementation of all pending projects of bilateral cooperation by Nepal's Constitution Day in September, according to him. Multiple bilateral ministerial meetings will be held to ensure its effectiveness, Oli informed.
Likewise, the countries have agreed to form a task for of technicians to explore possibilities of developing railways and waterways.
The achievements have been reflected during talks held between two sides in the course of the visit, a joint comminique issued after the visit and a press meet he hosted with his guest, according to Oli.
Oli said the government wanted to improve the relationships between two countries in all respects though India had imposed a border blockade in 2015. He said the country should make efforts to get rid of problems and promote friendship and cooperation.
Concerns over Province 2 Chief Minister's statement
Meanwhile, during his address, Oli indirectly expressed his objection to a statement of Province 2 Chief Minister Lalbabu Raut as expressed in a public felicitation programme in Janakpur last Friday.
Raut had reportedly told Modi that they would continue the struggle for amendments to the constitution. But, Oli today clarified that the statement was against Nepal government's official policy.