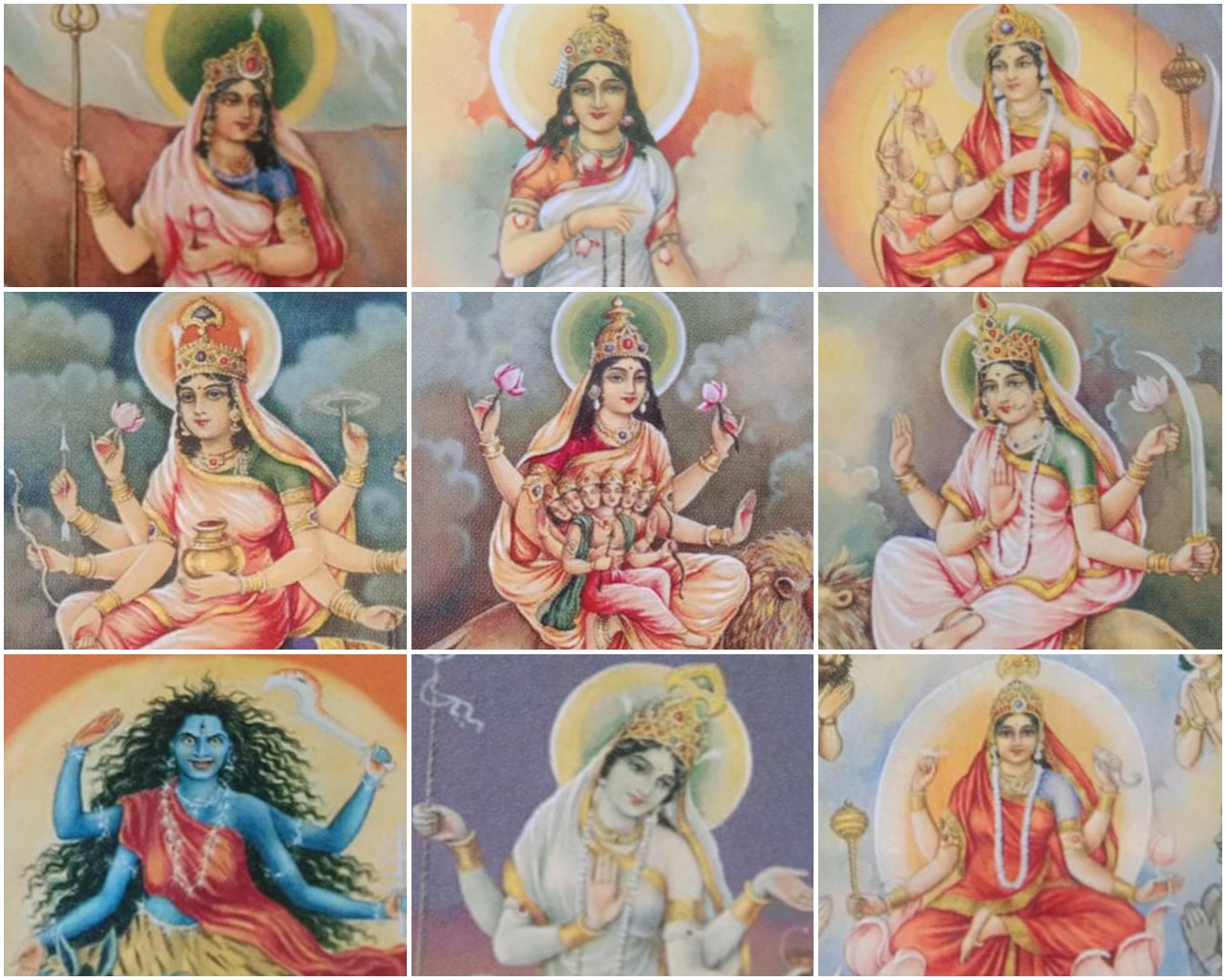 During Dashain, arguably the biggest festival of Nepal, devotees worship Goddess Durga in her nine different forms, collectively called Navadurga.
As the festival begins today for this year, here we describe to you Navadurga, the nine forms of the goddess Durga, and their features.
1. Shailaputri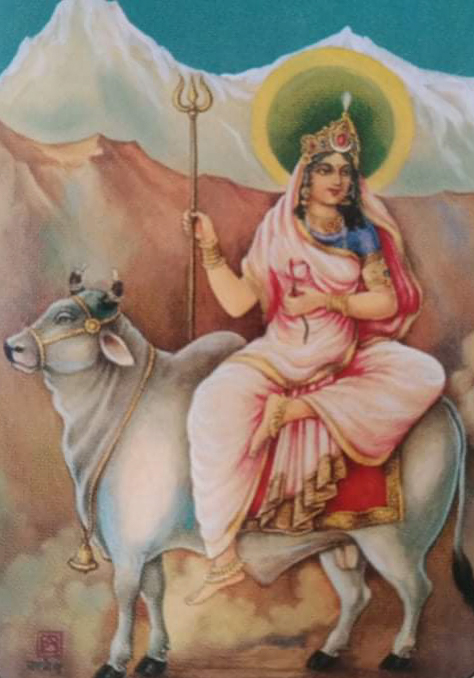 Shailaputri is worshipped on the first day of Navaratri (the first nine days of Dashain), also known as Ghatasthapana. Goddess Shailaputri is portrayed as having a crescent moon on her forehead, holding a lotus in her left hand and a trident in the right, and riding on a bull.
'Shaila' literally translates to mountains and 'Putri' translates to a daughter. Together, Shailaputri literally means the daughter of the mountains (Himalayas), Parbati. It is believed that after Satidevi performed self-immolation, the goddess took birth as the daughter of the Himalayas in the form of Parbati.
From this very day of Ghatasthapana, yogis start their yoga sadhana.
2. Brahmacharini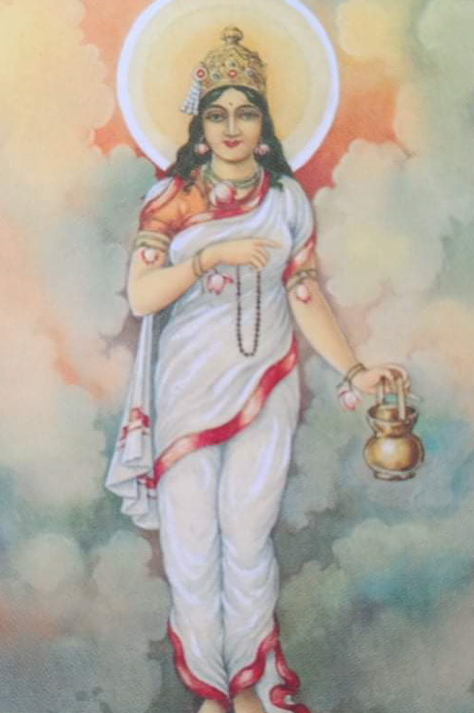 On the second day of Navaratri, Goddess Brahmacharini, the second form of Navadurga, is worshipped. She is depicted as having a japa mala (rosary) in her right hand and a kamandalu (a kind of water pot) in the left.
It is deemed that the goddess got this name because of her ascetic conduct or pursuit. And, it also mentioned that the worship of this goddess increases abstinence, virtues and reclusion.
3. Chandraghanta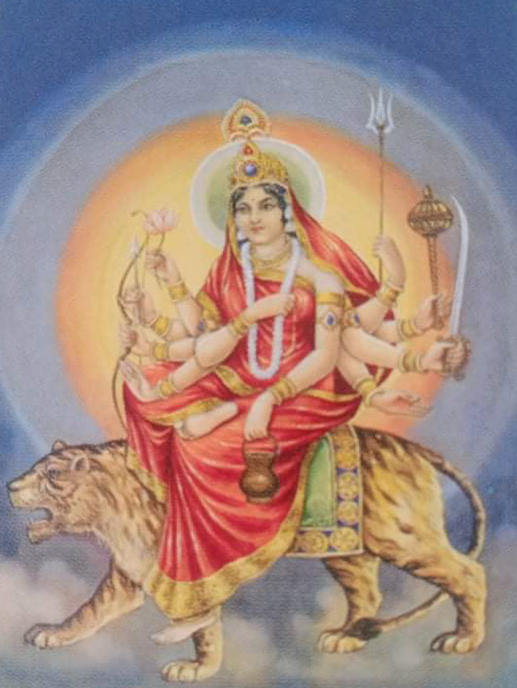 Goddess Chandraghanta is worshipped on the third day of Navaratri. This goddess has 10 hands and wears a half-moon (that looks like a ghanta or a bell) on her forehead. She is depicted holding an arrow, a trident, a sword and a lotus in her hands and mounting on a lion.
It is believed that this goddess defeated the evil powers by the sound of the moon bell on her forehead. Therefore, she is named Chandraghanta.
4. Kushmanda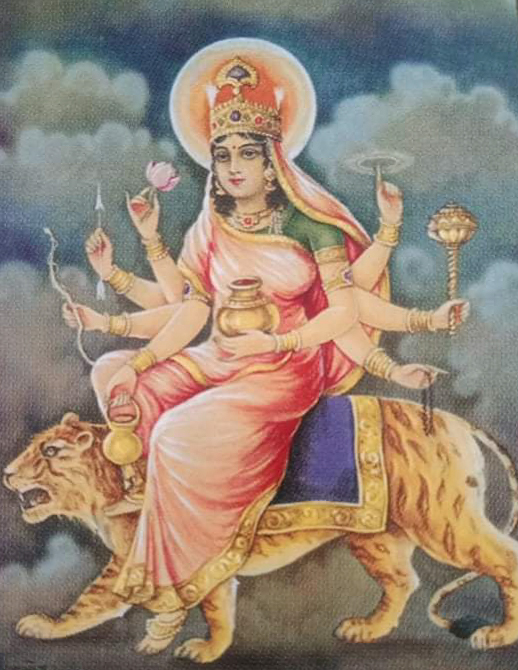 On the fourth day of the Navarati, Goddess Kushmanda is honoured as the fourth form of Navadurga. This goddess is depicted with eight hands, carrying a kamandalu, a bow, an arrow, a lotus, a kalash (pot) full of amrit (nectar), a chakra (wheel), a gada (mace) and a pot filled with blood.
The word 'Kushmanda' means 'kubhindo' or ash gourd. Therefore, this vegetable is offered to this goddess as a sacrifice. This goddess is called Kushmanda as it is believed that she created this universe by her smile.
5. Skandamata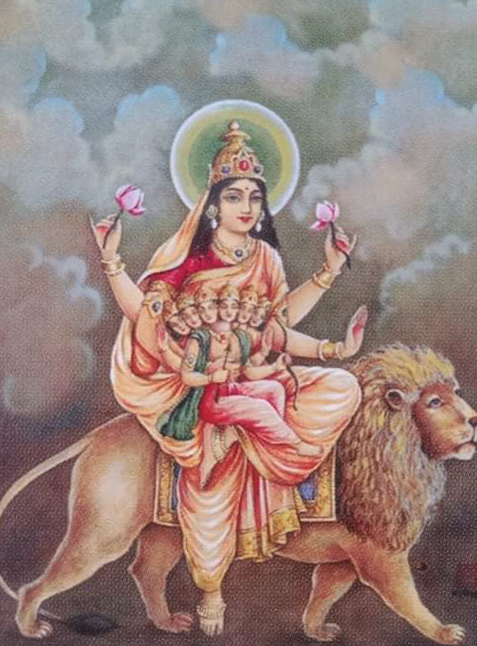 Goddess Skandamata, the fifth among the Navadurga, is worshipped on the fifth day of the Navaratri. The goddess is portrayed as holding the baby Skanda (Kumar) on her lap with her two hands and carrying a lotus flower in the other two hands.
Goddess Skandamata rides on a lion. It is believed that worshipping her leads to pure consciousness.
6. Katyayani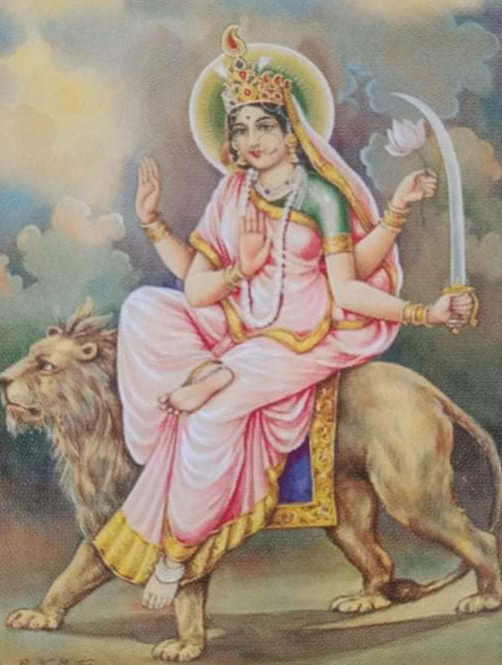 The sixth day of the Navaratri honours Goddess Katyayani. She sits in abhaya and varada mudras (gestures). She is depicted with four hands carrying a lotus flower and a sword (khadga) in her hands.
Goddess Katyayani mounts on a tiger. As believed, Maharshi Katyayani was the first to worship her. Therefore, she was named Katyayani. According to Devi Mahatmya (one of the Hindu Scriptures), it is believed that devotion to and worship of Goddess Katyayani lead to the easy attainment of virtues, prosperity, sensual pleasure, and salvation (dharma-artha-kaama-moksha).
7. Kaalaratri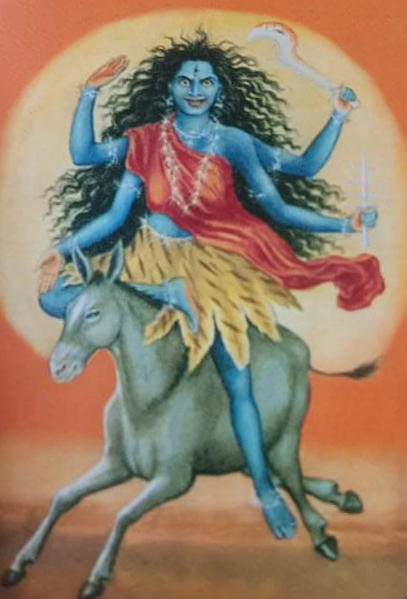 On the seventh night of the Navaratri, Goddess Kaalaratri, the seventh form of Navadurga, is worshipped. This goddess is depicted half-naked with four hands and three eyes in the most ferocious appearance. Unlike other goddesses, Goddess Kaalaratri is worshipped at night.
She has a dark black complexion and looks fiercest. It is believed that she always grants her devotees auspicious results. According to Durgasaptashati, a fierce flame of fire emanates from her nose. She rides on a donkey.
8. Mahagauri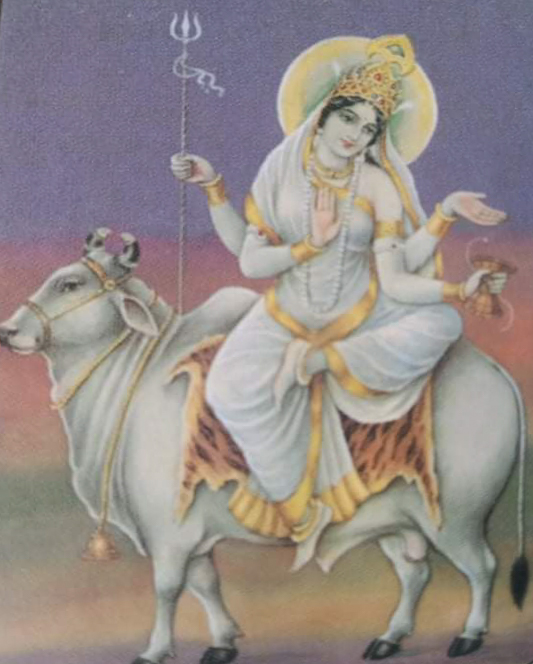 Goddess Mahagauri is worshipped on the eighth day of Navaratri. She is portrayed with four hands, holding a damaru (a two-headed drum that was Shiva's favourite) and a trident in her hands, sitting in abhaya and varada mudras, wearing a white dress and white ornaments. This goddess mounts on a white bull.
Worshipping the seventh goddess among the Navadurga is believed to grant forgiveness to sinners (and purify them) and fulfil all the desires of the devotees.
9. Siddhidhatri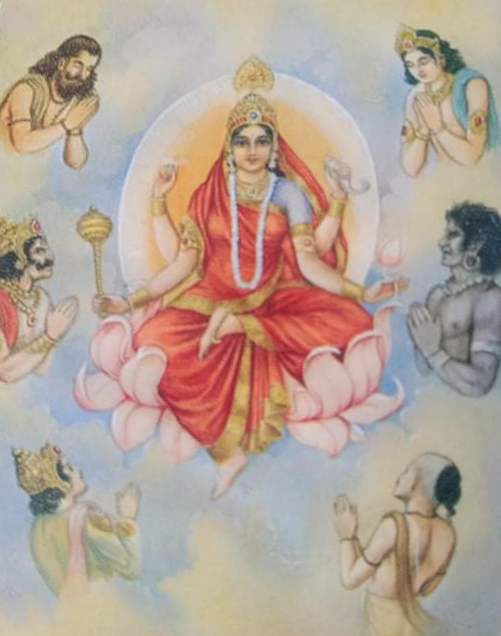 On the ninth/last day of the Navaratri, goddess Siddhidhatri, the last form of Navadurga, is worshipped by humans, asurs (demons), devs (gods), yakshas and gandharvas. She is depicted with four hands, carrying a chakra, a mace, a shankha (conch shell) and a lotus flower. She sits on a lotus and rides on a lion.
It is believed that Goddess Siddhidharti bestows her devotees with all kinds of supernatural powers (siddhi). As per Markandeya Purana, there are eight types of siddhis that include adhima, mahima, garima, laghima, prapti, prakamya, ishitvo and vishitvo.
Variations
Meanwhile, these Navadurgas have different names in different places. For example, in Kathmandu, the following goddesses are also popularly worshipped as Navadurgas:
Brahmayani
Maheshwari
Kaumari
Vaishnavi
Varahi
Indrayani
Mahakali
Mahalaxmi
Tripurasundari
Rudrachanda
Prachanda
Chandogra
Chandanayaka
Chanda
Chandavati
Chandarupa
Atichandika
Ugrachanda
Jaya
Vijaya
Ajita
Aparajita
Jammane
Tammane
Mohini
Aakarshini
Siddhichanda
---
Originally published on October 17, 2020