When Najir Husen left his home in Dumarwana in Bara to come to Kathmandu, he was anxious. He was happy, but the thought of leaving his house to settle in Kathmandu was daunting. He had never left like that. He was alone but he was excited for what was to come. Looking out the bus window, he wondered what Kathmandu would be like, how the people would treat him, and how different would things be.
When he reached Kathmandu, things were a lot different from those of his hometown. Houses were different as were the people. Everything in the capital was fast and he would often find himself at a pedestrian bridge looking at the city where he had come to fulfil his dreams.
Four years on, things have drastically changed for the actor. In a short span, he has made a name for himself. The same pedestrian bridge he would spend time to wonder is home to his movie posters now. His face is on magazines and newspapers as the young actor has a fan following like no other.
But, he has not been an overnight success. He has worked hard to get where he has. The boy from the small town of Bara had no family member in the industry who would give him his big break. All he had was zeal and determination to do what he loved to do, act.
Sacrifice
Things would have been different had he listened to his family. His mother, who worked at a health post in Bara, wanted him to be a health assistant. His sister wanted him to become a police officer. But, Husen had different plans. He wanted to do things his way and disappointed his family as he started acting.
As he was going through phases in the acting industry, his relation with his family started to get worse. While he was struggling to make it in the movie scene, his mother passed away. His sisters stopped talking to him. He was alone.
He made a name for himself after the movie Hostel Returns. He was lauded for his acting. It was natural, raw and relatable. The movie was such a success that he even received a call from one of his sisters.
"We watched your movie. You've done really well in it. We are proud of you," she said.
Listening to that, Husen was over the moon as tears of happiness rolled out from his eyes.
Childhood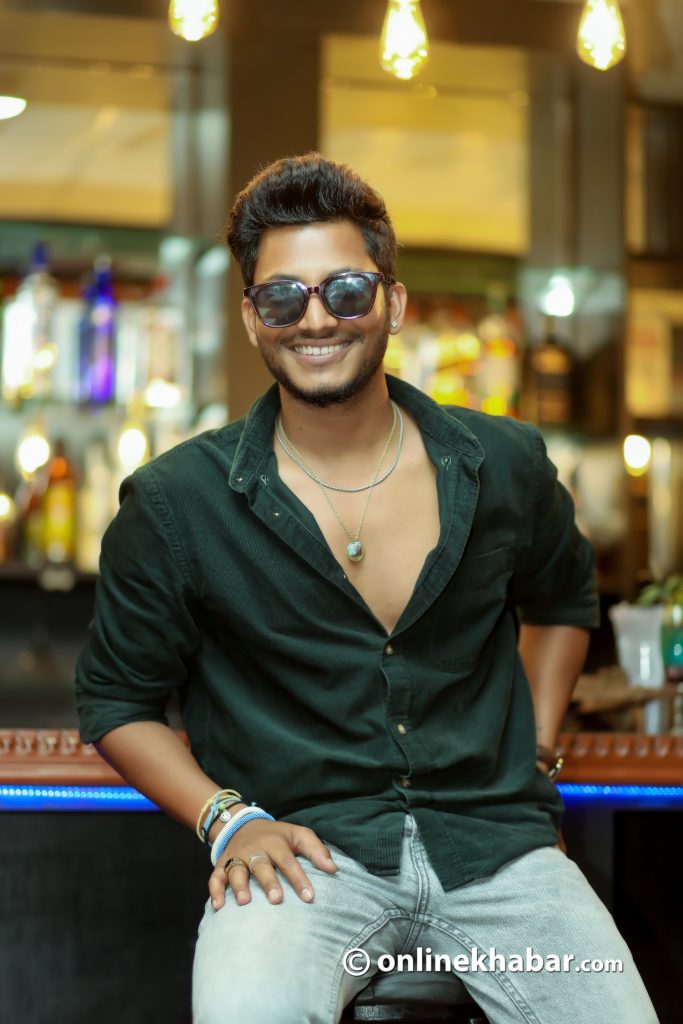 He grew up in a multicultural neighbourhood where people from all communities lived. There were Tamangs, Rais, Limbus, Chhetris and Chaudharys who would celebrate each other's festivals with vigour.
His childhood was spent mainly helping out at home. He would have to go get grass for the cattle and wood to cook meals from the jungle. Along with that, he would also have to take the cattle to graze.
During the afternoons, he would go to his school while he would spend his remaining time with his friends playing football with a ball of old socks.
"Life was so simple that remembering these times makes me nostalgic," he says.
Growing up, there was no electricity in his village nor did anyone have a television. To watch anything, he would have to go to a nearby village where Phuyal Baje had a television in his house.
"I used to get there as early as possible because I wanted to sit inside the room to watch shows like Chandrakanta, Moomin and Mina Cartoon. If I was late, I'd be outside and would have to watch the show from the window," he recalls.
His interest in acting grew in his mid-teens when a team came to his village to shoot a soap commercial. That team had shown a film in the village which had captivated him. Watching Rajesh Hamal and Karishma Manandhar, he was mesmerised and felt that as the curtain lifted, they would appear.
He was curious about acting, but he was shy. He was quite fond of dancing too, but he could not dance in front of people. But, gradually that changed as he started to dance with his friends.
"When people started to tell me how good I danced, I started to get confident," he says.
He saw his first drama at school. Theatre artist Rajan Khatiwada, who was from the same village, had come to visit from Kathmandu. Mesmerised, he wanted to learn more about it so he would frequent a stationary in the village to read about theatre and art.
"A few elders used to host drama to raise awareness. I'd go to most of them and took part in a few of them," he says.
One day, he heard about a theatre workshop in Kathmandu and thinking nothing, he left for Kathmandu where he was praised by the Dutch who were conducting the workshop.
"They said I have a unique type of emotion in my eyes and that I need to join a theatre to learn acting," he says.
At Mandala Theatre
With one hope of doing something and a million dreams, he reached the Mandala Theatre. At its front office were Rajan Khatiwada, Subina Subba and Dayahang Rai.
When he got there, they asked him what he wanted to do. He told them he was there to learn how to act.
Coincidently, Mandala was looking for actors for Abhi Subedi's play Chirieka Sanjhharu. Having learnt that, Husen took the chance to be in the play's chorus.
When he started off, he felt he knew nothing. He had taken part in a few plays, but watching people act, he realised he needed to learn how to act.
"There was a point in time when I realised I came to the wrong place," he says.
Mandala's theatre building was under construction then. People like Buddhi Tamang and Bijaya Baral would often work as labourers to construct the building. Husen joined them.
He lived with them in a small room near the theatre. Everyone helped each other out in times of need as they learned about life along with the art of acting.
They would also visit Gurukul a lot where they would meet actors like Saugat Malla, Sarita Giri and Bipin Karki. Everyone would sit by the fire and talk about life and their journey in acting. Husen would listen to them with poise and persistence.
"Doing theatre teaches you a lot more than just acting. It teaches you about life in general because the actors have to do everything themselves," he says.
By 2014, he had played in a few plays. One, in particular, was watched by director Suraj Bhusal and producer Sunil Rawal who were blown away from Husen's performance.
The duo were on the verge of making Hostel Returns and were on the lookout for a Madhesi actor. Impressed by his acting, they hired Husen.
But, he was confused. He loved acting in plays and thought acting in films would be odd. He asked Dayahang Rai for suggestions who asked him to go for it as he would gain experience.
He had done a film called Puntu Parade which did not do well, but Hostel Returns put him on the map. This role was different too, as previously a Madhesi character was often used in a comic role. But, this was not. He made the role his own as he became the most talked about actor at the end of the movie.
After that, he has not looked back has he has become one of the stalwarts of Nepal's movie scene.