Due to easy access, you can watch almost every possible movie and series that has released to date. So, why not take advantage of this and go back to see how Nepali movies were back then? Today, we are going to provide you with a list of the eight best classic Nepali movies that you can watch while you have free time.
1. Saino
Released in 1988, Saino is one of the most beloved Nepali movies. Starring Danny Denzongpa, Bhuwan KC and Tripti Nadakar, this movie was directed by Ugyen Chopel. The movie also includes some of the famous songs like Suna Katha Euta Geet, Naya Naya Sajau Hai Sansara, Aamaile Bhanthin Dhaarako Paani sung by Danny himself along with Asha Bhosle and Udit Narayan Jha. The movie revolves around the connection between the main characters.
2. Kusume Rumal
Kusume Rumal is a romantic film directed by Tulsi Ghimire in 1985. Starring in the movie are Neer Shah, Bhuwan KC, Tripti Nadakar and Udit Narayan Jha. This was also the first film in which singer Udit Narayan Jha has acted. The movie is around two-hour long and revolves around a triangular love story of three collegemates: Amar (Udit Narayan Jha), Suniti (Tripti Nadakar) and Arjun (Bhuwan KC). This movie was a huge box office success back then and was the first Nepali movie to stay in the top position of the weekly earnings for continuous 25 weeks. The music is composed by famous musician Ranjit Gazmer. The movie has some famous songs like Kusume Rumal and Suna Bhana Na.
3. Dakshina
Directed by Tulsi Ghimire in 1994, Dakshina can be said as one of the best Nepali movies of all time. This movie is also a gift (dakshina) to Ghimire's mentor Kamlakar Karkhanis. Starring in the movie are Tulsi Ghimire himself along with Bhuwan KC, Niruta Singh, Bharati Ghimire and Rajaram Poudel. The movie revolves around the life of a philosophical teacher who always preaches to his students to be a good person in life and around the life of his students. Ranjit Gazmer again is the music composer of the movie and features soundtracks sung by legendary Narayan Gopal.
4. Chino
Chino is another great Nepali movie. Directed by Tulsi Ghimire, starring in the movie are Shiva Shrestha, Bhuwan KC, Kristi Mainali, Sharmila Malla, Tulsi Ghimire himself and Sunil Thapa. Sunil Thapa's character in the movie Rate Kaila is one of the famous Nepali movie characters and is talked about even these days. The movie is 138-minute-long and has all the elements that an entertaining movie should have. It has action, story, romance, humour and above all good music. Asha Bhosle and Narayan Gopal collaborated on songs like Mohani Laagla Hai and Maya Ta Maya Ho which are still rocking.
5. Deuta
"Shankhar hu ma Shankar", you probably have heard this dialogue somewhere from someone or on social media. This famous dialogue was from the movie Deuta, starring the Mahanayak of the Nepali movie industry, Rajesh Hamal, along with Srijana Basnet, Shrawan Ghimire, Yuvaraj Lama and Tulsi Ghimire. This movie about a love triangle was released in 1991 and was able to celebrate 51 days in many theatres in Nepal.
6. Balidaan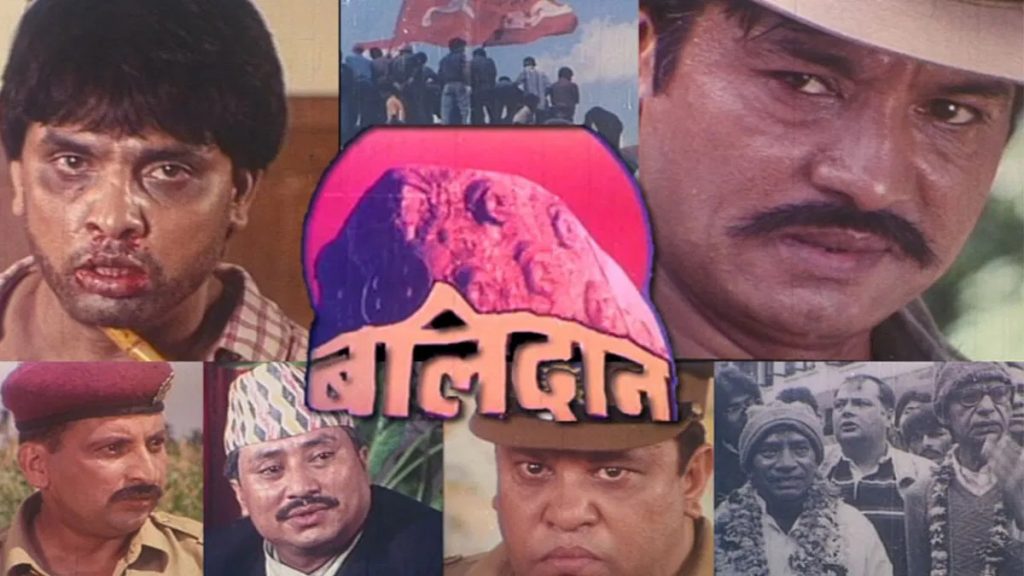 It is another movie on the list directed by Tulsi Ghimire. Dedicated to the martyrs who gave up their lives fighting for freedom, Balidaan is a story of the rebels who fought against the Panchayat system of the country. Along with a good cast and great acting, the movie also offers some powerful dialogues to the viewers. The notable actors in the movie are Hari Bansha Acharya, Madan Krishna Shrestha, Kiran KC, Shanti Maskey and Nir Shah. The movie was also banned for a certain time as it portrayed the Communist movement of Nepal. The song Gaungaun Bata Utha is also from this movie.
7. Darpan Chhaya
Darpan Chhaya is one of the most loved Nepali movies which is still in talk to this day. The movie broke all records at the box office and went to become the highest-grossing Nepali film of all time, earning Rs.17.5 million. Starring in the movie are Niruta Singh, Dilip Rayamajhi and Uttam Pradhan. This is a love triangle movie among three friends and the whole movie follows their journey of friendship, love and sacrifice.
8. Tan Ta Saarai Bigris Ni Badri
Tan Ta Saarai Bigris Ni Badri is one of the very few comedy movies back in the days. Starring in the movie are Hari Bansha Acharya, Bhuwan KC, Sushmita KC, Bipana Thapa and Sunil Thapa. The movie revolves around the comical life of Badri who gets into a horrible family situation by marrying a second wife and his first wife takes revenge on him for cheating on her.
Some other notable mentions are Nepali Babu, Numafung, Lahure, Maiti Ghar and Aama.