Looking back at the many campaigns, videos and infomercials stressed on the importance of handwashing when the Covid-19 pandemic took the world under its control recently, Samin Rijal, a young woman in Kathmandu, remembered her childhood days when she used to receive handwashing lessons from TV more effectively than the TV messages today.
"In school times, I used to get so excited about Meena Cartoon. The characters, Meena and Raju, and the story were all exciting," Rijal, in her late-20s says, "But the one thing I learned that stayed with me was to wash my hands before and after my meals."
Like Rijal, many of her age still remember Meena and the learnings that this cartoon series taught even though the series has been discontinued and forgotten for more than a decade. It has been pivotal in its role to promote girl education and equal rights in South Asian countries. In retrospect, one can find an interesting story about Nepal's contribution to this series produced by the United Nations children's agency, UNICEF, for entire South Asia and how it was adapted in Nepal.
Development of characters
The Meena series was developed by the United Nations Children's Fund (UNICEF) under the Meena Communication Initiative during the 1990s. It was led by Neill McKee, the then chief of the UNICEF's Information and Communication Section in Bangladesh. In fact, the decade (1991-2000) was declared 'the Decade of the Girl Child'. Meena series was a product of collective efforts from communicators from Nepal, India, Pakistan and Bangladesh.
"UNICEF was keen on initiating a campaign that would incorporate its core values about implementing the Child Rights Convention (CRC), 1989. In this pursuit, they formed a team of people to develop a concept to launch in the Southeast Asian countries where girl children were facing a lot of discrimination and were lagging behind in comparison to boy children," recalls Sharad Ranjit, a key man behind the development of the characters for the series, namely Meena, Raju, Mitthu, and other characters.
Currently, the Painting Department Head and lecturer in Sirjana College of Fine Arts in Kathmandu, Ranjit had joined UNICEF as a development communicator in 1986 and used to translate various texts for the organisation.
"There were many contributors: my counterparts from other countries, international artists, filmmakers, researchers and animators. After the idea was put on the table, we formed research teams," Ranjit narrates, "There was extensive formative research conducted including a study to find out differences and similarities between social and cultural values of different societies, in all four countries. We used the findings to create some common grounds."
"The name, Meena, was selected because it was a common name used in all four countries, same with Raju. Mitthu was selected because it was a common pet. The relationship dynamics and families were designed with the same concept."
The team successfully found some common grounds, however, it still could not generalise the characters. "In Pakistan, girls were allowed to show their feet but the adult counterparts could not. So, we had to always keep the feet of the female characters covered. The teacher would be behind tables and students while mothers would be behind the kitchen or with folded legs," clarifies Ranjit.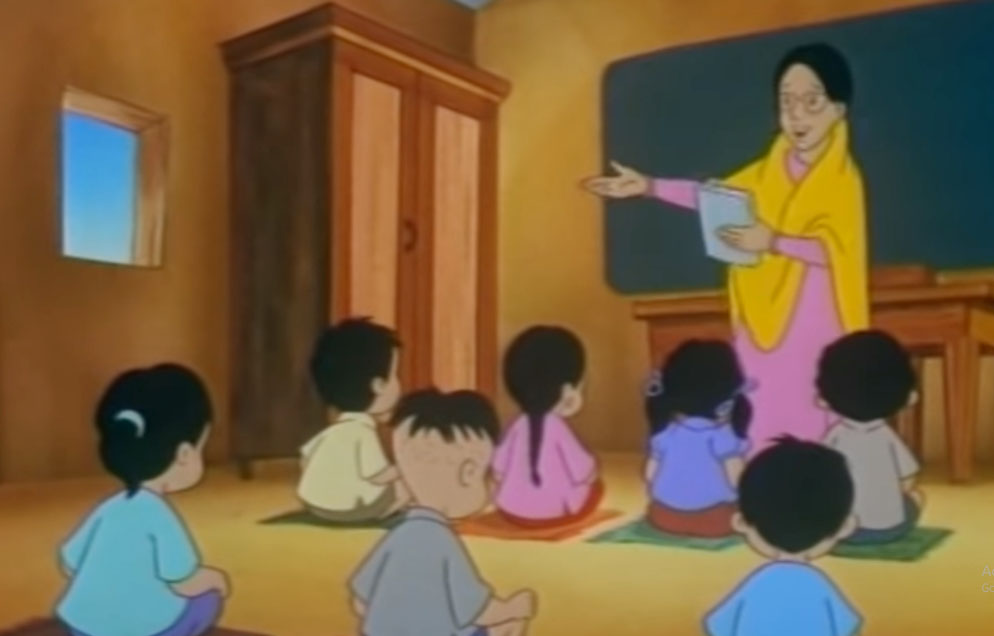 "Other differences were the geographical distribution, for which the backgrounds were constantly changed, incorporating the plain lands, hills and other rural settings," he adds.
Impact and changes
Then, the team sat together many times and developed storylines for four episodes. "We developed four episodes on nutrition, sanitation, bullying, and education. The team did a critical analysis of the topics based on the research and developed the storylines," Ranjit says.
"An animator from India, Ram Mohan, worked with us and developed the four episodes in support with Hanna-Barbera Productions Inc. Finally, after two years of multiple field research, we again went back to society."
Meena Cartoon was first televised in Bangladesh in 1993. Later, it was broadcast in other South Asian countries too. Meena was first developed as a comic book, which also went through the aforementioned process of research and feedback. It was later developed as animatics, a storyboard developed in the pre-production stage. "Back then, we had to develop 21 frames for one second of the animation," recalls Ranjit.
This time, the team went for screenings and feedback. "The whole team held hundreds of screenings in schools, public places, halls, etc of all countries," he narrates. Before the screening, the team used to talk to children and parents. Ranjit claims they talked to over 40,000 children in the course.
"Then, we used to show the episodes and again hold focus group discussions with them. This was to see what they understood, any change in perception, visible immediate impact or possible impact the series left on them," he claims, "In the majority of our FGDs, we found positive results."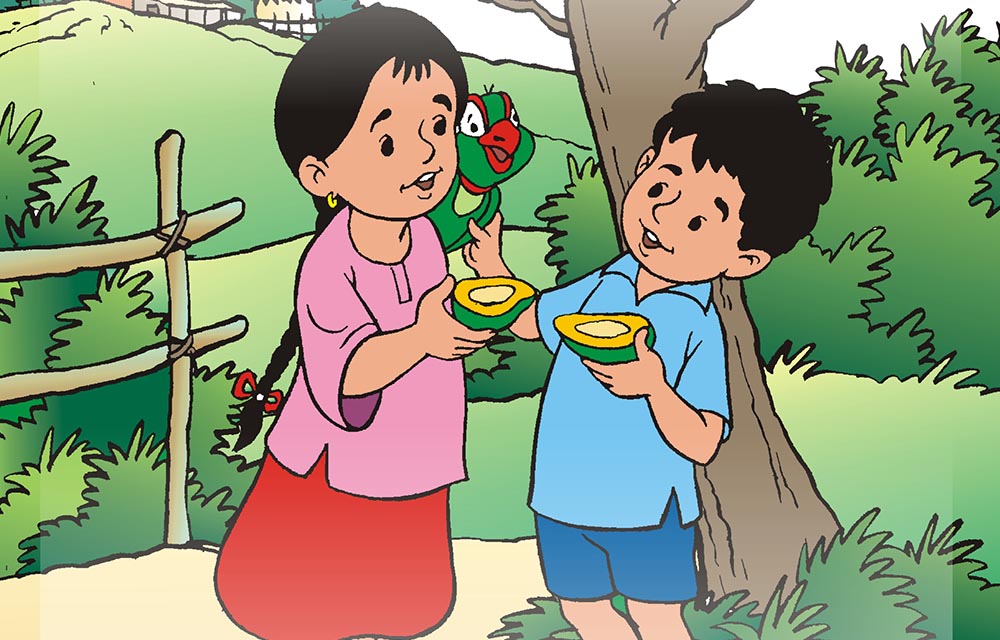 Ranjit further shares, "During the feedback collection of one screening, there was a woman. After the screening, she shared that if the screening was done 20 years ago, her parents would have sent her to school."
BBC Nepali also joined the cause and broadcast the series on its channels. It even made calendars, posters, teacher's guides, pamphlets, CDs, cassettes, and infomercials, making it a complete package.
"If you want to solve a problem, in this case, gender bias, which has been deep-rooted in the society, you need to attack it from all sides at once," Ranjit justifies.
While talking about the impact of the series, Ranjit remembers a 2004 incident, by when Meena cartoon had already stopped being broadcast. "That year, I was in Biratnagar to attend a Red Cross event. When a septic man, a teacher, asked me about the impact and use of the series, an adolescent girl stood up and answered on my behalf."
"She told him how she was first barred from going to a school that her brothers used to attend, how, after watching the series, her family sent her to school and how she became literate and capable. It was a proud moment for me."
The series was also later adapted in Bhutan while in Africa, the series inspired another similar concept with Sara as the main character to make aware people about HIV and AIDS in the continent.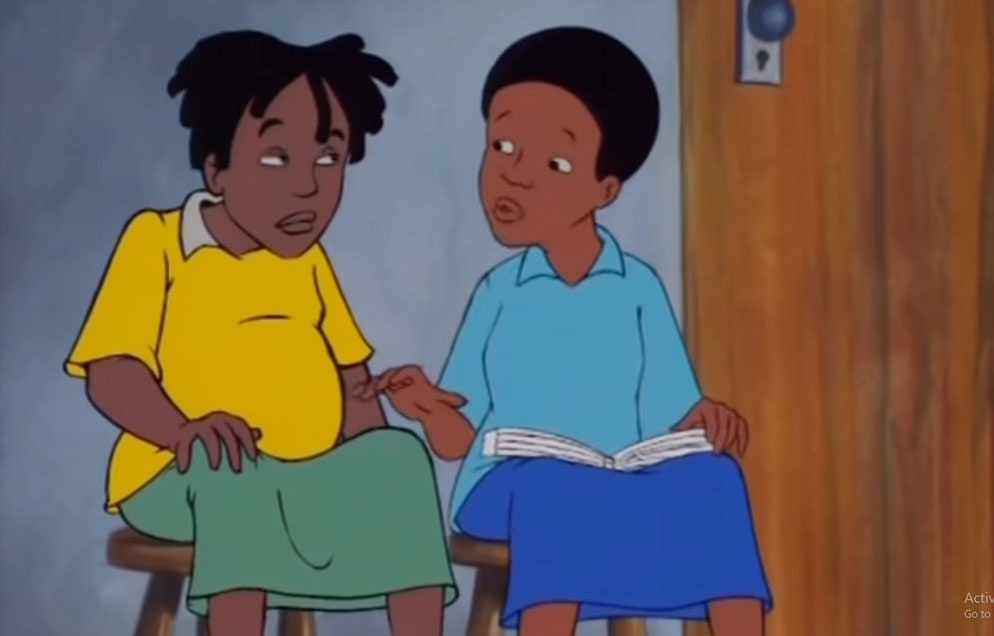 Possibility of revival
Meena Cartoon was conceptualised for a time to solve some prime issues that were prevalent in the society then. But, are Meena and her stories still relevant today? Ranjit believes it has the potential and will be as relevant even today in places that are still digitally divided, untouched by the digital footprints.
But, rather a more important question is can we remake Meena-like series today? Ranjit, who has also played a key role in developing campaigns like Nun-Chini-Pani as oral rehydration solution and non-formal literacy programme Naya Goreto, says it is very much possible. But, he stresses that it will require the same kind of valiant and formative research in conceptualisation, development, and promotion coupled with multi-dimensional approaches and strategies.
But, do we even need such a series today? From his own observation, Ranjit answers, "There are many issues that we still have to tackle today. Issues like maternal care and neonatal care should be focused on. The child mortality rate is still high and issues of their sanitation and nourishment are also important issues. Though society has changed, we still see girl child being victims of social belief systems and discrimination. We need a campaign that transcends the idea that physical difference does not impact personal growth."