Museums are a great way to learn about the historic development of society. Today, there are many museums in Kathmandu itself that house the history of different walks of life. Some have a special focus on the historical section of time, others on community-based activities, some celebrate art and culture while others celebrate the historical figures.
Going to a museum is a unique learning experience that one must get. However, museum-going culture is only now getting popular. If you are unaware of the museums in Kathmandu, here are some places you can start.
1. Narayanhiti Palace Museum
Whether you are a tourist or a resident, this is one of the must-visit museums in Kathmandu. The museum was famously resided by the Shah kings of Nepal. It is one of the city's palaces that has been turned into a museum in 2008.
The palace was built by King Mahendra in 1963. Because of the 2001 assassination of the Royal family, the palace is historically significant.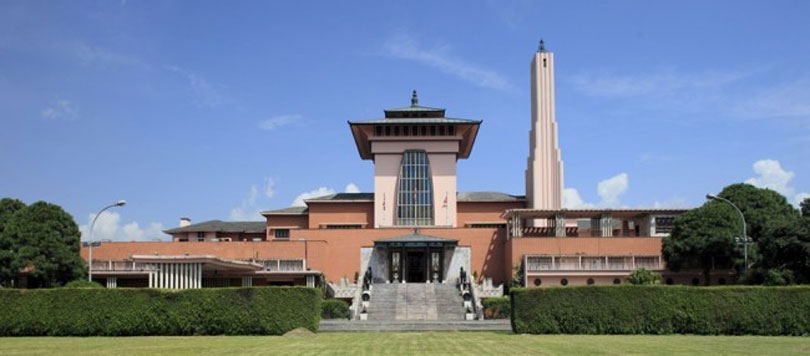 Today, the magnificent museum displays historic furniture, paintings, royal family artefacts, and the opulent lifestyle of the former monarchs. The overall area is around 74 acres, with several unique objects to sell. The narrative of this palace is fascinating, and one would enjoy learning more about it from a local guide.
2. National Ethnographic Museum
This museum displays the Nepali people's rich cultural past, which foreigners and Nepalis may view directly at the centre of the city. In the diorama hall at the Tourist Service Centre in Bhrikutimandap, the Nepal Tourism Board and the Nepal National Ethnographic Museum have set up a permanent exhibition of eleven ethnic communities, including Thakali, Sherpa, Tamang, Gurung, Rai, Limbu, Chepang, Jyapu of the Newa community, Magar, Sunwar, and Tharu.
The museum aspires to serve as a live resource centre, informing and educating both Nepali and foreign visitors interested in Nepal's architecture and culture (customs, lifestyles, and occupation). Except on Mondays, it is open every day for visits.
3. Taragaon Museum
Taragaon Museum is one of the historic museums in Kathmandu worth visiting. Built first in 1972, it was reopened in 2014 and has been thriving since then in the Nepali art scene. Because of the picturesque views that this museum offers, it is a fascinating destination to visit. What began as a hostel for the young and adventurous in the 1970s has grown into a location dedicated to the preservation, documentation, and celebration of art and culture.
The foundation's goal is to chronicle Nepal's cultural legacy and encourage historic preservation in the Kathmandu valley and abroad produced by national and international artists, and the museum is the beginning point. It covers an area of 35,000 square feet and is open except on Saturdays and public holidays.
4. Aviation Museum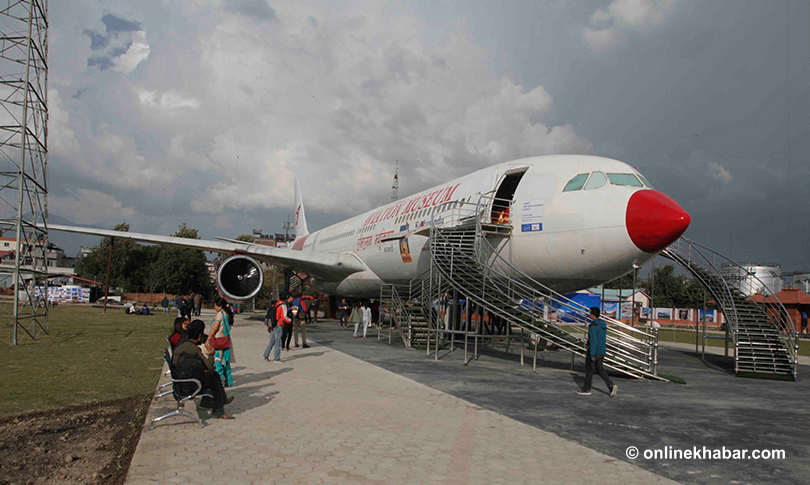 This aircraft museum is one of the unique museums in Kathmandu. Based in Sinamangal of the city, this museum houses an A330 aircraft that once crashed. This aircraft had barely been in service for eight months when it was involved in a runway excursion accident at the Katmandu airport in 2015.
The museum opened its doors on November 28, 2017. The museum created quite a buzz when it was first established. The Civil Aviation Authority of Nepal, pilot Bed Upreti, and his trust worked together to create the museum. The aviation museum's major goal is to educate and encourage young Nepalis to pursue careers in the airline business.
5. National Museum of Nepal
National Museum of Nepal was founded in 1928 as an arsenal museum and is located in Chhauni, on the road to Swayanbhun Stupa. The museum is situated in a historic structure designed by General Bhimsen Thapa in the early 1800s. It was previously named Chhauni Silkhana.
This museum houses great historical items that are split into three primary historical collections, each of which is housed in its building. It houses a doll collection, second-century BC coins, taxidermied animals, earthquake remnants, lost or unclaimed stone idols and Nepali weapons, among other things exhibited in different sections. Visitors may view what Nepali armament looked like in the past and at various times.
6. Museum of Nepali Art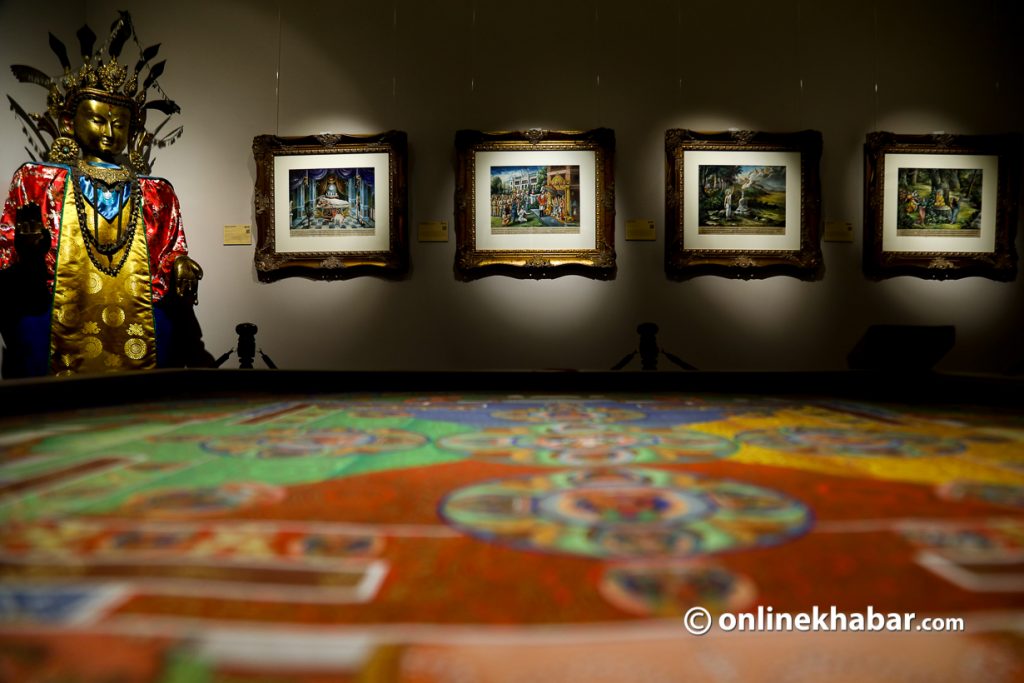 Because of its motive to preserve Nepali creative techniques and traditions, the Museum of Nepali Art (MoNA) holds a unique place in the art world. It is one of the youngest museums in Kathmandu with a special focus on Nepali art. The museum exhibits a collection of Nepali art that includes both religious and secular representations of the country's culture. The goal of this museum is to make the artworks of past and contemporary Nepali great painters accessible to the general public. It aims to raise awareness, interest, and knowledge about various artistic techniques.
Rajan Sakya founded MoNA to provide a significant forum for Nepali artists to display their emotions and talents. While showcasing our non-comparative creative forte to the world, this platform aims to reinforce traditions, better comprehend our past, and pass this information on to future generations.
7. Tribhuvan Museum
Tribhuvan Museum is located within the Hanuman Dhoka premises. This building was constructed in the late 19th century and was severely damaged in the 2015 earthquake. King Tribhuvan is said to have sat here and observed the lives of his subjects.
The Tribhuvan Museum, which was built to commemorate the king's reign, includes a magnificent collection of historical objects that he possessed and utilised. Statues, woodwork, stones, weaponry, the king's regalia, his walking staff, boxing gloves, and thrones are only a few examples. King Tribhuvan's unique collection of coins, as well as various images from historical events and hunting excursions, are on show in the museum.
8. Udaaya Museum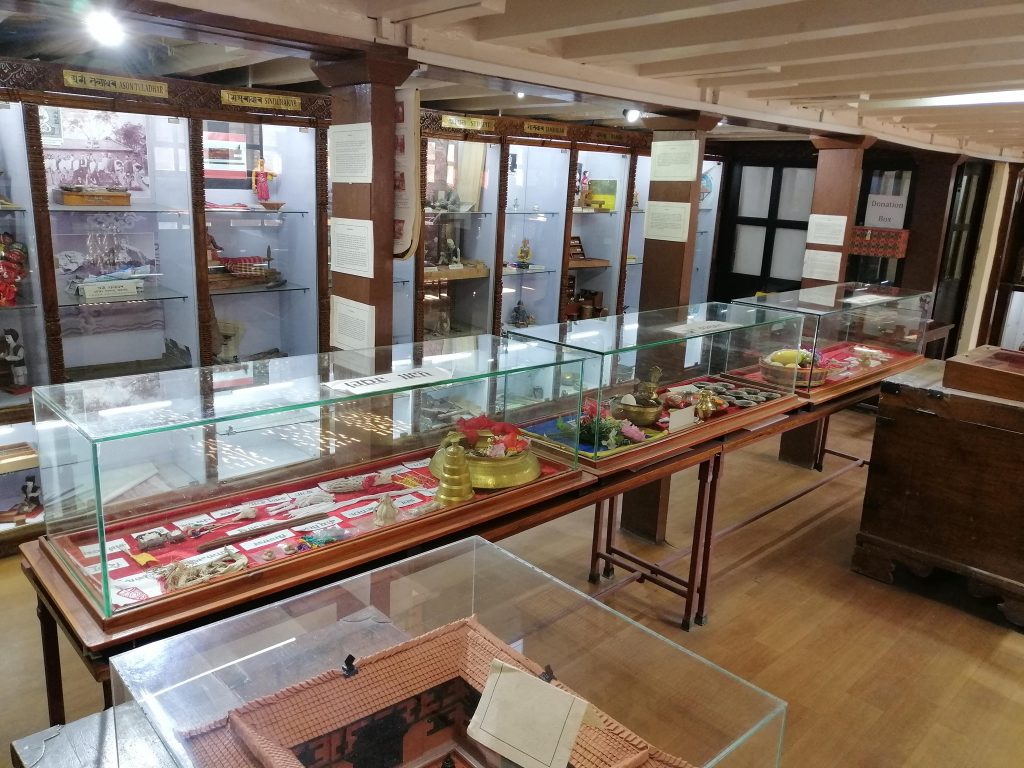 The Udaaya Museum opened in 2014 at the Udaaya Chhen, a centrally placed building in Asan Tole, just a short walk from Basantapur Durbar Square and Thamel. The Udaaya Museum was set up by the Udaaya sub-community of the Newa community to conserve and promote the history, culture, and contributions made by the members of the sub-community. Museums of this kind are one of the country's assets exhibiting unique collections of coins, stamps and historic or cultural utensils used by the sub-community.
This is one of the few museums in Kathmandu that has been opened and is managed by ethnic communities. The museum is an endeavour to explore, document, and show the socio-cultural practices that were common in the Newa community in the past, to preserve the glorious past and share it with future generations and worldwide communities.
9. Patan Museum
The Patan Museum is located in a courtyard within the Patan Durbar Square area's northernmost building complex. The Patan Museum's purpose is to make people understand Hinduism and Buddhism's sacred art, culture, and iconography via preservation and exhibition.
The most gorgeous setting of the palace, which has been constructed in such a little space by devotion and pride, is now known to the people as Keshav Narayan Chok, after a temple dedicated to Keshavnarayan, a form of Lord Vishnu, which stands at the middle of the courtyard. This museum project began in 1982 with the renovation of Keshav Narayan Chok and eventually evolved into a teaching museum for the dissemination of Buddhist knowledge in Patan, the city of art and architecture.
10. Jyapu Museum
Jyapu Museum is yet another example of ethnic museums in Kathmandu with collections of rich indigenous Newa history and culture. It was founded by Jyapu Samaj and is located near Patan Durbar Square. The Jyapu Academy Hall houses a diverse collection of artefacts, most of which are still in use in local homes, such as kitchen cutlery and storage equipment that have been in use for hundreds of years.
Jyapu Museum was established as a new tourist attraction to boost local engagement in the tourism industry and so provide new job prospects for the community. It houses a database of stored artefacts and historic items from ethnic Newa communities. Jyapu Museum promotes the Jyapu sub-community, and Newa community as a whole, which beholds a rich culture and history.