Kathmandu, November 13
Ramesh Limbu and Anita Rai won the Manjushree Trail Race that was held in Kathmandu on November 10, 11 and 12.
Limbu secured first position in the men's category finishing the race in 32 hours 56 minutes and 14 seconds while Rai won the women's category finishing the race in 36 hours 47 minutes and 12 seconds.
Winners Limbu and Rai will now represent Nepal in the Ultra Tour Monte Rosa scheduled to take place in Switzerland in 2024. In celebration of this achievement, the Manjushree Trail Race will manage their financial and travel arrangements for the upcoming event.
Manjushree Trail Race commenced at 6 am on November 10 from the Forest Camp at Kalu Pandey Danda in Dahachowk, Kathmandu. The Manjushree Trail Race route takes runners along the Kathmandu valley rim ridge line and across the seven peaks that surround the valley – Jamacho, Shivapuri, Nagarkot, Phulchoki, Champadevi, Bhasmasur and Chandragiri. It covers 175.18 km, with an incline of 12,695 metres across the seven peaks.
Manjurshree Trail Race's President Subash Thapa said that short-distance races, 92-kilometres, 54-kilometres and 24-kilometres- were also organised during the Manjushree Trail Race.
Bikram Thami and Bikalpa Pokharel won the 92km and 54km races, respectively, at the Manjushree Trail Race. Manju Rawat finished first in the female category. Shyam Magrati and Priya Rai topped the 24km race for men and women.
Winners received medals, certificates, and adventure gear.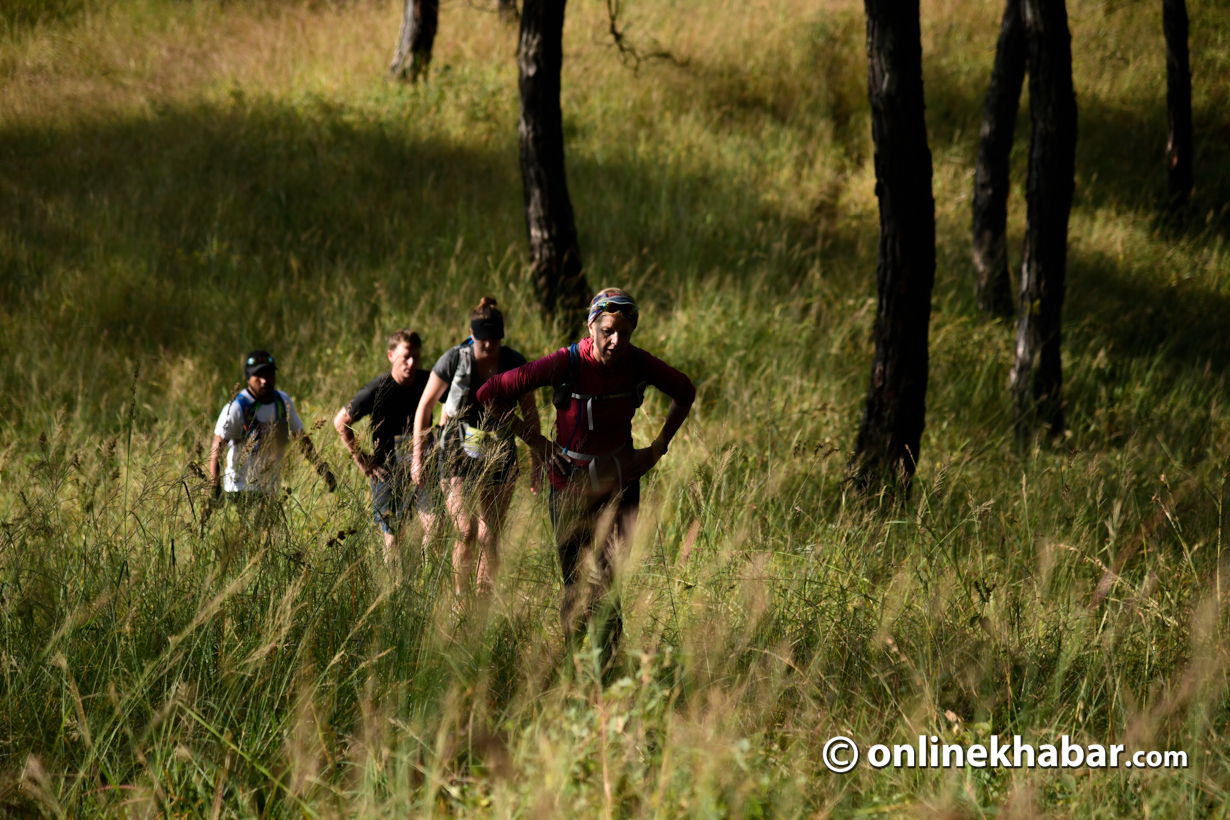 According to organisers, 67 Nepalis and 21 foreigners took part in the race which saw the participation of 19 women.
Roland Hunter from the UK secured the second position in the 170-kilometre trail race in the male category. Hunter, engaged in mountaineering tourism, expressed that the trail race in Nepal stood out as the best among those held in Europe.
"Nepal is the best destination for trail races. Nepal could be developed as the hub for trail race by further publicising it and streamlining it," he said.