Nepal is home to more than 100 different ethnic groups. They speak their own language, have unique culture, traditions and also have their own traditional costumes. It means Nepali ethnic wear is much more than just daura suruwal, Dhaka topi and gunyun cholo.
If you are eager to know about those traditional costumes of Nepal, here we bring the dresses of some of the ethnic communities of Nepal reflecting a great part of their culture:
1. Hakku patashi, tapalan and suruwa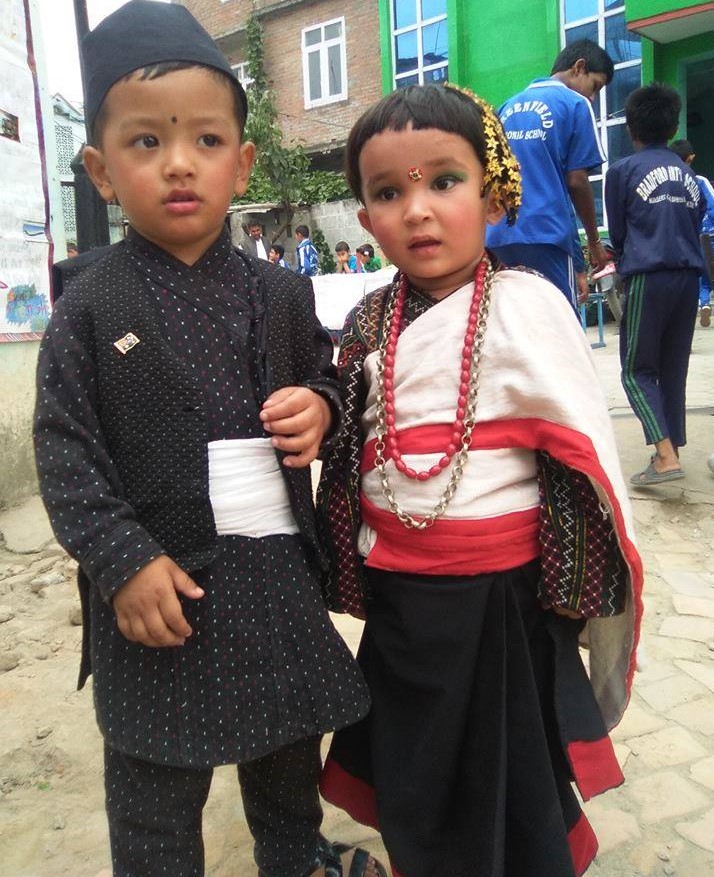 Hakku patashi is the traditional outfit of the women belonging to the Newar community. It is basically a black sari made of pure cotton with red borders. The sari is paired with a white patuka, a kind of waistband, and a shawl worn diagonally over the blouse. Both the patuka and shawl are made of cotton. Hakku patashi is especially worn during Newari cultural events.
Likewise, tapalan and suruwa is the traditional attire of Newar men. Tapalan is a long double-breasted shirt (usually knee length) and suruwa is tight-fitting trousers. A waistcoat and coat may be worn over the shirt. They also wear white cotton patuka, a black waistcoat and topi.
2. Madarni, cholia, and nahagi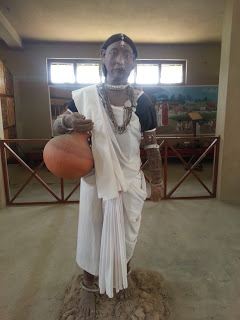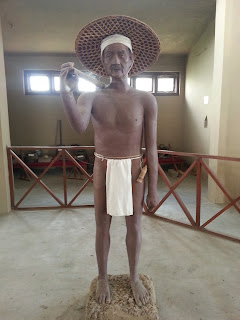 Mardani, a dhoti, and phad, a type of inner wear, is the major attire of the Tharu men. And, the traditional outfit of Tharu women is cholia (choli), a type of blouse usually black in colour. Nahagi, a white cloth dress (a type of sari usually worn up to knee) and uporona, the cloth wrapped around the chest, fit together with cholia.
3. Mekhli and taga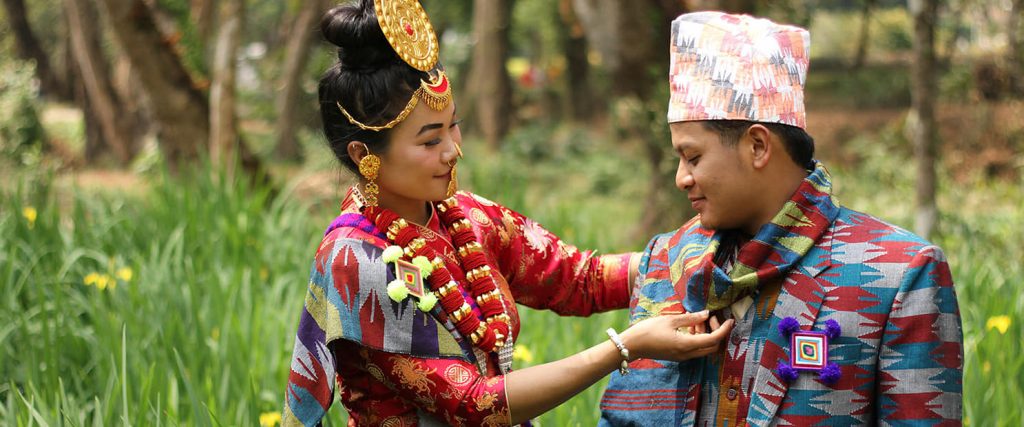 Mekhli and taga are the ethnic costumes of the Limbu community. Mekhli is a long dress made of Dhaka, worn with a horizontal strip of cloth along with collars in a V-neck style or crossing over. This is feminine attire. Besides, Limbu women also wear Dhaka sari, chunglokek or sunghamba, which is basically a blouse, or chaubandi cholo, shawl and phaoee, a yellow waistband.
For Limbu men, the traditional attire consists of a paga, a type of cap that is pointy and ties at the back with long strips; sandokpa, a upper body cloth; sungrehba, a type of coat; Dhaka topi; lapetta and pagappa, upper body cloth; ningkheng, a kind of scarf; phaoee or paohao.
4. Chhuba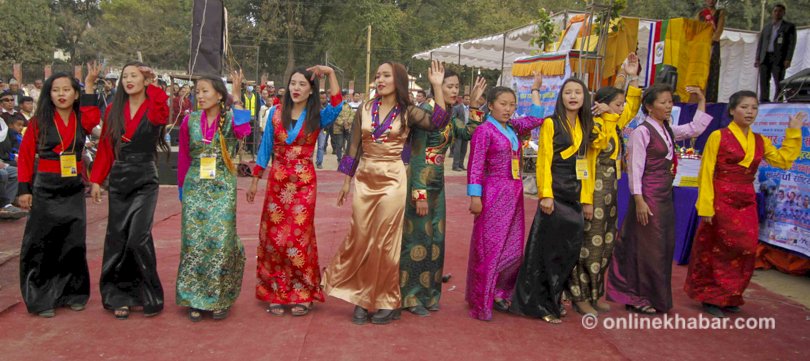 The traditional Sherpa costume is chhuba. Sherpa women wear chhuba over the raatuk, a kind of blouse made of bure that is white raw silk; kanam, a type of trousers or pants and tetung, an outer jacket, all made of wool. Traditionally, a Sherpa woman wears tongkok, a long-sleeved chubba. They also wear engi, a sleeveless chhuba. Over the chubba, they wrap stripe aprons (made of wool), called pangi. Married women wear both rear and front aprons while unmarried women wear only the rear apron below the waist. They also wear a hat called shyamu.
Men also wear knee-length chhuba over a shirt, called wan-ju with a high-stiff collar and long sleeves.
5. Kachhad, lunghi and chaubandi cholo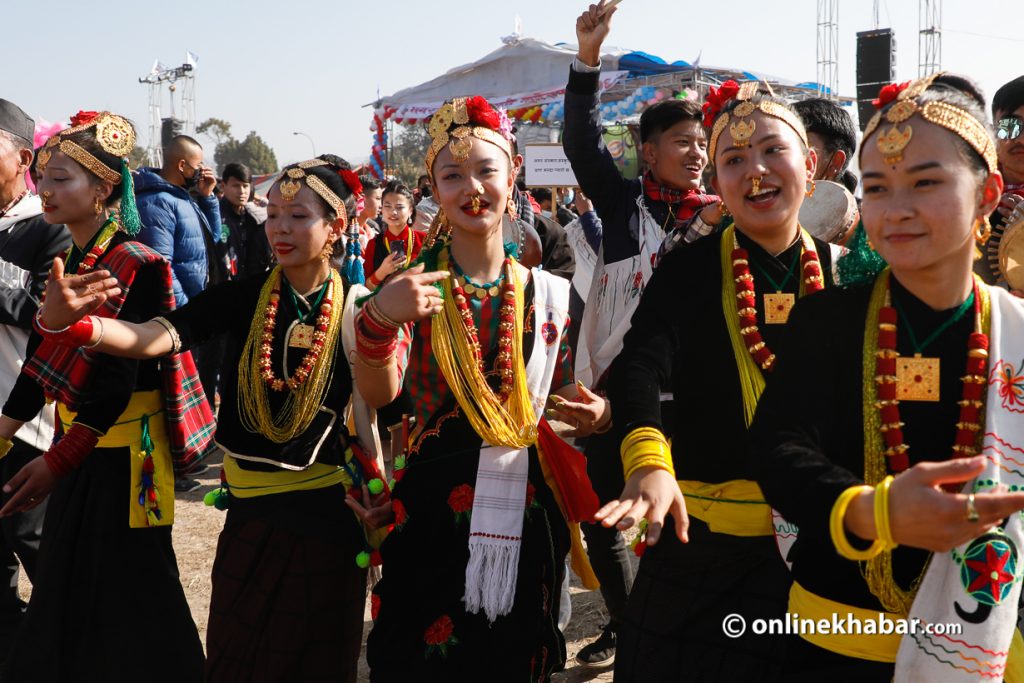 These are parts of the traditional costumes of the Magar community. Kachhad is a wrap-on knee-length loincloth; it is worn with a bhoto or a vest tied at the shoulders and the Nepali topi. Likewise, both the shoulders are wrapped with a shawl worn diagonally on each side.
Women wear phariya or lungi, a type of sari (usually in a dark colour), chaubandi cholo, a closed blouse, and bright yellow or blue cotton patuka or waistband. Then, they keep majetro, which is a shawl-like garment, on the head and ghalek binding on the shoulder.
6. Tamang wear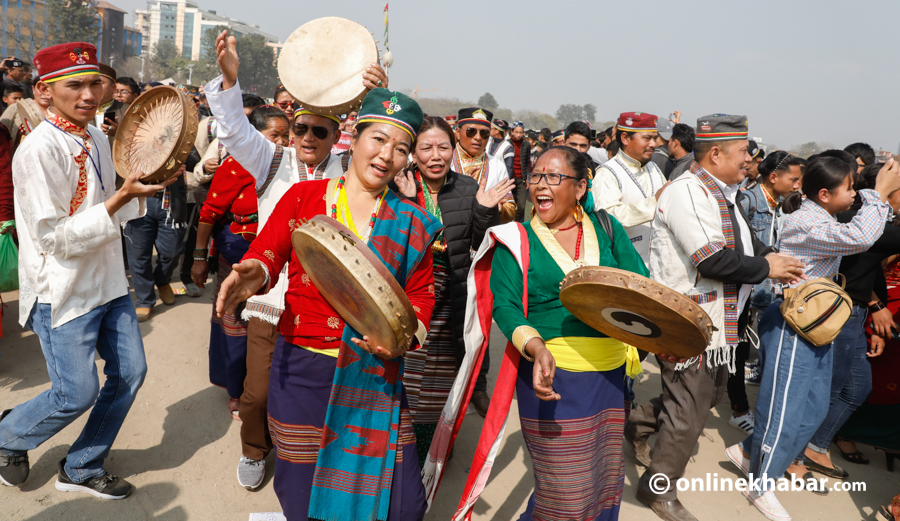 Tamang women wear a blouse, either of black or red colour, along with a blue and red sari with horizontal patterns and a yellow patuka.
Both the men and women wear a unique type of cap made of wool.