Conrad Anker is an American rock climber, mountaineer, motivational speaker and author. He is one of the world's most renowned adventurers, backed up by his list of achievement from the past three decades.
He was the first to find George Mallory's body in 1999 and has a number of the first ascents to his name including the Shark's Fin on Mount Meru in India.
Until 2018, Anker was also a part of The North Face's climbing team which he had led for the past 26 years. It is, hence, safe to say that Anker is a climber without parallel. He has stood on top of Everest three times, once without bottled oxygen, and was the first to climb the continental drift route up the southern face of El Capitan (El Cap) in Yosemite National Park, California.
His relationship with Nepal dates back to 1990 when he came here to climb Ama Dablam. Apart from that, he has climbed the Southwest Ridge of Cholatse and also attempted to climb the Lunag Ri with the late David Lama. That is not all, in 2003 Anker, along with his wife, established the Khumbu Climbing Centre with the aim of increasing safety margin of Nepali climbers and high-altitude workers by encouraging responsible climbing practices in a supportive and community-based program.
Onlinekhabar recently caught up with Anker, who is here working on a project, and talked about Nepalis creating history on K2, the Khumbu Climbing Centre and how mountaineering in Nepal has evolved.
Excerpts:
What brings you to Nepal?
Here to check up on the Khumbu Climbing Centre (KCC) and a few other projects that I can't really talk about now. It is a bit of a surprise for everyone, both here in Nepal and abroad.
How long have you been coming here? How has the Khumbu region changed since your first visit?
I have been coming here since 1990 when I came to climb Ama Dablam. Since then, I have been coming quite regularly for various projects. In 2003, I started the KCC with my wife in a bid to give back to the community and this is one of the reasons I keep coming back.
Talking about changes, it has changed a lot. The number of people on the trail is quite high and the quality of lodges in the area has improved significantly. Another major change is access to electricity that is great for the people living there.
The best thing, however, I think is the cellular technology which many people there had not even dreamt of. Landlines would have taken decades to come, but with mobile phones, the cellular technology just leapfrogged which has been a boon for everyone going there.
You have known and are working with Nepali mountaineers for a long time now. How have they changed since you first saw them?
They have evolved a lot in the past three decades. You can take Nims (Nirmal Purja) as an example. The fact that a Nepali climber was first able to climb 14 peaks in less than seven months, and then now the recent success on K2 in the winter goes to show what they are capable of. What I like about them is after climbing for others for nearly half a century, now they are climbing for the fun of it and that is the most important thing.
As you mentioned Nimsdai, how big a role is he and others like him playing in marketing Nepali mountaineers to the world?
He has been a breath of fresh air. I met them recently and all of them are great people. His leadership quality is great and as a person, he is quite fun too. Through his energy and confidence, he has in a way uplifted everyone which is nice to see. His training and where he comes from makes him who he is and that I think it is great for Nepal and its mountaineering industry.
How big of an achievement do you think climbing K2 for the first time in the winter was?
It was amazing what they were able to do. And, to do it as quickly as they did is quite an achievement. It just proves that for high-altitude climbing, they are the best. I think the world needed to see that. The progression that they have made is quite heartwarming to see.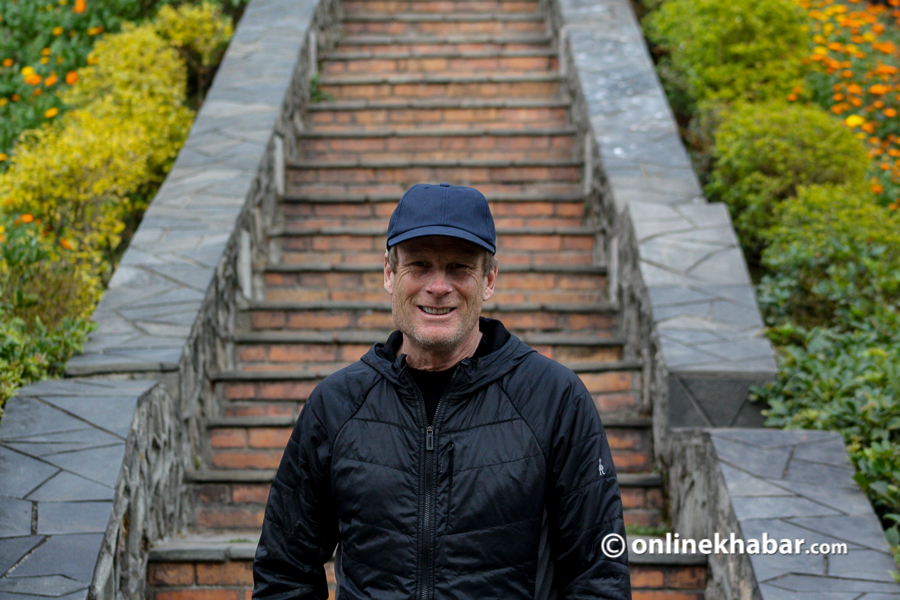 Let's go back to your project. Khumbu Climbing Centre has been in existence for the past 18 years. Have you been able to achieve what you envisioned all those years ago?
The aim of the KCC was to teach climbing to the people of Khumbu. Apart from that, we wanted people to appreciate climbing. It was like an avocation. It offers interested people training on how to climb mountains, teaches basic skills to them to work in the mountains. And, I think we have been able to do that.
It is not about being a porter or a climbing guide, it's about how to survive in the mountains. Through that, we want people to have fun climbing all types of things from rocks to the ice to mountains. It's a good place to meet like-minded people as well. This, I think, has been my greatest legacy so far because this will change and affect people's lives.
You have been associated with a lot of first ascents and new routes. What is it that drives you to do so?
What drives me is to be the first person there. That is it. It is a huge opportunity to be the only person on a particular route up a particular mountain. People say its a kick, but it is more than that. The joy of being the first can't be put to words sometimes.
You have also mentored a lot of people during your time at The North Face. How do you know whom to mentor?
Well, it depends on how interested the climber is. How much passion s/he has for climbing and how much they are willing to learn. That is the first step. Even here in Nepal, we find a lot of people here who we mentor through the KCC. Dawa Yangzum Sherpa and Pasanga Lhamu Sherpa Akita are a few people that we have mentored through the KCC among various others.
In your career, you have come through a lot of adversaries like the avalanche in Shishapangma and the heart attack in Lunag Ri. How have you been able to do that? How do you get back up and get ready for a new adventure?
Well, you wake up motivated and happy. That is how you find things. It is not easy, but it is what I love to do and it comes to me naturally. It is just a scary moment and for a while, you get an intense fear. But, that just momentary and it slowly subsides with it.
What is the difference between climbing here in the Himalayans to other places?
The size of the mountains here is a major difference. It's huge and active from a geology standpoint. But, what I like about climbing in Nepal is the people. You get to meet so many people and get to learn a lot of things. Whenever I come here and climb, I feel happy. There is something about Nepal and its people.