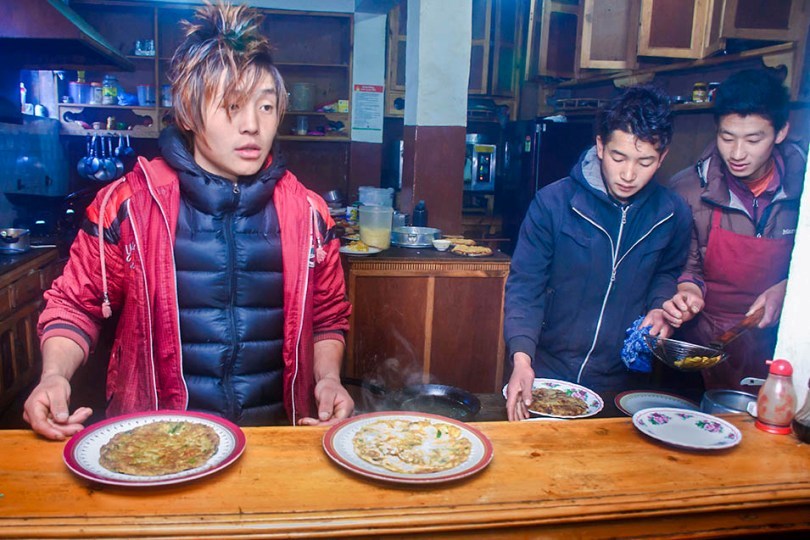 Sujan (middle) at Tashi Delek's kitchen with other helpers.
For trekkers, Khumbu Valley may be one of the most scenic places in the world, but for those living just south of the region, the appeal is different.
Twenty-two-year-old Sujan Kulung Rai of Solukhumbu grew up hearing stories about the Khumbu valley. As a child, Rai had heard, from his elders, of the elusive 'lek' (highlands), and several tales of the life there.
For Sujan, and his fellow villagers in lower Khumbu, it takes a strenuous hike of four days to reach Tengboche, a grassy flatland perched on a hilltop along the 'money-making' Everest trail.
But Sujan had completed the journey, one that exposes to risk even the seasoned trekkers, before most of his peers, at the age of 10. The influx of skilled and unskilled workers from the lower regions to the more viable upper regions, where tourism has opened up jobs and opportunities, has not only helped sustain seasonal migrants like Sujan, but has also held together Khumbu's profitable tourism industry.
"I had vaguely heard of a place called Namche and decided to go there," says Sujan. "I walked upwards for days after I left my home at the age of 10."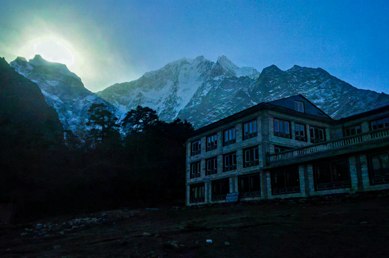 Sujan left his village home after a disagreement with his father. Now, after nearly 11 years of working as a helper at a teahouse in Tengboche, he finds himself amongst familiar faces. It is not only him, but several others from neighbouring villages make up the workforce in the mostly-profitable, but oftentimes sketchy, tourism business in the Everest region.
In the Khumbu valley, where the winter is unforgiving, and the terrain even more so, seasonal crops are limited to the ubiquitous potato; in much smaller amount there is barley and buckwheat. The main inhabitants of the region, the Sherpas, largely owe their prosperity to the region's popularity as the flagship trek to the Himalayas. Teahouses and lodges earn large sums thanks to the tourism businesses in the valley, mostly owned by the native Sherpas.
General stores, which stock household goods and cheaper mountaineering gear meant for the locals have also sprung up. Those who are more enterprising than that have started coffee houses, bars and bakeries to sell everything from espressos to Jagerbombs.
New houses are being built at a steady rate, especially in Namche Bazaar which boasts the region's biggest buildings. All of these developments have created demand for a large number of skilled and unskilled workers in the region–fulfilled mostly by of seasonal workers from the lower lying regions of the valley.
If you can discern the differences, superficial and otherwise, between the people of Nepal's many ethnic communities, you will notice that the region is made up of many people from other castes besides the native Sherpas. If you dig deeper, you will find out that many people from far flung villages like Kerung, Bung and Chheskam–most of them take three-four days to reach from Lukla.
"You can make good money here," says 27-year-old Santa Rai. Originally from the village of Takasindu, Santa now lives in Pangboche and runs a general store next to the village's monastery with his newly wedded wife. Santa also oversees a lodge owned by an elderly Sherpa woman for a commission. After paying Rs. 25,000 as rent, he has enough left to send to his own village, few times every year.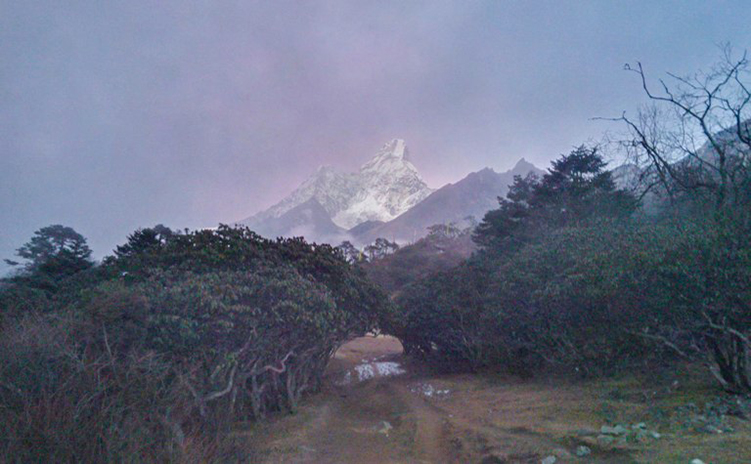 A cold evening at Tengboche with Mt. Ama Dablam in the background; Above: Tashi Delek Lodge.
"The general trend here in the region is that the Sherpas mostly move to Kathmandu, some permanently, and others during winters. Some have even moved to America. This creates a window of opportunity for people like us who are not the natives but are willing to work here," says Santa.
Notably, the owners of lodges and teahouses who hire people like Sujan and Santa mostly don't have the upper hand in this relation, mainly because working in the region is profitable, but also extremely hard. "I want to leave my work here at the lodge but the owners have been so good to me," Sujan says. "They have made me join an English language institute in Kathmandu where I go once every year."
"What did you do in these eleven years?" I ask.
"Nothing much. I washed a lot of dishes," Sujan says.
"Are you really leaving this work next season?"
"I might," Sujan says, "but even though the work is hard, the place is really beautiful!"
A blast of cold mountain air enters the kitchen at Tashi Delek lodge through a back door open only to staffers. The guests have gone to bed but the dishes have piled up and order tickets for breakfast tomorrow morning pinned above three industrial scale burners only suggest more work.
The winter has already come.