On September 6, Rajiv Kafle, a social campaigner and HIV/AIDS survivor, was arrested by police on the charge that he and his staff sold marijuana at Hippy Hill, a property he owns in Shivapuri, Budhanilakantha, on the northern outskirts of Kathmandu.
After his arrest, protests ensued in the capital as campaigners working towards legalising marijuana demanded his release adding his arrest was unlawful. Upon incessant protest, Kafle was released, but his arrest and release started a new debate: should marijuana be decriminalised in Nepal?
Such a debate had happened in the past too. Newly appointed health minister Birodh Khatiwada and a member of the House of Representatives Sher Bahadur Tamang have been talking on a regular basis about legalising marijuana in the parliament and at other places. A bill has also been registered in the House in regards to legalising and regulating marijuana.
But, should it?
The legalisation campaign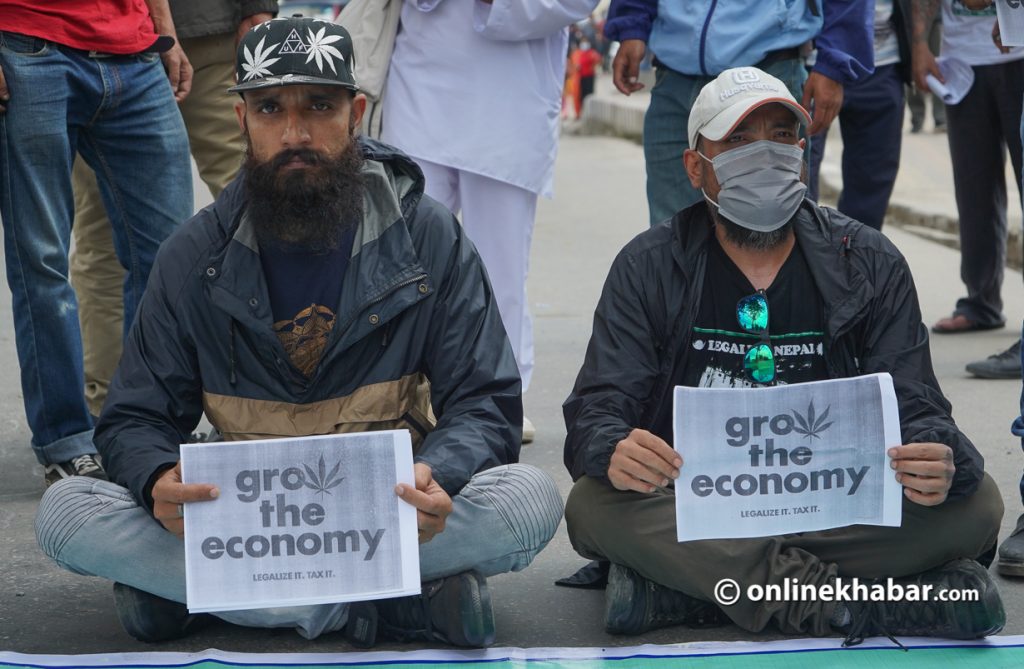 Kafle says it should as it can help transform the country economically.
"The country was a different place when marijuana was legal in Nepal. It's still isn't too late to legalise marijuana and if we do, we will benefit a lot economically," he says.
He was one of the key people to have started the campaign to legalise marijuana in Nepal. It all started in 2010 with a handful of people but has now grown. As Kafle was arrested, campaigners gathered around Maitighar Mandala demanding his release.
"It's good to see how far we've come, but the fight is not over," says Kafle.
In 2010, they took out a rally with a few bikes and cars. They also regularly hosted small events during festivals like Shivaratri to raise awareness about legalising marijuana in the country. By 2013, things intensified as #LegaliseNepal started trending on social media. More people started to speak about the issue including political leaders.
"People were using it for recreation or as a medication, but no one spoke about it. This was and still is stigmatised and we want to change that," says Kafle.
Why? Why not?
Roshan has been smoking marijuana since he was in his early 20s. Now 45, he says he has seen both the good and bad of the drug.
"During the early stages, I didn't like it. It made me paranoid about a lot of things," says Roshan, who is a banker by profession. "But with time, I understood how to use it and since then, I've enjoyed it a lot. It has helped me sleep better after work and made me less anxious. I don't do it at work, but I do like to smoke one before I go to bed."
Health benefits, the campaigners say, are clear. It helps deal with chronic pain, helps regulate and prevent diabetes, helps treat depression and autism, regulate seizures, helps with ADHD/ADD, alleviates anxiety, slows the development of Alzheimer's disease. Likewise, it is also helpful in the treatment of glaucoma and dealing with pain linked to arthritis and PTSD symptoms. It helps with tremors associated with Parkinson's disease. These are proved by science.
But, there are drawbacks too. Studies have also proved that for long-term marijuana smokers, there is a risk of worse respiratory symptoms and more frequent chronic bronchitis episodes. Along with that, for marijuana users in general, there is a greater risk of developing schizophrenia and other psychoses. And, there is a link between marijuana use and increased risk of car crashes. There is "moderate evidence" that acute marijuana use impairs learning, memory, and attention.
Need for regulation than promotion or ban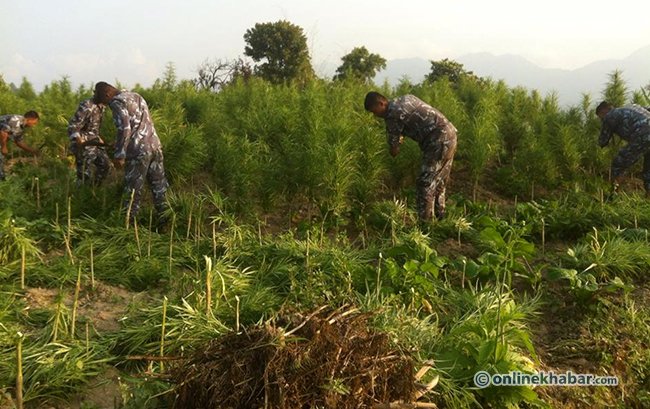 But, Kafle says the plant can be regulated, and they have suggested ways for the same in the bill that has been registered at the parliament. One of the suggestions they have highlighted is using the casino model in consumption.
"A lot of people say if Nepalis start consuming marijuana, it'll mess the country up. If that is the case, why don't you legalise it only for foreigners like they're doing so with the casinos? They don't even want to try it and that is what is disheartening," says Kafle.
He says the talks had been underway with late tourism minister Rabindra Adhikari about creating a hippy trail to commemorate 50 years of the hippies coming to Nepal. They had suggested that people like Paolo Coelho, a writer who recently wrote a book about coming to Nepal, be made an ambassador. But, Adhikari died in a helicopter crash and since then tourism ministers have been changing regularly.
"This doesn't help when the country doesn't have political stability," says Kafle.
One person who has been active in speaking about this issue is MP Sher Bahadur Tamang, who says the country needs to legalise and regulate the use of marijuana.
"We've only been talking about it, being a drug being addictive. Yes, that is one aspect, but if you regulate it, we can use the good features the drug has," says Tamang during a recent television show, adding the government should do everything it can to regulate it.
So close, yet not so close
But, former DIG of Nepal Police, Ramesh Kharel, in the same show, says that is unlikely to happen as he has seen how the drug has torn families apart and has ruined the lives of many young individuals across the country.
Kharel says there was no chance that marijuana would be regulated in a country like Nepal where underage boys and girls openly smoke cigarettes.
"This is wishful thinking. People say that the US has legalised it. No, it hasn't. Some states have opened up on legalising medical marijuana, but its federal laws still haven't legalised it," says Kharel, questioning if Nepali leaders are trying to create a figure like Pablo Escobar in Nepal.
Doctors are also unsure about it. Dr Sandeep Shrestha, a physician and intensivist of Birta City Hospital and Research Centre, says Nepal as a country just is not ready for this as they still think the plant is bad.
"Yes, there are some good aspects of the drug, but it has negative impacts and I've seen people suffer from psychosis due to it. Not everyone will go through the same, but there will always be a few who will suffer from schizophrenia and psychosis," he says.
But, Kafle and Tamang both argue that saying Nepal cannot regulate is wrong. Kafle says around 1,500 people are given heroin legally in the country and a similar model can be used to distribute marijuana.
"Why can't it be done? We can't sit here and say we can't do anything when the west is already stepping things up. If we don't move now, the world will legalise it and then that's it, we'll lose our chance to capitalise on the one product that can help reduce our trade deficit," says Kafle.