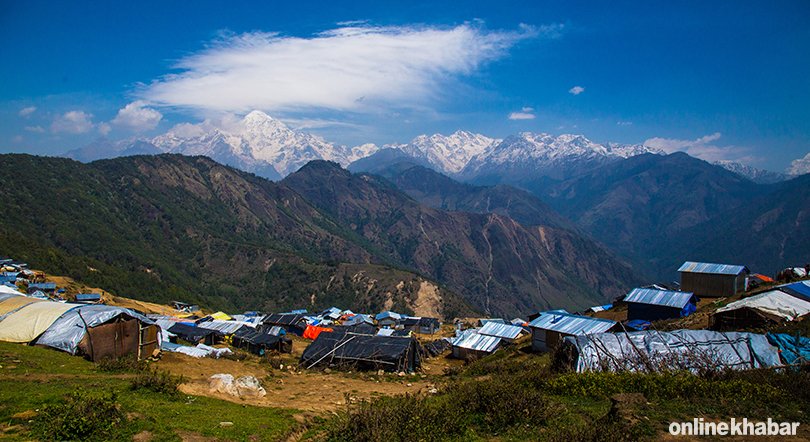 Gorkha, June 30
Earthquake victims have left Keraunja VDC-1 of Gorkha district as landslides have put the area in grave danger.
These people had been living in temporary shelters at Keraunja-1 after last year's quakes rendered them homeless.
They started living in an open field from Wednesday, with landslide debris from Raniban, a forest, causing damage to their shelters.
Last year's landslides had swamped the entire settlement in Keraunja VDC-4. The displaced people had been living at Keraunja-1 by building temporary shelters.
Landslides have been occurring for about a fortnight, triggered by rainfall, according to Sanu Ghale of Keraunja-1. This has driven the displaced people to the open field in a jungle.
Wednesday's mudslides have also caused damage to a temporary settlement project that Nepal Army had developed in Keraunja.
Recently, Gorkha Chief District Officer Narayan Bhatta returned to district headquarters after inspecting Keraunja and Khorla Bensi of Uhiya VDC. He said there's a need to shift settlements at high risk. Landslide has buried a shed of Bhakta Bir Ghale at Khorla Besi, Uhiya-1.
Twenty-one sheds located at Khorla are at high risk of landslides. Wednesday's meeting of district disaster rescue committee decided to deploy security personnel to assist people of Khorla Besi and Keraunja, Bhatta said. The meeting also decided to provide the victims with relief materials like tarpaulin.
Apart from Keraunja and Uhiya, landslides have caused damage in a number of VDCs in northern Gorkha, including Lapu, Manbu and Kashi.