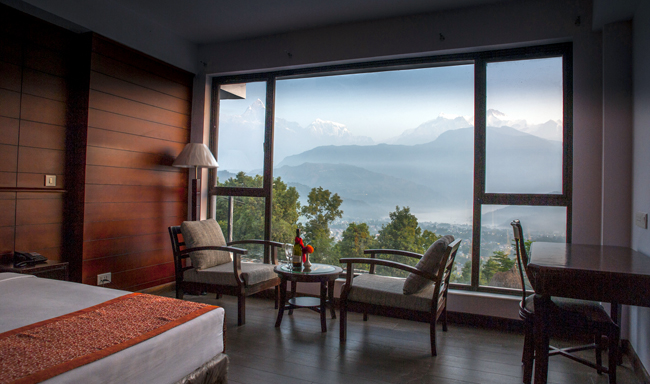 Karna Shakya-owned Kathmandu Guest House Group has started running a luxury resort — Himalaya Front Resort — at Sarangkot of Pokhara. This comes at a time when hotels are closing due to the Indian blockade and the Madhesh Movement.
Shakya said the resort will formally open on January 7. The group has invested Rs 15 crore at the five-storey resort that covers five ropanis of land and has 44 rooms, each with two beds.
Each room offers eyecatching views of the snow-clad Himalayas and the Pokhara valley. Coinciding with its launch, the resort is providing rooms to Nepalis and foreigners for Rs 4,500 and Rs 7000-Rs 8000 each, the group's managing director Divakar Rajkarnikar said. The special package includes free breakfast and tea and coffee.
The guests will have to pay separately for lunch and dinner. After three months of the launch, the hotel will charge foreign guests $200 for a night's stay, excluding tax.
The resort aims to cater to foreigners, Shakya said, noting that Pokhara draws a good number of Japanese and European nationals. Of late, Nepalis have also started touring places, so Nepalis will also be our main customers, Shakya informed.
Rajkarnikar said Nepalis spend more than Chinese and Indian tourists, adding that domestic tourists are also on their priority.