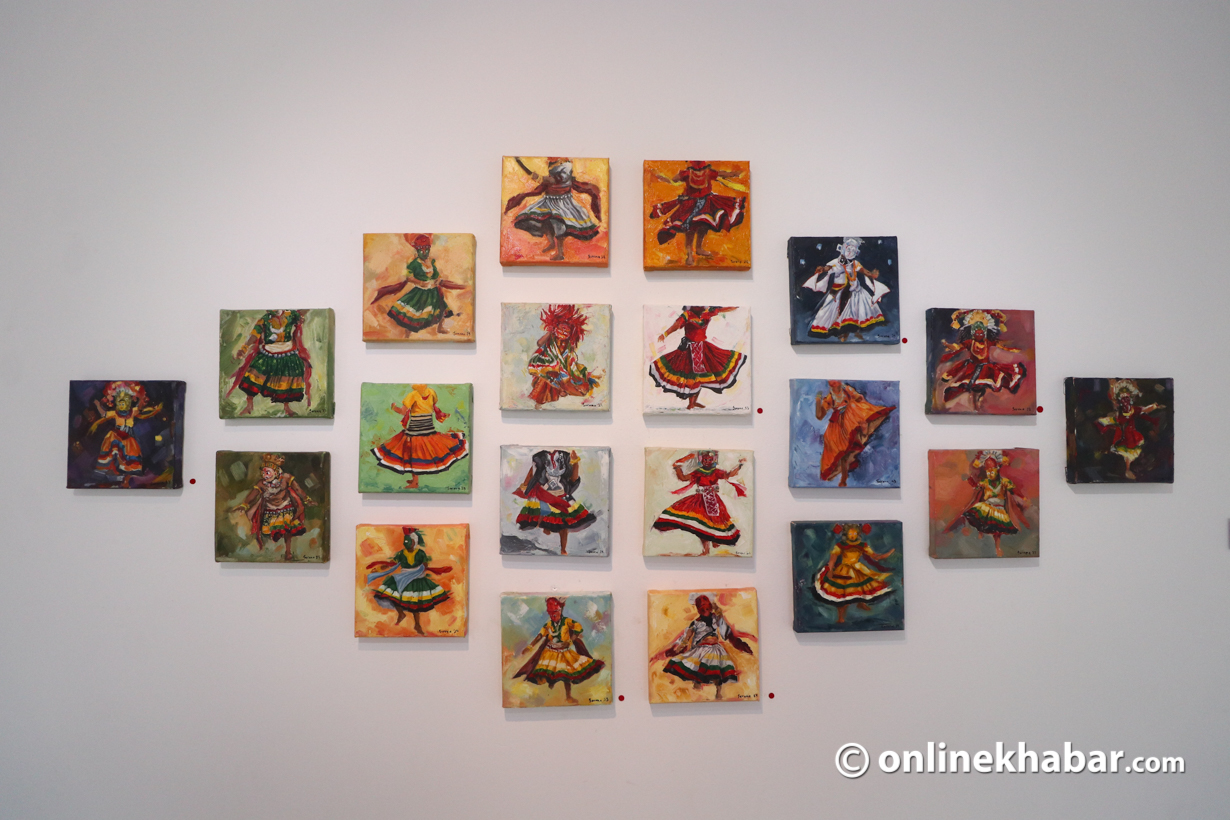 Music, devotees, delicacies, butter laps, chariots, mask dances and a vibrant environment are what comes to mind whenever someone talks about any jatra (festivity) that takes place in the Kathmandu Valley.
With the same theme and the essence of festivities, a group art exhibition— Jatra— kicked off on June 2 at Kalashala, Sanepa.
Kalashala, the latest art gallery in town, has opened its doors with its inaugural exhibition featuring a diverse group of 12 artists specialising in various art forms such as painting, performance art, sculptures, prints, and photographs.
The exhibition centres around the theme of jatra, where each artist, aged between 17 to 32, present their interpretation and creative expression, offering a captivating array of unique perspectives on this traditional art form. Just like the artists' age groups, the artworks also exhibit variations.
In addition, the gallery's young founder, Sudikshya Dongol, has effectively incorporated technology into the exhibition. Visitors have the opportunity to scan QR codes to access detailed information about the artworks on display, gaining insight into the artists' creative processes and intentions.
Depiction of jatras on canvas, cloth and paper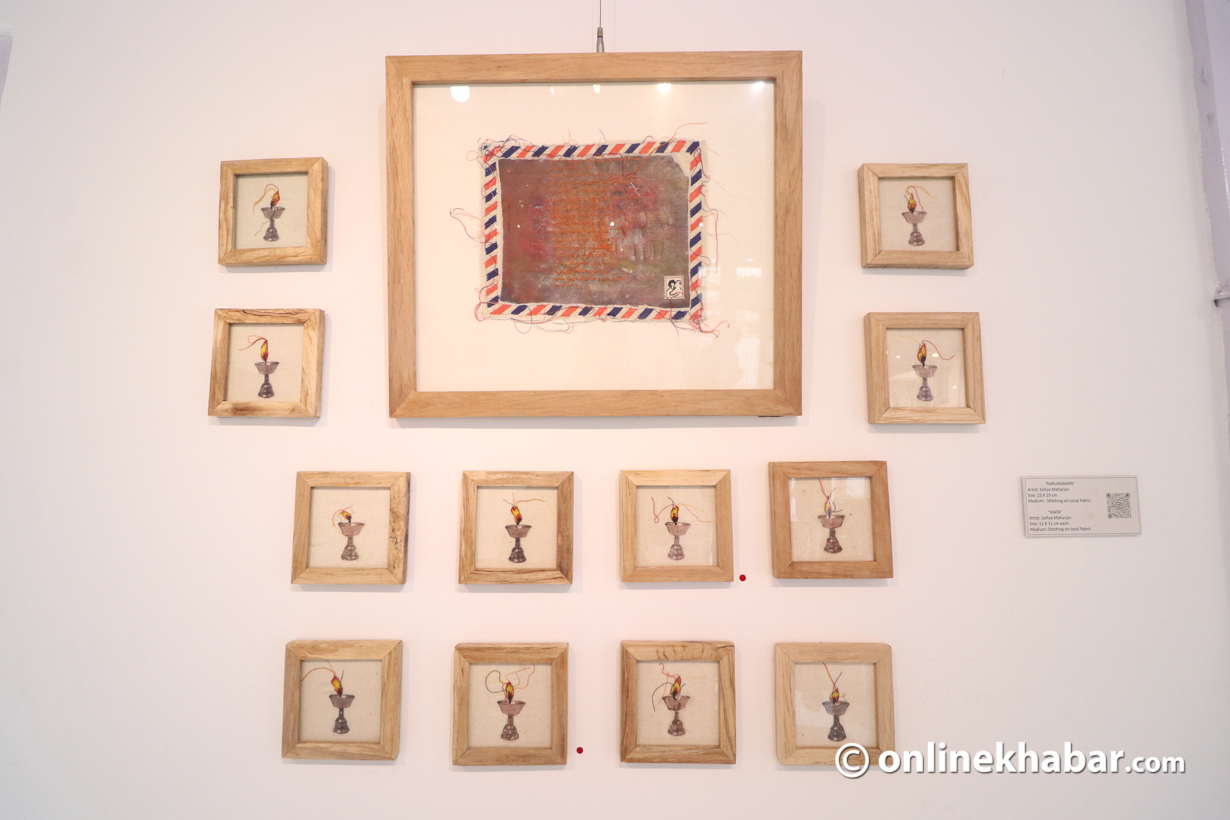 Artist Aarjan Tandukar has created three different paintings — Golden Hour, Jhyali's Resonance and Ablaze — using acrylic on canvas. He used impressionism in his paintings, and the bold colour contrast in rhythm gives the viewers an instant sense of being in a jatra.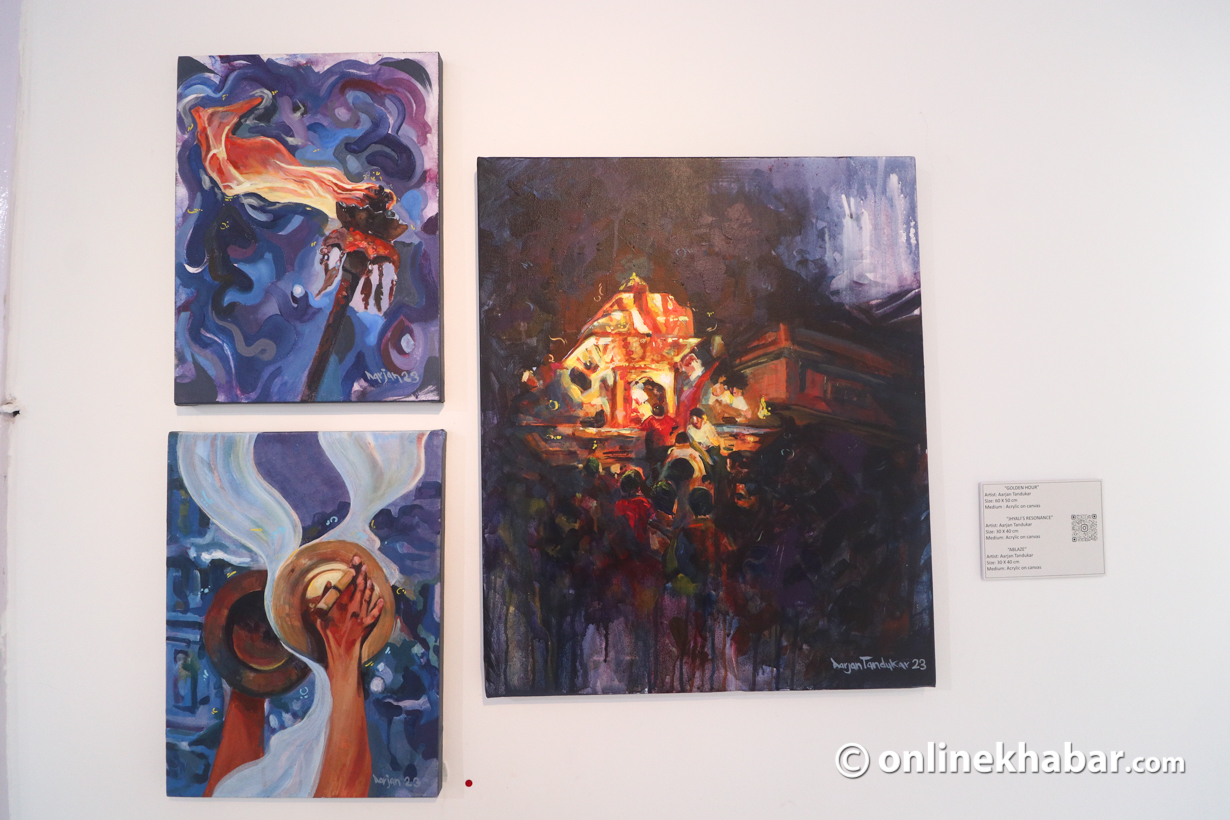 In Bal Krishna Banmala's painting using acrylic on canvas, he has presented a mask dancer from Nava Durga Dance, a traditional dance form he himself practices. Another artist who used acrylic on canvas, Kuntishree Thapa depicted female figures in particular traditional dress and these females do not have any facial features.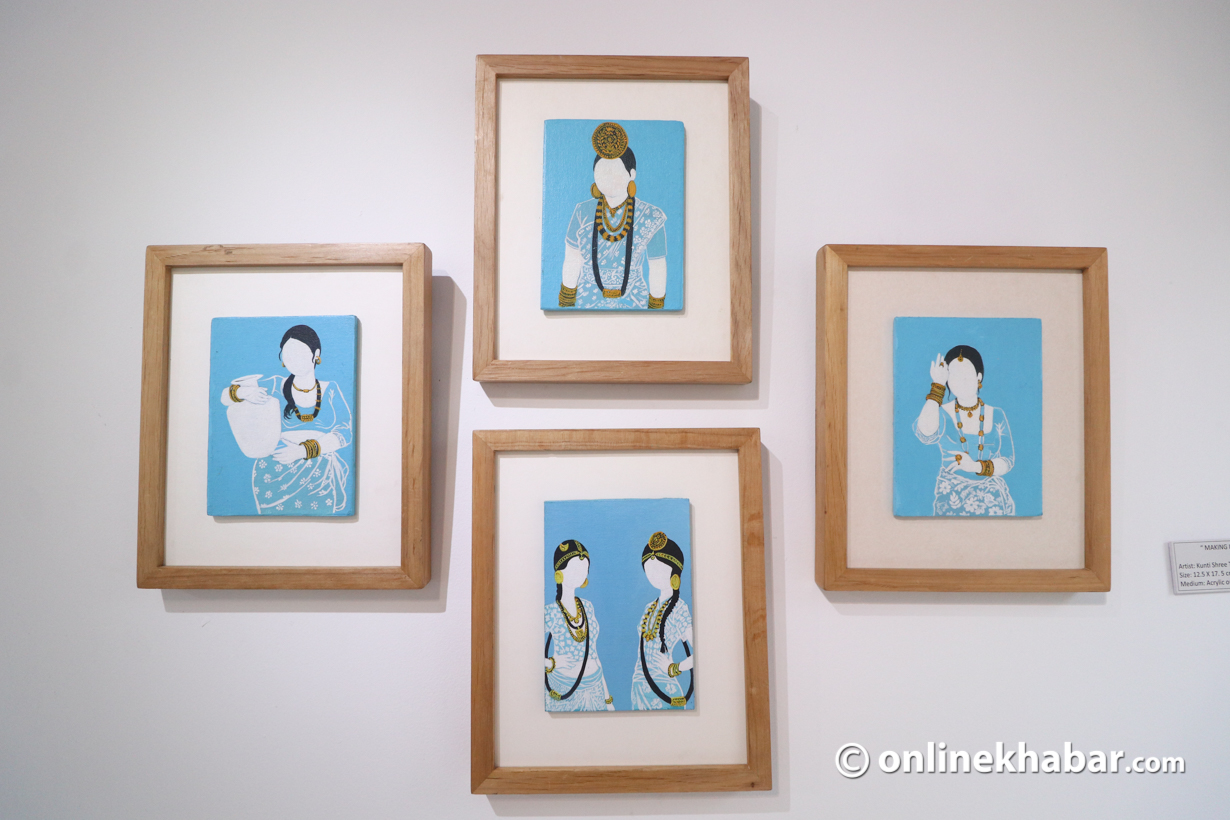 Artists Kabir Kayastha's photographs, Dongol's artwork using ink on paper, Sony Rai's linocut prints using printmaking technique and Sofiya Maharjan's stitching on local fabric using mix-media focused on the events, beliefs and activities based on Rato Machhindranath Jatra.
However, each artist has a different narrative while expressing their viewpoint of Rato Machhindranath Jatra and they all have focused on the chariot. Maharjan's artwork has a fresh approach while depicting her version of jatra.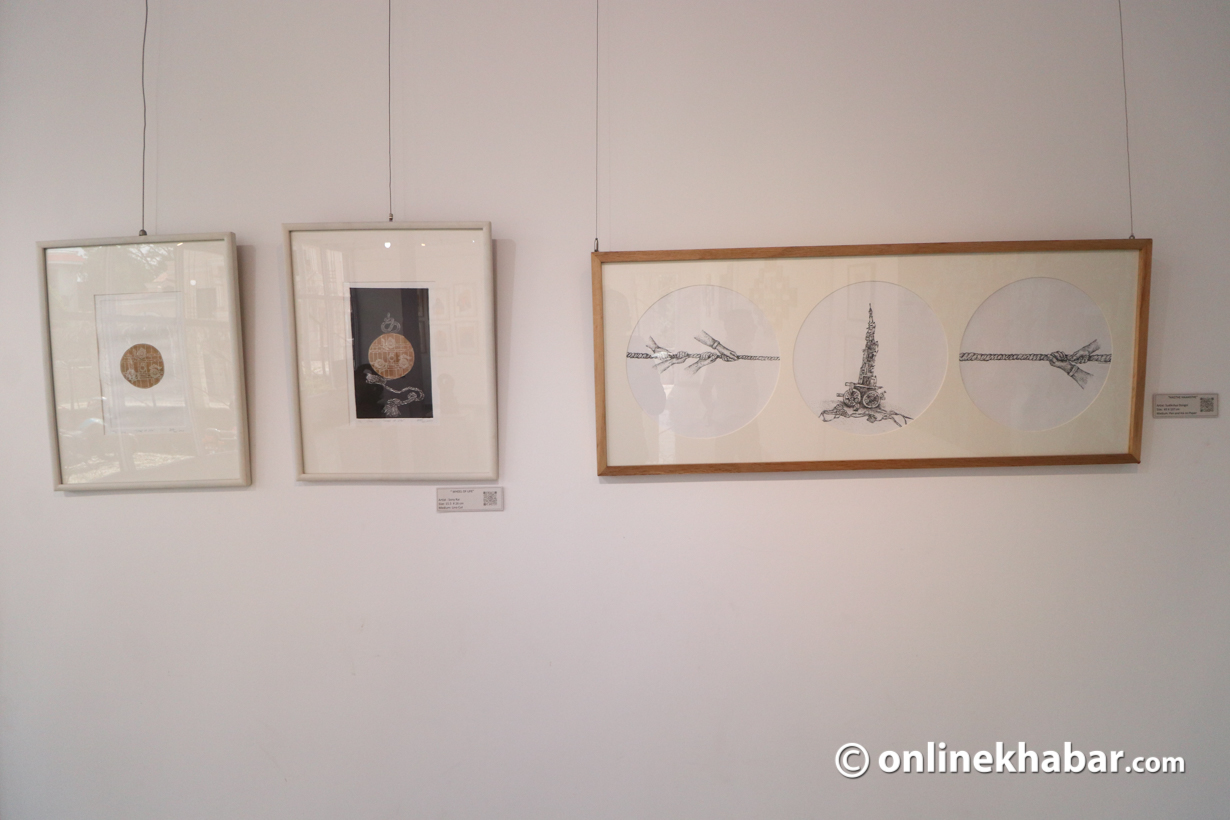 Moreover, Dongol's artwork focuses on unity and enthusiasm during the festivity and she has created the artwork using dots where each dot symbolises people who visit the festivals. Then, in Maharjan's artwork, the viewers are able to witness the combination of handwork and technology.
She has embroidered Nam Sangati, bhajan (hymn) where in the background she has narrated the legend behind the Rato Machhindranath Jatra. Then with a similar technique created blazing butter lamps that surround the main artwork.
Appreciation of cultural heritage
Artist Dhiraj Manandhar using mixed media has created Bhaktapur series which has six prints. He has used bold colours like orange and red for the background on white paper, which has highlighted architecture that is historically and culturally important. This set of artworks can instantly catch anyone's eye.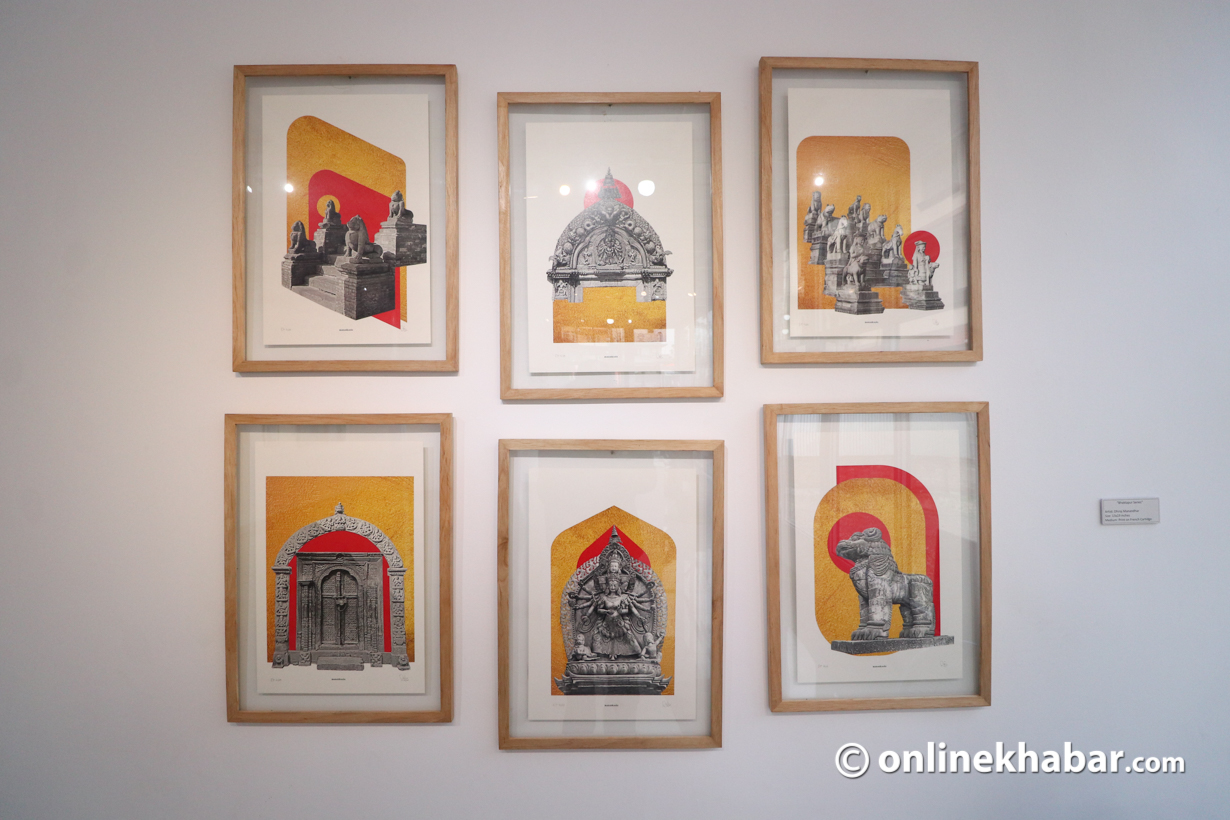 In the exhibition, there are wooden sculptures by sculptor Suraj Shilpakar where he has created Maicha and Gandarva. His sculptures are aesthetically pleasing and depict the mood of jatra whereas Maicha is a sculpture of a girl who is pouring alcohol in Newari style. Likewise, in Gandarva a boy is playing a musical instrument. Artist Sagun Thapa too has created an abstract sculpture titled Vessel.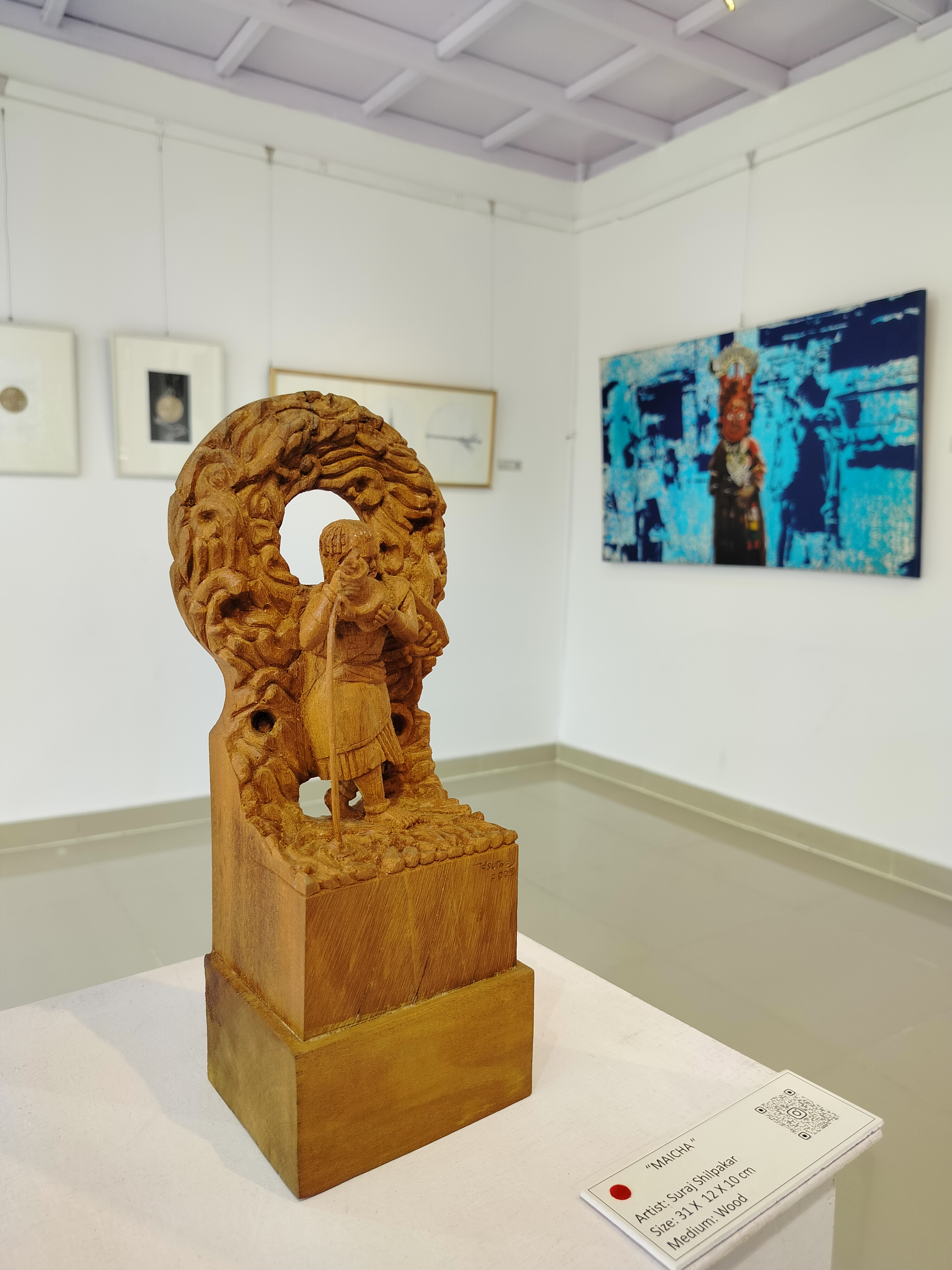 Artist Sarana Shrestha's set of paintings using on small canvas depicts the movement and detail works of costumes by mask dancers. On the day of the inauguration, artist Nirvita Shakya did a performance art on the theme of jatra.
The exhibition is a window to understand the cultural heritage of Kathmandu and the perspective of jatra by young minds. The exhibition is a delight to know how the culture has affected their understanding and expression through their artworks.
If you want to witness the same visit the exhibition that continues till June 19.