Along with Honda H'ness CB350, Honda has also launched the CB350RS. It is also a contemporary style bike with a range of advanced features making it one of the bikes to watch along with H'ness CB350. This is also the latest addition to the exceptional CB series which has been around for a long time. This bike aims to provide the riders with a convenient and stylish riding experience.
Overall, CB350RS is a fusion of old-school looks with modern-day features. Some of the notable features the bike has are a digital-analogue metre, selectable torque control, an exceptional 350CC engine to name a few. Yet, it will face tough competition in Nepal owing to the popular presence of similar bikes with similar features.
Let's get into the details of the bike and predict how it will perform in Nepal.
Specifications
Engine
OHC single-cylinder, air-cooled, 4-stroke
Dimensions
Length: 2,171mm
Width: 804mm
Height: 1,097mm
Wheelbase: 1,441mm
Ground clearance: 168mm
Displacement
348.36cc
Starting mechanism
Self-starter
Max power
15.5 kW@ 5500rpm
Max torque
30 Nm @ 6000rpm
Compression ratio
9.5:1
Stroke
90.519mm
Bore
70mm
Gearbox
5-speed
Fuel tank capacity
15 litres
Mileage
35-40 kmpl
Tire
Front: 100/90-19M/C 57H Disc (Dual-channel ABS)
Rear: 150/70-17M/C 69H Disc (Dual-channel ABS)
Suspension
Front: Telescopic
Rear: Twin-Hydraulic
Kerb weight
179 kg
Design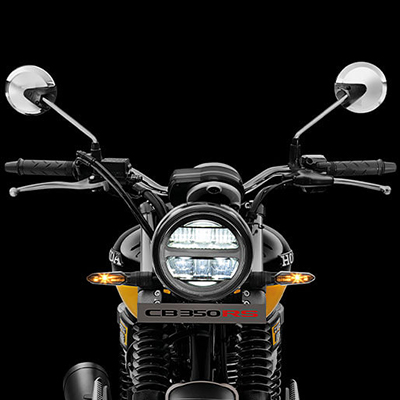 The new Honda CB350R has the vintage looks of the Honda CB motorcycle. The clean and elegant design of Honda can be seen in the CB350RS as well. Like the H'ness CB350, this bike also has a round LED headlamp and is complemented by the eye-shaped LED winkers, a curvy 15-litre dual-tone fuel tank, and the classic chrome fenders. Providing some modern features on the bike are Bluetooth connectivity, traction control, dual-channel ABS, and a slipper clutch.
This bike also uses a half-duplex cradle frame and has a telescopic suspension at the front and twin-hydraulic suspension at the rear end. The bike weighs around 179 kg. It has a ground clearance of 168mm, which is best in this class segment and even betters 166mm of H'ness CB350. The design is captivating and already has succeeded in capturing a mass audience.
Performance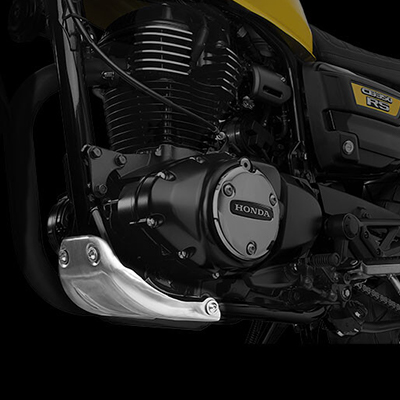 Honda CB350RS is powered by a powerful 348.36 cc air-cooled, four-stroke OHC BS6 single-cylinder engine, and the company claims the engine provides smooth acceleration without vibration across the rpm band just like the H'ness CB350.
The bike is also paired with a five-speed gearbox, and a newly developed engine that can generate a maximum power of 15.5kW @5500rpm whereas reaches a max torque of 30Nm@3000rpm. This makes the riding experience of the bike smooth and effortless. Honda also claims to have taken care of the vibrations produced by the engine by employing balancer shafts in this bike as well.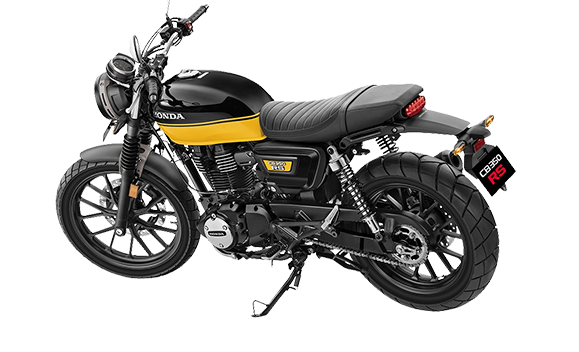 This bike also includes an assist slip clutch, LED lights and a side stand indicator with engine cut-off. The feature that stands out the most in the Honda CB350RS as well is the Honda selectable torque control (HSTC). This is the first-in-segment torque control system that detects the difference between front and rear wheel speeds, calculates the slip ratio, and adjusts engine torque via fuel injection. The HSTC can be turned on or off using a switch on the left side of the metre.
Summarising, some of the noticeable features of Honda CB350RS are:
Powerful BS6 engine
Full LED headlamp
Dual channel ABS
Dual tone fuel tank
Tuck roll seat
Under seat tail lamp
PIN-striping on fuel tank
Assist and slipper clutch
Main shaft coaxial balancer
Honda selectable torque control (HSTC)
Hazard switch
Side stand with engine inhibitor
Gear position indicator
Honda CB350RS has been opened for booking and will cost Rs 798,900 in Nepal, slightly high than the price of the H'ness CB350. The Dashain offer of the company includes a sure-shot discount of a minimum Rs 25,000 cash discount.
Verdict
Like the H'ness CB350, CB350RS is also a beautiful and great bike from Honda. Both the bikes are almost identical in every segment. The features are identical and so are the power figures of the bike. The design looks extremely similar as well and only the graphics and seating look different. Both of them are powered by the same engine.
Improvements from Honda are visible in these bikes. With the launch of the H'ness CB350 and CB350RS, Honda is trying to take over this class segment. In Nepal, this bike gets competition from Italjet, Jawa, and Royal Enfield. All these bikes have a similar powertrain while the Italjet has a slimmer design. With Royal Enfield being the main competition, it will be interesting to see how the new models of Honda will thrive in the market.
The problem for Honda CB350SR is similar to H'ness CB350. Royal Enfield has already established itself as a status symbol here and people have associated it as a feeling. Though the features of Honda's new bike may be overwhelming, it will be pretty tough for it to compete against. Honda itself is a brand to reckon with, but in this category, Royal Enfield has already marked a huge presence.