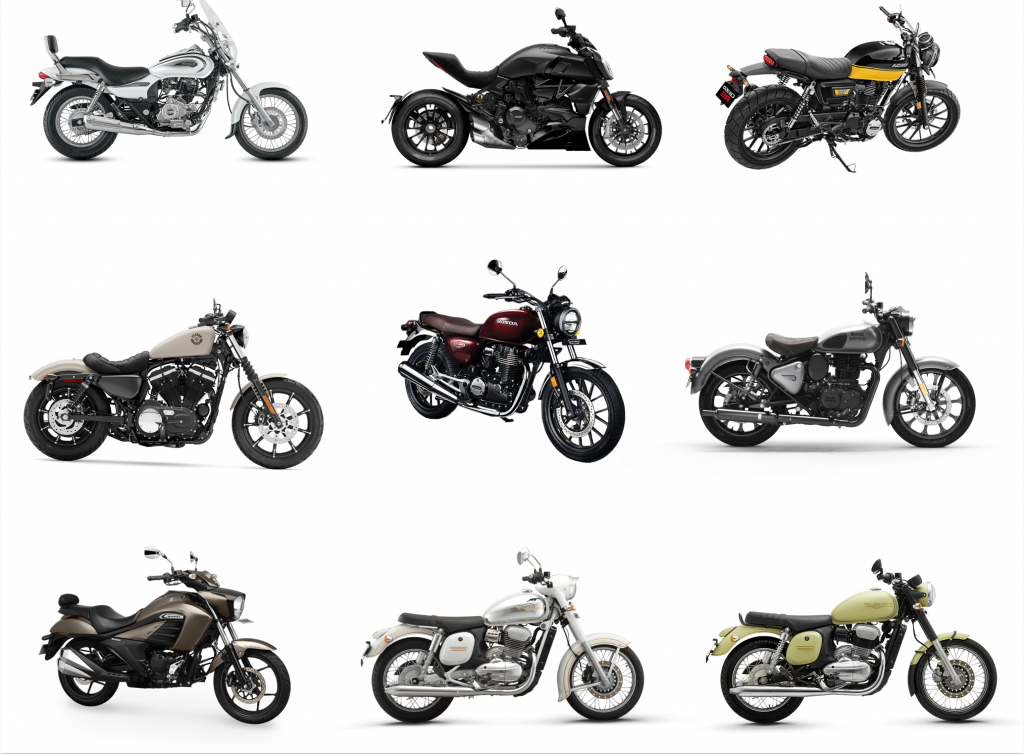 Cruiser bikes are one of the most popular categories of two-wheelers that are popular in Nepal. These bikes with wide handlebars and comfortable seating positions allow the rider to lean back to savour the moment with single-speed drivetrains, which require less maintenance and make them easy to ride a long distance enjoying the blissful environment.
Cruiser bikes are known for their design among other features. The classic round headlights, a wide body or a muscular tank, a lean body and beefy tyres provide proper needed stability for a smooth ride. The bikes not only perform well on straight well-paved roads but also on rigid terrain. The bikes also have storage space which is very suitable for long rides and travels.
Considering that you might be looking for a guide to buying one for your use, we are giving you a price list of the best cruiser bikes available in Nepal as of March 2023.
SN
Company
Model
Price
1
Suzuki
Intruder
Rs 329,900
2
Bajaj
Avenger 160 Street ABS
Avenger 220 Cruise
Rs 353,900
Rs 405,900
3
Royal Enfield
Classic 350
Meteor 350
Starting from Rs 640,000
Starting from Rs 830,000
4
Jawa
42
Classic
Starting from Rs 673,000
Starting from Rs 705,000
5
Honda
CB 350 H'ness
CB 350 RS
Rs 848,000
Rs 898,000
6
Harley Davidson
Street 750
Street Rod 750
Iron 883
Rs 2,300,000
Rs 2,700,000
Rs 4,585,000
7
Ducati
XDiavel
Diavel
Starting from Rs 7,508,557
Starting from Rs 7,609,206
1. Suzuki
The cheapest on the list of the best cruiser bikes is Suzuki Intruder. The bike comes with a 150.9CC engine, also making the least engine displacement out of the list.
Suzuki Intruder looks very bulky and has a unique headlight design, a blacked-out pattern, and chrome highlights. The bike also sports a stepped-up seat and a powerful fuel tank with Intruder branding. The design is overall modern and distinctive, making it stick out on the road.
Suzuki Intruder is available in three colours and costs Rs 329,900 in Nepal.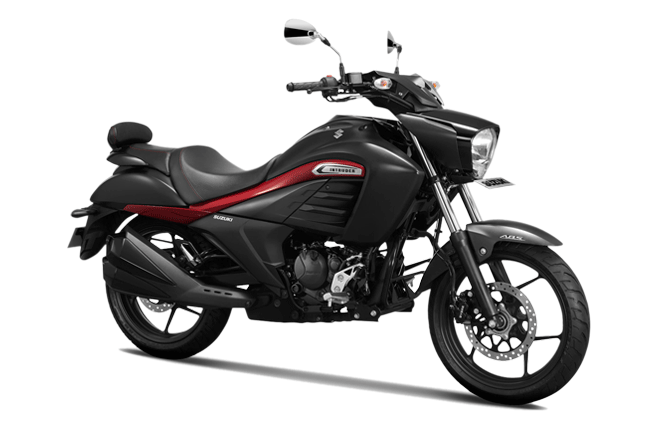 2. Bajaj
Next on the list of the best cruiser bikes in Nepal is Bajaj, which provides almost all kinds of bikes from all categories. The company has two cruiser bikes currently: Avenger Avenger 160 Street ABS and Avenger 220 Cruise.
Both models boast comfortable riding positions, long, low-slung frames, and cruiser-style styling. Avenger 160 ABS has a matte finish on the body panels, chrome headlamps, and a blacked-out appearance and includes alloy wheels. Avenger 220 Cruise, on the other hand, has a classic cruiser appearance with a windscreen, a teardrop-shaped fuel tank, and a spacious backrest for the passenger. These motorcycles have stepped seats and powerful gas tanks with the Avenger branding. The power figure is also good according to the price point and can be used for cruising on the highways.
The price of Bajaj Avenger 220 is Rs 405,900 and that of Bajaj Avenger 160 ABS is Rs 353,900.
3. Royal Enfield
Royal Enfield Classic 350, one of the most favoured classic bikes in Nepal, is also called the bullet. The bike has also been a favourite as a cruiser bike along the highways in the hills. Royal Enfield also has another bike on the lineup in Nepal, Meteor 350, which consists of three options: the Stellar, the Super Nova and the Fireball.
Both Royal Enfield Meteor 350 and Classic 350 have retro looks with contemporary accents. Meteor 350 has a chrome-finished teardrop-shaped gasoline tank, a circular headlamp with LED daytime running lights, and a raised seat for the convenience of the rider and passenger. On the other hand, Classic 350 has a more retro appearance due to its rounded headlamp, big fuel tank with knee pads, and sprung saddle seat. Both bikes come in a variety of colours and feature wide handlebars that provide the rider with a dominating stance which can also be changed to the biker's preferences.
Both bikes have a 350CC engine that gives enough power and can be used as cruiser bikes. The bikes' prices defer according to the models.
| | |
| --- | --- |
| Model | Price |
| Royal Enfield Classic 350 (Black colour) | Rs 640,000 |
| Royal Enfield Classic 350 (Other colours) | Rs 650,000 |
| Royal Enfield Meteor 350 Fireball | Rs 830,000 |
| Royal Enfield Meteor 350 Stellar | Rs 850,000 |
| Royal Enfield Meteor 350 Super Nova | Rs 870,000 |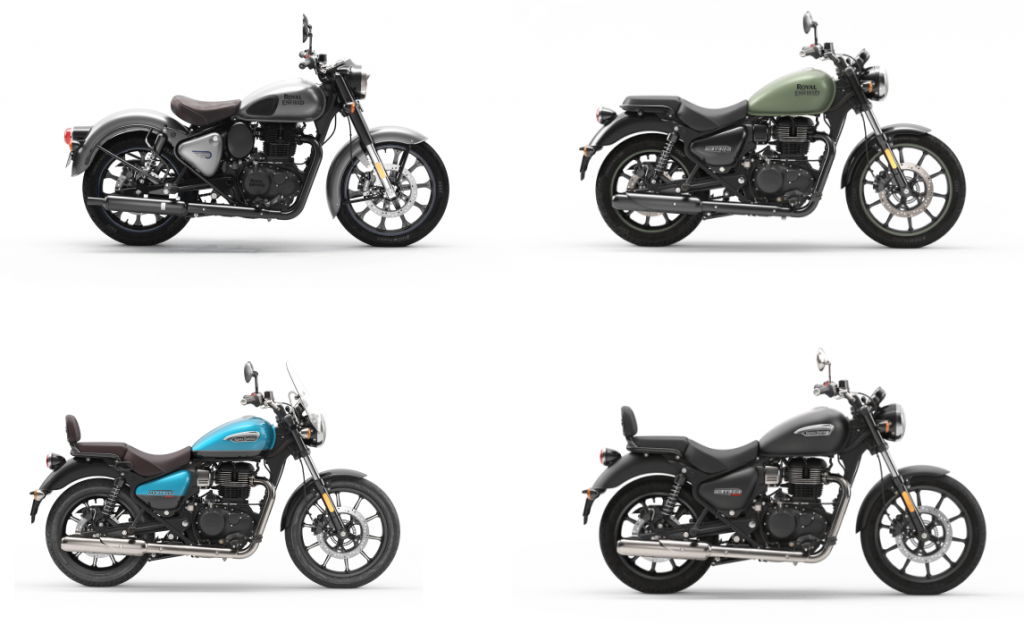 4. Jawa
Another classic and a competitor to Royal Enfield and also one of the best cruiser bikes is Jawa motorcycles. They have a much similar look to classic bikes all over the world, but the sounds from the exhaust differ very much. The exhaust has a rattling sound but with a whine, which is pleasing to the ears. Currently, three models are available in Nepal: Jawa Classic, Jawa 42 and the Jawa Perak. Classic and Perak are included on the list of the best cruiser bikes but Perak is not because it is a bobber one-seater bike.
Jawa Classic has a traditional saddle-style seat, a circular headlamp, and a gasoline tank with chrome trimmings. The bike also has dual exhaust pipes and spoked wheels, which give it a vintage appearance. A smaller gasoline tank, a flatter seat, and a headlamp with a square form distinguish the more contemporary Jawa 42 from its predecessors with alloy wheels. Both bikes have a distinctive Jawa emblem on the fuel tank and come in a variety of colour options. Riders find the designs to be elegant and distinctive overall, with a mix of traditional and modern aspects. The bikes can be used as cruiser bikes with the power and comfort provided.
The prices of Jawa Classic and Jawa 42 defer based on whether you choose single-channel ABS or dual-channel ABS.
Jawa Fort two (42)
Rs 673,000 (Single Channel ABS)
Rs 704,000 (Dual Channel ABS)
Jawa Classic
Rs 705,000 (Single Channel ABS)
Rs 736,000 (Dual Channel ABS)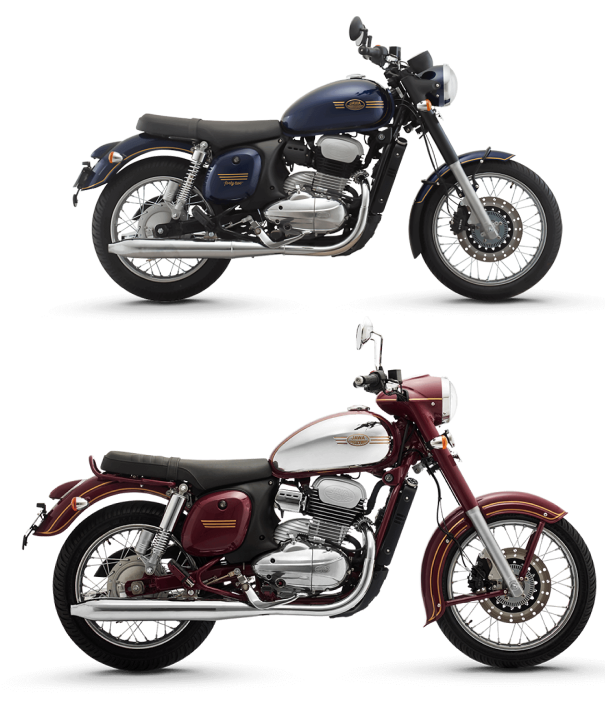 5. Honda
The leading competitor in the Nepali motorbike market is the Japanese company, Honda. Known for its engine reliability and performance, Honda does not sell its dedicated cruiser bikes in Nepal like Honda Rebel, Honda Aero or Honda Shadow Phantom. However, there are two bikes with a modern taste that can be called cruiser bikes: Honda CB 350 RS and Honda CB 350 H'ness.
CB 350 RS has a retro-style fuel tank, a flat seat, and a tail cowl. It also has a round LED headlamp. The motorcycle also sports chrome exhaust, alloy wheels, and a digital instrument panel. Likewise, CB 350 H'ness has a single saddle seat, a huge fuel tank, knee pads, and a circular headlamp; it has a more retro appearance. Moreover, it features an analogue-digital cluster, spoked wheels, and a chrome exhaust. These bikes have upright riding postures that make them comfortable for cruising and suited for lengthy trips. 
The price of Honda CB 350 RS is Rs 898,000 and that of Honda CB H'ness is Rs 848,000.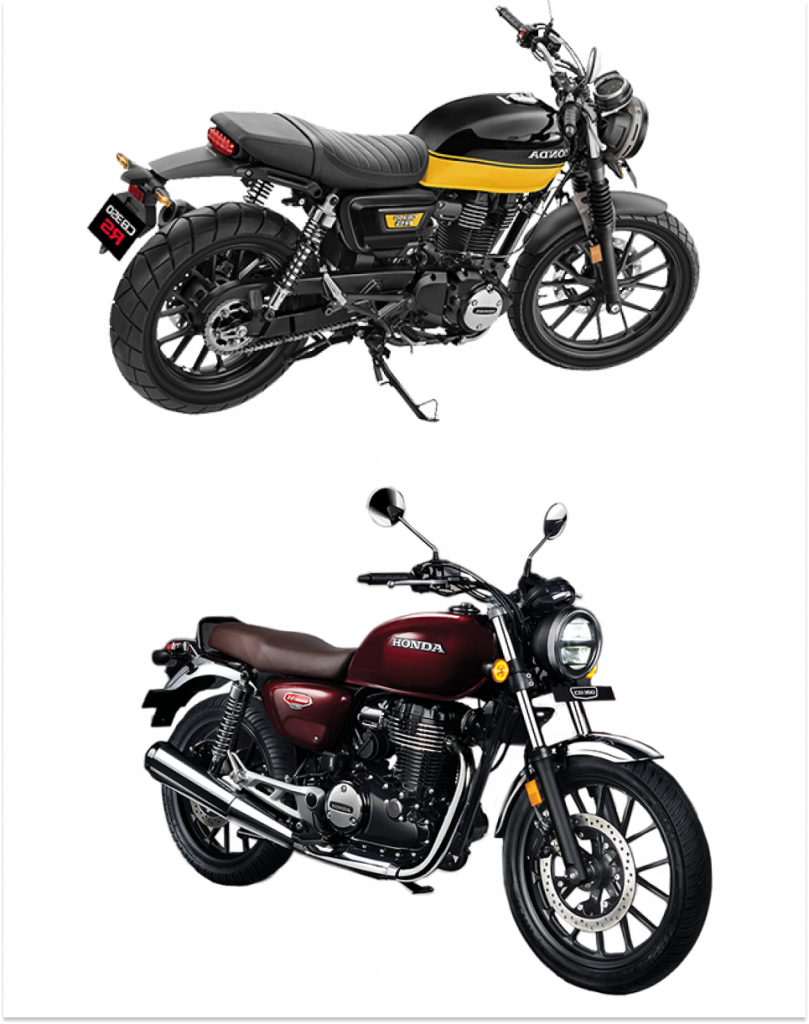 6. Harley Davidson
The ultimate American cruiser bike whose influence started the whole cruiser bike category in the bike world is Harley Davidson. Currently, three cruiser bikes are sold by Harley in Nepal: Harley Davidson Street 750, Harley Davidson 750 and Harley Davidson Iron 883.
All three Harley Davidson models offered in Nepal—Street 750, Street Rod 750, and Iron 883—are cruiser-style motorcycles made for relaxing cruising. Street 750 features a low-slung frame, a teardrop-shaped fuel tank, and a round headlamp, giving it a traditional cruiser appearance. With a pointed fuel tank, drag-style handlebars, and inverted front forks, Street Rod 750 has a more contemporary and assertive appearance. Iron 883 features a solo seat, a cut-back fender, and other traditional bobber features. The cruiser bikes have a strong V-twin engine and are ergonomically intended for long-distance touring. Also, their distinctive exhaust noise enhances the riding experience.
These Harley Davidson cruisers are generally attractive that are well-liked by riders in Nepal but are very expensive.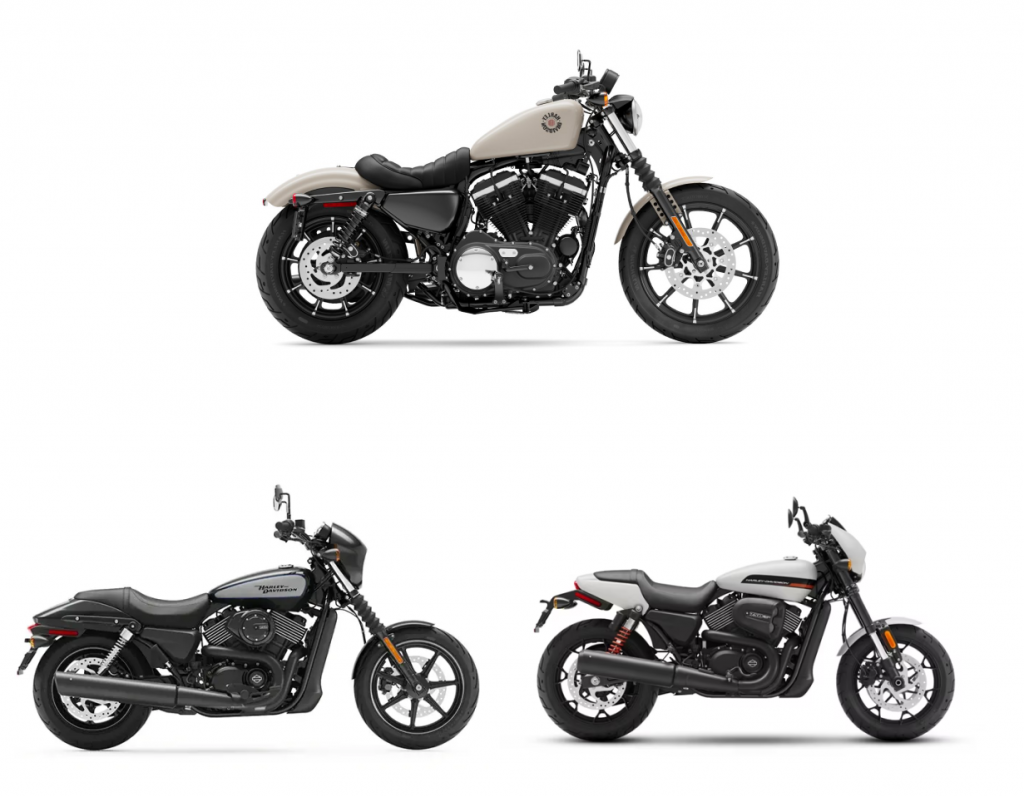 | | |
| --- | --- |
| Harley Davidson Street 750 | Rs 2,300,000 |
| Harley Davidson Street Rod 750 | Rs 2,700,000 |
| Harley Davidson Iron 883 | Rs 4,585,000 |
7. Ducati
The most expensive on the list of the best cruiser bikes we have are from Ducati. The Italian motorcycle company has all types of bikes from scramblers to superbikes. There are currently two cruiser bike models in the Ducati lineup: Diavel and Xdiavel.
Diavel has a muscular front end, a curved fuel tank, and a high tail portion, giving it a muscular appearance. It also has a peculiar exhaust system that furthers its distinctive appearance. Likewise, XDiavel features a long, low-slung profile, a wide handlebar, and a teardrop-shaped fuel tank for a more laid-back and comfortable appearance.
Both motorcycles feature strong engines that can travel at high speeds and with outstanding acceleration, making them ideal for highway cruising. For increased handling and rider comfort, they also feature cutting-edge technologies including traction control and riding modes. Ultimately, both are thrilling cruiser bikes that are elegant and powerful.
The price of Ducati Diavel starts from Rs Rs 7,508,557 and that of Ducati Xdiavel starts from Rs 7,609,206 in Nepal.