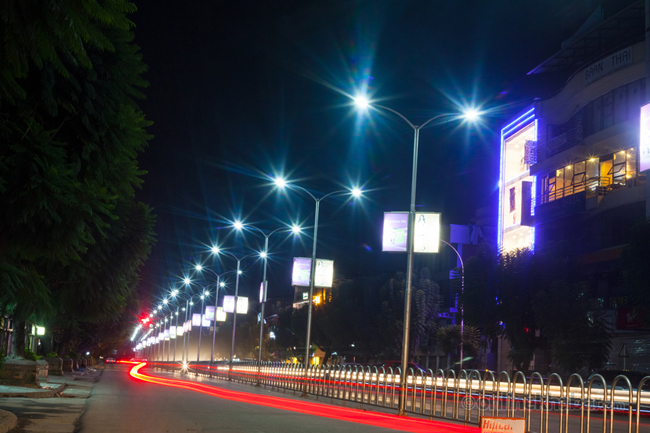 Kathmandu metropolis is implementing an ambitious project to electrify the city's roads this year itself, at a time when the country has been grappling with extended load-shedding hours.
It plans to install solar street lamps in around 850 electric poles in different parts of the mega city by spending around 10 crore rupees, giving some hope for a city that has been bearing the brunt of the supply crisis resulting from the Indian blockade and the Madhesh movement.
It is about to invite the tender for the electrification work.
The metropolis plans to install solar lights like in Ratnapark and Naya Baneshwor.
In the first phase, it will install solar street lamps at the Maitighar-Singha Durbar (south gate)-Thapagaun-New Baneshwor stretch, Dr Uttar Kumar Regmi, chief of the metropolis' physical construction department, told Onlinekhabar.
The solar lights will be like the ones installed in the Ratnapark-New Baneshwor stretch during the last SAARC summit that Kathmandu hosted. The metropolis will install such lights in 130 electric poles.
The city also plans to install similar street lamps along the Sorhakhutte-Chhetrapati-Basantapur stretch. There will be 900 street lamps along this stretch, says Regmi. The metropolis plans to install another 200 street lamps in other places this year itself. Each pole will have an LED bulb of up to 40 watt, according to Regmi. "After installation of electric lights, people living close to the roads feel a sense of security. So, we plan to install such lights in a maximum number of places."
In Naya Bazaar, Kathmandu metropolis-16, the metropolis plans to rely entirely on solar power for lighting the streets.
Regmi says they plan to produce solar power at the Judo Hall there and supply that power to light street lamps.