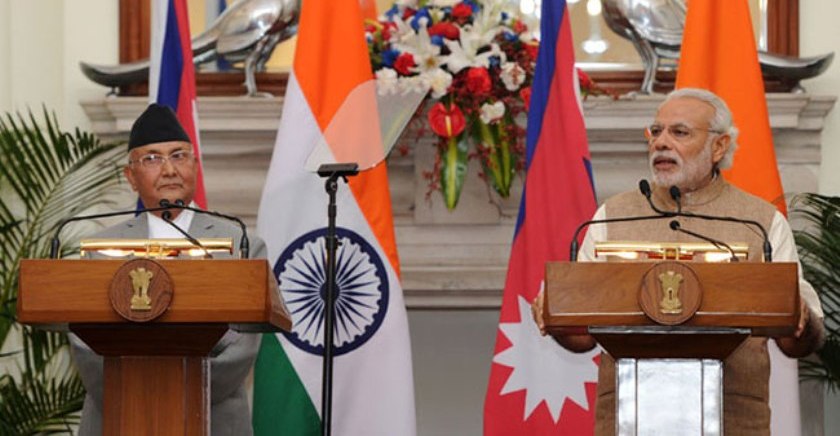 At the end of a meeting between two heads of government, the leaders usually issue a joint communique
As Nepal PM KP Oli's India visit comes to a close, India is pressing Nepal for the inclusion of its concerns regarding redrawing of provincial boundaries
On its part, Nepal wants India to welcome and support the constitution promulgated through a popularly-elected Constituent Assembly unconditionally
New Delhi, February 23
A summit between two heads of government usually ends with a joint communique. There are expectations that Nepal Prime Minister KP Sharma Oli's India visit will not be a departure from the international practice. But India is driving a hard bargain vis-a-vis the constitution of Nepal, which a popularly-elected Constituent Assembly promulgated with overwhelming majority, according to a source.
Nepal is insisting that India welcome and support the constitution without attaching riders. India is hesitating to do so. Given this situation, the process of issuing such a communique has not even begun. But there's a glimmer of hope as both sides are committed to issuing a joint note, no matter what.
While India has 'approved of' the constitution amendment', it is yet to get assurances on redrawing of provincial boundaries (in a way that addresses its concerns). In his address at the Hyderabad House, India's Prime Minister Narendra Modi has already put forth conditions on this. And India wants inclusion of these riders in the communique.
Meanwhile, Minister for Foreign Affairs Kamal Thapa said even he and his party had reservations about some constitution-related issues.
Thapa, speaking at an interaction at the Indian Council for World Affairs on Monday, said: "I and my party protested against several issues in the constitution. But we moved ahead by accepting the whole thing after the promulgation of the constitution."