Competing in the inaugural Kathmandu Mayor's Cup in March 2021, Gulshan Jha did not have a lot of expectations. At 17, all he wanted was to play at least one game. But, little did the six-foot-tall fast bowler know that the tournament would change his life.
After performing well in the tournament, including a man of the match performance in the finals, Jha has left Nepal with the national cricket team to take on Oman and the USA in Cricket World Cup League 2. Now, he hopes to make his debut for the national team and help take Nepali cricket to new heights.
The early-bird cricketer
Born and brought up in Sarlahi of southeastern Nepal, Jha played cricket from an early age. But, he wanted to get better, that is why in 2016 he left Sarlahi and went to Ranchi in Jharkhand, India, to learn more about the game he loved. He enrolled himself at Arunodaya Cricket Academy where he learnt cricket for four years.
"That is where my career began," he says.
He was doing well there, but Covid-19 hit India hard, which resulted in him coming back to Nepal. In Nepal, he was staying idle when heard about the Prime Minister's Cup taking place in Kathmandu. He went to the Province 2 trials for the tournament, but he did not make the final team. Yet, he did not lose hope as he continued to train.
In February, he heard about the Mayor's Cup and got into Nepal Police's team. Even though he did not get many chances, whenever he did, he showed his potential. He made his tournament debut against Kathmandu Mayor's XI. He did not take any wickets, but the young pacer was economical as he gave away just 22 runs in six overs.
His breakout game came in the final. Not fazed by the occasion, he dismantled Armed Police Force's top order to bits. In the seven overs he bowled, he took four wickets giving away just 22 runs as he was declared the player of the match. That impressed everyone watching, including newly appointed Nepali coach Dav Whatmore, as he made his way to the closed camp of the national cricket team.
Hopes for the future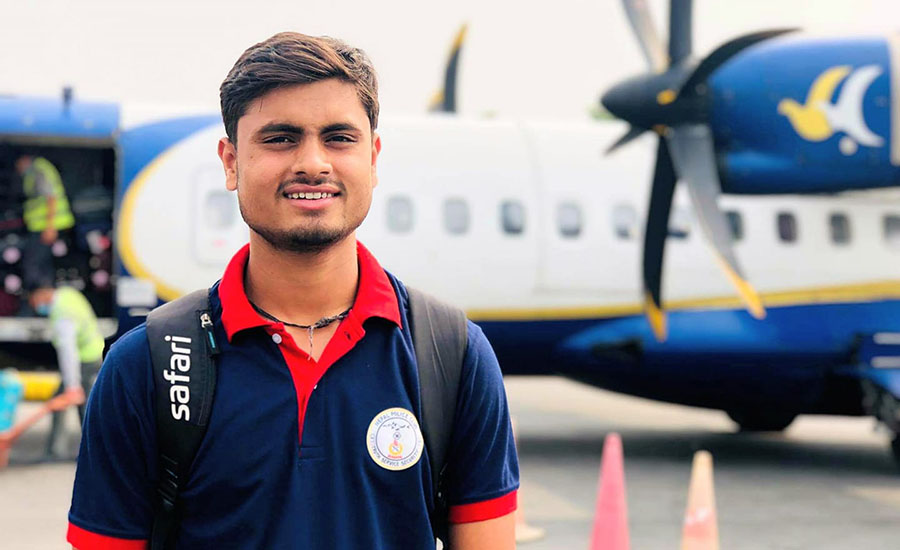 His real test will begin now as getting into Nepal's playing eleven is not going to be an easy task. Sompal Kami and Karan KC, both of whom are handy with the bat, lead Nepal's fast bowling. Avinash Bohora has also been doing quite well for the national team as Bikram Sob is also making his comeback into the national team.
"I've done well to get here. But, I know how hard it is going to get into the first team. This is like a dream come true and I hope I can do well," says Jha.
He says when he got the call that he was in the touring team, he was over the moon.
"I couldn't believe it. I'd just returned from training when I got the call. It was a special moment."
He says he is cherishing every moment as this is what he had dreamed of as a child. Apart from cricket, he has learnt a lot about discipline from the senior players. He says as he hopes he can make his family and well-wishers proud when he gets the chance.
"The senior players and coaches have been wonderful to me. I've learnt a lot from them and hope I can perform at my best level when the team needs me," says Jha.
His USP as a bowler is pace and bounce, but he still has a long way to go if he wants to get into the playing set. He himself knows how challenging it is going to play ahead of the fast bowlers Nepal has, but he is ready.
"It's good that we have all these fast bowlers in the team. I have learnt a lot about what ball to bowl and when. They also told me about the batsman's psyche," he says, adding Whatmore has asked him to go express himself and play without pressure.
It is highly likely that Jha will make his debut against the two-match ODI series against Papua New Guinea that takes place on September 5 and 8. If he performs well, he will surely book his place in the team that will take on Oman and the USA in the 2019–2023 ICC Cricket World Cup League 2 taking place in Oman from September 13 to 20.