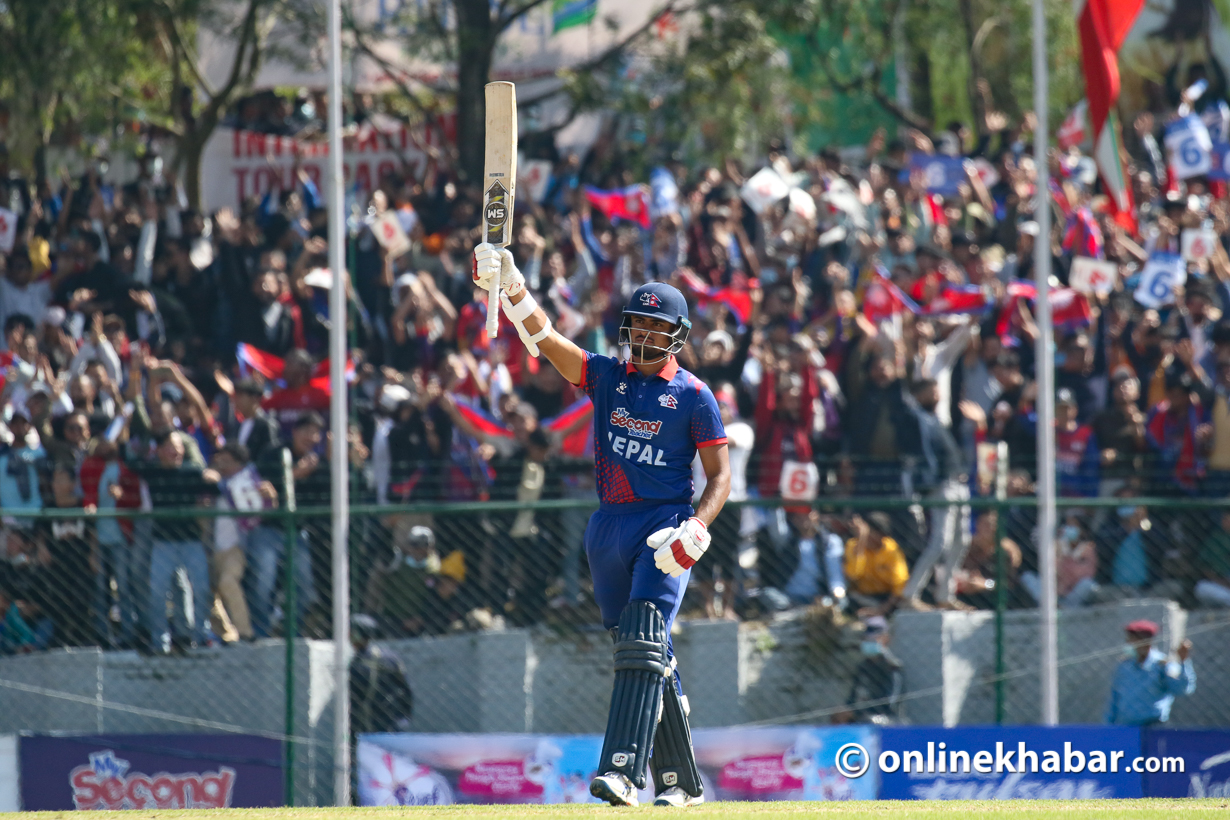 Throughout the past year, Gulshan Jha has proven his ability to thrive in clutch situations. Whenever Nepal has needed a player to step up, Jha has consistently risen to the occasion.
The recently held T20 World Cup Asia Qualifier is evidence of that. Despiting finishing second, his performance during the tournament was such that he was declared the best Nepali player as the team qualified for the 2024 T20 World Cup which will be held in the US and the West Indies in 2024.
Jha excelled with both the bat and ball. While his career has only just begun, people are already dubbing him Nepal's perfect all-rounder.
Standing out
Gulshan Jha made a name for himself during the Mayor's Cup in 2020. His performance with the ball in hand against the Armed Police Force during the final caught a lot of attention as he helped Nepal Police win the tournament.
Since then there has been no looking back for Jha. He has played a significant role in all the achievements of the Nepali cricket team over the last year. From winning 11 out of 12 matches in the ICC World Cup Cricket League 2 to facing formidable teams like India and Pakistan in the Asia Cup, Jha has made noteworthy contributions.
Even with limited appearances in ODI and T20 matches, he has already showcased his calibre as an all-rounder. His performances in the Tri-Series Nation and the final of the final for the T20 World Cup Qualifier have demonstrated that he is equally adept as an all-rounder in T20 cricket.
In the T20 World Cup Qualifier, Jha scored 79 runs in five matches, including one half-century, despite playing only three innings. His standout performance came in the final against Oman, where he scored an impressive 54 runs off just 25 balls, contributing significantly to Nepal's respectable total of 184.
Despite picking up only five wickets, Jha shown with the ball in hand has he kept troubling the batters with pace and bounce.
"It feels great to have won the best Nepali player. I am just happy to have helped the team get to the World Cup," he says.
Following the footsteps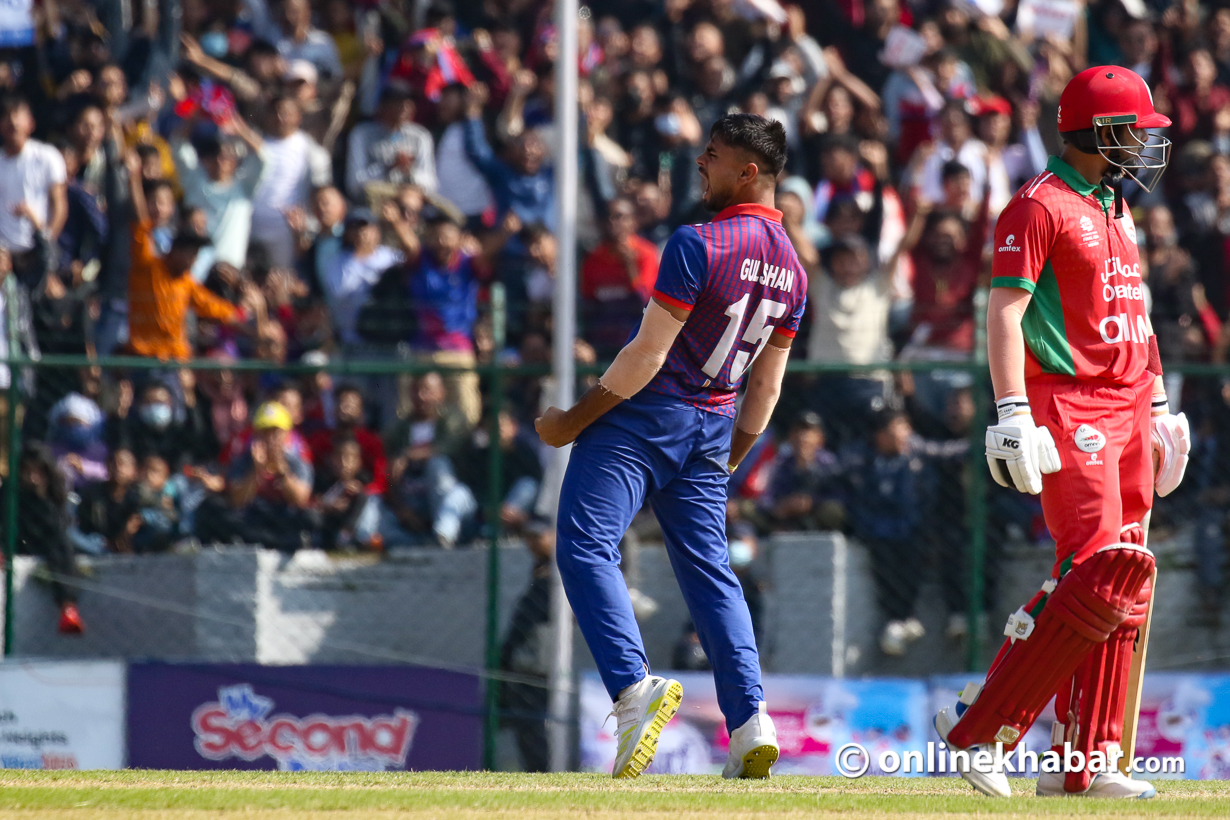 He recalls watching the T20 World Cup in Bangladesh and being inspired by the performances of Paras Khadka, Gyanendra Malla, and Sharad Vesawkar. According to him, they played a crucial role in motivating him to pursue a career in cricket.
"I wanted to be them. Sometimes it feels surreal that I am one of them now," he says.
Gulshan Jha is aware of the expectations and pressure placed on him, understanding that he must consistently develop and enhance his skills as a cricketer. Recognising the dynamic and competitive nature of the sport, he is committed to ongoing growth and improvement to meet the demands and challenges of the game.
He performed admirably during the ODI World Cup Qualifier in Zimbabwe and received praise from former cricketing greats.
"Gulshan is a special talent. Although he is in the early stage of his career he has already played significant innings in T20Is and ODIs," says former cricketer Sharad Vesawkar, former cricketer. "Currently, there is good team management and in the future things will improve more."
Vesawkar believes Jha has all the qualities to be one of the best all-rounders Nepal has ever seen and emulate the great Paras Khadka.
"He is a legend and the best. He is one of the reasons why cricket in Nepal is where it is today. I hope to emulate him but I understand he is unparalleled," he says.
Jha expresses his commitment to fulfilling the responsibilities assigned by the coach. He is actively working on improving both his batting and bowling skills.
"I am giving my best to be a better all-rounder."
Big match player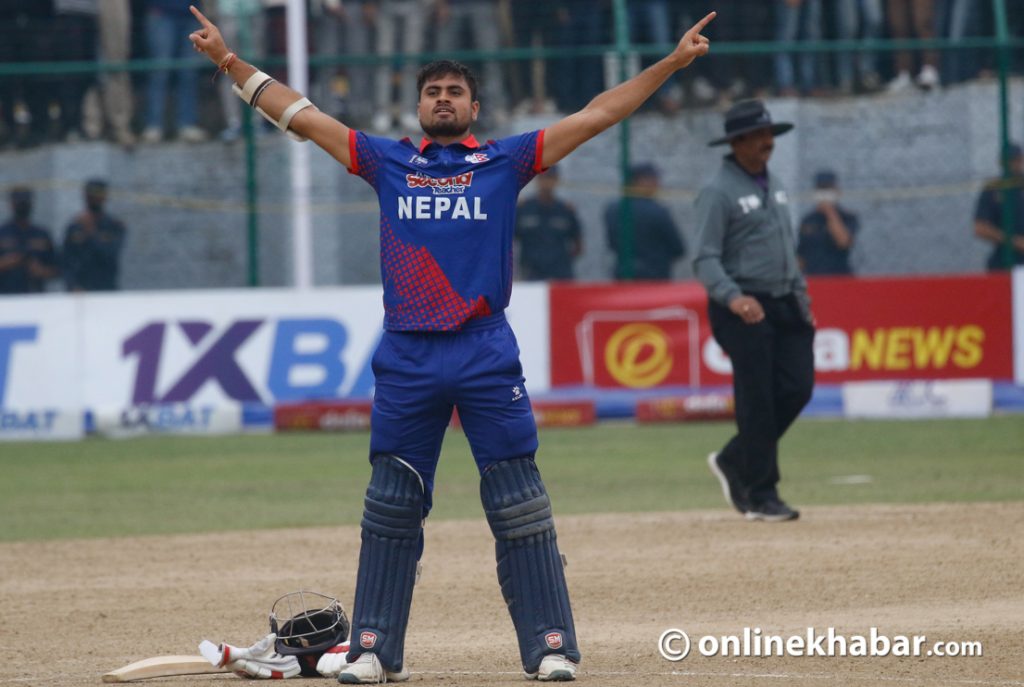 Gulshan Jha has proven to be a big-match player, delivering all-round performances in both ODI and T20 formats.
In the final match of ICC Cricket World Cup League 2, he won Nepal the game single-handedly by scoring an unbeaten 50 against the UAE. He has proven to be the UAE's nemesis as he helped Nepal beat them in the ACC Premier Cup final with an unbeaten 67 to take Nepal to the Asia Cup.
Jha has been consistent even in T20Is. In the T20 World Cup Asia Qualifier, he made significant contributions with the bat. His aggressive batting against Oman at TU Cricket Ground in Kirtipur played a pivotal role in Nepal posting 184 runs.
Nepal faced a challenging start, managing only 60 runs and losing four wickets in the initial 10 overs. However, Jha's entry into the batting lineup marked a turning point for Nepal. Jha's 78-run partnership with captain Rohit Paudel settled the innings as Nepal posted a competitive total. Jha finished with 54 runs off 25 balls, achieving his first half-century.
Former cricketer Vesawkar says that despite having played only around 15 T20I matches, Jha has already showcased significant potential.
"Gulshan has been playing well in pressure situations. I feel we have unearthed a gem," says Vesawkar. "Now we should focus on improving him and make sure he is not overworked and is free from injuries."