If it was some 10 years ago, starting up a brand that talked about climate change or sustainability in its model perhaps would have been an instant hit. But, today, it is nothing new. Brands, companies, startups, influencers and consumers all have moved beyond that 'just' sustainability model.
Now, everyone wants more. And to give people more, Nidhi Todi has started Dhaatu as a brand that makes locally made premium drinkware, dinnerware, and decorative collections made from scrap metals (mainly e-waste) and connects that with a story of people's roots. In addition, the startup has become successful in exemplifying how a brand is built and marketed.
Building a brand out of the convention
Dhaatu was conceptualised around the already-familiar norm among people who believed that drinking water in copperware is beneficial for their health, says Todi. "Copper is also religiously considered pious and hence used in puja and other religious events. Meanwhile, copper bottles were creating hype among conscious users and trendsetters alike. So, Dhaatu first started with a line of standard one-litre copper bottles with health benefits as per Ayurveda."
By now, it is not only copper. From Dhaatu, consumers get three types of metalware. The first collection is made of copper and includes bottles, tumblers, jugs and mugs. The second line is of bronze and brass serveware including plates, bowls, and cutlery. Its latest series is named "Ni-galo" and consists of metals with a range of gifts, decorations, cutlery, and bar accessories.
Dhaatu started in 2020 and, within just two years, has garnered national and international markets with enthusiastic customers who keep wanting more from the brand. This relatively small brand is now showing the world how Nepali handmade products can be appealing and ensure quality too. But interestingly enough, Dhaatu is operating well even without a single shop.
Managing e-waste
The advantages of copper, the need for recycling e-waste and sustainable ideas are realised by everyone. Ideas like Dhaatu's are creating direct or indirect advantages that prevent them from being dumped into landfills. "As the metals are reusable, it is also preventing another problem that is mining and use of minerals."
"Developed countries are 'dumping' their used goods by supplying them to countries like India and Nepal. But with ideas of recycling and upcycling, scrap metals can be a game-changer," she says.
But, recycling e-waste is a costly affair and the brand is a capital-intensive business, she says. "It is not properly managed or disposed of. So the first hurdle for this business is collection of scrap metal."
"In the world, e-waste is the fastest-growing pollutant with almost double the rate of the growth of the world population. During Covid and post-Covid scenarios, the use and purchase of gadgets have increased and so has the e-waste."
"With a factory in Birgunj already in place, we collect materials in bulk, so the job gets easier. There the metal is melted and purified. They are then made into sheets with rollers and moulds; all handcrafted by skilled artisans." Yet, she realises if not for an already set up ecosystem, her idea might not have been possible.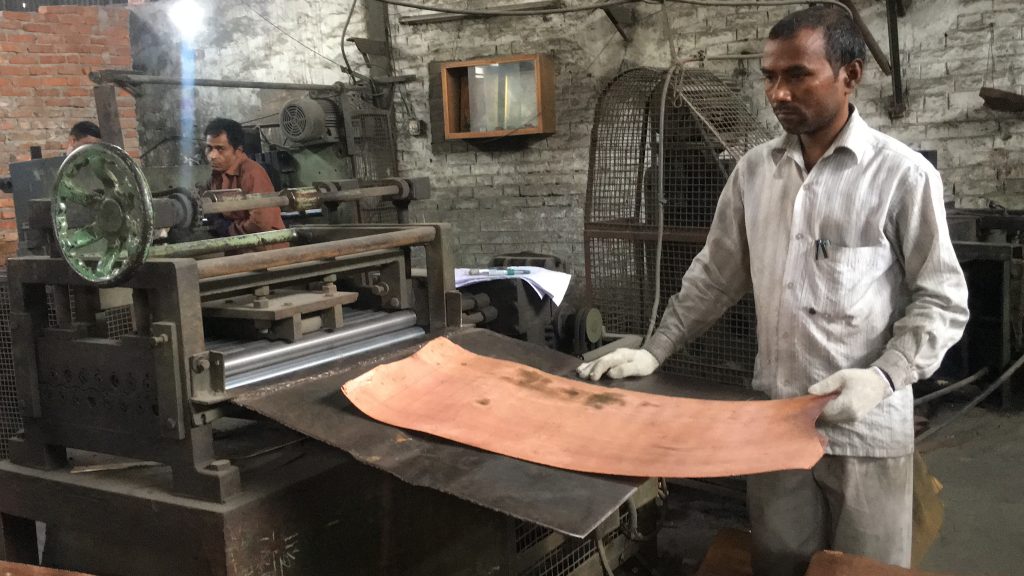 Taking the brand ahead
With a background in studying and working in the jewellery designing industry, when she came to Nepal after getting married, Nidhi Todi wanted to start her own company. "My in-laws were already in the metal business and made copper plates and utensils, being sold for common household and religious purposes. But, I did not want to get into that business."
But, bringing life to her own venture took time and she did not shy away from doing the grunt work. "I did some basic research about the market first and its possibilities. I even went shop to shop and asked the vendors what they were looking for. I took their suggestions and then combined them all into Dhaatu. After the research, it was pretty clear that there was an untapped potential in this niche market."
For the early exposure, she got help from one of her team members who worked in a call centre and would call some 100 to 150 customers a day and find leads. "I went to farmers' markets and even participated in many exhibitions to get that visibility. But, it was hard to convince the shops at first. So I signed up for e-commerce platforms and partnered with Himalayan Java, Craftmandu, Maya ko Chino as well as other souvenir shops that surprisingly gave the brand way more visibility and credibility."
With her efforts, Dhaatu's digital marketing presence is also strong and appealing today.
"People were shifting to copper bottles but, they still lacked a locally made product that was properly branded, was lightweight and was leakproof," shares Todi.
"Copper erodes quickly so it is necessary that the bottles look nice and clean from the outside. We coated it with lacquer that is food-safe quality, so even when the bottles come in contact with the mouth, they are safe. The in-line of the bottle is, however, not coated so that people get the copper-infused alkaline water that maintains the body's pH balance and is good for one's digestive system."
And this, she explains also adds value to Dhaatu and its journey from 'waste to wellness'.
So, the next step was to package the bottle, for which she researched and designed an appealing package that surprisingly called out to people. "People absolutely loved the packaging. In fact, many insisted upon the packaging even when we were giving discounts on the product without the packaging during our initial stage."
Such feedback built Dhaatu as premium drinkware from Nepal as Todi decided to not compromise on the packaging as well as the quality of the products and keeps the process very transparent.
Rebranding the old business
Todi understood that her brand needed to have a strong message from the beginning. She knew even good ideas need some time. "My in-laws were in business, but they would say do not waste time or resources in packaging. But, that was not what I believed in and I took my stand."
But she too took her time to understand packaging was important. "Many people, myself included, always believed that Nepal was a price-sensitive market and would not pay for packaging. But I was wrong."
"After all, it is one of the reasons why Nepali products are always regarded as low-quality. But, with Dhaatu, we want to show that Nepali products can be 'wow' rather than a sob story that people believe it to be," Todi explains. 
Dhaatu is now also attempting to revive the skillset and uplift the lives of the artisans all the while, putting Nepal on the world map for the finest artwork and valued traditions.
"Nepal's metal factory or art-based skills has been one of the oldest in Nepal. And, yet, the handicraft skill is vanishing in the market despite its use because we are not investing in packaging and leaving the impression that the products are inconsistent in quality and finishing."
"So far, metalware in Nepal has been used very limitedly. Either as a part of the religious or cultural norms or as decorative purposes in the form of statues and decorations. But, with Dhaatu, the wellness aspect is being explored," says Todi. 
What started as copper bottles, has already been expanded into dinner collections and accessories. But Todi continues to look for ways to evolve Dhaatu and add more value to the brand.
Dhaatu's brand quotient is already high yet to add more value and sustainability, she is still looking for more collaborators. "It is all about adding value to the brand, and a collaborative effort is the best way to do it as it can expand the avenues of either brand."
Evolution is key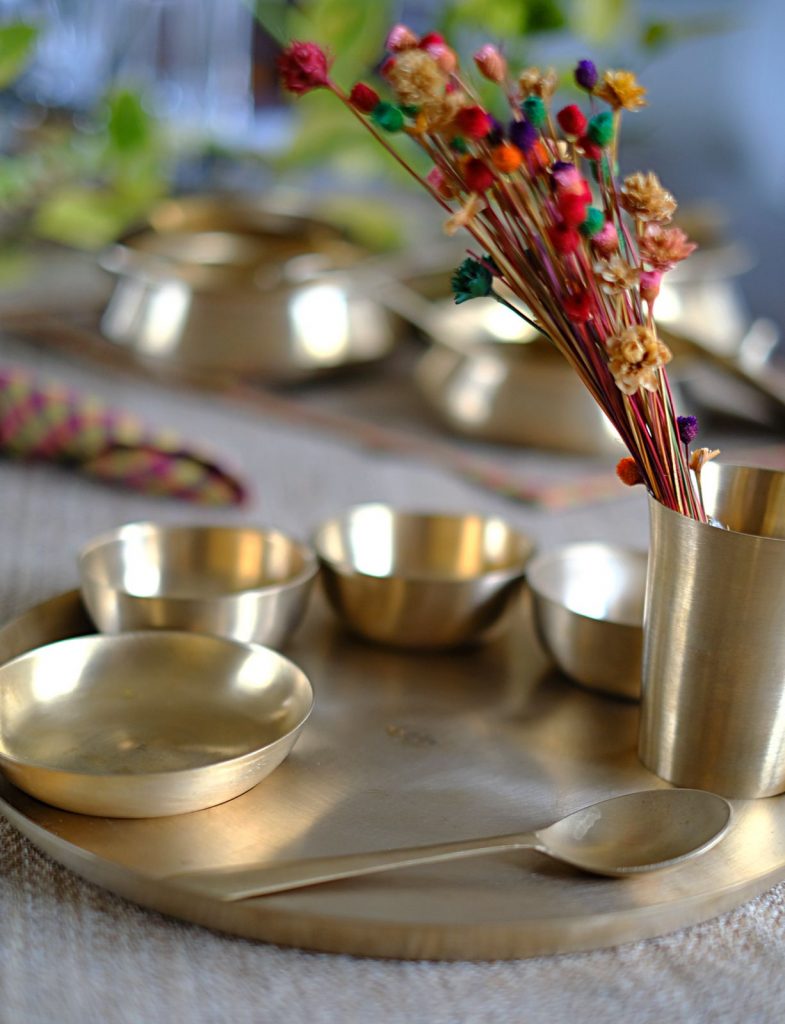 After Nepal and India, Dhaatu has already expanded its market in South Africa, Japan, New Zealand, and Taiwan. "For more expansion and a better network of the wholesale international market, we are still looking for agents to connect us outside. Meanwhile, single buys from overseas still remain difficult."
Todi says drinkware and serveware are summer products, and hence their sales are low from December to March. "To maintain the balance, we introduced Ni-galo and it is being received very well." With this, she is also looking for a new customer base with bars and restaurants that can feature their bar accessory collections.
Meanwhile, Dhaatu copper bottles are also being popular in the corporate gifting sector.
But Todi is not planning to settle yet. Her dream is to reach the shelves of the major international market. "And I want to be on Oprah's List of Favourite Things."
Meanwhile, "We are also collecting data currently, as a part of our impact study, about how many bottles are sold and how much e-waste has been collected or rather how much e-waste has been prevented from going to the landfills."