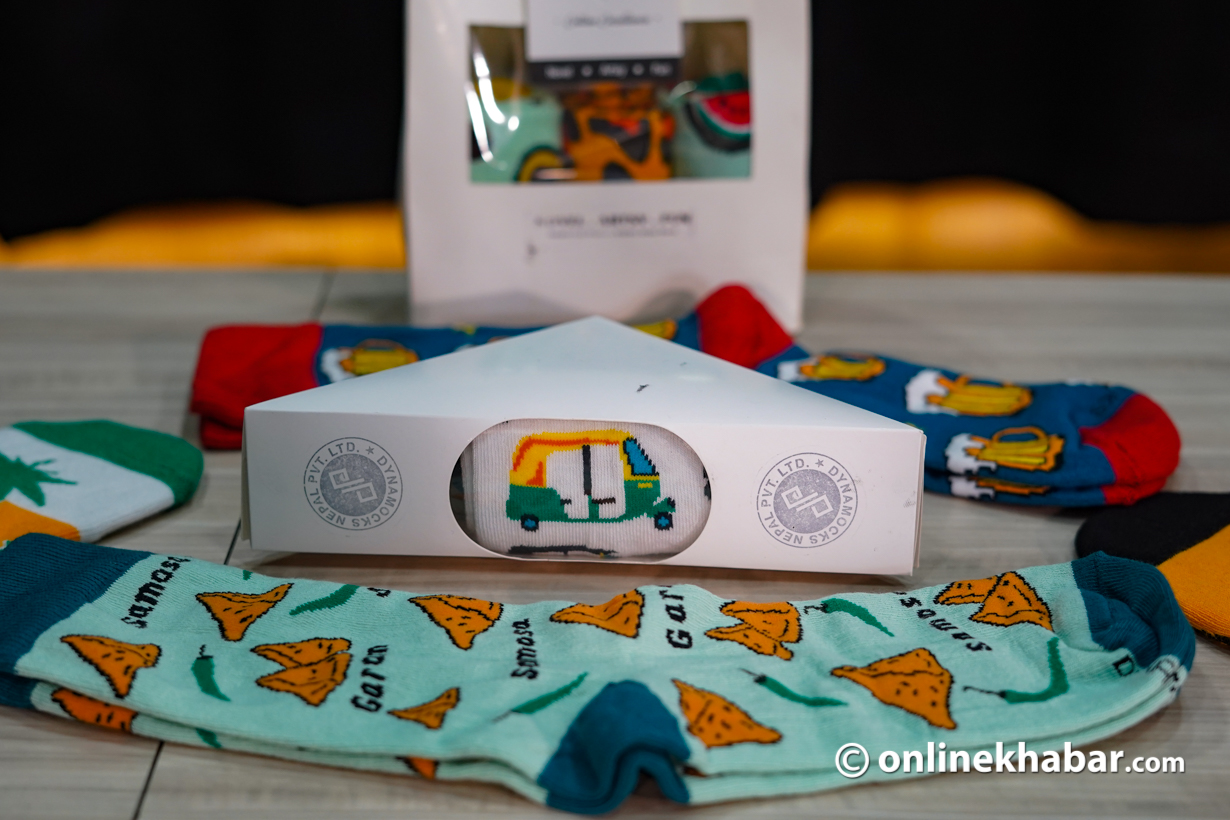 Carrying a box in his hands and pushing another by his feet, Pranicz Man Singh Adhikari was on his way to Nepal from Mumbai in 2022. At the train station, he got some side eyes and questions.
He says, "A man asked me what was in the boxes, and I replied socks. Amazed, he asked me what I would do with them, so I said I will sell them in Nepal."
While Adhikari could sense some doubts from people, his excitement about seeing his idea come to life outweighed the scepticism. He did not care what people think. All that he cared about was selling the 400 pair of socks he had in the two boxes.
"I wanted to sell 200 pairs in a month before I set up Dynamocks Nepal. But I sold all 400 in two weeks," says Adhikari. "I had told the manufacturers in India I would be back for more but little did I know it would be that quick."
Today, Dynamocks Nepal sells around 700 socks a month. Naturally, Adhikari is thrilled to witness the extent to which his dreams have been realised. With its free-sized socks, Dynamocks Nepal has made it easier to appeal to a wider audience. Additionally, it has introduced loafers to further expand its user group.
Inspiration and aspirations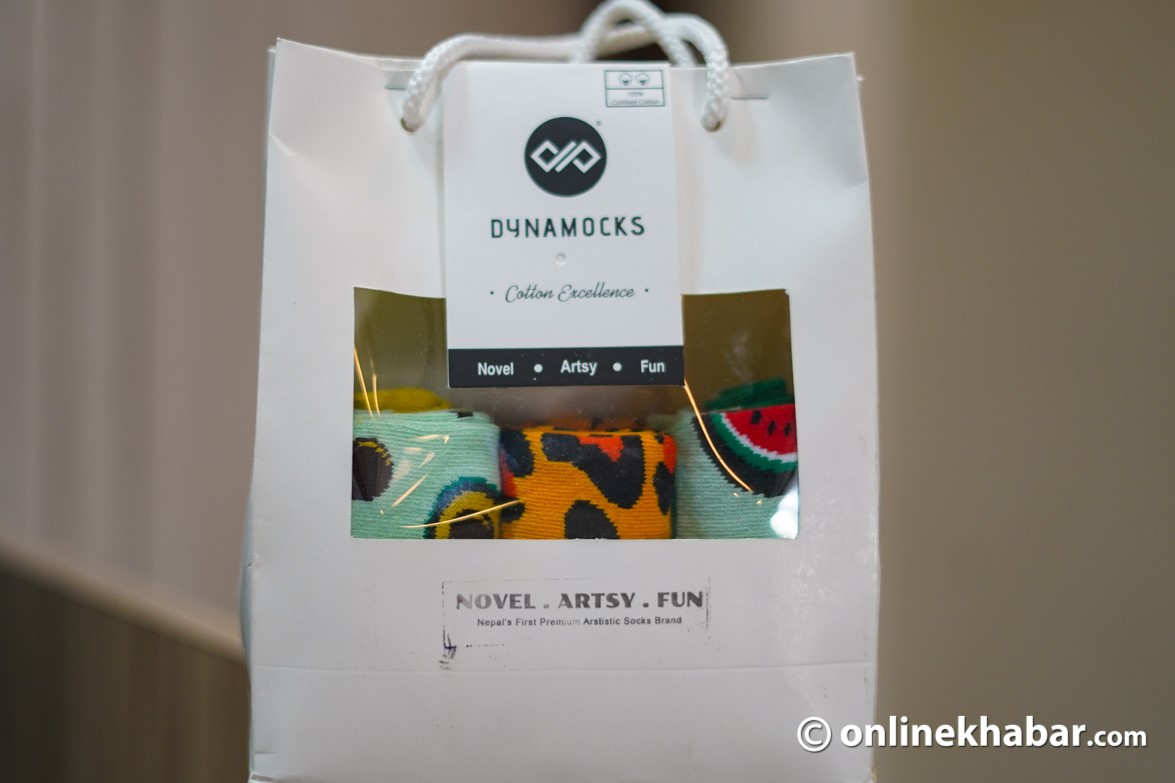 Adhikari's journey in business started in 2015 when he went to Dubai to pursue a degree in fashion design. The networks he built there shaped him into who he is now.
"There was a senior and I saw him talk about his business. The passion he showed for his idea inspired me too. And I wanted to bring them to Nepal as well."
A year later Adhikari was back in Nepal. When he returned, he learnt his senior had founded Dynamocks in India. The brand resonated with him and he wanted to bring it to Nepal but had a hard time convincing his senior. But in 2020, things moved forward after his senior gave him the green light.
"The socks he was selling were so artistic and fashionable. I desperately wanted to introduce them to Nepal which I felt Nepal was ready for them," says Adhikari.
When he finally brought them to Nepal and sold 400 pairs in a fortnight, his hunch was validated. His senior in college was impressed at how quickly Adhikari managed to sell them. Since then he has not looked back.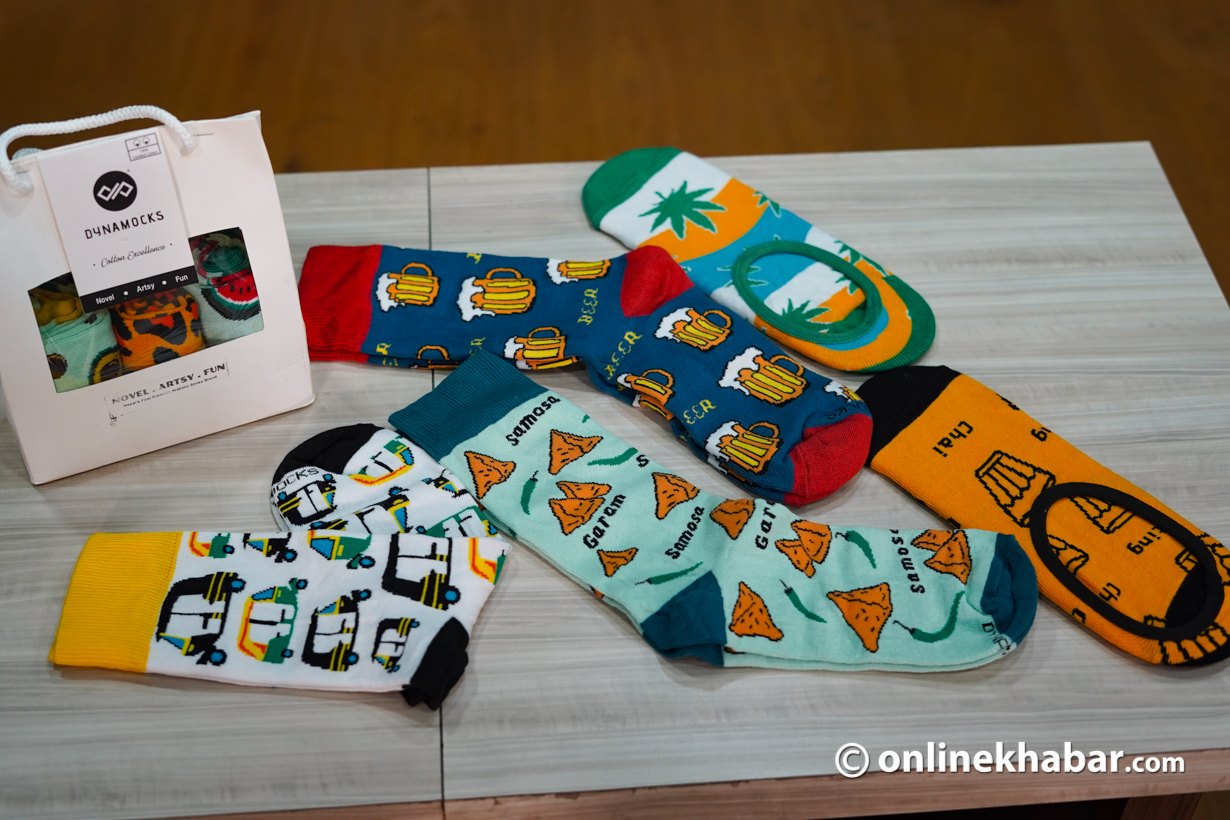 Socks are arguably one of the neglected areas in fashion. There are not many people who think they will make good money selling them. So, naturally, Adhikari also saw some resistance from the family when he told them that is what he wanted to do.
The customs officer not allowing him to come to Nepal with two boxes of brand-new socks was also an issue but he did not let these obstacles hinder him.
"I was adamant. I wanted to sell socks," he says.
He had the socks but he now needed a platform to sell them on. For that, he took to social media and with his first sponsored post, he received overwhelming responses.
"We received so many queries and orders from the first week itself. People were very intrigued by the designs and it was all very encouraging," he says.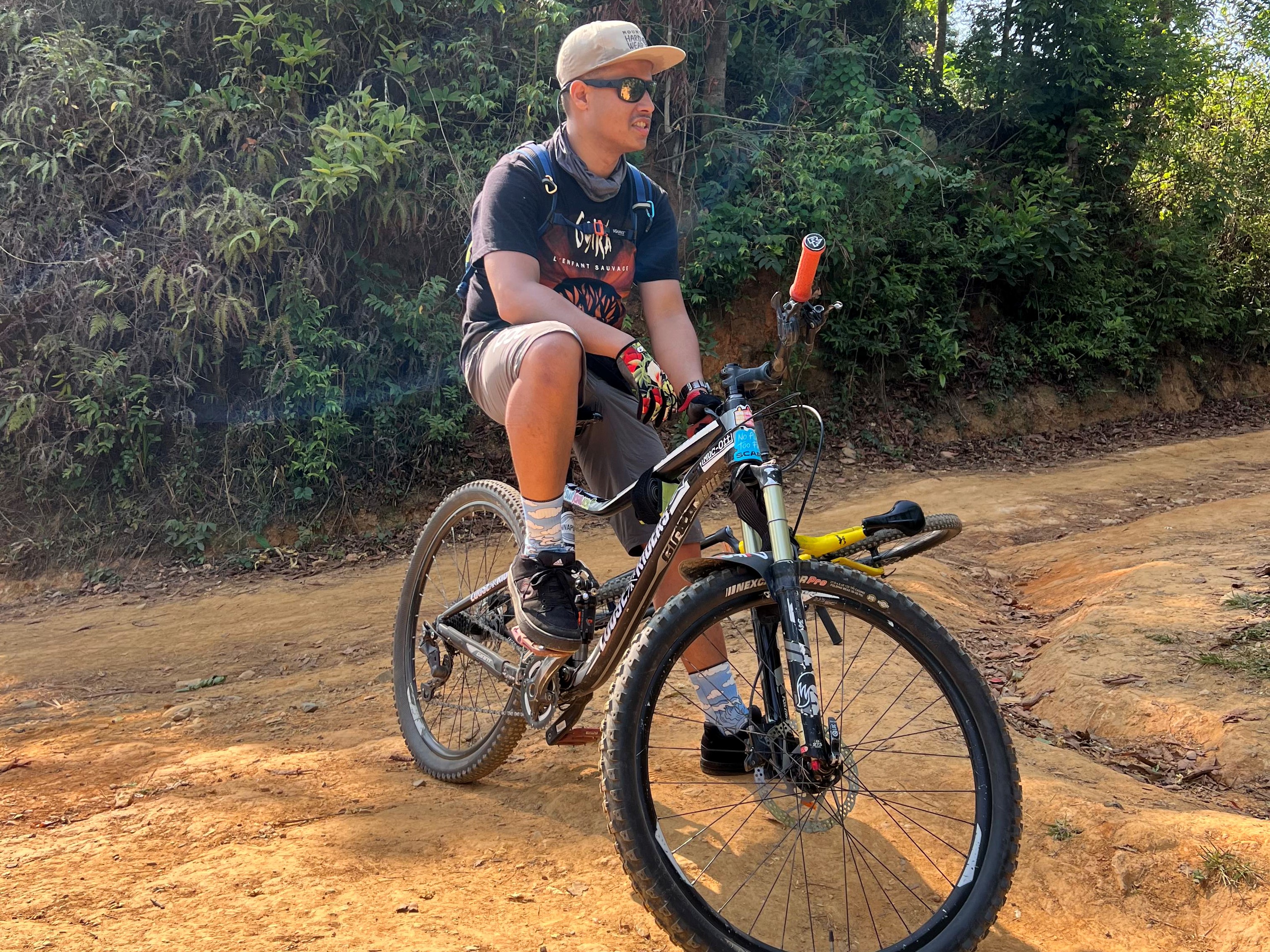 Dynamocks Nepal now has over 50 verified customers who have ordered from them more than five times. One of its loyal customers is Vivek Lekhak who was pulled by the company's vibrant and catchy designs.
"From the very first time I ordered the socks, I have been intrigued by it. I love the designs and the socks are comfortable too. I've recommended them to fellow adventure lovers and mountain bikers," says Lekhak.
Under the guidance of family members and advisors, like Rishab Chudal and Dharma Raj Paneru, Dynamocks Nepal has navigated through challenges and expanded its offerings. They have nurtured a loyal customer base by ensuring quality and providing incentives for repeat purchases.
Design, of course, has been the strongest suit, but the sock's durability and comfort has been the major reason why so many people buy them. In the recently held Kathmandu Kora, Dynamocks Nepal collaborated and custom-designed socks for the 150 cyclists in the event.
Happy with the prompt response and the custom designs, founder of social tours and organiser of the Kora Cycling Challenge Raj Gyawali says that he is looking forward to more collaborations.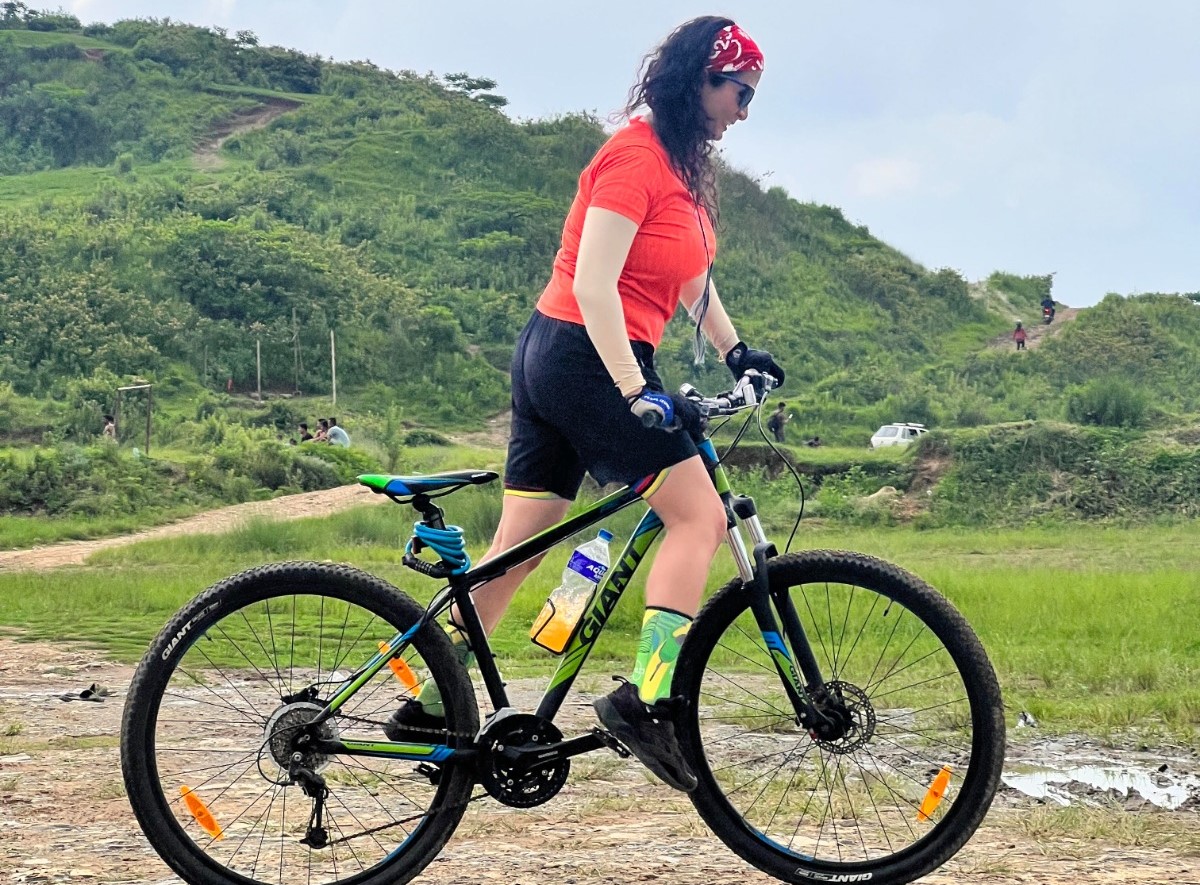 There are times Adhikari gets offers to sell them in bulk. But he does not want to do that as he believes it will diminish the socks' value both monetarily and artistically.
"The manufacturer in India is very happy with the way business is growing in Nepal," he says adding they have done all this through the help of social media.
They understand there is competition in the market, but for now, Adhikari is not worried about it. For now, he is enjoying doing business in Nepal and is elated with the response from the customers so far.
"It is all about fun for me. There are, of course, other sock companies or traders in Kathmandu itself. But I believe in my products and I have the support of my senior in this venture, so I feel secure that there will not be someone that will replace my product with the designs or the quality."
Next steps
Adhikari says the plan is now to manufacture the socks in Nepal. Importing fabrics from India, Dynamocks Nepal has been experimenting with new designs solely for the Nepali customer base.
"We are experimenting with designs for example magic mushrooms, that are more relatable to the young Nepali crowd," he says. "I want to make designs that will resonate with bankers and businesspeople who are my major customer base."
What he does not want to do is to start making nationalistic designs. He understands these designs will sell a lot but for now, he wants to stay clear of that.
Adhikari adds Dynamocks Nepal wants to work with the mountain biking and tourism industry and in the long run go global.
The plan is already in play. As Dynamocks Nepal is branching out and aims to sell outside Kathmandu and expand in the United Kingdom and Belgium.
Despite the business's growth, Adhikari has not been overly focused on expanding the number of outlets or team members. Throughout this journey, both Adhikari and his wife Ekta have been fully committed to the venture, dedicating all their time to it, even personally delivering the packages themselves.
"People are shocked when they see a business owner deliver products. But I want to continue doing that so that I can see the smile, the happiness when they receive the packages," he says.