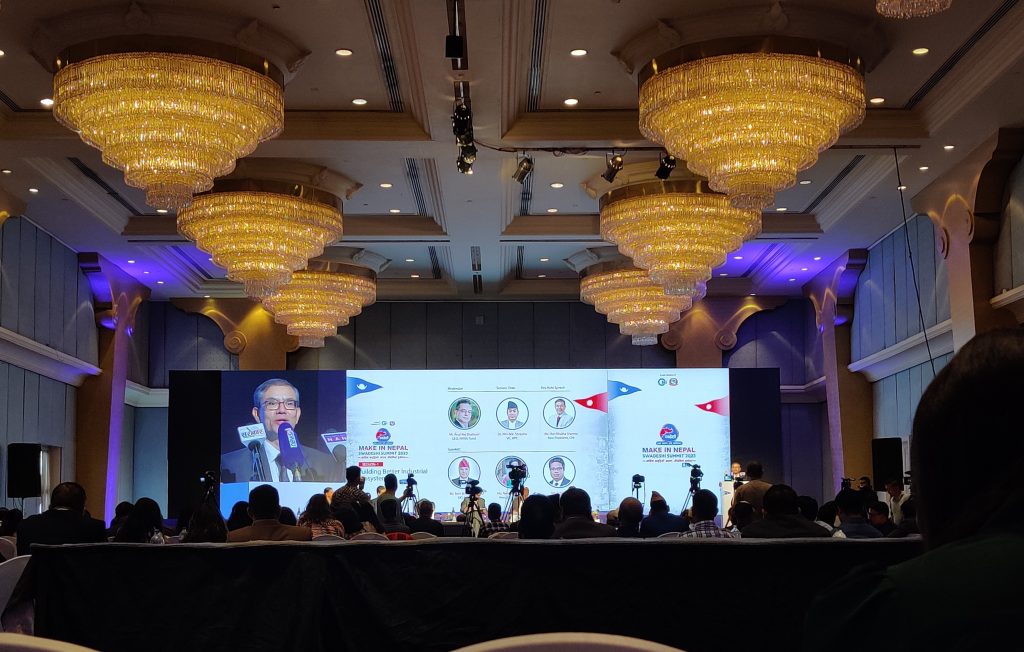 Kathmandu, May 16
Launched in the initiative of the Confederation of Nepalese Industries, another edition of the Make in Nepal Summit was held today at Hotel Yak & Yeti, Kathmandu on Tuesday.
As a part of the Make In Nepal Abhiyan (campaign), the event was held in a bid to boost its economy and create sustainable growth,
Various speakers who addressed the event highlighted how Nepal has embarked on an ambitious journey to better its economy.
Industry and Commerce Minister Ramesh Rijal in his address highlighted the need for holistic growth of the industry sector and the government's role in the process.
Also addressing the event, economist and lawmaker Swarnim Wagle said there is a need for the country to better its manufacturing sector, and move beyond mere assembling and distribution. He emphasised the need for resources, skilled workers, technologies, and policies.
He also drew attention to the urgent need for resources and policy changes that address the challenges posed by an ageing population, and the need to work on the inevitable problems it will pose to the economy.
Other speakers and panellists also spoke on how creating an ecosystem that supports and encourages youth and women entrepreneurs is important while fostering inclusivity and economic empowerment. Speakers talked about the significance of developing diplomatic and economic relationships with neighbouring countries such as India and China and easing the trade for those who want to work in Nepal.
As Nepal eagerly awaits the budget announcement this month, experts and speakers also highlighted the need to revise policies for better economic projections and predictions.
Apart from the keynote speeches, the 'Make in Nepal' event held four plenary sessions on building industrial ecosystems, industrial infrastructures, the potential of natural resources, and effective budget implementation.