Nepal is one of the world's most beautiful countries that have ever existed. It is a slice of paradise on earth and is naturally as well as culturally blessed. The country is not that big but the kind of diversity that one can find here is astounding.
Because this land is fascinatingly diverse, it draws tourists for several reasons. Some are attracted to the mountains for treks and summits, others revel in the biodiversity in the hills and Terai. Among many, here are 10 of the top naturally-rich destinations for you to visit in Nepal:
1. Solukhumbu
The Solukhumbu district covers an area of 3,312 sq km and shares a border with the territory of Tibet on the northern side. The landscape here mostly contains terrain made up of deep gorges, massive rock, and glaciers. It is also home to Mt Everest and one of the natural World Heritage sites, Sagarmatha National Park. Because of this, tourism began in the early 1960s in this area and the district is still very popular among tourists.
The destination consists of a wide variety of flora and fauna including more than 118 species of birds and different varieties of rhododendron. Not only that, endangered animals like red pandas and snow leopards can be seen roaming around this park. The district is inhabited by Sherpas, so can also find many Sherpa villages nearby along the main tourist trails for trekking. The best time to travel here is from October to November.
2. Ilam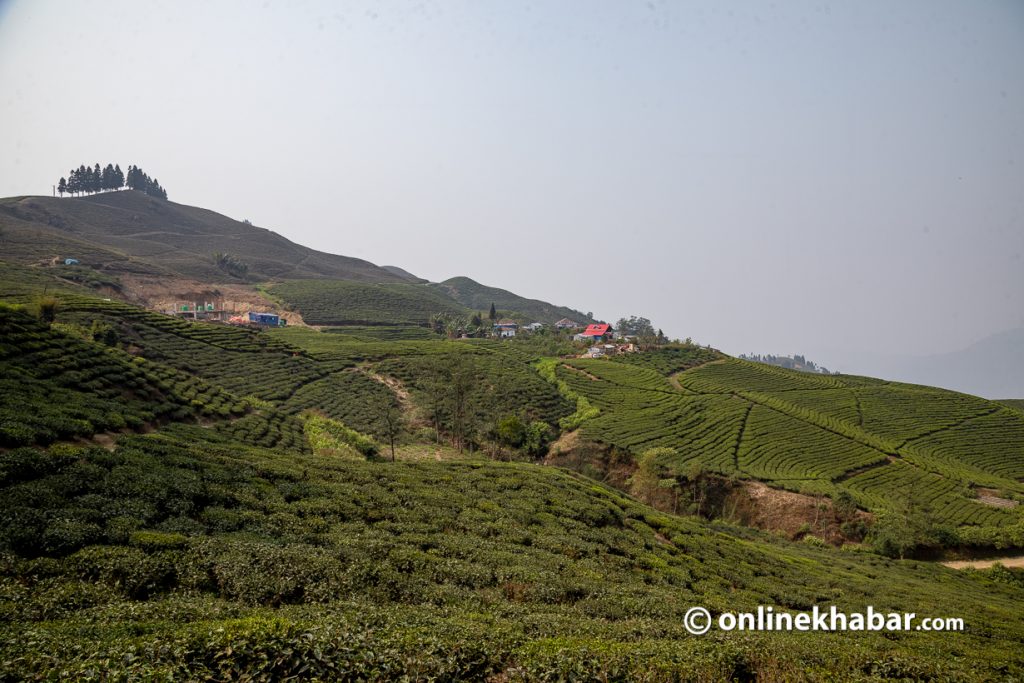 Ilam is famous for the production of varieties of Nepali teas. The district lies in the tranquil hills of eastern Nepal and is largely covered with tea bushes. But, it is not limited to only teas, many researchers are attracted to this district for the study of rare birds and red pandas. For others, the destination is perfect to have a peaceful picnic, take a short hike in the hills, or even walk around the tea garden. One can truly experience the best of Ilam's natural beauty.
Ilam is also well-known for its fine cheese along with various agricultural exports. It is also home to an important Hindu site, Gajur Mukhi, a caved tunnel that contains various images of Hindu deities along with the Deumai Khola river. The best time to visit this place is between October and December, and February and April.
3. Lumbini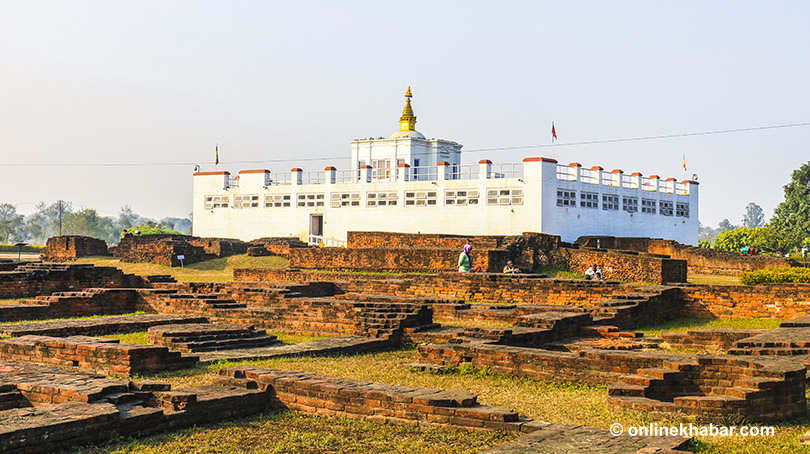 Lumbini is famous for being the birthplace of Lord Buddha. It is the best tourist destination for spiritual tourism. The main attraction of this place is the Mayadevi Temple which is the most sacred site since it is worshipped as the place where Siddhartha Gautam (Buddha) was born and where he took his first seven steps. It is located in the Rupandehi district of the Terai belt which makes it rich in cultural and natural aspects. The best time to visit is during winter.
You can also visit Panditrama Vipassana Centre in the district for meditation and yoga. Not only that, but you can also visit many monasteries here like The Royal Thai Monastery, International Gautami Nuns Temple, Lumbini Museum, and Ashoka Pillar, etc. Butwal is another best attraction of the district while nature lovers can also enjoy their time along the shores of the Tilottama river.
4. Mustang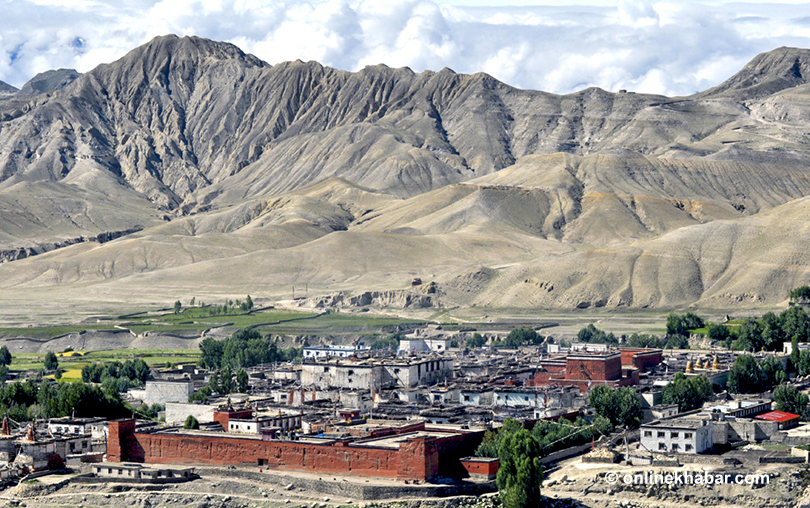 The major attraction of this district is the last forbidden kingdom, Upper Mustang. Yearly, people visit the destination for a great adventure and a great view of the landscape. But as the name suggests, it is very hard to get there as it is restricted; less than 1,000 visitors are allowed to travel. Tourism here started in 1992 and it falls under the list of the most protected areas of the world.
This area allows you to see the untouched part of Nepal and its own beauty, with ancient monasteries, traditional settlements, and cave dwellings high up on the mountains, and the beautiful architecture on display at the walled city of Lo Manthang. Trekking in this region is also popular among tourists as it offers a picturesque view of Annapurna and Dhaulagiri ranges. The best to visit is in March or early November.
5. Annapurna region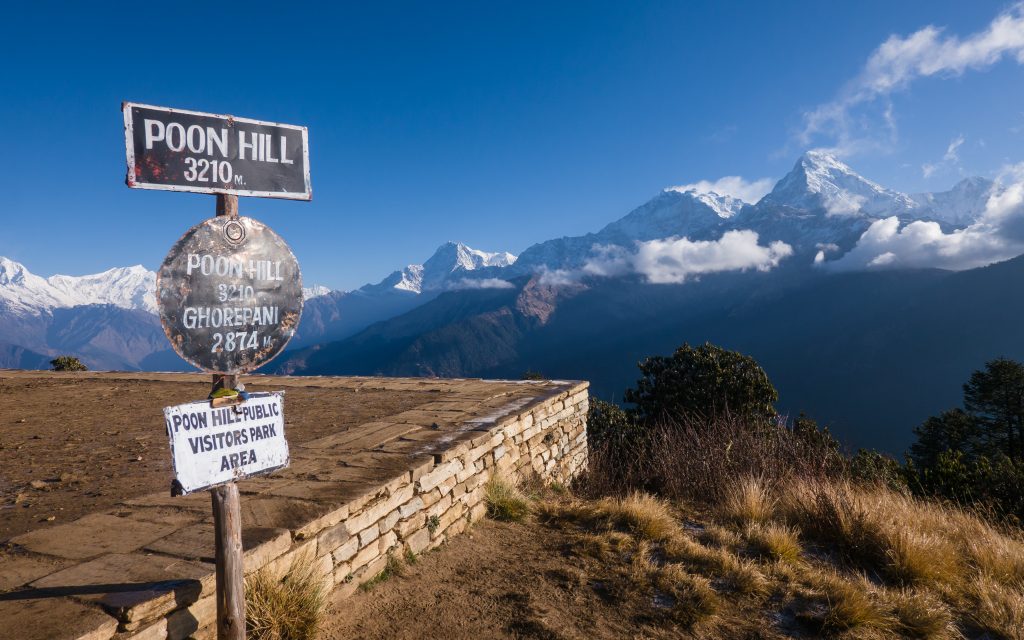 Annapurna is home to Mt Annapurna and popular for trekking destinations. Trekkers can get a close view of the Annapurna Massif (Annapurna I-IV), Dhaulagiri, Machhapuchhre, Manaslu, Gangapurna, Tilicho Peak, Pisang Peak, and Paungda Danda. The Annapurna Circuit has frequently been voted as the best long-distance trek in the world, as it encompassed a wide range of climate zones in its original form.
Another attraction is the Annapurna Conservation Area Project that houses 486 species of birds and 101 species of mammals making it a great attraction for nature lovers. During your visit to this region, you can also encounter Thakali people and their culture. They are known for their famous Thakali set and also for their good business venture.
6. Chitwan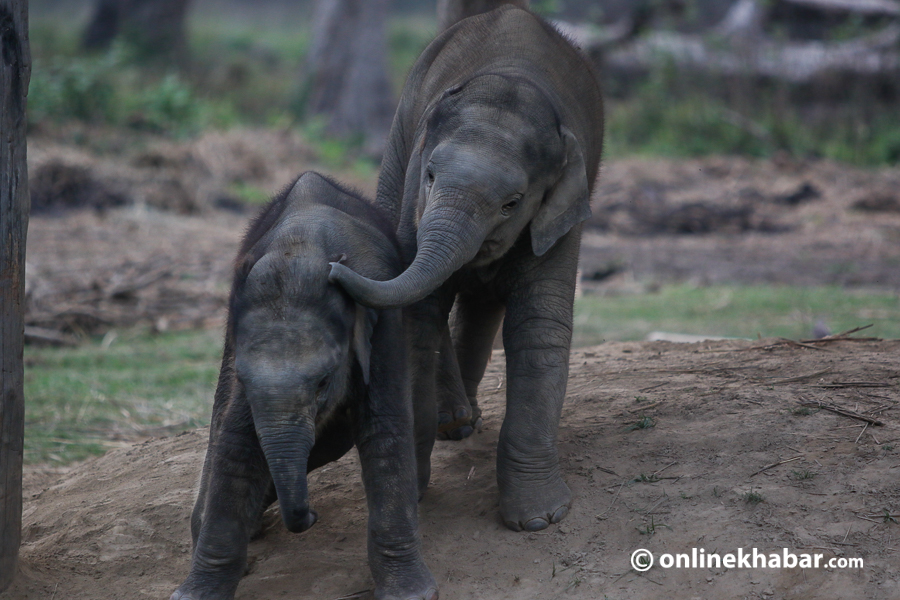 Chitwan is a popular destination in Nepal among both local and international tourists. Chitwan is located in Terai and around 100 km southwest of Kathmandu.
The main attraction of this district is Chitwan National Park, home to endangered species like the Bengal tiger and one-horned rhino. It is a popular UNESCO site that covers an area of 952.63 sq km and is situated at an altitude of 100 m (330 ft).
In the district, there are breeding centres for gharial and elephant that are famous among tourists. If you are a thrill-seeker, a stroll through the Tharu village is a must. This will allow you to closely know about the Tharu community, their dance, food and culture. The destination is popular during October. But, it has many lodges so you will not have any problem with accommodation.
7. Pokhara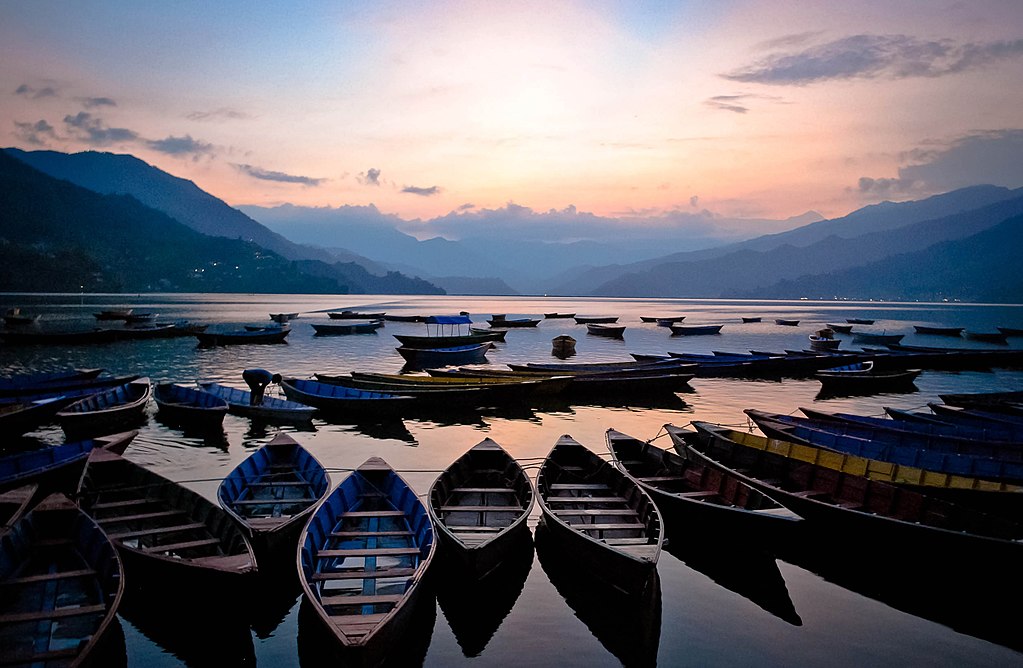 Pokhara is the capital of the Gandaki province and is considered Nepal's tourism capital. Pokhara is 200 kilometres west of Kathmandu. It is well-known for its peaceful environment and picturesque surroundings. Some of the most famous destinations here are Phewa Lake, Devi's Fall, Bindhyabasini Temple, as well as nearby Begnas and Rupa lakes.
In and around the district, the Seti Gandaki river has carved out magnificent gorges. Another popular site for this place is Sarankot for sunrise, sunset and paragliding. If the weather is clear, you will also experience the spectacular view of the Machhapuchhre (Fishtail) range from Pokhara. It is also famous for treks to Dhampus village, Ghandruk village, Begnaskot, Ghorepani, and Poonhill. The best time to visit Pokhara is from March to May and September to November.
8. Langtang
Langtang, which is located in the north of Kathmandu, runs very close to the Tibetan and Chinese borders. It is a popular trekking destination and a home to the Tamang community including the historic towns of Gojng, Gatlang, Chilime, and Briddim, etc.
A major attraction is the Langtang National Park, naturally rich in species like the Himalayan black bear, the goat-like Himalayan tahr, the Assam macaque, and red pandas. The village of Langtang was destroyed once by the 2015 earthquake but is slowly recovering. Gosainkunda and Langtang valley are some of the famous areas for trekking in this region. The best time to visit Langtang is spring or fall for that clear view and pleasant temperature.
9. Dolpa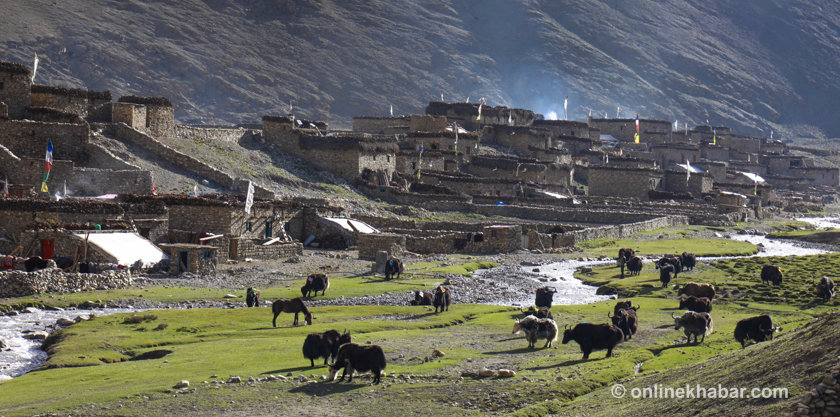 It is a well-known tourist destination which is surrounded by mountains, especially Mt Dhaulagiri. It lies near the border of China. Trekking in this region is an unforgettable adventure. This is the largest district of the country and covers 5.36% of the total landmass at an altitude of over 5,000 m (16,000 ft).
There is an ancient and remote village known as Dolpo, which is rich in wildlife, beautiful lakes along with snowy peaks, and a pristine Buddhist monastery making this place one of the popular tourist destinations. Some part these areas are also a part of the Shey Phoksundo National Park. The shimmering turquoise waters never fail to captivate tourists, which makes it one of Dolpo's most famous attractions. Spring is the best time to visit Dolpa for pleasant travel.
10. Sankhuwasabha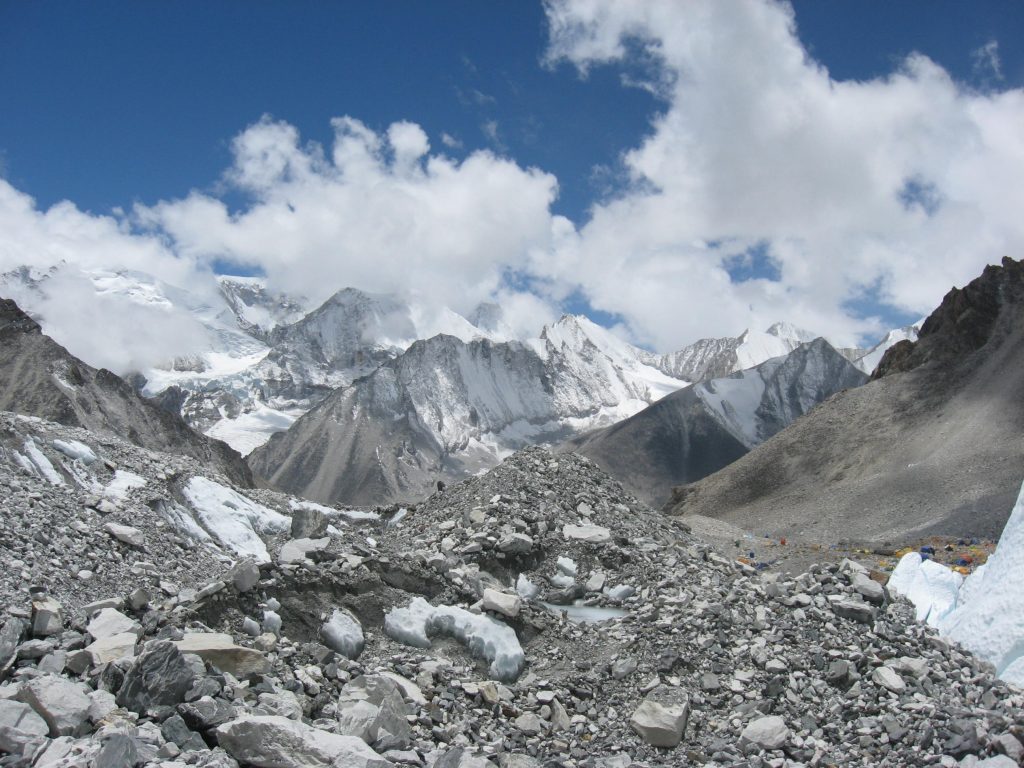 Sankhuwasabha is one of the easternmost districts of Nepal, sharing a border with China's Tibet autonomous region. One of the main attractions of this district is Barun valley filled with vast green meadows covered in a rainbow of flowers on one side, and mighty snow-dusted mountain peaks with numerous waterfalls on the other.
It is also home to Makalu Barun National Park with a diverse range of wildlife. This district also offers you a beautiful view of both sunrise and sunset from Tin Jure Danda. You can also trek around Milke Danda for a beautiful view of the blooming rhododendrons. Watching a sunrise or sunset from the Kanchenjunga or Kumbhakarna peaks can be an unforgettable experience. Spring and autumn seasons are the perfect time to visit the district.