For me, the evening of day two at Samar proved tortuous. None but I was to be blamed for my near collapse at the Dajongla Pass that afternoon.  A full-blown diabetic, I knew I could not go on an empty stomach for longer periods, especially during a gruelling ride. Even a hardcore biker is supposed to replenish himself every two hours while on a tough ride.
As a precaution against acute mountain sickness, I even made it a point to buy some garlic (believed by village elders in Nepal to be a potent remedy against altitude sickness) at Jomsom, sucked on it and passed it onto my fellow riders.
Damn it all! I got careless and, of all things, forgot to stash my home-made multi-grain food into my backpack–a mistake that could have spelled disaster for me, something I did not wish to imagine.
Day III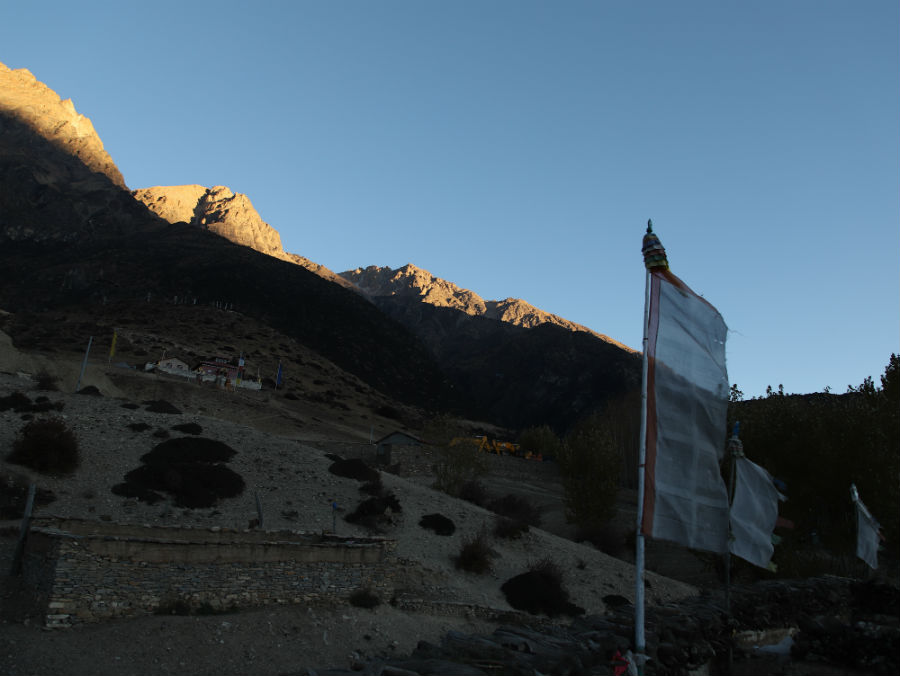 I had to make a quick decision. We were only midway of our journey–to say nothing of five to six formidable passes still en route with one at an elevation of 4,000m plus. For me, that sounded very unnerving.  A much concerned Diwas even suggested I'd better not strain myself and make the rest of the journey in a jeep. I was torn by indecision, my confidence down in the dumps. I knew I could screw up the entire trip if something went wrong.
I hated to give up. I just wanted to do it. It was now or never.  Still, in bed, I chewed on the question for almost an hour in the morning. Then, I shut my mind off.  I decided I wanted to do it. I did not come all that way just to drop it in the middle, I reminded myself. God willing, my Karma would fall in with me. Shayeet was the happiest to learn about my decision.
After a hearty breakfast of tsampa porridge and eggs, we tried a novel item, too: buckwheat sausages (spiced buckwheat flour stuffed into sheep intestine). Tasted great! We left the lodge and took a short spin through the back alleys of Samar.
The small village of Samar at an elevation of 3,635m belied its rich vegetation.  It appeared greener with poplar and willow trees with apple orchards scattered around the settlement.  We even ate fresh-picked apples from one of the many orchards. I noticed small plots around the settlements, which held, to my surprise, green leafy vegetables too. Next, bench terraces of golden barley ran down the slopes of the village.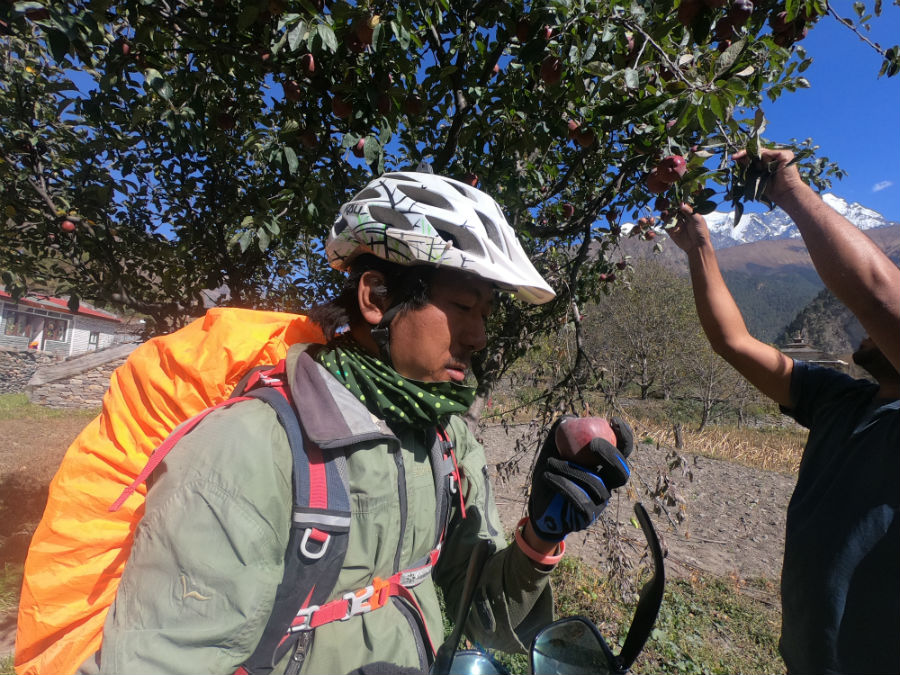 Under the rain-shadow of the two giants, the Dhaulagiri and the Annapurna, Upper Mustang hardly sees any rainfall almost all round the year. Whatever greenery we saw in and around the villages we came across was evidently a result of hard work put in by the local community undeterred by the harsh terrain.
During breakfast, we were joined by a group of three ladies, the 'Canucks' or the Canadians. They had trekked from Jomsom and were on their way to Lo Manthang like us. One lady, in particular, Caroline from Ontario City, east-central Canada, caught my attention as she was my age. We hit it off right away.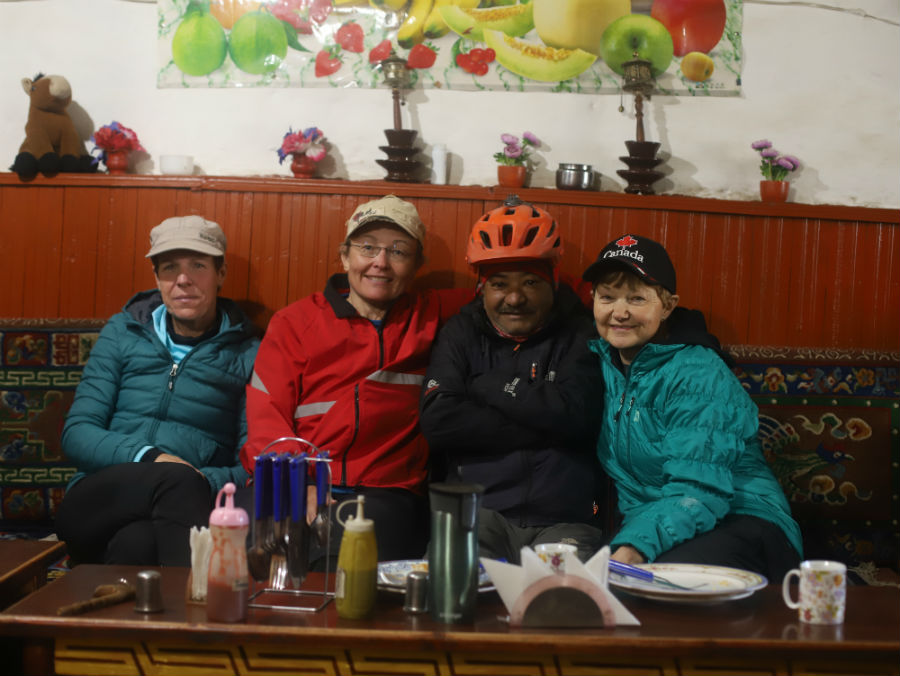 The back alleys of Samar like the rest of the villages we left behind were narrow, winding and partially stone-laid. Manes (prayer wheels), colourful chortens and mani stones, some inscribed and some simply painted with the six-syllable mantra of the Avalokiteshvara, ཨོཾ་མ་ཎི་པདྨེ་ཧཱུྃ:  om mani padme hum seemed to be everywhere in the scattered settlement. Most of the houses seemed to fly white flags on the rooftop and hang sheep horns on the doorways.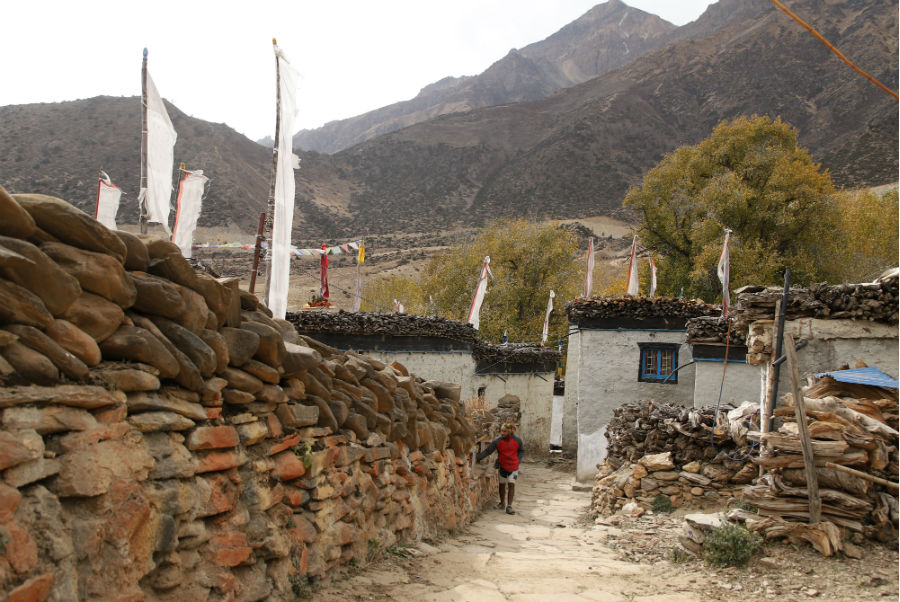 We rode past women clad in their traditional dress (bakkhu) sitting in the forefront of their houses spinning yak or sheep wool while others could be seen with the prayer beads dangling from their hands performing kora (circumambulation)  around the gompa (monastery), which stood on a knoll close to the village.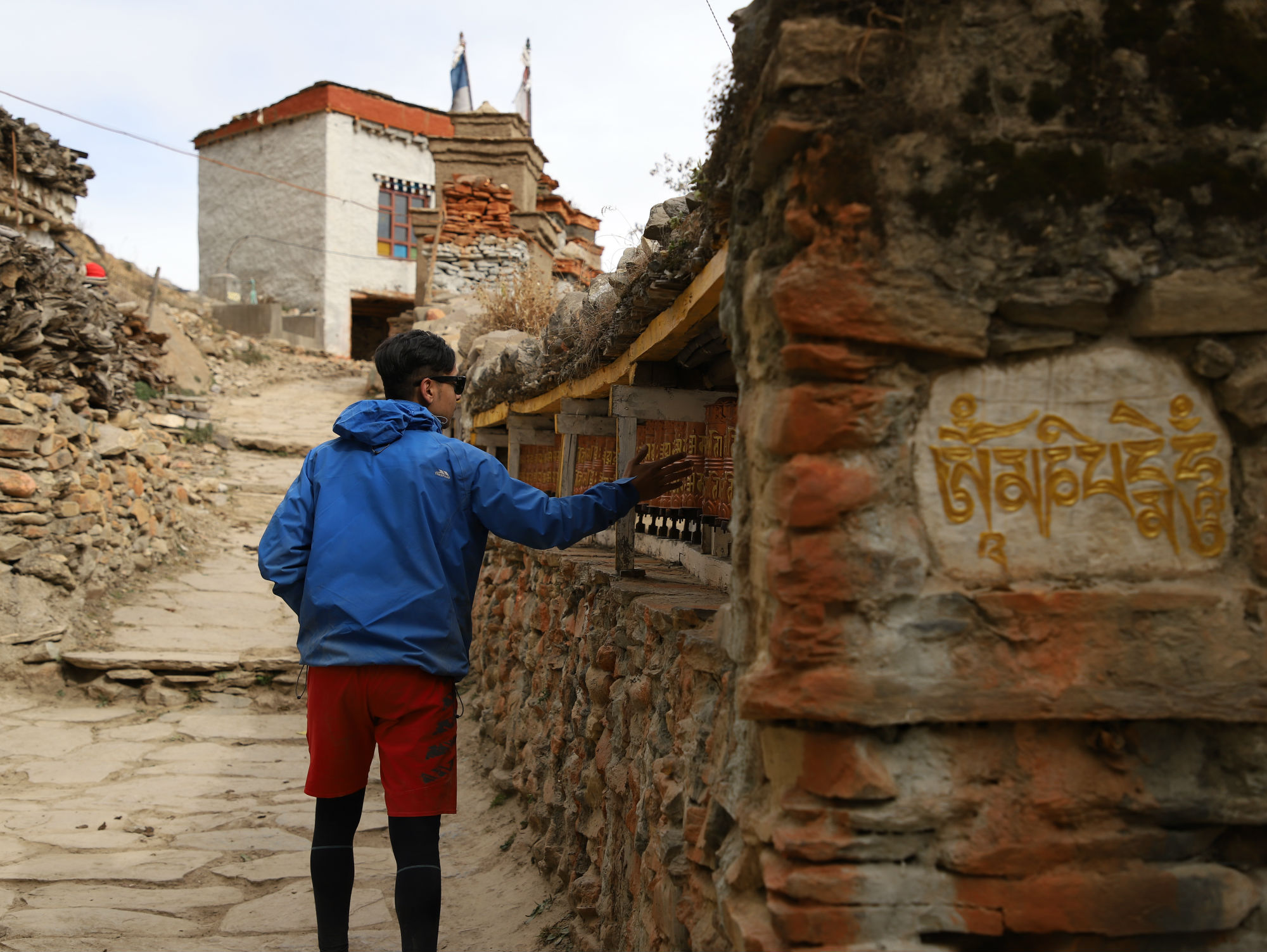 Smiling children rushed at us calling 'namaste' and hung onto our bikes as we spun through the alleys. For them, every guy on a mountain bike was a foreigner. We came across a white painted house with red borders on the top with a window with painted glass panes. It served not only as a gateway but the upper story held a life-size mane (prayer wheel).
Shortly, we left Samar and headed north past a row of colourful chortens. A long vertical multi-coloured prayer flag flapped furiously. After a half hour on the climb, the jeep track then dropped to what looked like a stream. As we got closer, we realised that it was a rock-strewn stream that doubled as a road.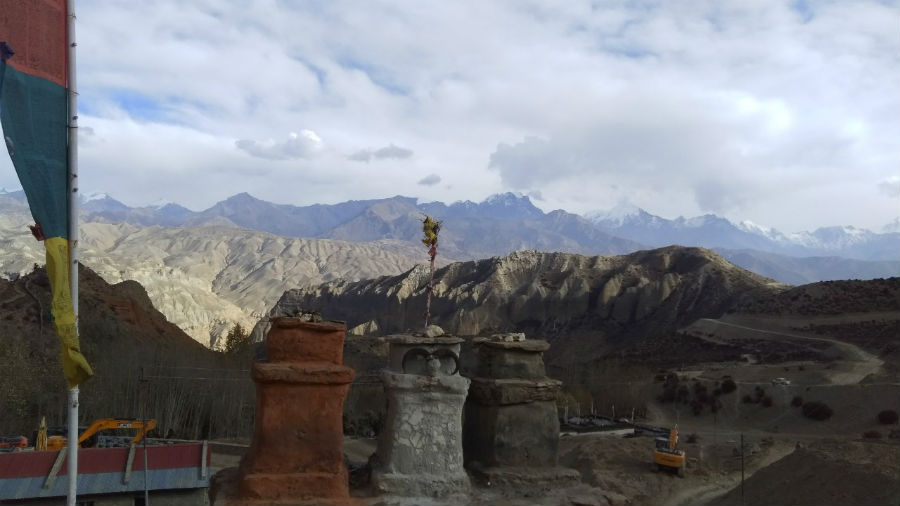 Khasing plucked up the courage to pedal across but got stuck less than midway as his tires slipped on ice that had frozen on some rocks. Rest of us chose to ford the stream by walking our bikes. Damn it! I cursed myself as I slipped on the snow and wet one of my boots ankle-deep in the freezing water.
For many motorbikers, it was like hell on earth. We helped a foreign guy out of that tricky stretch as he overturned his bulky BMW and was trapped under it.  "Every year this place sees many accidents and motorists dread it like anything; some even turn back," said one of the local jeep drivers who had stopped his vehicle by the place.  Just like the driver said, it was indeed a dangerous spot as on our way back, we witnessed a smashed up jeep, which had slipped on the ice-laden slippery stream bed and skidded 15 feet down.
The road then climbed up by the side of a canyon with the rocky conglomerate. The higher we pedalled, the more the array of the snow-capped mountains got closer. To my dizzying senses, there stood in the horizon, among others, the massive Annapurna (8,091m), the Tilicho Himal (7,134m) and the Nilgiri North (7,061M).
The semi-arid desert landscape sans a single tree in sight continued with dramatic deep ravines and rock shelves. Only dark green patches of wild thorny grass and shrubby juniper-dotted the vast expanses.
As the gradient gradually got steeper going uphill, Khasing called, "guys, now we're onto the Bhena La Pass (3,880m)."  That really scared me. To make matters worse, the wind started blowing savagely–biting and unforgiving.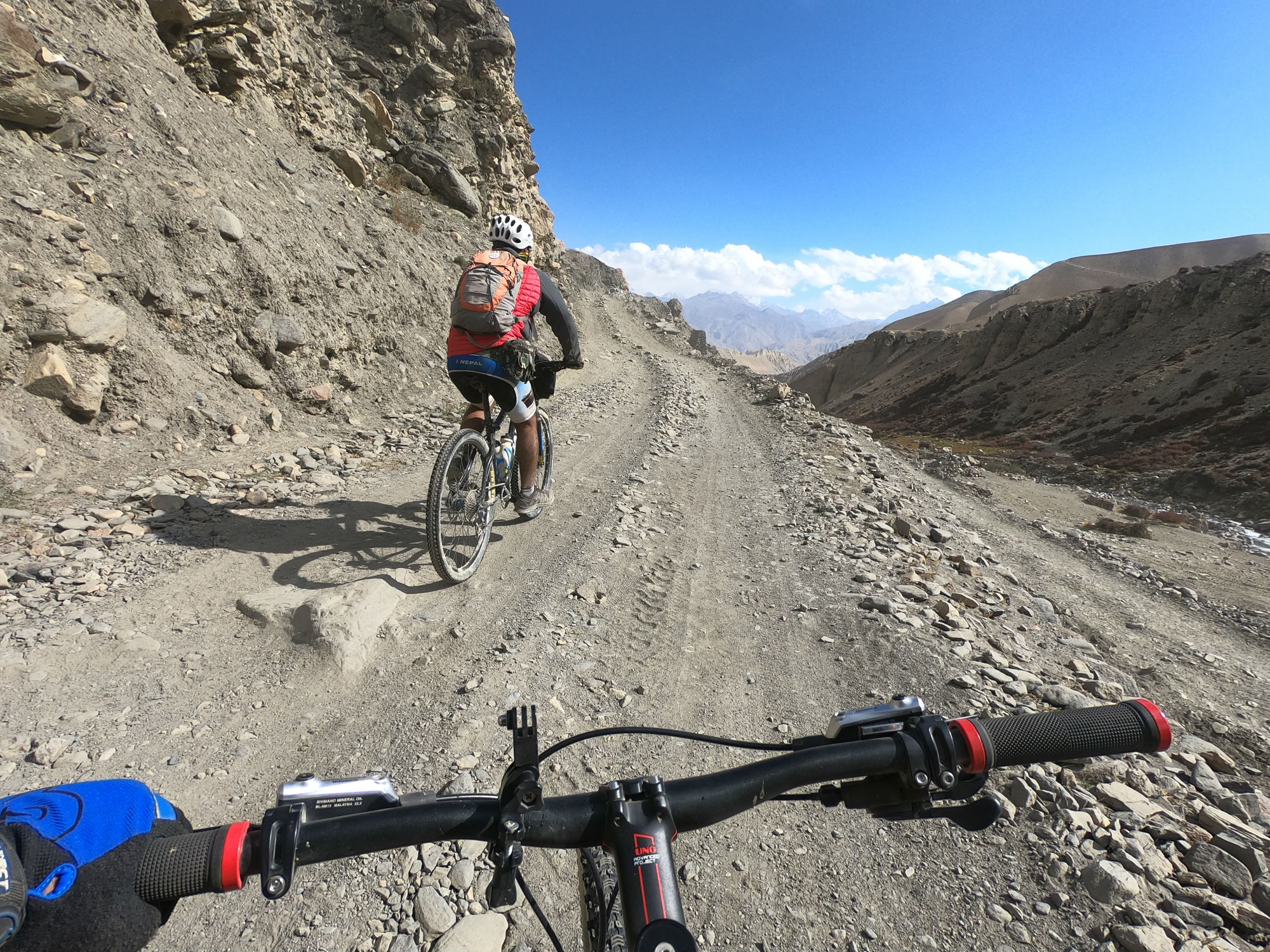 I kept telling myself that I'd to clear the ridge one way or another, either pedalling or walking my bike. I somehow managed to the ridge wheezing, hardly able to breathe.  I finally made it to the small settlement of Bhena (3,700m), the last to arrive.
"One more weather to storm, guys–the 3,980- metre high Beg La (la in Tibetan stands for a mountain pass)–hitherto, the highest we have done, before we can reach Syangmochen for lunch," announced Khasing.  At Bhena, we stopped at what appeared like the only tea shop for a brief respite to regain our breath, sip water and have some biscuits and a hot cup of tea.
While descending down to Bhena, we had to stop awhile on the way as the jeep track was literally blocked by a drove of goats and sheep by the hundreds herded down by three to four local hands.
Curious, I asked one of the herders where they were headed for and how long they were on the track. "We are coming from our village at Chhosar, Lo Manthang. It's been four days since we started and might take more than 10 to 12 days by the time we are done with selling them. Since Tihar festival is just around the corner, we are on our way to Samar, Kagbeni or Jomsom. If we do not fetch a good price at those places, we go as far as Pokhara, and sell the lot even if that means incurring a loss," said Tashi Gurung, the headman, who stopped by the teashop at Bhena and met us again.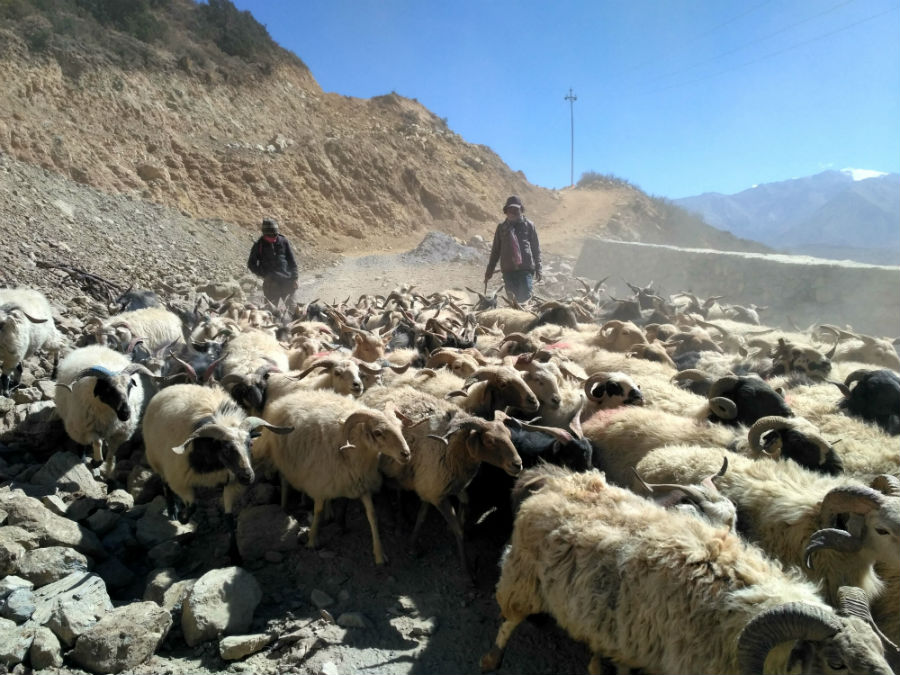 After Bhena, the jeep track started climbing, a long ride up to Beg La. The bitterly cold winds were approaching gale force and to make matters worse, they brought along dust and sand. The climb as expected got stiffer as the dusty track switch-backed up the barren and dry landscape. We had no choice but to keep at it resignedly.
Surprisingly, I did fairly well, not as I'd feared. Only the elevation, the thin air, the cold blustering wind, dust-mixed sand, and the sun seemed to take its toll on me. I must have been quite a sight to look at with those puffed up eyelids and a weather-battered bloated face. If my wife confronted me then and there, she would fail to recognise me, I bet. Haha!
Phew! I finally made it to the oxygen-starved ridge, gasping for air. I became the last to do it, for all I cared. What mattered most was I did it. At the pass, the piercing howl of the gale seemed to blow my eardrums off.  My young companions complemented me for having completed the pass. That felt reassuring–a real boost to my confidence. The pass had a cairn, a disorderly heap of stones and rocks festooned with a string of colourful prayer flags and scads of khadas (a memorial silk scarf used by the Tibetan people or followers of Buddhism). The fury of the wind seemed to rip the snapping flags off the cairn.
Most high passes in Mustang carry those mounds of stones with colourful prayer flags to adorn them. Called, 'dophung' in Tibetan, and similar to the ovoos in Mongolia, these cairns serve as a sacred offering to the local deities. The passing local people and travellers often add a rock to it to show their gratitude.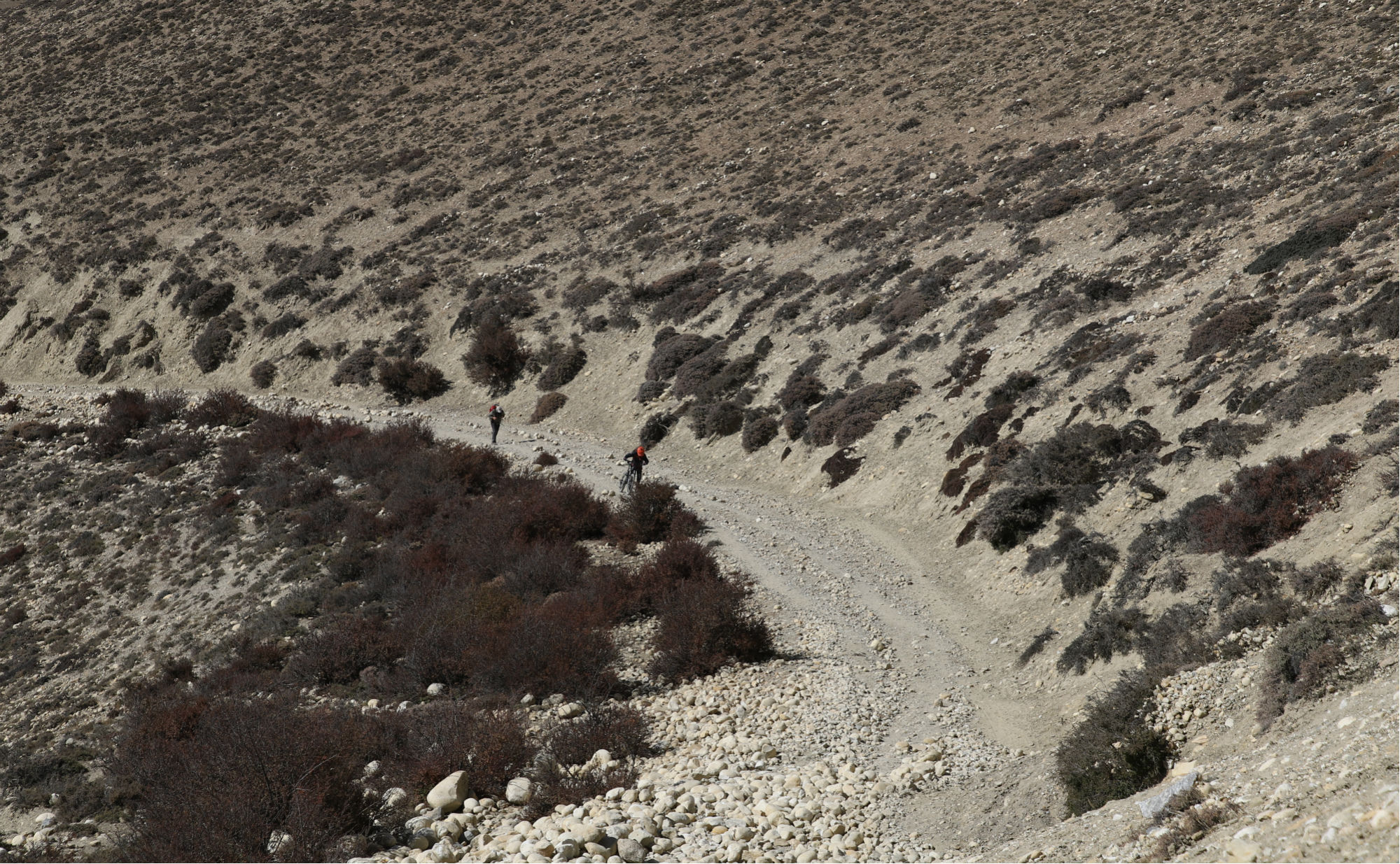 While we took a brief respite at the pass, I tried to reach for my flask-bottle, but it was missing from my bike's bottle cage. I realised that I'd left it at the teahouse at Bhena. Darn it! As we were still debating what we should do about it, we heard the pealing of bells followed by bleating of sheep.
Shortly, a flock of sheep appeared being herded by two guys. We told one of the guys about our problem and asked him if he knew Tashi Gurung, who we supposed would still be at the teashop at Bhena. Praise be to God, the guy happened to be a working hand for none other than Tashi and the small herd belonged to him. We took Tashi's phone number from him and called. We asked him if he could help by sending the bottle through some motor-biker or jeep, which happened to stop by on the way up the pass.  He said he'd try.
We resumed the journey down the high cliff towards Syangmochen (3,800m). We spotted some glossy black yellow-billed alpine choughs on a cliff edge, which, after seeing us, took to their wings and soared into the updraft. The Alpine Chough (Pyrrhocorax graculus) is a bird in the crow family but their calls are distinctive, nothing like that of a common crow or a raven.
The gravelly road, then, zigzagged down by the side of deep canyons, the landscape still bare of trees and only patches of dark green dotting the slopes. After something like an hour, we arrived at Syangmochen surrounded by willow and poplar trees.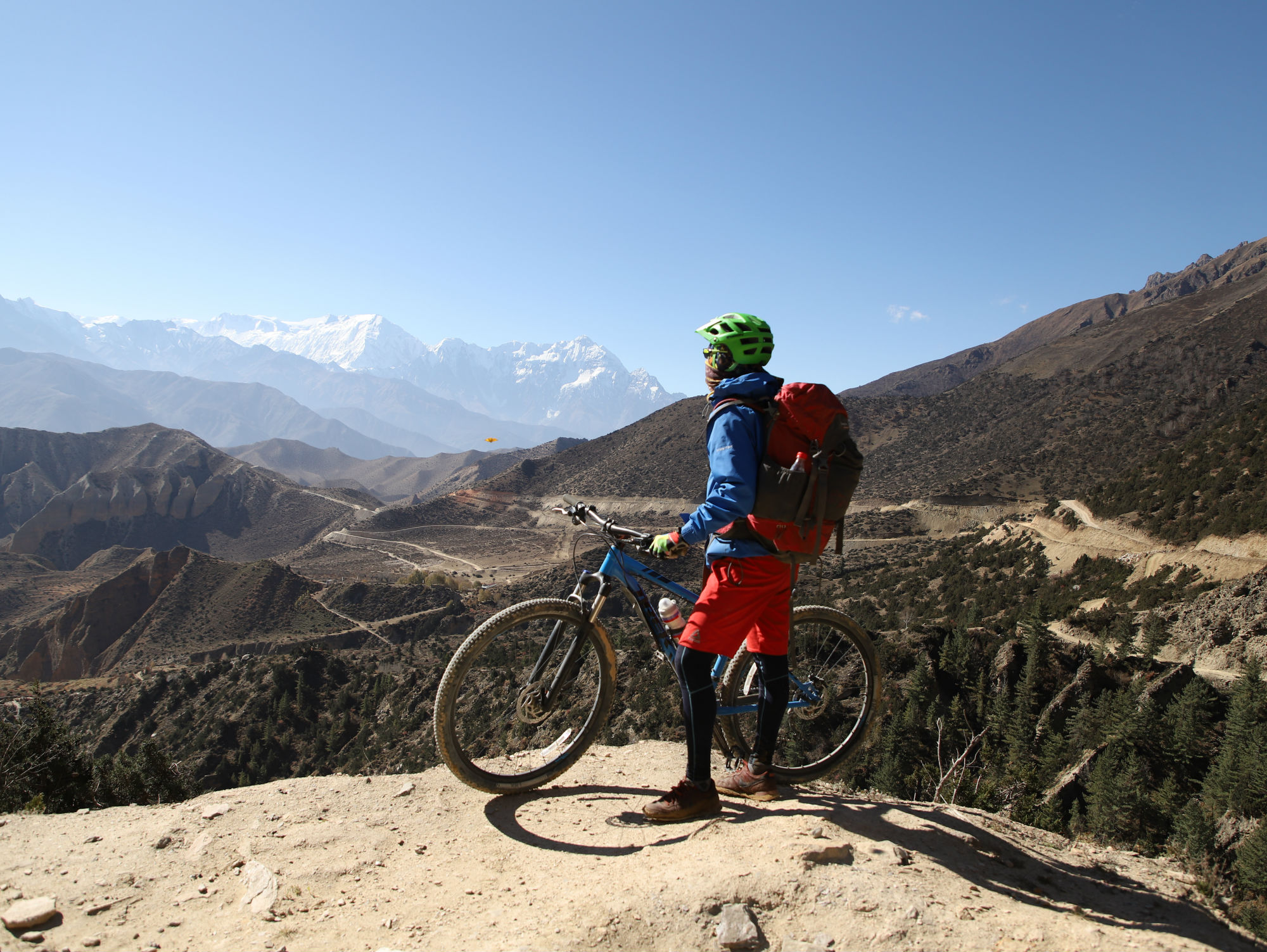 We stopped by a roadside eatery, which also served as an inn. We ordered, predictably, dal-bhat for lunch. As we rested a bit after the meal, I noticed a large black-and-tan Tibetan mastiff lazing in the sun in the forecourt of the inn. To my several calls of "bhote," it did not as much twitch its ears. Just then, a cat leisurely walked past inches from its nose but still, it did not budge. Maybe the feline, too, was a family pet and they were buddies. Interesting!  But do not get misled by its diurnal indolence. Tibetan mastiffs can turn very aggressive to strangers after dark.
As we were just about to eat we heard the distant whine of motorcycles. Shayeet went to check and was back with my bottle-flask brought by a group of bikers on their way to Lo Manthang. Great! I badly needed it because it was impossible for me to drink icy-cold water.
Our itinerary included Tsarang for the day but as things stood, we were a little dubious about it for it was already past three in the afternoon when we were done with lunch followed by a bit of rest and what's more, there was Nyi La Pass, at 4,020m to be crossed, the highest we had done thus far.
We left Syangmochen and began our gentle climb to the Syangmochen La at 3,850m. Lower than the Beg la, it posed no threat for me but the relentless wind and dust still made our pedalling sheer torture. The sight of the ridge was, however, comforting. The gravelly track then took a gentle descent past a colourful chorten into a valley and we had the view of the village of Gheling way down in a picturesque setting with its poplar trees and barley fields against the backdrop of bare hills.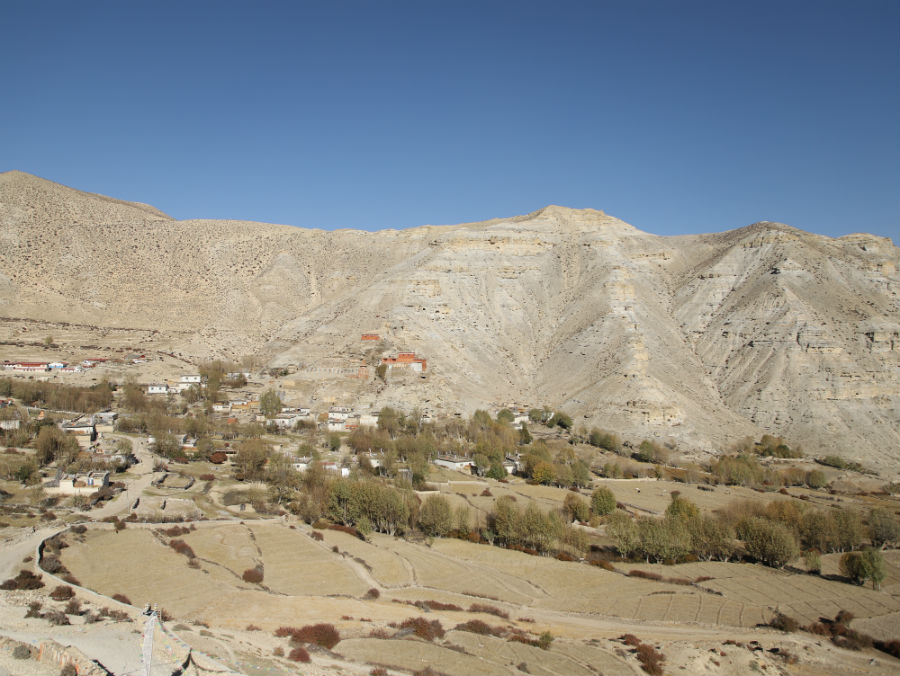 As the afternoon wore thin, cold and weary, we arrived at Gheling (3,570m) at almost 4:30 pm. Going further to Tasarang was out of the question. Gheling became our stopover for the day.
End of Part III. Photos by: Khasing Rai, Mtbrocky and Shayeet Sharma
Read Part I – Lo Manthang: Cycling to the lost kingdom on the other side of the Himalayas
Read Part II – Lo Manthang: Exploring the Lost Kingdom on two wheels